In Kyiv in honor of Independence Day of Belarus the festive concert was going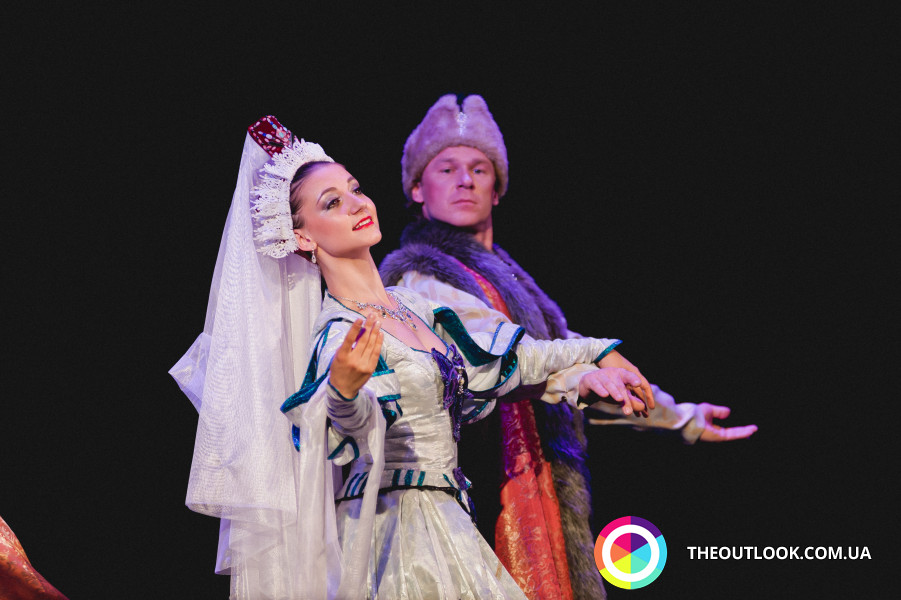 In Kyiv national academic theater of operetta there was a performance of Belorussian national honored choreographic ensemble 'Haroshki' with the new program 'Paletnad chasam'. The concert organized by the Embassy of Belarus in the course of European trip and arrangement of auction 'Belarus Day' in the day before Independence Day in the country.
At the beginning of the event, the Ambassador Extraordinary and Plenipotentiary of Belarus Republic Igor Sokol started the speech. He congratulated everybody who was present there with the upcoming Independence Day of Belarus Republic, the main holiday of Belarus national identity.
As well, according to the Order of President of Republic Belarus, he awarded Archbishop Claudio Gugerotti (Apostolic Nuncio in Republic Belarus in 2011-2015) with the order of Franciscus Scorina, who since 2015 has been reigning Apostolic Nunciature in Ukraine. During the awarding the Archbishop Claudio Gugerotti the symbolism of the mentioned event was noticed because in 2017 all over the world it is celebrated the 500-th anniversary of publishing by Franciscus Scorina the first printed book at Old Belorussian language.
Claudio Gugerotti gratified the President of Republic Belarus for the honor to be awarded with the order of Franciscus Scorina and expressed the words of gratitude to all Belorussian nation. After the official speeches the guests of holiday were able to enjoy virtuous performance of Belorussian national honored choreographic ensemble 'Haroshki' which in terms of different historical epochs, the language of modern choreography with the help of ancient musical instruments, and national suit demonstrated on the stage the foundation and development of Belorussian nation and culture of nation till now.
After the concert it was an official reception in honor of Independence Day of Republic Belarus. At the concert and reception there were ambassadors and diplomatic service of Azerbaijan, Apostolic Nunciature, Armenia, Belgium, Hungary, Vietnam, Greece, Iraq, Iran, Kazakhstan, China, Kyrgyzstan, Cuba, Latvia, Lebanon, Lithuania, Malaysia, Morocco, Moldova, Norway, Palestine, Poland, Russian Federation, Romanic, Serbia, Syria, Sudan, USA, Tajikistan, Turkmenistan, Uzbekistan, Montenegro, South Korea, Japan and representatives of international European organizations. At the behest of the representative of the Patriarch of Rome in Ukraine in official events the Archbishop Metropolitan of Minsk and Mogilev Tadeush Kondrusevich took part.
The official events have been attended by the directorate and representatives of ministries and departments of Ukraine, scientific and business circles, directors of enterprises, as well as Belorussian expat community.