Festival of bucking in Spain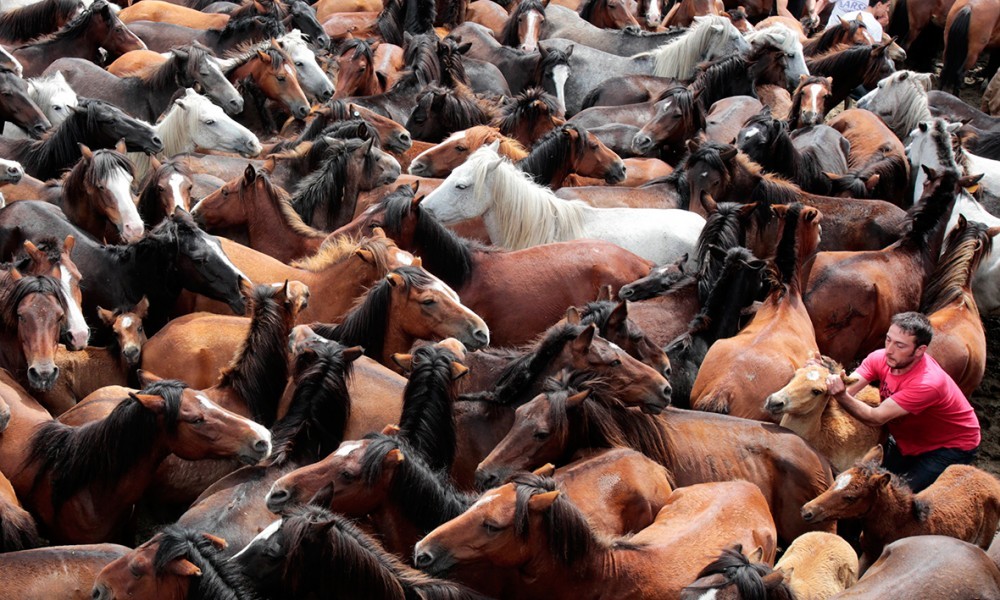 At every first weekend in Spain there is rather strange and even cruel festival of bucking of wild horses Rapadas Bestas. The festival has been counting in many cities of Galicia; however, the most famous is the festival in Sabusedo.
It is unknown exactly where the tradition to catch wild horses is originated from; particularly, these animals are out at grass in the mountains near Sabusedo, and it is quite astonishing why it is necessary to brand them. The only evident thing is that this festival has religious roots. Nowadays festival is considered as very important for the citizens of village because participation in catching and branding of the horse mean the movement to adulthood for young men (by the way, recently the girls started taking part in this festival).
The festival takes part on the first Saturday, Sunday and Monday of July. In Saturday morning the special church-office begins where competitors of festival pray to the saint Laurentius, the protector of village and ask him to save from the injuries and failures. Then, experienced impounders take herd of wild horses at the special platform where the main events of the festival happen.
Only three people tame one horse; herewith, it is forbidden to use something, one should hunt at animal with barehanded. Firstly, the main task of participants is to exhaust the horse so that it could be tired of resist. Then, people bring down the horse, cut its crest and tale, and put the animal to the iron. The last part is a very painful procedure. Earlier brand has been done only by hot metal, later liquid nitrogen started being used. In the modern version of festival the chip is put under the skin of animal.
Bucking of wild horses has happened during only three days. Meanwhile, the platform is visited by nearly 30 thousand people, including tourists. By the way, the festival Rapadas Bestas was considered as the holiday of international travel meaning that is why its arrangement is hallowed.
Despite the fact of festival's popularity, those who stand for nature protest against it. They succeeded in prohibition of corrida arrangement in several regions of Spain, and this festival can be cancelled because of cruel attitude towards wild horses.
By the way, after the festival all the horses are set free at the pasture where they are at grass during the year. When the next July comes, the circle will be closed.