Winter trout festival in Hwacheon-gun in South Korea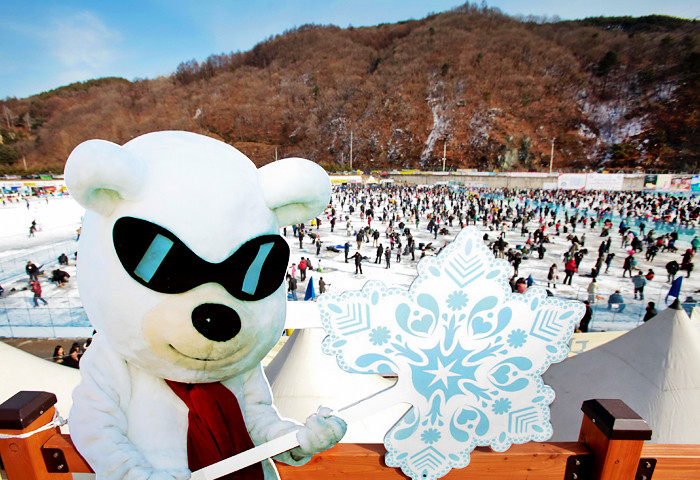 Winter trout festival in Hwacheon-gun is the beautiful place to enjoy winter fishing. Every year thousands of tourists come there to eat fish and relax sledging.
Winter festival in Hwacheon-gun is dedicated to the art of winter fishing. This region of South Korea winter is the first to invite winter chaining rivers and lakes with the thick ice. They create perfect atmosphere to deal with the different kinds of sports and fishing.
It is acceptable to come to the festival with all the family because there are a lot of activities. Different winter games and kinds of sport have gained huge popularity. It is possible to make a snowman, sledge or ski.
The most interesting event of the festival is the catching of trout what is tried by many people. At the festival it is possible to try two kinds of fishing, subglacial and bare-handed. The subglacial catching of trout is done in the ice-holes dropped through 30-40 centimeters. Certainly, it is not the most interesting activity because one needs to sit near the ice-hole and wait for the trout. Though, it is quite popular.
Those who do not want to sit all the daylong fishing (one should remember that fishing is limited in time and number of caught fish) but are courageous enough might try to catch the trout bare-handed. However, for that one should enter the special swimming-pool being there for three minutes. During this time one might catch no more than three fishes. Afterwards, one should get away and warm up. The bare-handed fishing looks effectively because the participants go underwater in shorts and T-shirts given especially for such purposes.
What could you do with the caught fish? There are many cooks at the festival who try to help or prepare soup from the trout (take into consideration that it is always raw fish). Maybe, it could be grilled as both dishes are tasty. Apart from the trout, the organizers offer to taste other fish dishing such as cake from fish flour, hot pancakes hottock, flippers puchhimge, etc. Near the entrance to the festival area participants get special tickets which allow buying souvenirs in the local store or eating in the restaurant.