Falkirk: Greetings from Scottish province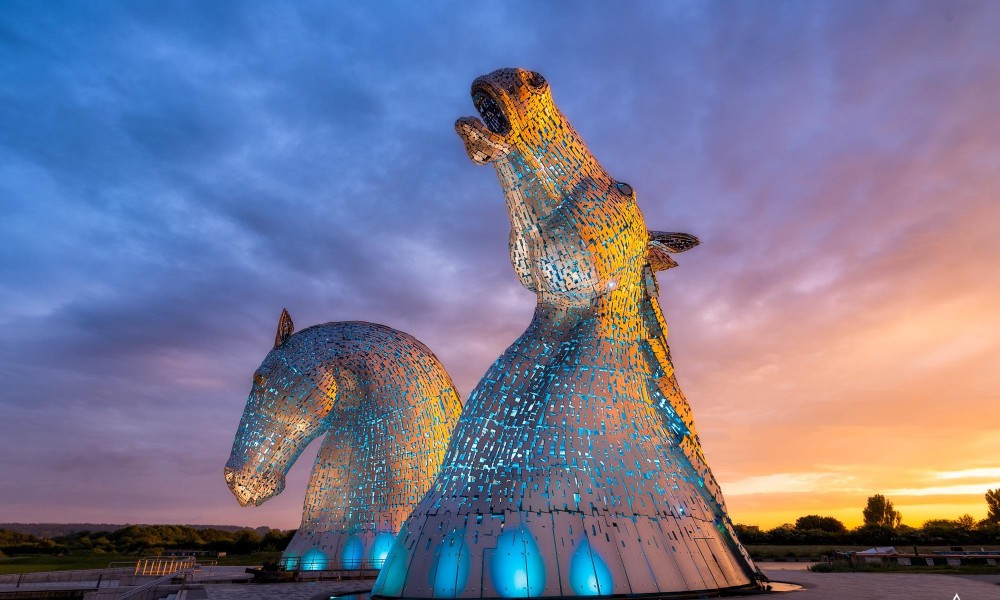 Scotland with its somewhat gloomy and refreshing climate, famous monster of Loch Ness and terrific whisky has been for a long time considered a favorite of experienced travelers. However, even experts rarely get further than Glasgow or Edinburgh although it is between those two cities where a beautiful yet little-known city Falkirk, our today's story is about it.
Holy Roman Empire that used to be a huge state in territory, spread as far as to British lands and it was Falkirk of every other city that played most important role in its defense policy. It was there where the famous redoubt Antonine Wall was built of stones and peat to protect northern borders of the Empire therefore the city is one of the oldest on the Foggy Albion. Today Kalkirk is an administrative centre of the namesake province located between Glasgow and Edinburgh in about half-an-hour's drive from each which allows us to call this historically significant for Scotland territory a perfect spot for a holiday trip.
It is not just about large-scale combats of both international and internal British scope having taken place there; there are also numerous memorable objects: fortresses, open-air museums and ethnic villages. These lands are considered sacred because it was there where Scottish independence was being forged, both political and industrial - the province is believed to be the province is believed to be a cradle of cast-iron industry that allowed the country to rise and stand firmly on its feet in 18th century. Each Scott believes it to be his duty to undertake a pilgrimage there to pay tribute to the memory of ancestors who have done a lot for the country.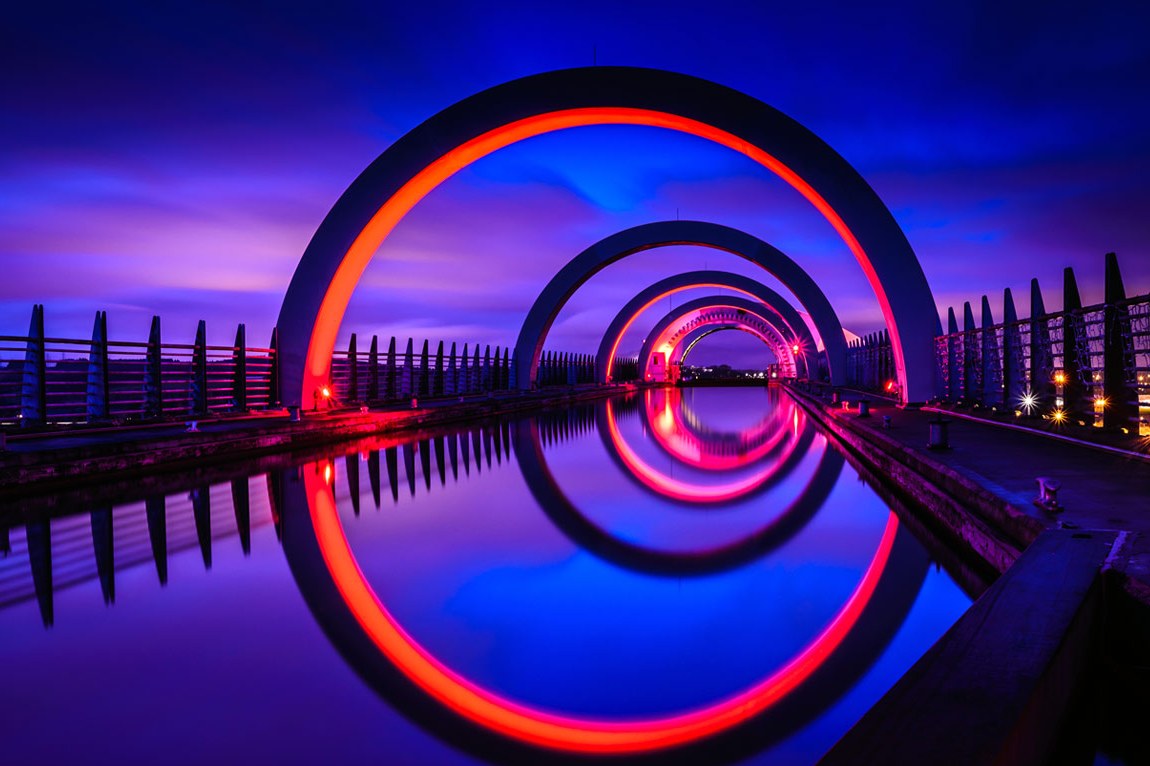 Photo peapix.com
Therefore Falkirk is one of the leaders of internal tourism. Nowadays it makes for a cozy and modern, as for remote regions, city with 30 thousands of population, with great pubs, national cuisine restaurants and high-quality mini-hotels and family hotels. Almost entire local residential property is ancient stone estates and houses built as far as several centuries ago therefore it is impossible not to embrace Scotland having spent a weekend there, enjoying majesty of walls and warmth coming from fireplaces. It is in such both visually and mentally typical city where it is the best to get acquainted with the country. With all due respect, Glasgow and, again, Edinburgh are large touristic cities, metropolises in a way, always full of foreigners, with trademarks, that can be recognized in global scale, on every step, fast food chains and billboards. Falkirk, on the other hand, is completely different, authentic. By the way, it is there where the country's most popular newspaper, weekly Falkirk Herald, is published – and that must have own reasons as well.
Photo scotland.org
There are other landmarks in the city, too, for instance, gorgeous Callendar estate. The entire complex was built as far back as in 14th century in the style of French Reneissance. Probably, every significant person of the United Kingdom stayed there during visits to Scotland: Queens Mary and Victory, Oliver Cromwell, Winston Churchill and many others. Enormous well taken-care-of territory isn't just a place of choice of citizens to spend leisure time at but also a ground for summer performances, open air theatre and pyrotechnic shows. The place where one must take a picture is the Falkirk Steeple. It is located not far from the estate, on High Street, the street laid as far back as in 14th century; and the steeple itself is depicted on an enbmlem of a local football club.

Read also: Departure: Edinburgh

Equally impressive is another monument of the past - ruins of the already mentioned Antonine Wall. Nowadays every willing person has anopportunity to admire these large-scale ruins 63 kilometrs long. Height and condition of the fortificatoin differ: somewhere they are preserved better, in other places worse. Avarage indicators are 3 meters in height, 5 meters in width. Scope of the defense line is impressive therefore while looking around of what have survived till our days you cannot help but think of fierce fights and greatness of the Holy Roman Empire.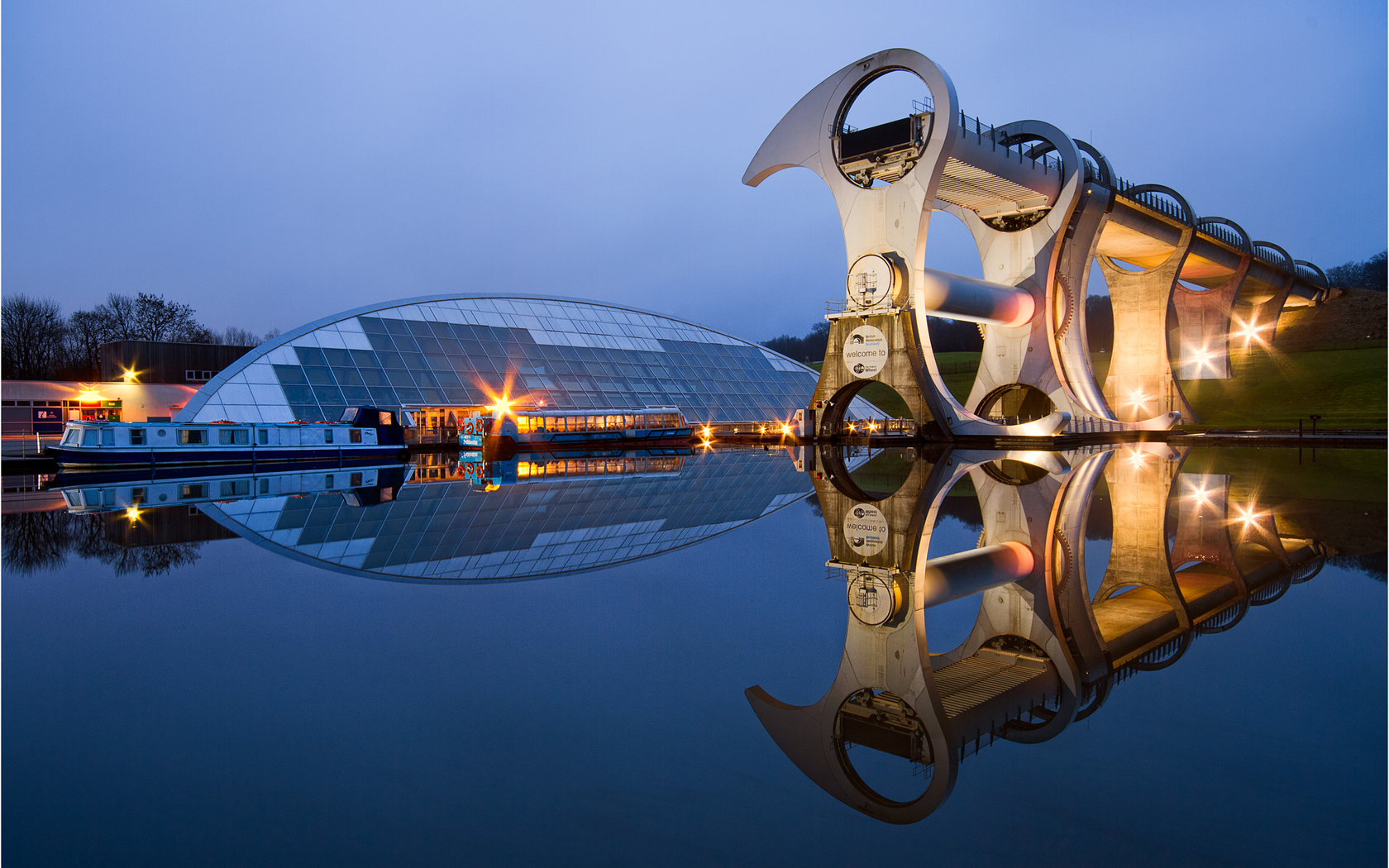 Photo wallhere.com

However, best globally famous and must-see objects of Falkirk are modern constructions. First of them is a unique boat lift, the Wheel. This colossal execution of engineering ideas performs a most important logistics function - connects water Forth and Clyde Canal with Union Canal to make navigation between Glasgow and Edinburgh possible. It is a true pleasure to watch this giant in operation while lying on a lawn nearby; and should you learn at least a bit about its "stuffing" you get filled with admiration because in order to lift up and put down one boat merely 1.5 kilowatt of energy is needed which equals to boiling 8 kettles simultaneously. Such a benefit for navigation with such low expenses is only possible due to unique forethought of the object. Its authors won numerous awards for a good reason and the lift itself was put into operation in 2002; it is one of a kind and unique in the whole world.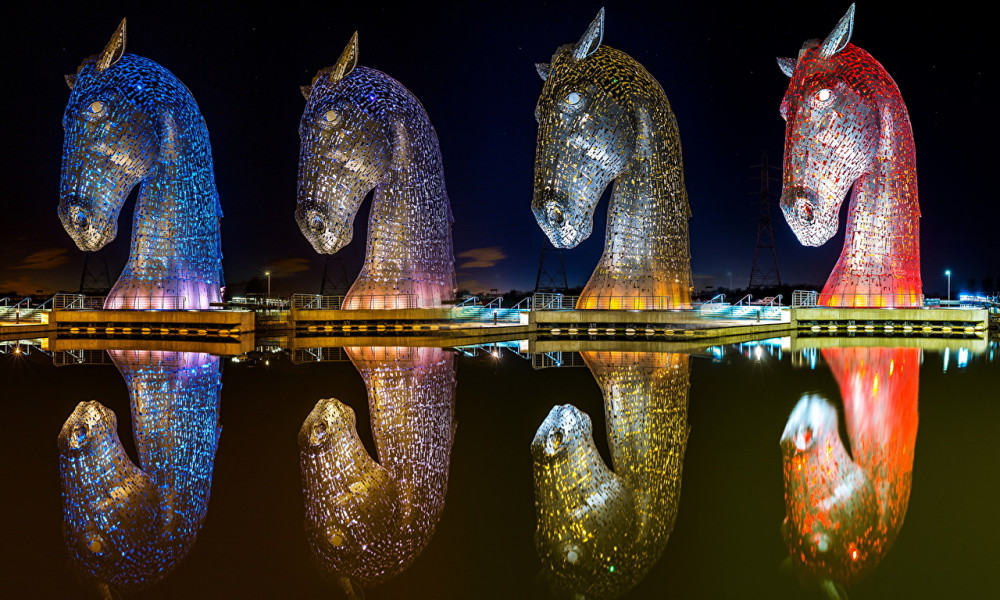 Photo 1zoom.me
Second monument of haute engineering and art are gigantic horses, the Kelpies - significant characters in Scottish mythology. Their author, sculptor Andy Scott, dreams of creating an entire park of similar objects around them to make it the main landmark of the city. This 400-ton composition attracts thousands of tourists already because not only one can admire it but also use as a viewing point - fantstic landscapes uncover from its top. Also, walks on the inside are pretty captivating. According to Scott's idea the Kelpies were supposed to symbolize both power of Falkirk as an industrial center and its rural past amidst rich nature... As we can see, Scotland is not only about its two capitals. To prove that it is suffices to simply go in the direction of Forth and Clyde and Union Canals and see with own eyes amazing and creative city with rich past and definitely big future.
Cover photo reddit.com