Sataplia: Honey for dinosaurs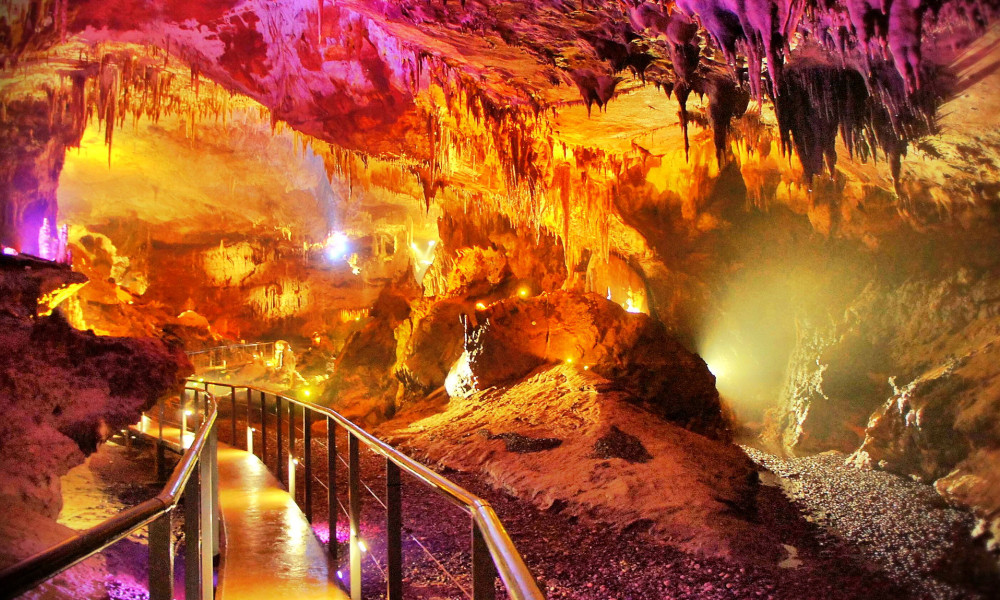 In recent years Georgia has rightly become very popular touristic spot on world map. Probably, everybody will find something for oneself in this proud mountainous state: amazing nature, delicious food, devote and cordial friends and much, much more. OUTLOOK try to visit it as often as possible and share all kinds of interesting stuff with you. Today we'll tell about a marvelous Sataplia Reserve.
How to Get There
Situated 7 kilometers to the north-west of Kutaisi, the reserve emerged back in 1930s. It became possible because a school teacher from Banoja village happened to come across dinosaur traces there. It was around this "evidence" of ancient reptiles' lives where it was decided to create a preserved the territory.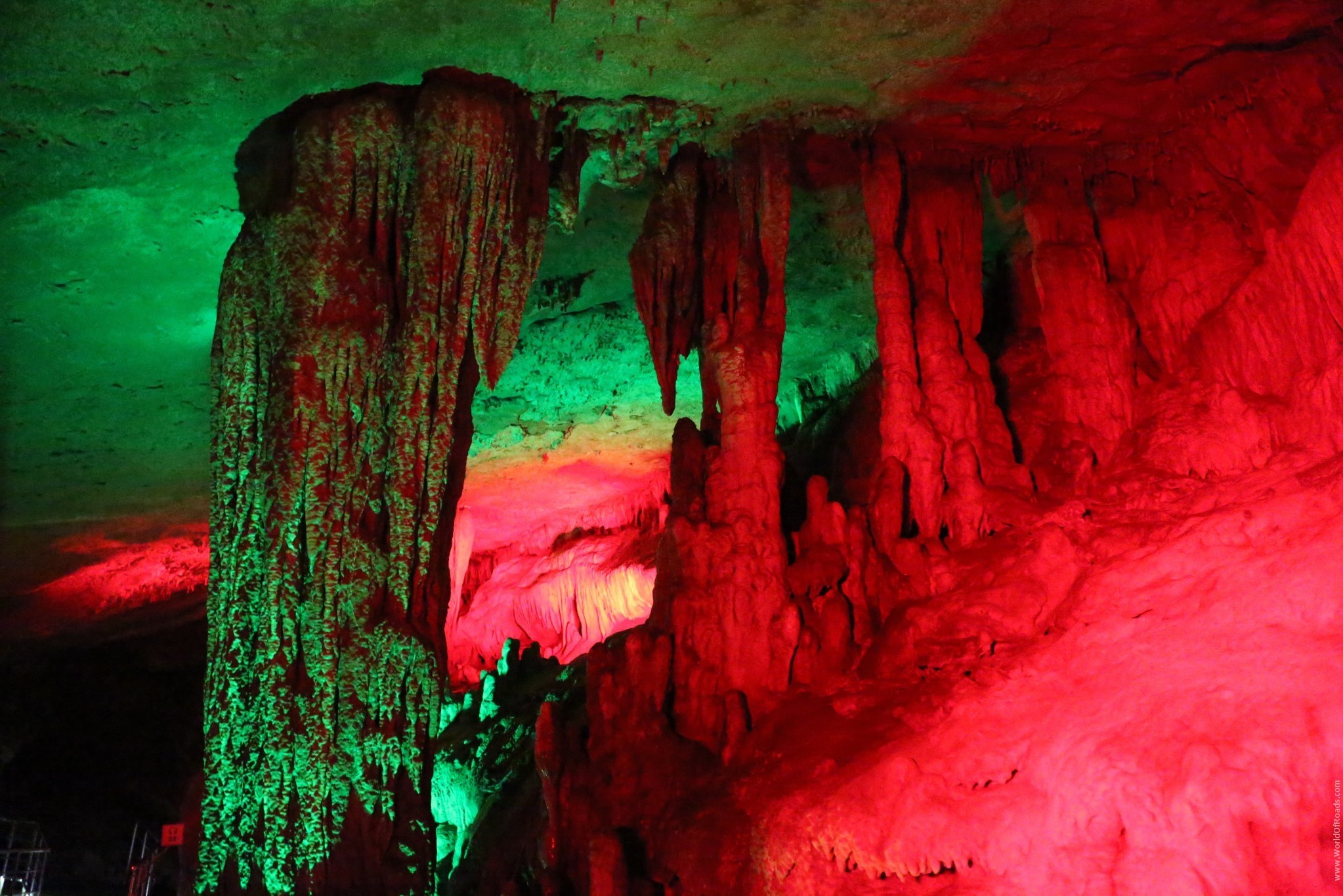 Photo worldofroads.com
There are several ways to get there. First one: take a bus route 45 against 2 lari (about a dollar), it stops in the area of Kutaisi central marketplace. Problem here is that public transport in Georgia is a pig in a poke so far. You can instantly catch a necessary bus or you can wait for an aspired means of transport for as long as an hour. Therefore second option is taxi: more expensive but far more reliable. Local road-hogs should be bargained with, because an "auction" will most likely begin at a price of 70 lari while real price of the trip constitutes 10 – 15 lari. Should you promise to pay another five on top of it and a driver will wait for you near an entrance to take you back. However, many prefer going back to the main city of Imereti by foot – the road runs downward through picturesque villages and one can cover it in an hour and a half or two hours of deliberate walk and enjoy persimmons and pomegranates growing everywhere.
Read also: Georgia in Miracles
Reserve
Admission fee for adults constitutes 6 lari, students pay half as much (it is necessary to present respective document), kids under 6 get in for free. You can walk around on you own or you can join a group of tourists. Guides who freely speak Russian, English and Georgian wait at the reception desk. In average, it takes an hour and a half to two hours to have a look at main landmarks of the place. In this time frame you'll manage to have a stroll in a huge cave, enjoy a view of dinosaurs' footprints, walk around pristine Colchian forest and even get up to a viewing platform from where an unforgettable panoramic view opens before visitors' eyes. Now let us elaborate on main points.
Cave
All in all there are 5 caves situated on the territory of the reserve but visitors are allowed only in Cave 1. It is the largest one, too – its length constitutes about 300 meters. Stalactites that hang from the walls and are lit with all kinds of colors as well as inimitable patterns on the walls make everybody walk with their heads up. Being cautious won't hurt – at times ceiling is as low as a meter and a half so it is very easy to injure a forehead, even more so because they don't distribute helmets there yet. The word is that sometimes bats fly in the cave but it only happens when it is closed for visitors and lights are off. As a matter of fact, the location's prime artifact is a heart-shaped stone that needs to be found. Two people in love should put their hands on it and then, according to Georgian legend, their feelings will last forever. But should your second half fail to be with you or if you haven't found one yet, you can make a wish there.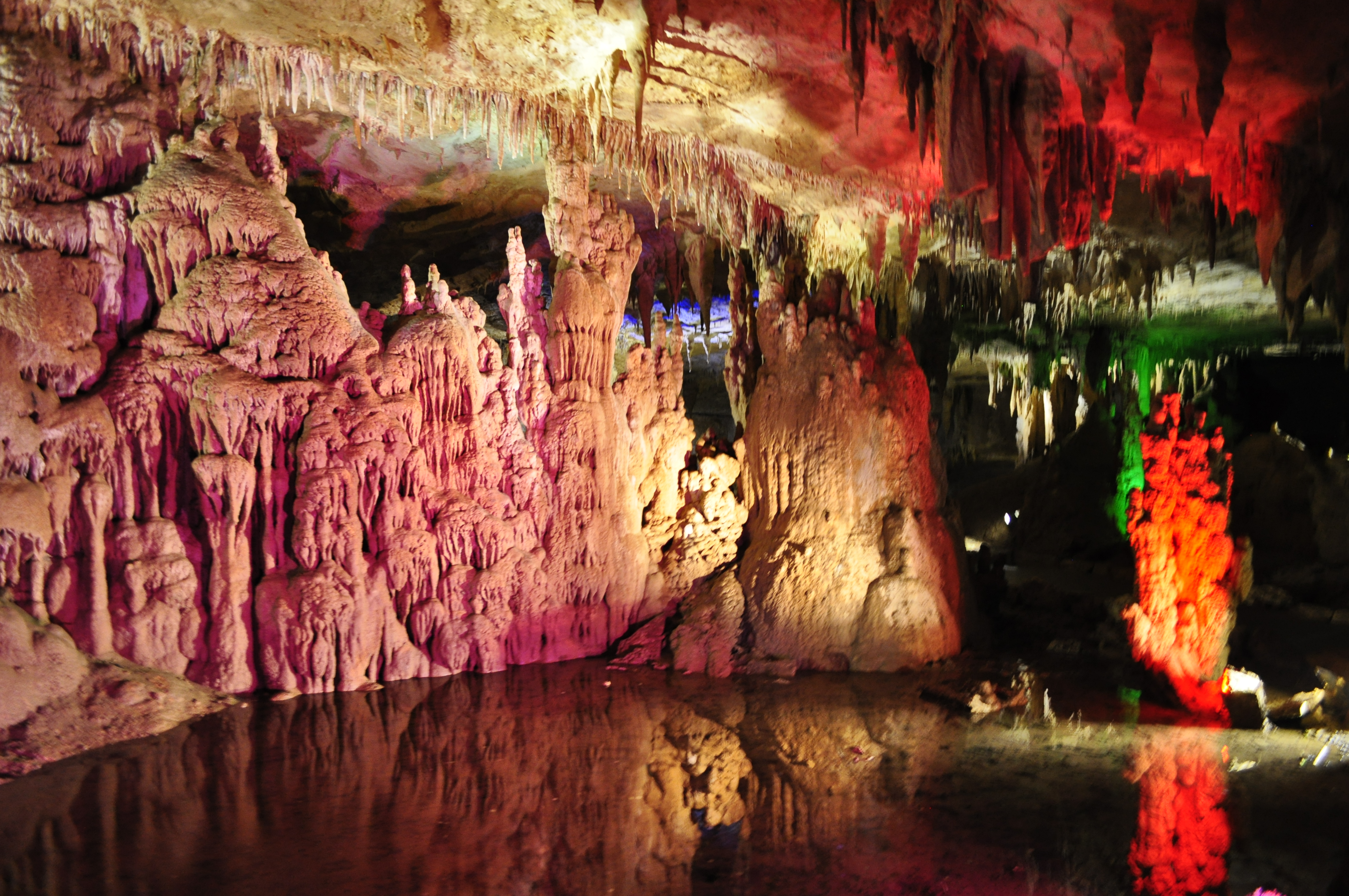 Photo panoramio.com
Dinosaurs Traces
They say that in full swing of the Cold War British Natural History Museum offered Georgians huge money to buy these traces and transfer them to themselves. The remains are unique because usually footprints of predators are found separately from those of herbivores. But here, within several dozen meters, both can be seen very close to each other. However, the deal wasn't meant to be concluded and prints of huge paws in limestone kept staying in Sataplia out in the open. Despite the fact that surfaces that they had frozen in, survived millions of years, evidence started fading away gradually because weather was merciless to them. It went on until the state began investing a lot of money into tourism development in 2010. Thank to these inflows the reserve as nearly as got second life and a museum pavilion, decorated with dinosaur's skeletons and accessorized with the sounds of their roars, appeared above footprints.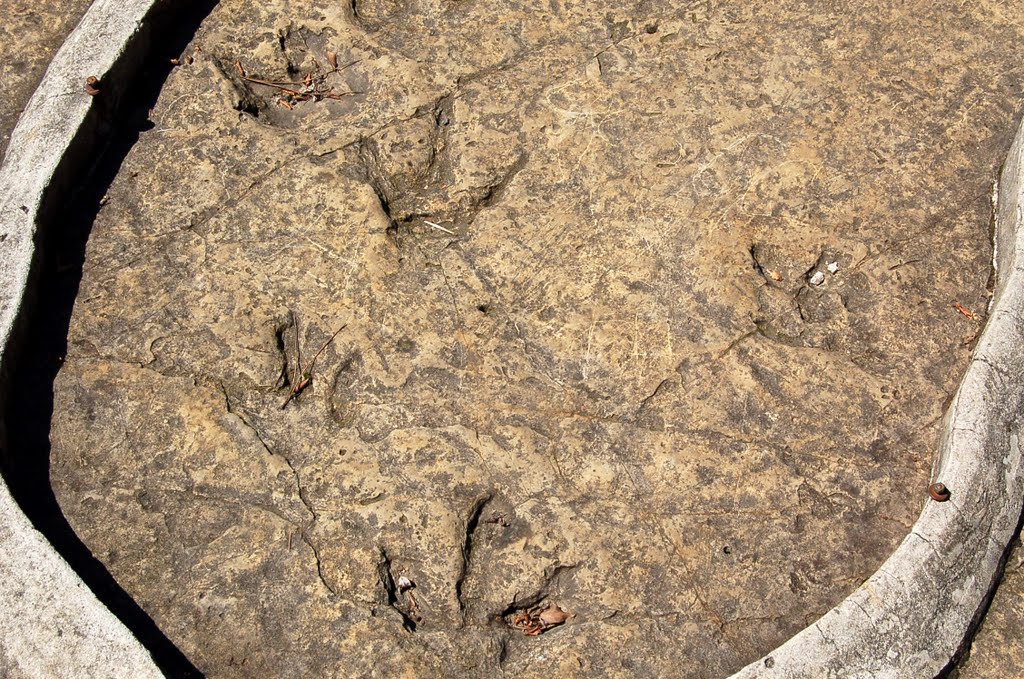 Photo cookiesandthecaucasus.wordpress.com
Viewing Platform
After the cave and the museum itself it is a perfect time to "soar up" above the ground. For that one should take a steep path along the rocks where one can have a look at beehives. Now that we've mentioned it, it was in honor of bee's work fruits that the area got its name: "tapli" means "honey" in Georgian. With a little luck one can taste the delight that is dripping along centuries-old blocks. Everybody who climbs up gets a reward – a chance to have a look at the most beautiful panorama from a modern viewing platform. By the way, it keeps apace with modern Georgian architecture with its glass elements and transparency – you can't help but reach for a handhold because abyss is beneath you. Prior to standing over a cliff you will be asked to put on special slippers not to stun the surface. Unfortunately, they didn't think of it in the beginning of exploitation and now the platform is spoiled with scratches in a couple of places.
Read also: Not golden fleece of Georgia

After such an impressive walk in fresh air Outlook suggest you call in an Imeretian village on the way, have a substantial meal and taste famous khachapuri with its considerable dimensions and wash it down with a great home-made wine…
Cover photo lc-rent.com