Between Heaven And... Water: World's 5 smallest inhabited islands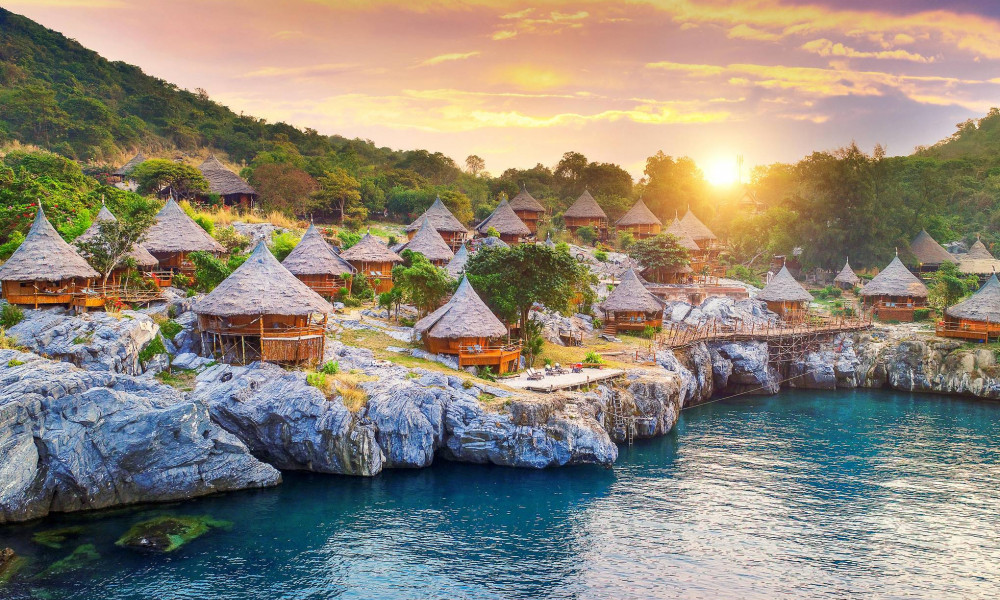 Each of us wants to escape rush of a city from time to time and lie low somewhere far from everything and anything. And it better be a place where one can listen to whisper of waves, feel light breeze and forever make friends with inimitably loud silence that muffles every disturbing thought…
But there are lucky ones on this planet, who live in such places permanently and call them homes… Practice has proven that number of fans of island-based life of a hermit grows blisteringly especially among high and mighty. Upon purchasing uninhabited islands they turn them into completely inhabited works of art. We are going to tell you about some of them today!
Heart Island, the USA
Located in the United States not far from Alexandria Bay City, Heart Island has probably the most romantic history. In distant year 1900 millionaire John Boldt bought the island and constructed a castle on it where he shared life with his dear Louise. But after her death the island was left for the mercy of fate – deserted rooms were subject to regular plunder.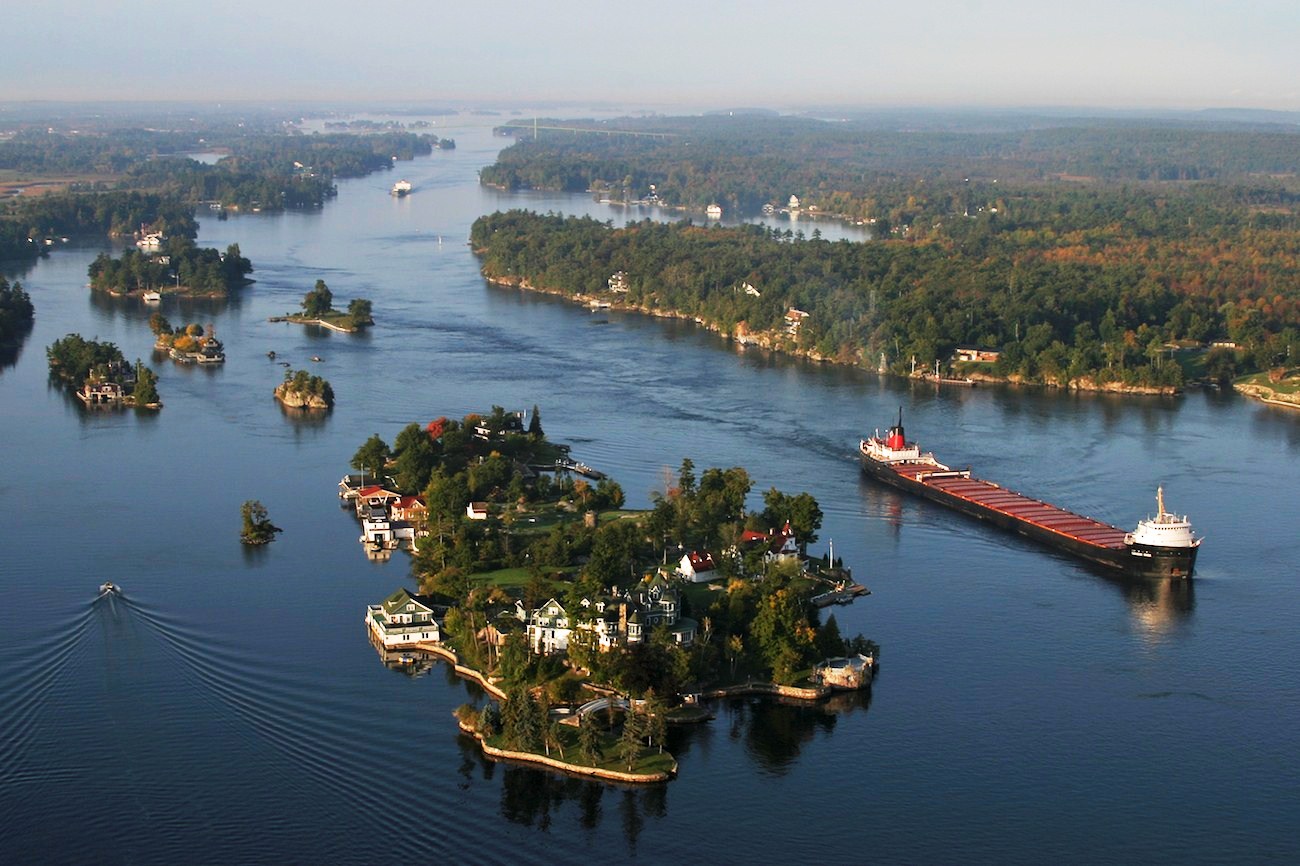 Photo borongaja.com
The problem needed to be dealt with somehow and ultimately government arrived at a solution of buying the island out. Since then love keeps living there, lovebirds from every nook of the United States cover huge distances to get married on this island of all places. But alongside everything else a not too romantic institution is situated on Heart Island – American customs. Due to the fact the island is a borderland territory of the United States, frontier service for visitors can be found there.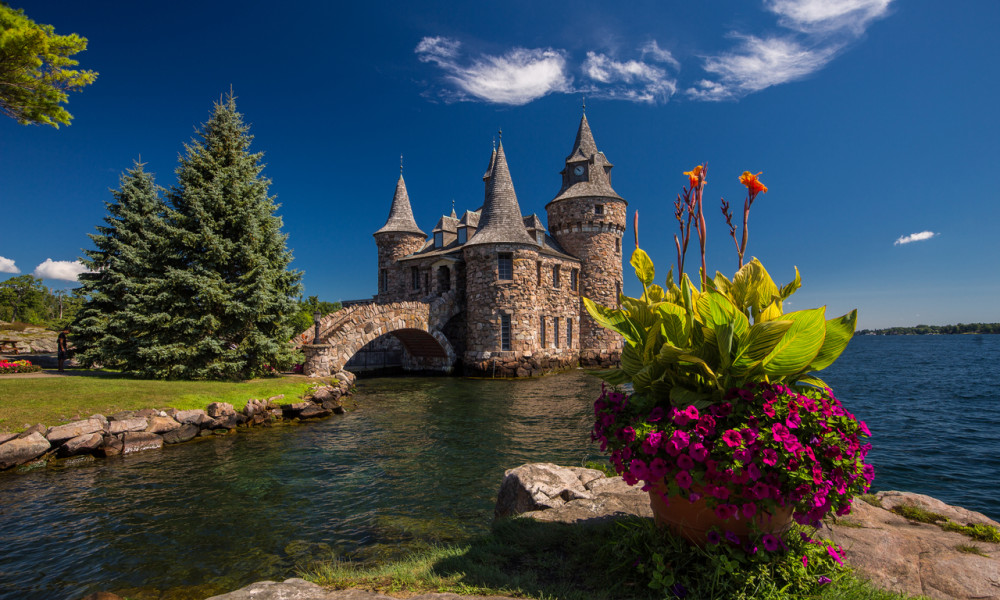 Photo paththroughhistory.iloveny.com
Just Room Enough Island, Canada
On one of islands of Thousand Islands Archipelago a peculiar tiny home is situated. Though "situated" is a bit of an understatement – it simply occupies entire territory of the tiny island, given that it consists of just one room. Mini-nest was created in 1950s by Sizeland family who had dreamt of a cozy place to spend weekends and holidays. No surprise that they came up with the idea of secluding themselves so radically because not far from their island the abovementioned Heart Island is located probably to serve as an example to follow. And despite the fact that the scale of the house can hardly be compared to the vast of Boldt Castle, but the idea is no less inspiring.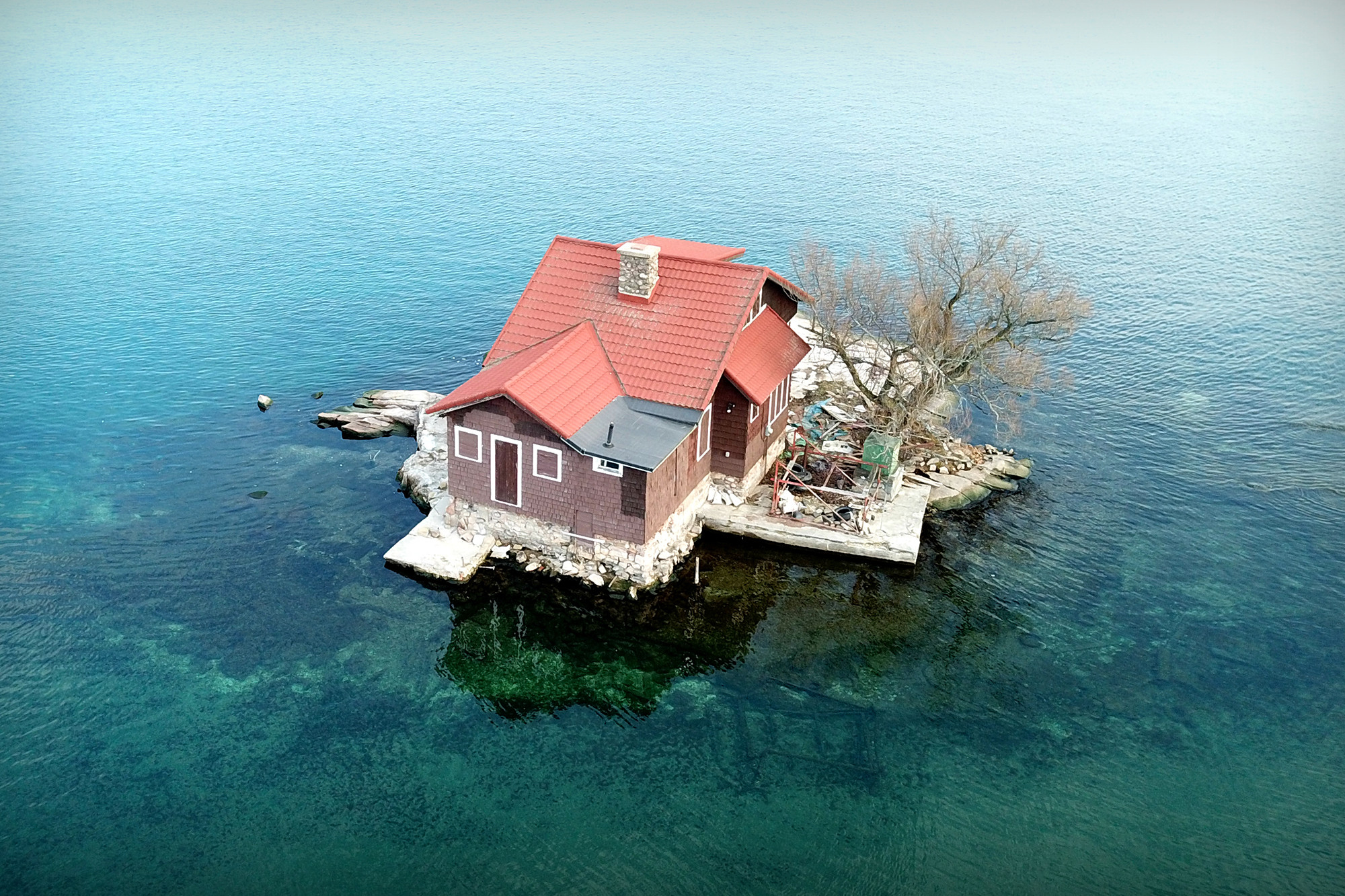 Photo nypost.com
Loreto, Italy
Located on Lake Iseo in Northern Italy, this private island has attracted people with its seclusion and mysteriousness since olden times. Since 5th through 16th century it served as a retreat for monks who built own monastery there. Later the island passed from hands to hands numerous times and in different periods a gothic castle, a small port and several lighthouses were erected on it. Besides, wonderful green park is planted there. Currently the island is private property.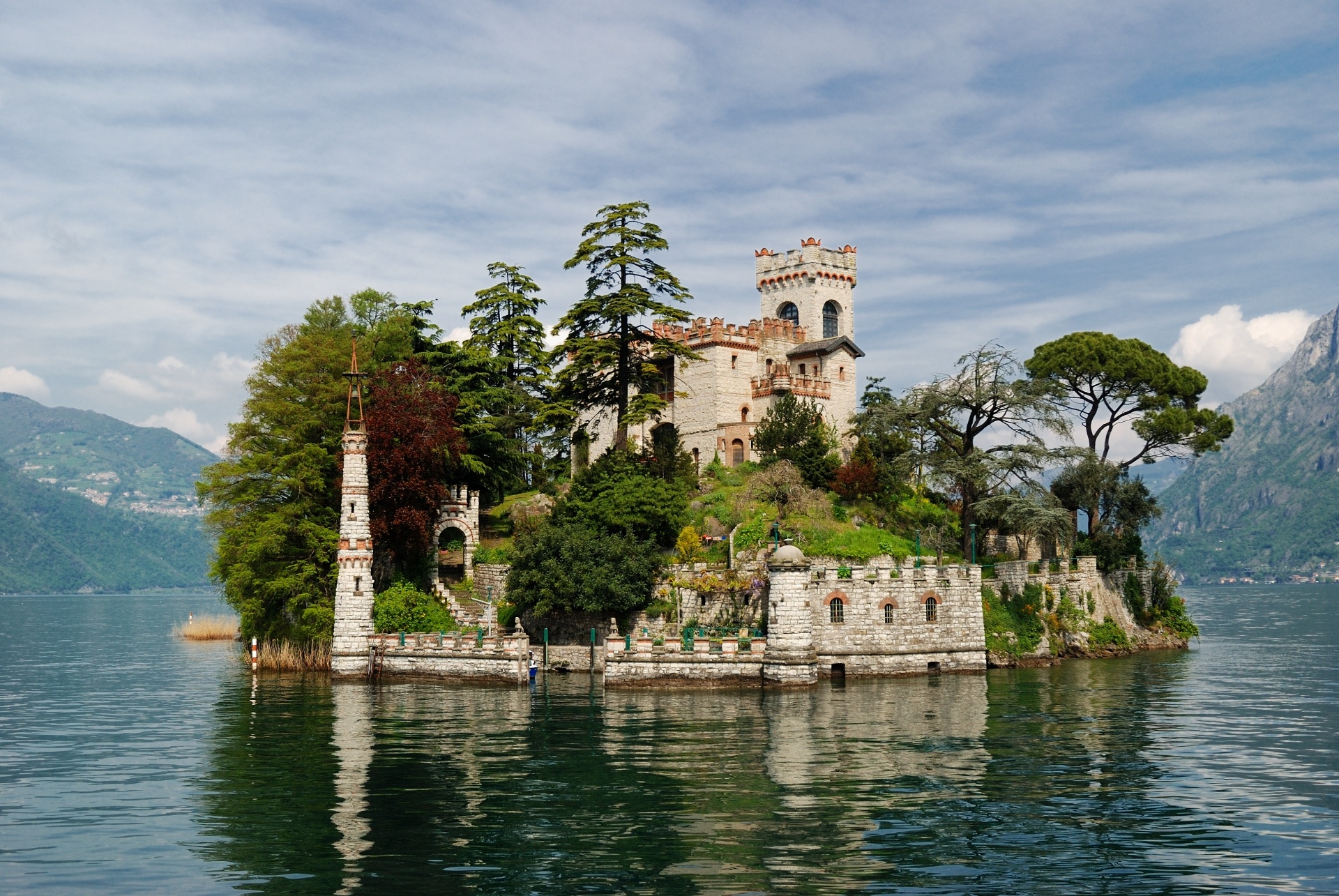 Photo visitbergamo.net
Dunbar, Honduras
Small Dunbar Island is probably the most mysterious in this world. There is this legend that hundreds of years ago a pirate named Blackbeard hid a treasure in caves of the island. They also say that the owner of the future villa had found numerous pre-Columbian ceramics in one of the caves prior to construction. However nobody has managed to find that treasure yet… But one person does have own treasure on this island – a villa, erected on a pile of rocks. Construction of a three-storey building, surrounded by man-made oak forest, lasted for nearly three years. But lasting efforts paid off: nowadays the villa is used as a hotel and enjoys popularity among divers. Numerous water entertainments and tours around the vicinity are at the service of guests on this tiny piece of land among waves.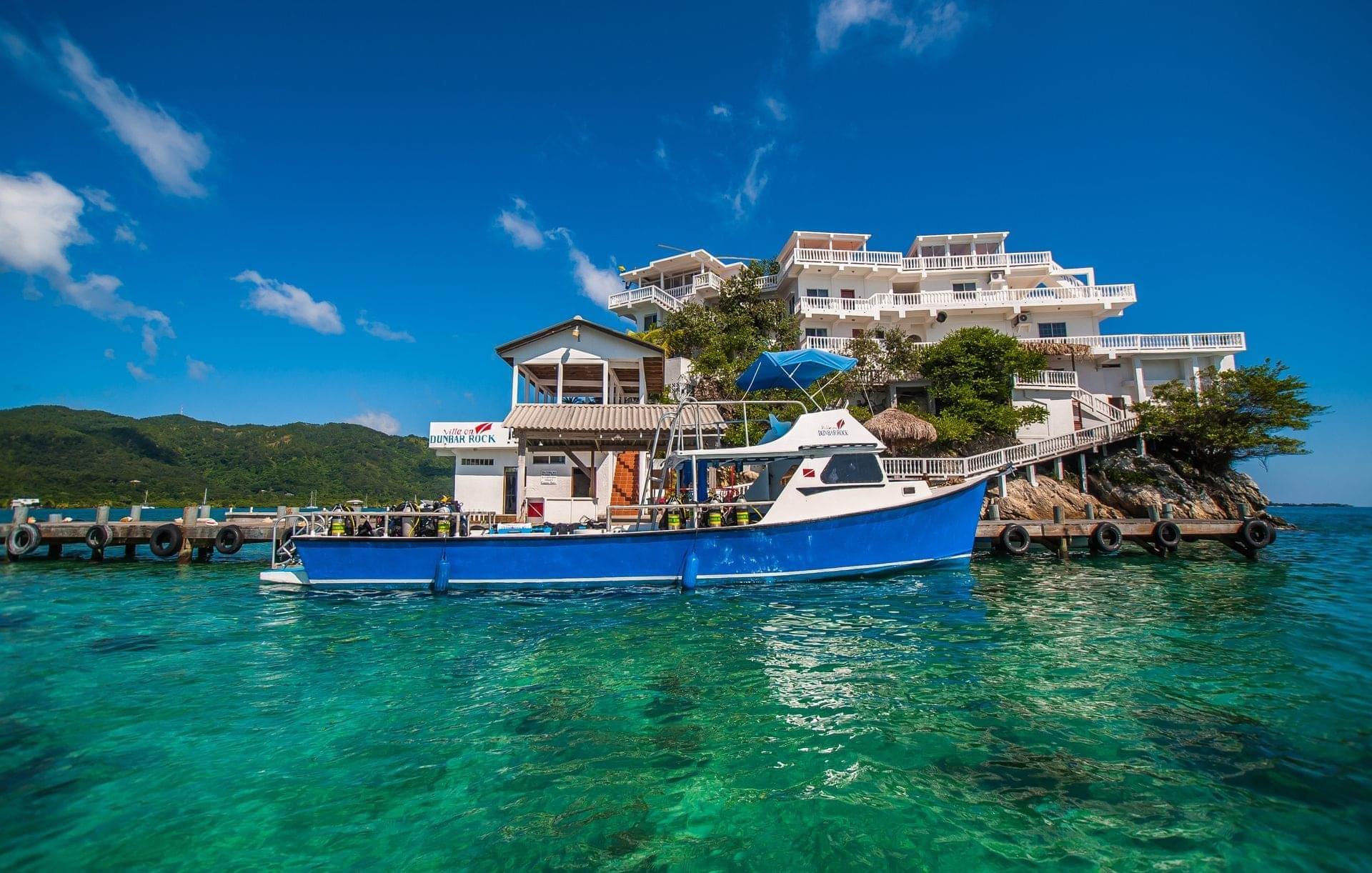 Photo travel.padi.com
Mont Saint-Michel, France
On north-western coast of France a unique island is situated, where Mont Saint Michel fortress is located. Mont saint Michel Abbey is the most visited landmark in France regardless of the Eifel Tower. Tourists notice it from afar while only approaching the island. No surprise there because the abbey is situated on the very top of the rock and looks just stunning. Erection of themajestic construction began on the island in distant 10th century. The process lasted for as long as five hundred years but in 12th century already this spot became a centre of pilgrimage in Western European region. Currently over 60 people reside on the island to supervise work of the abbey and do farming.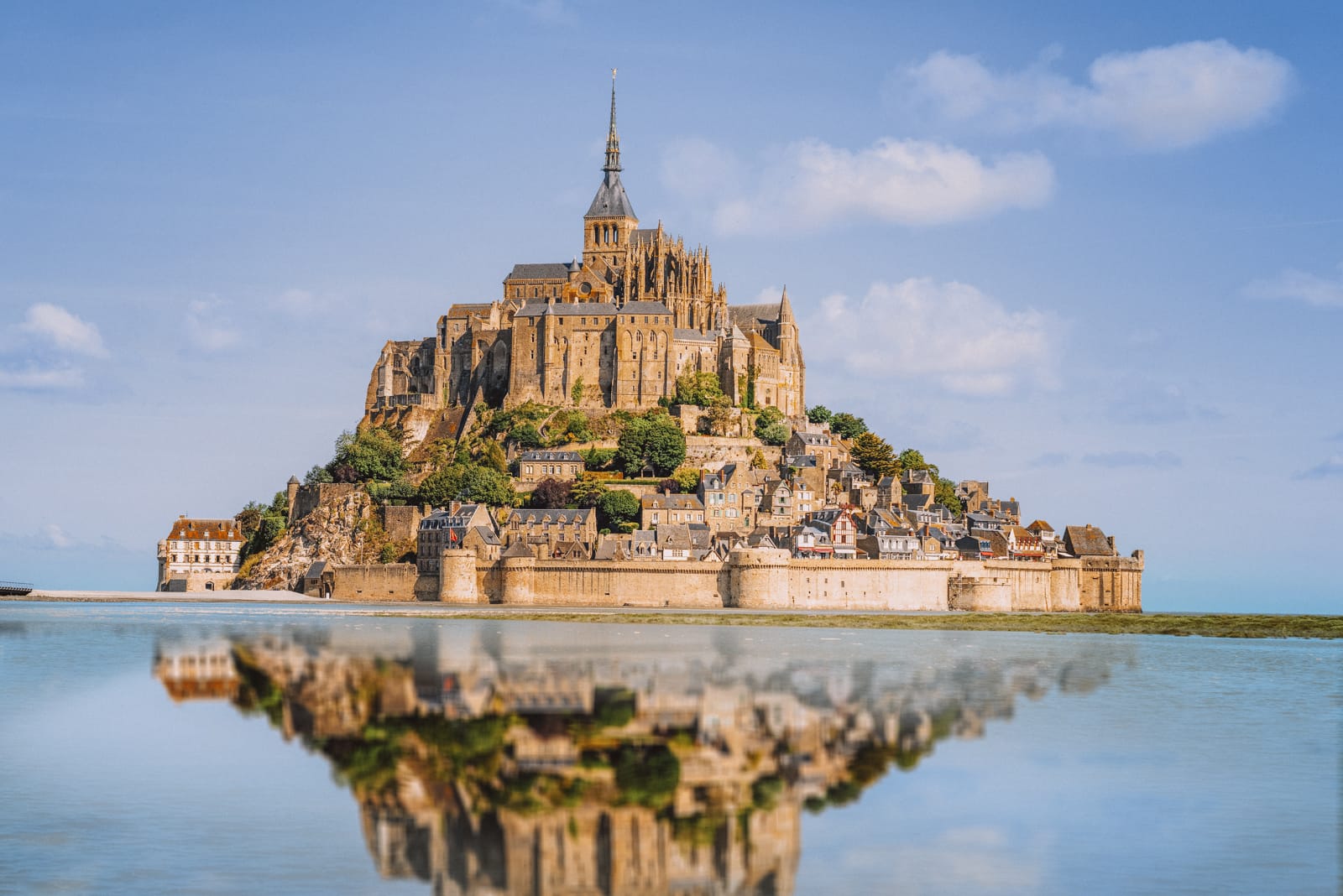 Photo handluggageonly.co.uk
Read also: The Mont-Saint-Michel Abbey: To see and fall in love
Cover photo cntraveller.com