Wadi Rum. Moon Valley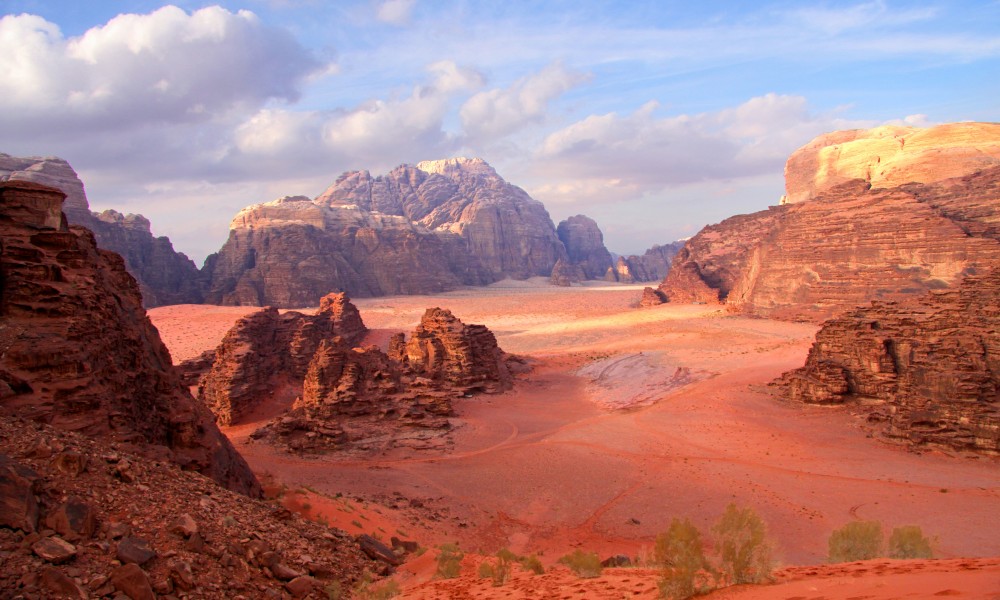 American writer Jon Krakauer wrote: 'To the deserts go prophets and hermits; through deserts go pilgrims and exiles. Here the leaders of the great religions have sought the therapeutic and spiritual values of retreat, not to escape but to find reality'. OUTLOOK journalist Yelena Rasenko tried not to escape reality but find it in Jordan in one of the most amazing deserts of the world, in Wadi Rum.
I was lying on shipskin and felt with my back how sand was shifting under me. It was changing shape, moving from beneath shoulder blades to lower back area, taking the shape of my body and carrying me deeper and deeper into its bed of multicolored grains. While adjusting to me, sand was grumbling like an old man from time to time but was bearing my weight patiently. I was deeply inhaling cold, almost black night air. Not far away two camels were slurping water from a scanty spring, Bedouins were warming themselves by the fire. Fire sparkles were coming off of flames to fly into the sky and get mixed with star scatter. I was getting ready to fall asleep in one of the most mysterious places on Earth.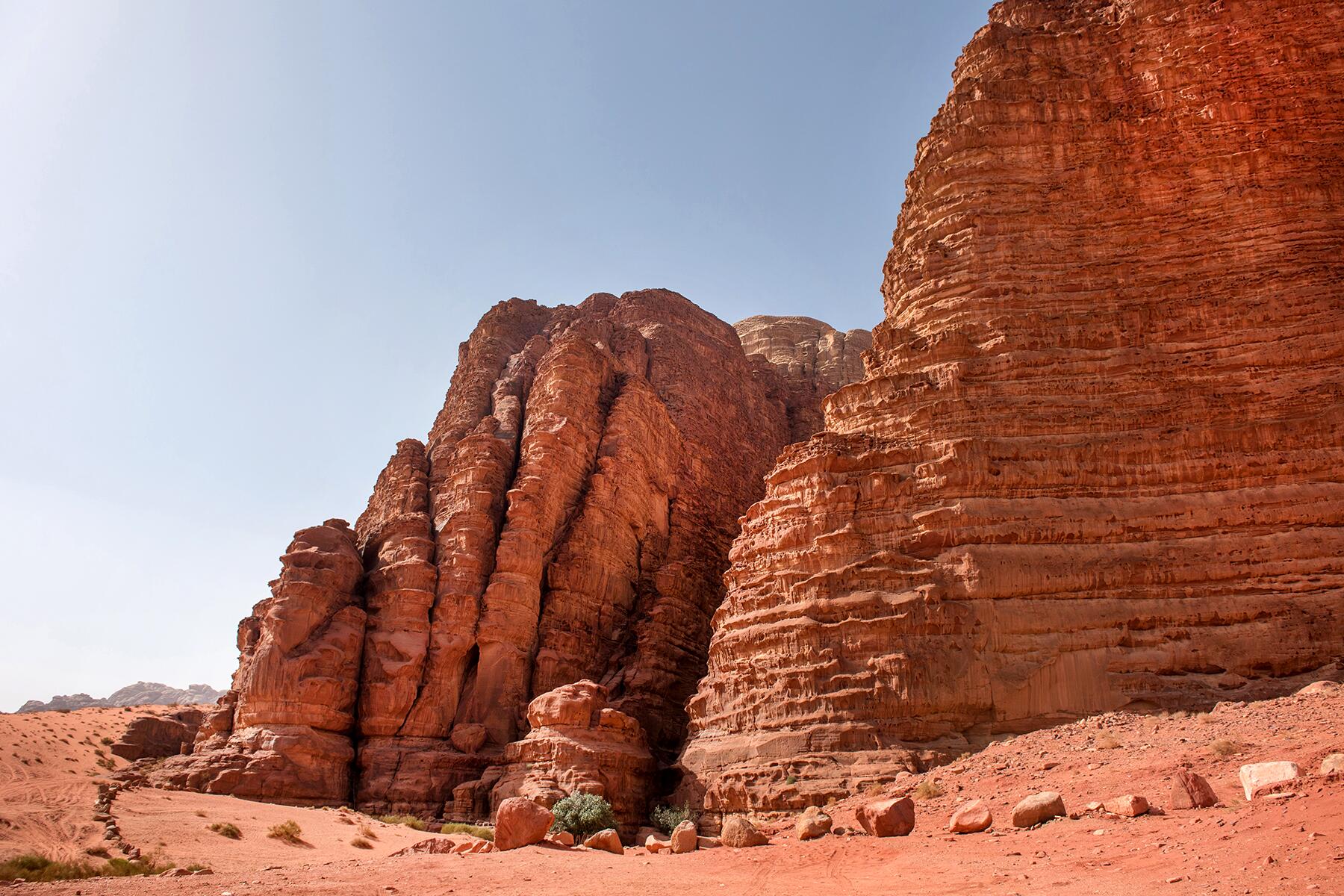 Photo bedouin.camp
"Vast, echoing and God-like" – that's how famous British officer and traveler T.E. Lawrenece of Arabia described Wadi Rum. Huge land almost unaffected by time and humans, fragile ocean of sand that constantly changes its features under influence of wind. Even air there is penetrated with mystery and a sudden roar of a camel from far away is perceived like a prehistoric cry of an animal lost in sands. Case-hardened people insist that a day spent in perfect silence of Wadi Rum changes your mind and outlook forever.
There are no signs of modern civilization – only eternity exists, the same that reigned there hundreds of thousands years ago. It is occasionally pierced with a roar of a jeep's engine that drives along a verified tourist route, or disturbed with a stomp of a caravan or sometimes a group of rare mountaineers passes by to vanish in one of ravines.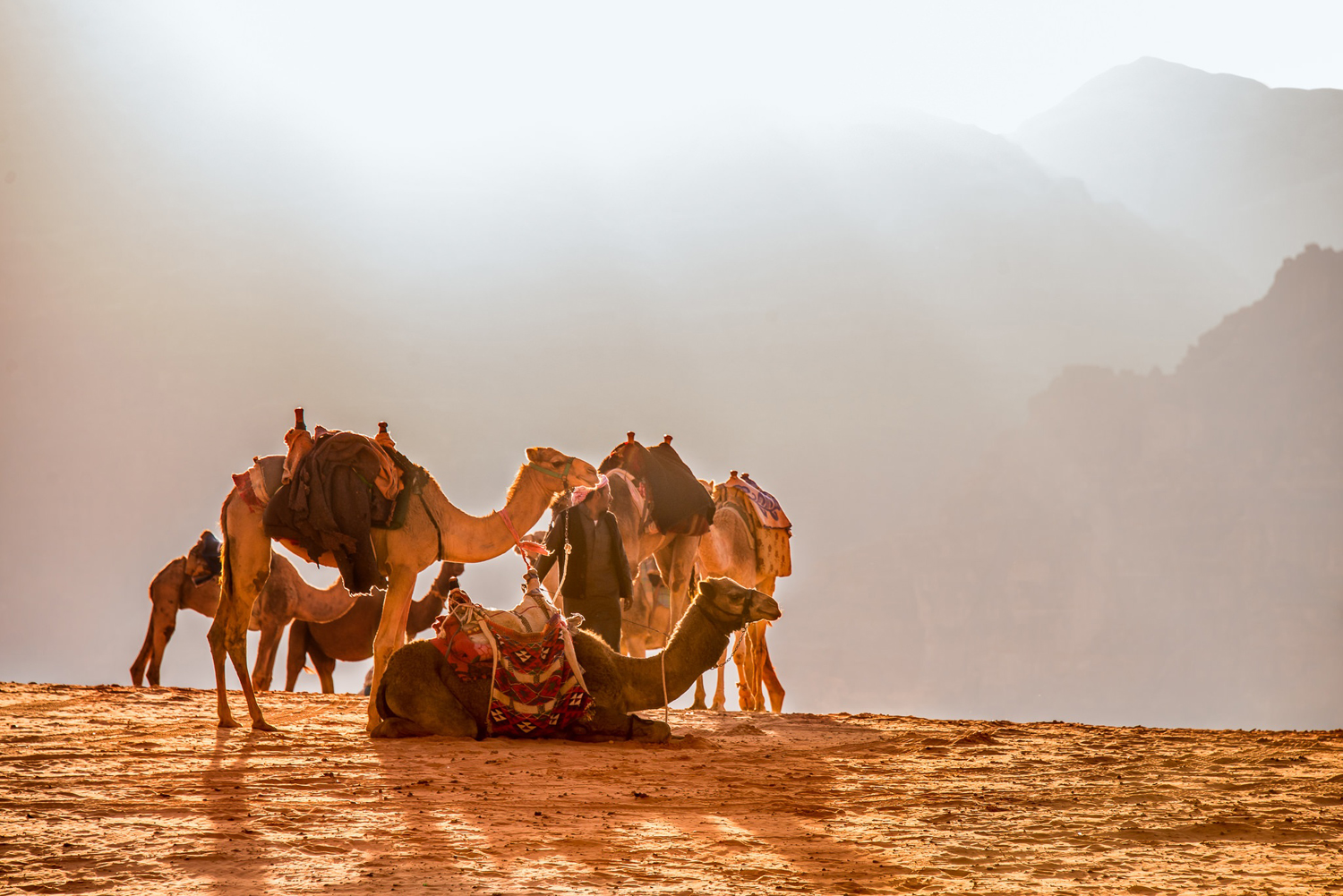 Photo whentobewhere.com
Very long time ago the desert used to be sea with Moon Valley as its bottom. But Earth kept changing and water left the place. Jordanians believe that part of moisture soaked deep into the ground and now Wadi Rum is a natural bank of huge clear drinking water reserves. First people began inhabiting these deserted lands about 800 thousand years ago. The land was called Iram back then, Nabataeans were its masters. Even now one can see remains of their dwelling here and there in the desert, though they look more like refined parts of rock formations. In due time sands became a shelter for T.E. Lawrence of Arabia. In times of World War I when Arab population rebelled against Ottomans, British officer created his military base among multicolored rocks. It was there were he hid his weapons, came up with his cunning advance plans and enjoyed mountains in evenings.
However barren land of Wadi Rum is misleading. It became home for eagles, vultures, sparrows, sand dune cats, scorpions and snakes. There is also "soapy grass" – amazing plant that grows in sands. When wet with water, it begins to foam and becomes very much suitable for washing clothes and oneself. Bedouins use it both in household and medicine in full swing.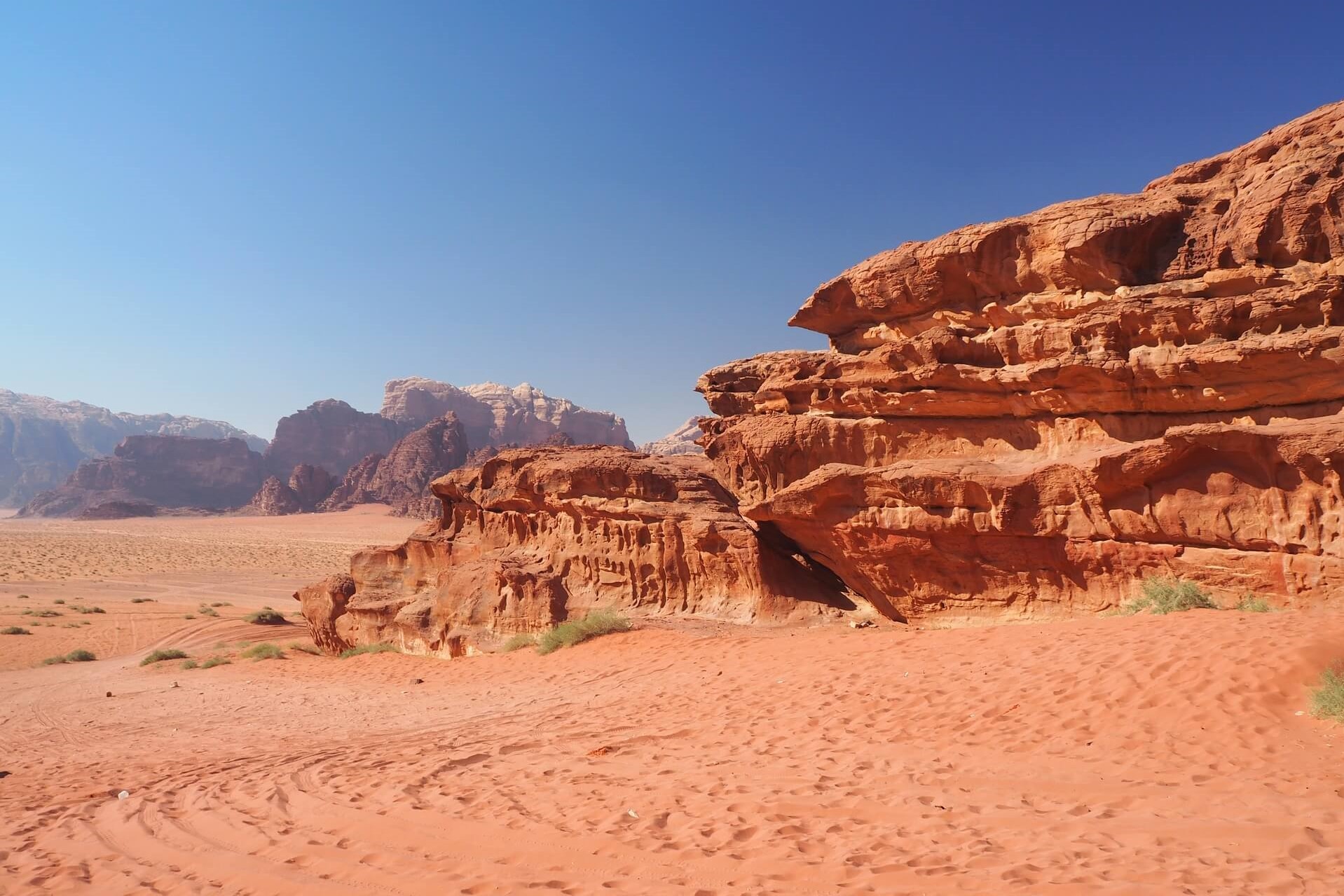 Photo bridgetravel.com
Welcoming sunset in a desert is like watching birth of the world. First mountains acquire some sort of internal shine, then their edges take soft, warm shade of pink. And there they are, sun rays dancing on sand and groundcloth, gently touching eyelashes and promising new delightful day. And it seems like there is no more haste, like everything in this world has become perfectly clear and a morning cup of fresh coffee with cardamom is able of bringing true happiness.
Cover photo fodors.com