Thermal baths: Another reason to visit Budapest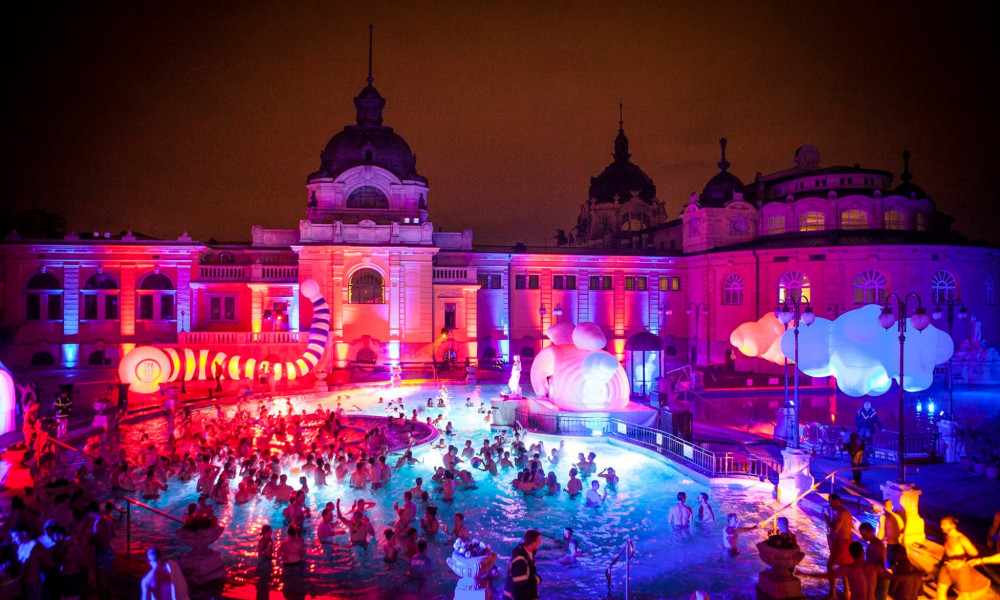 Owing to its majestic beauty and luxury, many people do not hesitate to refer to Budapest as "Eastern European Paris". In this city, literally drenched in bronze and granite, hours of walks and excursions fly quickly, echoing in the evening with tired and buzzing legs. In order to get a recharge after a few busy days and to go on active acquaintance with the Hungarian capital.
OUTLOOK invites you to the local thermal baths, where guests are sure to get a much desired energy boost. Very few people know that Budapest is a huge, almost two-million metropolis, the only European capital which has the status of the resort city. Therefore, the local thermal health spas are not just a tourist attraction, but a whole culture and centuries-old tradition. Geologists and Budapest residents claim that a real thermal sea is splashing beneath city grounds, this thermal-water reserve rises up to the surface resulting in 26 baths operating nowadays, where you can both soak in hot pools and drink health beneficial water from drinking fountains.
The first healing properties were found in times of the Roman Empire by the ancient Romans, who knew a lot about everything that prolongs youth and gives strength, so they began to build Aquincum full of pools known for their fantastic curing effects for neurological diseases, problems with the musculoskeletal system, relief for more serious illnesses and injuries. In the Middle Ages it was taken over by the Turks, who repeatedly established control over the city. So it is not surprising that today the Hungarians, owners of the Magyar metropolis, the same actively use gifts bestowed by their native nature, visiting the health spa resorts at any time of the year, spending there at least half a day to improve health and bathe their cares away.
Now scan through our selection, consisting of five most interesting thermal-spring spas of Budapest, although this does not mean that you should go to these very places, since apart from listed below, there are also more than twenty healing oases. They are scattered throughout the city and are different by working time, prices for admission and medical treatments ensuring complete relaxation. (it is better to visit websites of baths for updated information, as prices can vary depending on the season, day of the week and a time of visit), every guest of the city is sure to find the best option. So, grab your swimming suits, good mood and take a dip in one of city famous thermal-heated baths!
Széchenyi Baths
Széchenyi Boaths dubbed "Szecska" by the locals, are obviously the most popular baths of the city, especially when it comes to tourists. Located almost in the canter of Pest, in the vicinity of the subway station Széchenyi fürdő, this health oasis instantly makes visitors fall in love with warm waters and amazing renaissance-style architecture. The complex is proud of its indoor pools as well as year-round alfresco pools: is a truly divine pleasure to swim in hot spring-fed thermal pool while snow dusts the treetops in city parks. In addition, visitors are entertained and healed by a swimming pool with artificial waves, Jacuzzis, 18 kinds of baths and saunas, and, of course, Budapest pensioners of the central areas who play chess directly in the water on floating boards. These regulars of Széchenyi baths are real symbol of these very spa. However, despite of abundance of the Hungarian seniors, Szecska is targeted for the guests of Budapest: it offers English-speaking guides, souvenir shops and even recognizable fast-food outlets and food courts in the vicinity. There is no better place for your first acquaintance with thermal springs.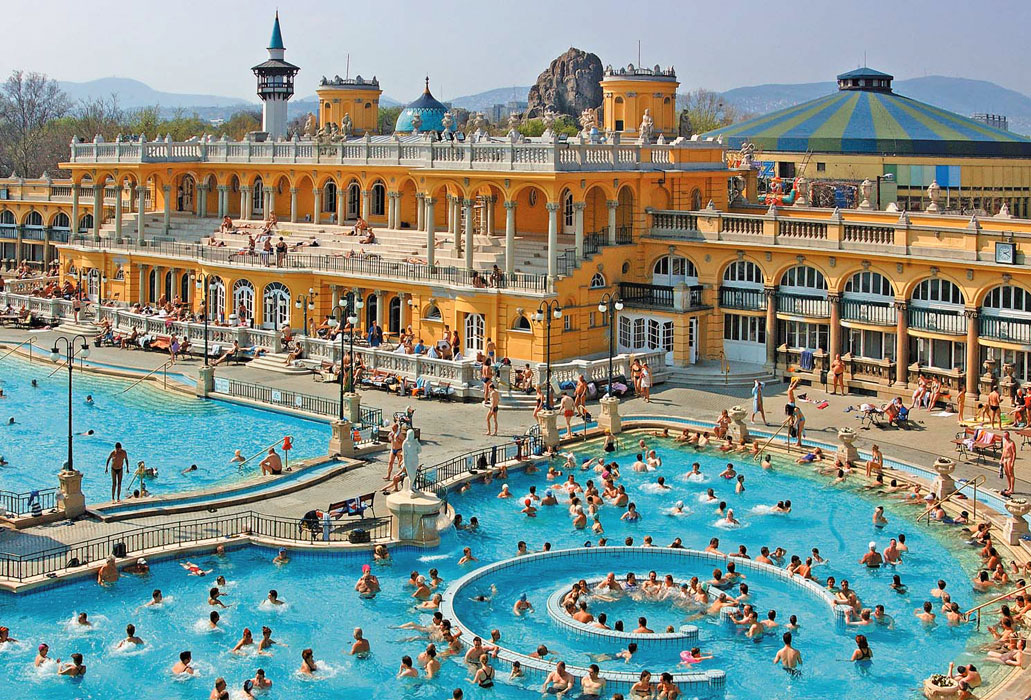 Photo fivecore.net
Gellért Baths
On the other bank of the Danube, in the territory of Buda, by the Gellért mount, there are the same name baths which are definitely the most expensive and aristocratic world-class healing resort destination in the city. It is typical for this charming locale since the neighbours are the Buda Castle and other castles and palaces of the Austro-Hungarian rulers and nobility. To meet their needs there was build this luxury spa infrastructure, which today is accessible for any mere mortal ready to pay at least 16 euros for entry. It should be noted that place is worthy of that money, because here you will swim escaping the city's bustling scenes, and just wander from room to room admiring luxurious bathing chambers in an Art Nouveau style. Compared to the Széchenyi baths, there is a totally different atmosphere: hot water and air soaked with a hundred of minerals, convey a feeling of dignity and aristocracy. Swimming pools and saunas are about two times smaller than Széchka, so be ready to wait in queue for the steam room or Jacuzzi. The default prefix vip added to everything that concerns the paid services, whether it is massage or other medical treatment, is well reflected in the price tag.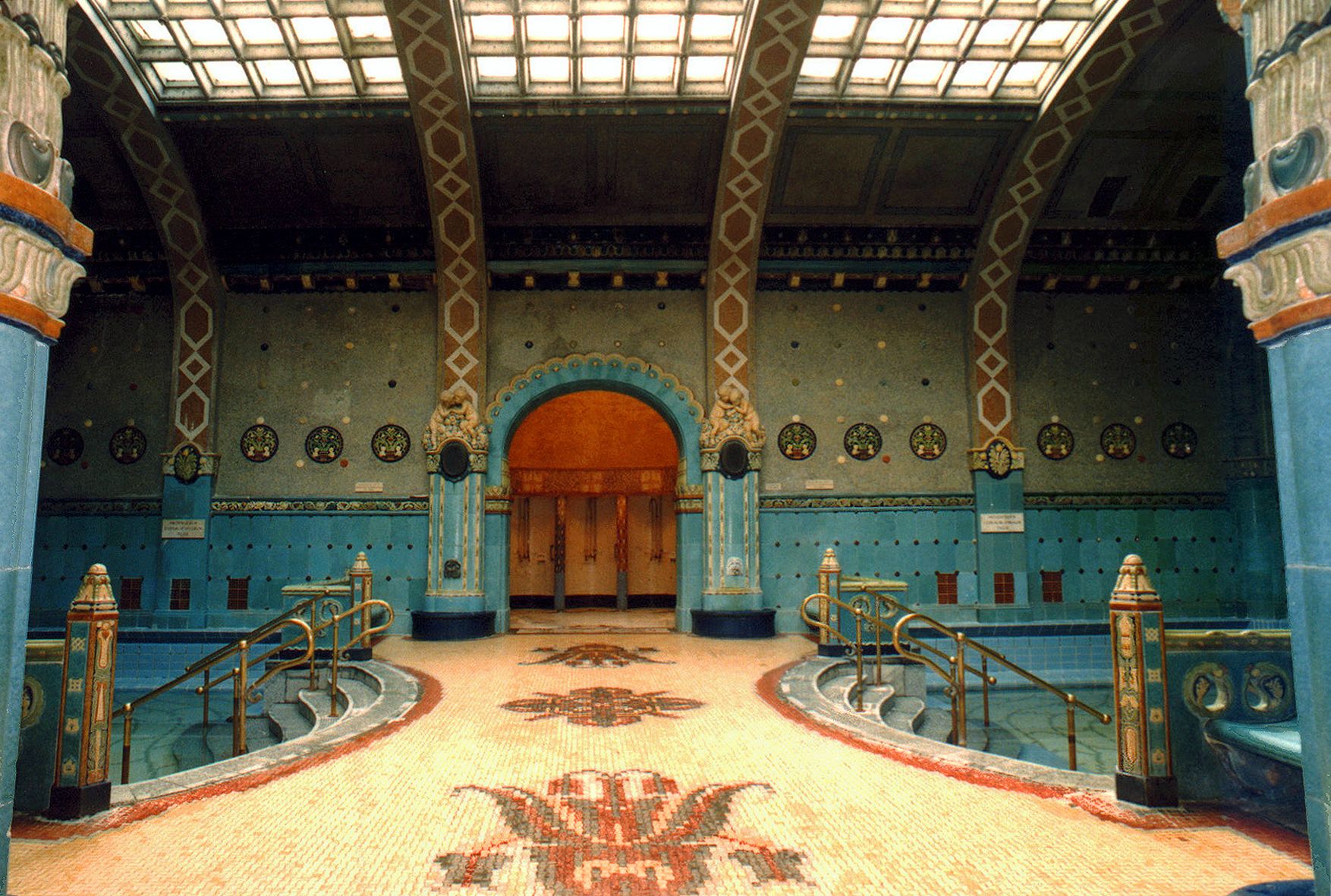 Photo gotohungary.com
Rudas Baths
To get into this medical mecca, just cross the Erzsébet Bridge to Buda side, they are located at crossing, on the other side of Gellert. This place a legacy of the Turkish occupation dating back to the 16th century, at the end of the 19th century historic spa underwent a major renovation when pools and saunas were added to the complex. In addition to the famous mineral waters with a specific smell Hungária, Attila and Juventus, which you can try directly from the sources, Rudas is noteworthy for its Jacuzzi tranquil recreation zone on the rooftop with an incredible panoramic view of the bridge and the Danube. Enterprising Hungarians immediately realized that most of the tourists come for the sake of bubbling baths, so they made a trick: entrance to the baths is paid in one box office, and admission to Jacuzzi is paid separately. Combined ticket will cost 12 euros and it is a great offer in terms of price-quality.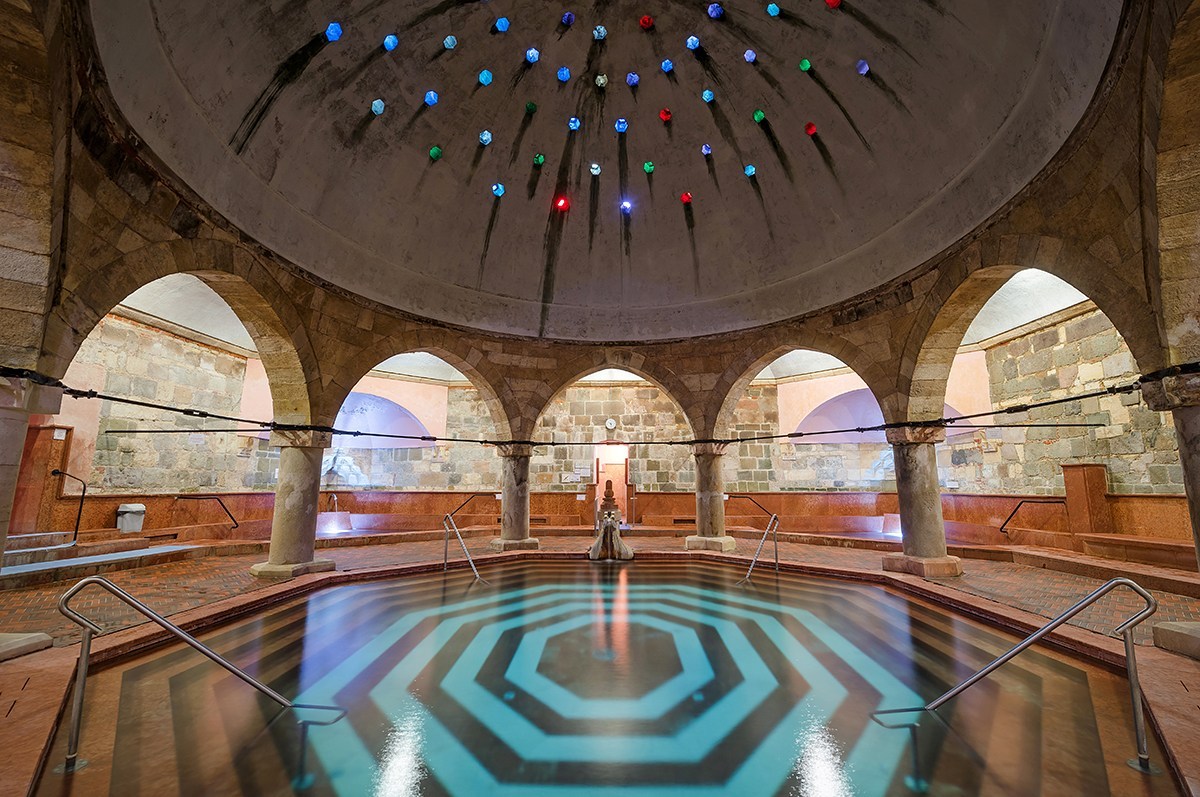 Photo welovebudapest.com
Veli Bej Baths
We are still walking in Buda, but shifting towards Obuda, an Old Buda which has Veli Bej (formerly called Császár Bath), the oldest operating health spa resorts in the Magyar capital. It is not known exactly how old this place is, it was erected by the Ottomans. The spa has now come back to life after a complete renovation and now it features a blend of modern and traditional facilities such as steam rooms and wellness areas. Nevertheless, the heart of the bathhouse, a small medieval room with somewhat gloomy atmosphere, is still there. Veli Bej baths are considered the most authentic spa in Budapest and has a great reputation among locals: youngsters cure hangover after party nights, successful and democratic businessmen gain strength before a heavy working day, and of course, the elderly Hungarians prolong youth at discounted prices. Besides budget-friendly massages and really tasty mineral springs, Császár Baths spa are renowned for their delicious food at reasonable prices. Probably, they serve the most affordable and tasty after-swimming sandwiches in the whole Budapest.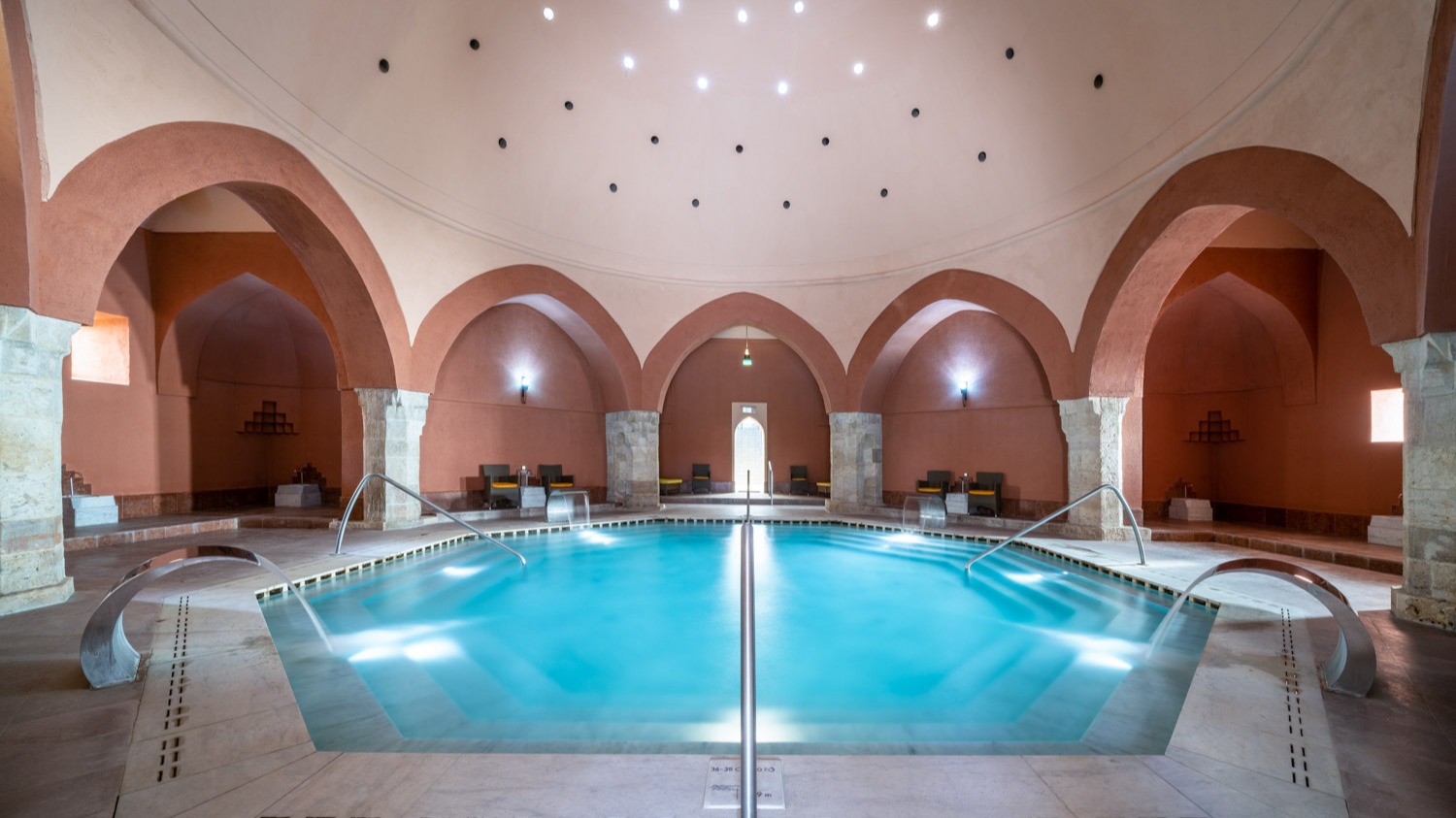 Photo furthermore.equinox.com
Lukács Baths
We would like to finish our review in Lukács Baths, built nearby by the Crusaders. In addition to all that is offered in other thermal spas, it is remarkable for a couple of unique offerings. The first one is tepidarium, a stone room with benches where the heat goes from everywhere. Such a structure was invented by the ancient Romans, and it has been popular since people walked in togas, it is a fun and pleasant place to wind down and relax the body and mind. Another unique spa experience is a powder massage, raising up even the most exhausted traveller. Tourists do not frequent the Lukács baths as much as others in Budapest, as it is not much extravagant. So if you decide, be ready that staff does not speak much English, but this experience has its own charm and an opportunity to learn real Hungarian Budapest. Moreover, there local young people arrange parties and night swims, turning party fun into a recreational event.
Cover photo bathsbudapest.com