White Jazz Syncopation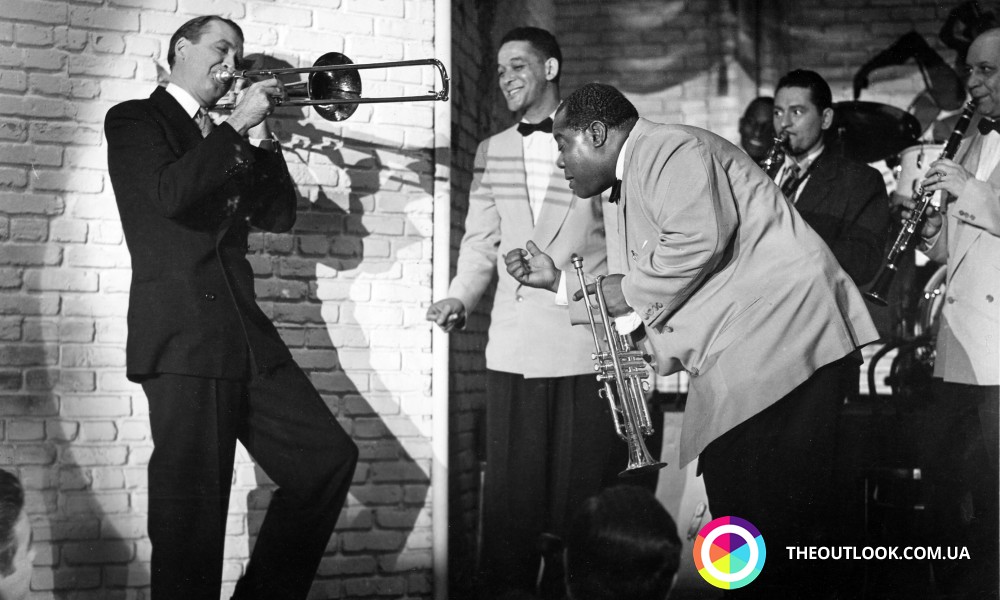 "I don't mean a thing if it ain't that swing", - that's what famous jazz musician Glenn Miller used to say. African slaves brought to the USA began performing 'dotty' rhythm and swinging pulsations for white jazzmen to take up mysterious syncope later. At that, "black" and "white" jazz were going in separate directions: Africans preferred improvisation while Europeans opted for ready melodies.
Jazz has been considered music of the "black men" for a long time. Disgraceful, immoral – jazz was ascribed wit negative qualities, parents forbade children play such music. Situation changed in 20th century when western musicians paid attention to jazz. "Jazz Age" comes to Chicago step by step and in New Orleans jazz melodies performed at funerals set in as fashion.
Those were clarinetists from New Orleans Leon Rappolo and Limme Noone who became teachers of fourteen-year-old Benny Goodman. The latter one didn't acquire "royal" title instantly. In times of the Great Depression they booed his art and demanded ticket fees back. When Goodman's band came to Hollywood, they, in order to raise ratings, began opening their shows with popular dance music. But even that left audience pretty unenthusiastic. Desperate, Goodman started playing jazz and – what a miracle! – rejoicing of the crowd had no limits. After that concert Benny Goodman was nicknamed King of Swing and his music style is considered the most distinctive till now.
Back in the days there was race rule: white people only played with white people. Anyway, Benny Goodman disregarded public opinion and invited Africans to his band: vibraphonist Lionel Hampton and pianist Teddy Wilson. This bold move broke the ice for tolerance in jazz.
In 1920s-1930s jazz got crowned with laurels of popularity but happened to be out of law at the same time – all because jazz was performed in back-street bars created as a counterbalance to the Prohibition. For youngsters the style became a symbol of deliverance and all-permissiveness.
Another great musician – Glenn Miller – brought strictness back to jazz. Stringent discipline reigned in his band: not a single world was allowed on stage and color of socks had to match the color of a handkerchief in jacket's pocket. Upon acquiring global popularity Miller dismissed his star orchestra and during war with Japan was off at the front to inspire soldiers with his performances.
"I'm happy that I succeeded in doing two things: I made the drummer a high-priced guy, and I was able to draw more people to jazz", - these are the words said by Gene Krupa, drummer who was the first in history to bring drums to the status of a lead instrument in jazz. Gene Krupa denied pioneering work of "white" musicians saying that "white" jazz owed its existence to Louis Armstrong. Another controversial view denied necessity of improvisation: "When I go into a solo, I need to have an accurate picture of what I am going to play."
Last name of another celebrity – Paul Whiteman – has a very talking meaning. Jazz-playing white man began with military melodies in his tracks. But he did so only until he got the idea of combining classic tunes with commercially successful melodies. Now that we've mentioned it, Whiteman's performances in symphonic jazz style were the most expensive in American show business of 1930s – one ticket cost 10000 dollars.
… Modern jazz is up-market. Dance music evolves into cool-jazz genre, elaborated by saxophonist Lester Young. Melody gets more and more complicated and a musician has to be primarily a composer. Famous jazzmen of modernity – Michael Davis and Chet Baker – developed 'cool' manner of sound extraction and polyphonic musical form. That's why on present-day jazz festivals expression agrees with lyric poetry and audience insist that jazz is not just a music style – it is a lifestyle, too.