In mood for roses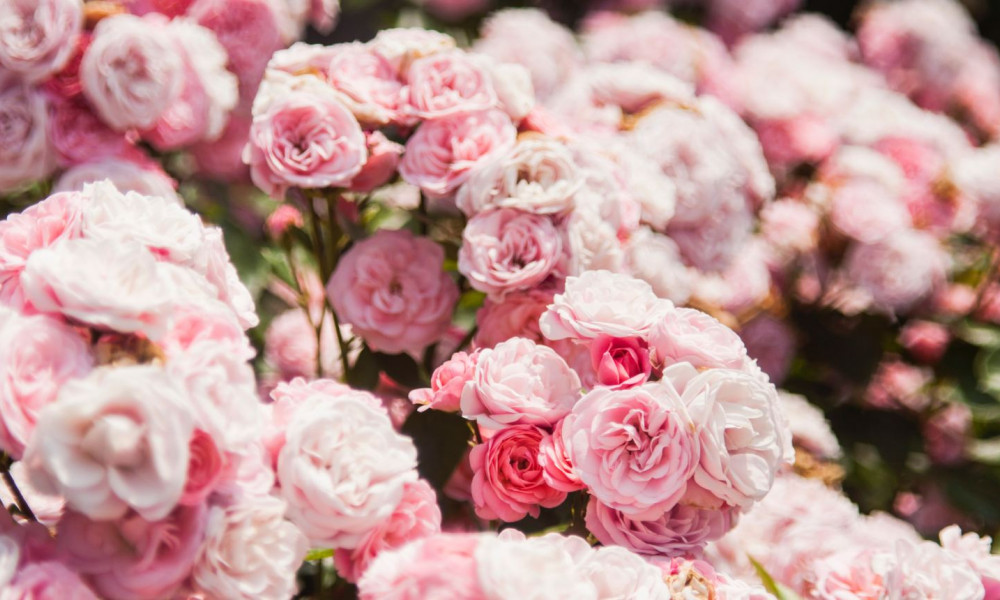 When I was very young, I came up with my own legend as if I didn't like roses because of them being snobbish and way too popular. However the real reason was that I simply couldn't afford such expensive flowers. But with time they lost their halo of inaccessibility and now I can enjoy their scent, thorns, spires, exquisite arrogance and vulgar revel…
My mother has a rose garden of her own that in periods of blossom reminds me Andersen's fairy tale about Kai and Gerda, evil sorceress that bewitched the girl and gordesses that help the heroine to escape. Usually at midday I pour myself a cup of coffee to go outside and admire the sun adding color to flowers and bees swarming in buds collecting sweet nectar. I slowly inhale their persistent honey-like odor sand fancy myself to be that little Gerda. I tear of several petals to put them under my tongue and enjoy bitterish taste…
Petals of red and pink roses are especially appetizing. When laid in a thin layer on slightly dried bread, they suit morning tea perfectly. They can be bestrewed on spaghetti, served with chicken, added to honey and wine, in France they make capon roast in them. But mostly gourmets appreciate deserts made of these flowers – jams, jelly, puddings and cookies.
Scientists insist that consuming petals of red and pink roses is even healthy. They contain vitamins from B, C and K groups. They also contain potassium, copper, calcium, iodine, iron, zinc, magnesium, manganese, chrome, silicon, selenium, vanadium and molybdenum.
Anyone can have an eyeful of roses: tasty, beautiful, fragrant, berhymed and in some religious cults even elevated to the status of divine flowers. In Kiev National Gryshko Botanic Garden as many as four hundred species are collected. Large, small, full-blown, velvet, flat, rambler and climbing, they occupy territory that can be compared to five football fields.
Elena Rubtsova, a leading scientific expert, can distinguish her thorny nurslings even blindfold only by smell. She grew up among flowers. Her parents used to work in the park as well and take their daughter with them when they had to hill plants or pull out weed in the botanic garden. It was then when Elena's love affair with nature began. Nowadays she paces proprietary among bushes and proudly shows unique grand roses. Some of them have a scent of irises, others – of violets, carnations, peaches, apples, raspberries, citrus and almond… There are ones that smell like bedbugs or emit no smell at all. Elena has very special relations with beauties produced by local selection breeders. The pride of the garden is a breed called Khortytsa, yellow rose that has to be sheltered for winter. Yet all kinds of diseases and blasts bypass it.
According to Elena, there is a vogue of roses. While very recently wineglass-shaped buds were sought after, now rosette-like flowers are in trend. Their distinctive feature is numerous short petals slightly flattened from above. As a rule such centifolia has several cores. These are medieval breeds that reached our times in almost pristine state. Among currently popular retro flowers there is white Alberic Barbier with lush shiny leaves, cream-colored Marshall Neil and relatively recently produced quasi-ancient breed Alchemist.
Yet such grand roses have one disadvantage – limited color spectrum. It is mainly white, pink, crimson and purple flowers. There are no yellow, apricot or orange among them. However they are rich in shades – the thing that can envied by modern breeds. If it is pink – then it is pure china tint. If it is purple – then it is inky, as deep as violet.
An undeniable advantage of antique breeds over modern is their amazing fragrance. In ancient times centifolia were grown for the sake of precious attar, rose water oil that people used to value as a remedy from all diseases.
Such countries as Ecuador, Bulgaria and Morocco managed to use natural charm of the flower. Combination of tropical climate and mountain air is believed to be perfect for growing of these beautiful and durable buds that recently became glowing in the darkness. Therefore expectedly that these are Ecuadorians that one third of modern rose market belongs to.
Bulgarians and Moroccans, despite living in countries that lack such climate features, also became rather successful in the business. Their aethereal oils, perfumes and beauty products are widely known worldwide. In Morocco they also learned how to make unique aphrodisiac oil out of thorny flowers that, according to experts, can calm down both thoughts and emotions in a short time frame. It is also believed that its effect on women cannot be better for it instills their confidence and raises their sensitivity.
Facts about roses
Archeologists insist that these flowers exist on Earth for about 25 million years.
French perfumers value roses that grow in the vicinity of Grasse as well as in plantations of Bulgarian Rose Valley most.
People, who constantly use rose oil, arouse liking from the first sight in people around due to their light, even aura, benevolence and unobtrusiveness.
Young Chinese designer Xiao Fang gave his girlfriend a dress made from 9999 roses and proposed her at the same time. The outfit was "knit" by a couple of sewers in 24 hours.
Photos by Elena Rasenko
Cover photo mybluprint.com