We were there: Sequoia vs Kings Canyon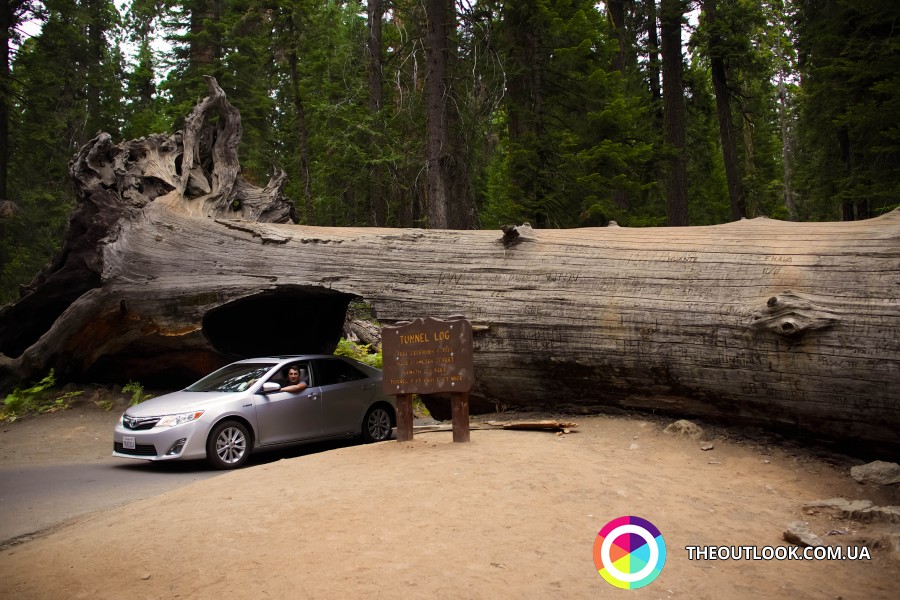 To drive all over good few of the States, give a hug to shaggy sequoias and make one's mouth sore of sandwiches Subway? No problem. Marketing expert Anna Vitryachenko and businessman Eduard Fedorov from Ukraine share their travelling notes about California national parks and more.
Sequoia National Park
A «must see» place for us is Sequoia National Park situated on the border with Sierra Nevada mountain range. Incredible views, gigantic dateless trees, vegetation and fauna – all these stir ones imagination! While on a trip, don't hide your camera too far – you might get tired of reaching for it.
With a height of 83.8 metres, a diameter of 7.7 metres, an estimated bole volume of 1,487 cubic metres, and an estimated age of 2,300–2,700 years, it is nevertheless among the tallest, widest and longest-lived of all trees on the planet.
It is worth saying that we were getting to this natural miracle on our own wheels. A trip from Los Angeles took some four hours but despite a significant distance, the journey didn't tire us at all. More to that we were speeded from point A to point B by the same driver. When racing along flat land it is impossible to imagine that in 10 minutes a completely different, unique green world is expecting you with its microclimate, picturesque canyons and mountain rivers. BUT! On the territory of the park itself you have to be ready to face steep descents and ascents accompanied by winding lacets. Therefore a route section, say, 5 miles long, can take up to 90 minutes depending on the complexity of the road. You should definitely consider that when planning a visit to places of interest.
A trip to this park doesn't range among ideas that arise spontaneously and at the last moment. You should stay here for 2-3 days to have a peaceful walk around sequoia forests as well as to go to Kings Canyon – as picturesque a place situated nearby. Sequoia National Park is one of the most attended locations in the USA therefore all the lodges and hotels both within the territory of the park and outside it, enjoy 95-100% occupancy almost year around. The most popular hotel, Wuksachi Lodge, is located right in the centre of the park. By the way, tables at Wuksachi Lodge restaurant are to be booked in advance, preferably a day before. Prices are above the average. A dinner for two can easily cost $100, which, unfortunately, has no influence on food quality. Accommodation costs keep apace, too – you'll be asked to pay $250 for one night's stay. However, if you failed to book a room at Wuksachi Lodge in time, it's not worth desponding. As far as in 10-20 miles away from the park there are numerous hotels and ranchos ready to offer all kinds of rooms against $100 – $150 per night for your use. Camping would be a more low-budget opportunity. There are all the conditions for it: convenient location of grounds for tent towns as well as bathrooms and minimarkets where aside necessary foodstuff (even beer and wine are available), insect sprays, charcoal, firewood, crockery and personal hygiene products can be bought.
It requires payment to drive into the park – $20 per car. A pass is affixed to a windscreen and it is valid for 7 days. As a matter of fact, against $20 you get a week of unhampered travel around the whole territory. By the way, this can be put into practice year around (in winter employees will offer you special chains for the wheels of your vehicle).
First thing to be done when there is to get to Visitors centre and acquire detailed maps with places of interest, museums, gas stations etc. marked on it. Come to think of it, the staff of the park, from shop assistants to rangers, are very friendly and ready to answer all your questions.
Should you come to Sequoia National Park in the evening, we suggest you get to the top of Moro Rock, watch sunset and admire views. Another never-to-be-forgotten place is Crystal Cave. This cave is a whimsical work of art that consists of stalactites and stalagmites that extend towards each other.
If you feel indifferent about minerals and karst formations, it won't be a problem to find something to your taste as well: flood lain meadows in abundance are for those who seek the sense of peace, and in addition there are numerous places for hiking-lovers.
Kings Canyon National Park
As soon as you get bored and start yawning on the sight of Sequoia (however unlikely, but still) – welcome to Kings Canyon National Park. It is situated in an hour and a half or two hours trip from here, this with due regard to driving on lacets.
It is free to drive to the territory of Kings Canyon. But bear in mind that it is closed in winter because the roads, although straight, are quite narrow and dangerous. Get a precious map with all necessary mark points and compile your own route "around beauties". Roaring River Falls became our favorite – seems to me, waterfall fans are going to appreciate this one.
We suggest that you devote as much as one day for Kings Canyon Park in order to continue your way home or wherever fair wind might lead a traveler.
And, to conclude with, some useful notes.

Before entering Sequoia National Park, make sure that the tank of you car is full: there are no gas stations on the territory. For economy purposes you may consider using services of shuttle buses.

Take sufficient amounts of non-perishable food with you. There is only one decent restaurant in the park (Wuksachi lodge), the rest of the food is sold in mini markets. From my personal experience: two days spent half-starving can make one look at Subway sandwich as at the summit of culinary art!

Should you be afraid of bears, couguars and other wild creatures, stay closer to people, make a lot of noise when moving or simply relax and enjoy. We haven't heard of anyone being eaten or bitten within the territory of the park. Yet, in the night it is better to preserve food in special metal boxes, not in a car.

Hug sequoias: they are warm and shaggy.

Provide yourself with comfortable clothes and footwear only: evening dresses won't be of service even in the most sophisticated restaurant in the park.

Keep your eyes wide open and enjoy!