Dark blue pearl of Mongolia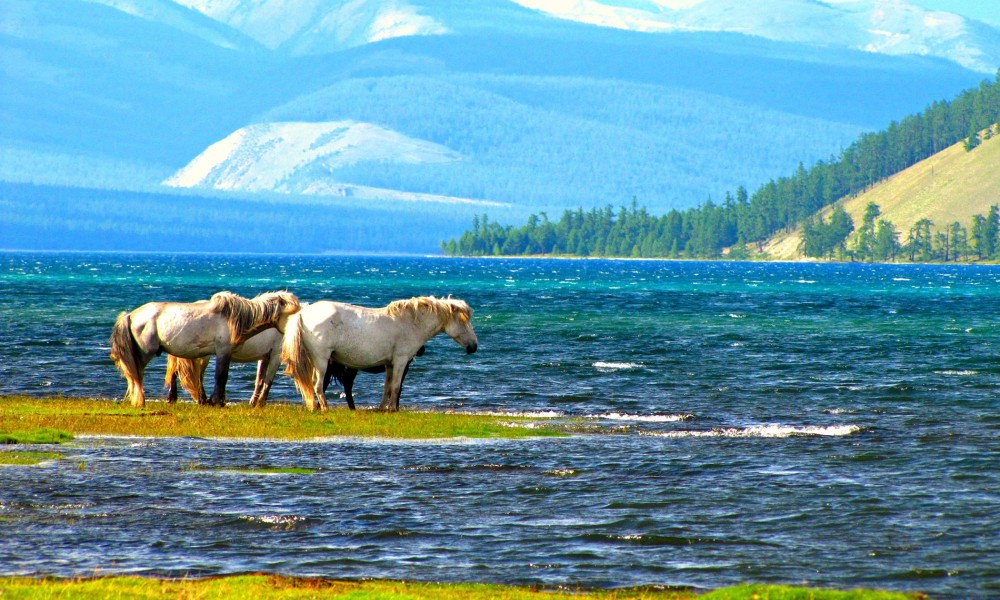 Six million years ago, in faraway Mongolia a deep crater of an extinct volcano was gradually filled to the brims with water, turning into a wonderful lake. Water ran high with gusts of wind, and sparkled in the sun like precious jewel, so no wonder that along with the official name of Hövsgöl Lake, this nature wonder has a more poetic name of the Dark Blue Pearl.
Local residents who are clearly not satisfied with so prosaic story of the lake origin, retell their own more romantic version of events.
In those far-distant times, the Paradise Valley adorned that corner of Asia: majestic mountains, dense forest filled with the birds' chirping, beautiful valleys with peacefully wandering shaggy yaks and swift-foot deer, and happy people generously endowed with these gifts of nature... And suddenly everything changed within one minute: something noisy boiled and moved, the ground was broken by mighty fountain that began its frantic dance. Water flooded this paradise on earth, broke trees, washed mountains, solid ground disappeared just before eyes.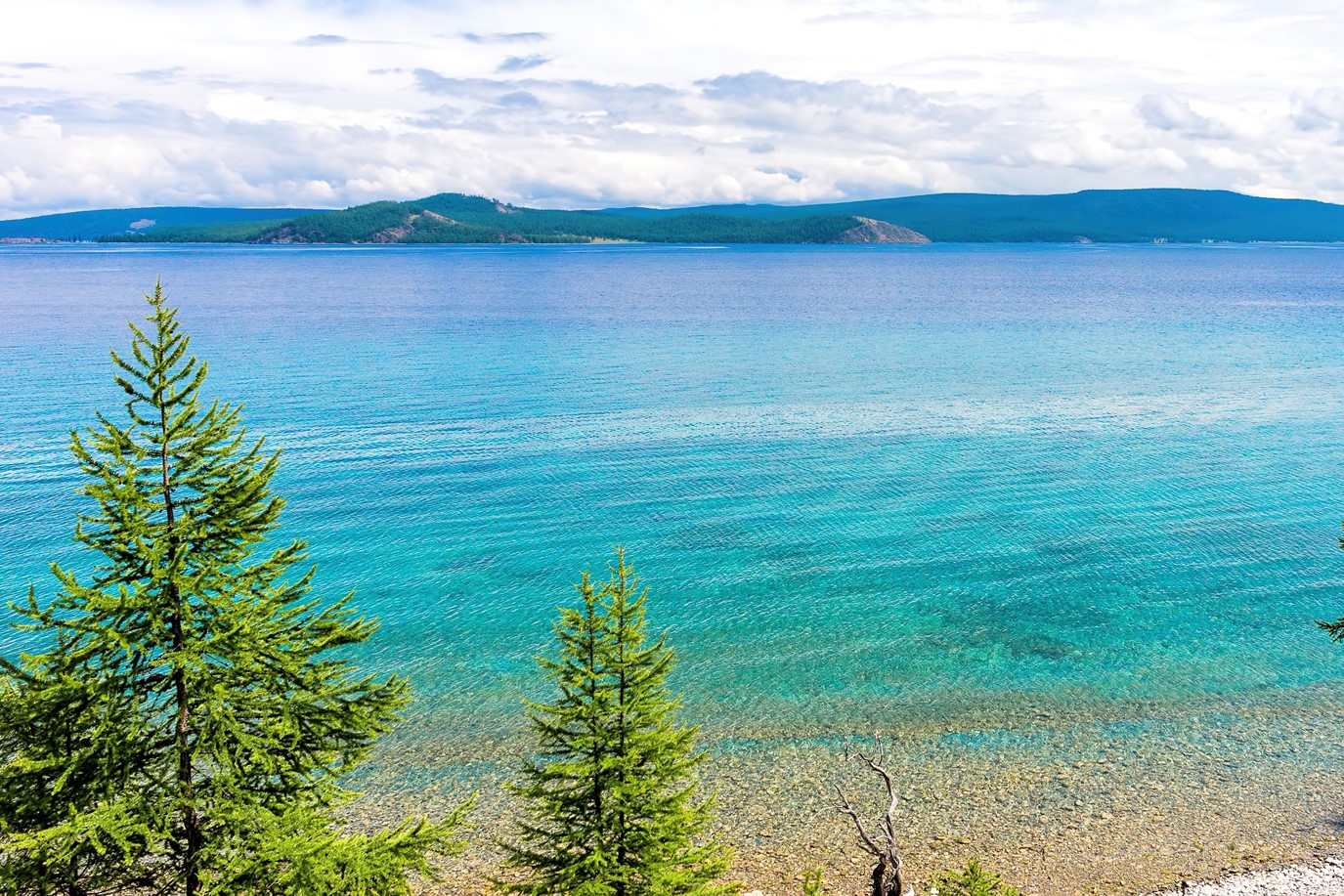 Photo forum-eurasica.ru
Then Mongolian hero strongman grabbed a huge rock, and used all his strength to close the hole from which water was gushing out. Fountain stopped, and the water that leaked out, formed the miraculous Hövsgöl Lake. Don't you believe me? But the Dalain Khui island covered with larch forests still sticks out from the surface of the lake and attracts to the island local shamans who conduct secret rituals.
Read also: Mongolia with the eyes of Pavel Petrushko
Dry mathematical facts from reference books or other sources say that Hövsgöl Lake is up to 270 meters deep, 136 kilometres long and has an area of 2700 square kilometres, but these figures do not give any idea of the wild nature beauty and charm of Mongolia's most scenic destination. Indeed, the same as a real jewel adorns neck of high-society young lady, this famous lake decorates the beautiful Mongolia. Surrounded by craggy peaks and rolling green hills, it stretches out in a treasure box of coastal landscapes, giving pleasure to fishermen, refuge for tourists and local residents.
Fresh water is drinkable, and abundant in eatable fish. Second in size after Russia Baikal Lake, this extraordinary lake contains between 1% and 2% of the world's fresh water, It is connected with Baikal by numerous rivers and streams that flow from one amazing edge to another.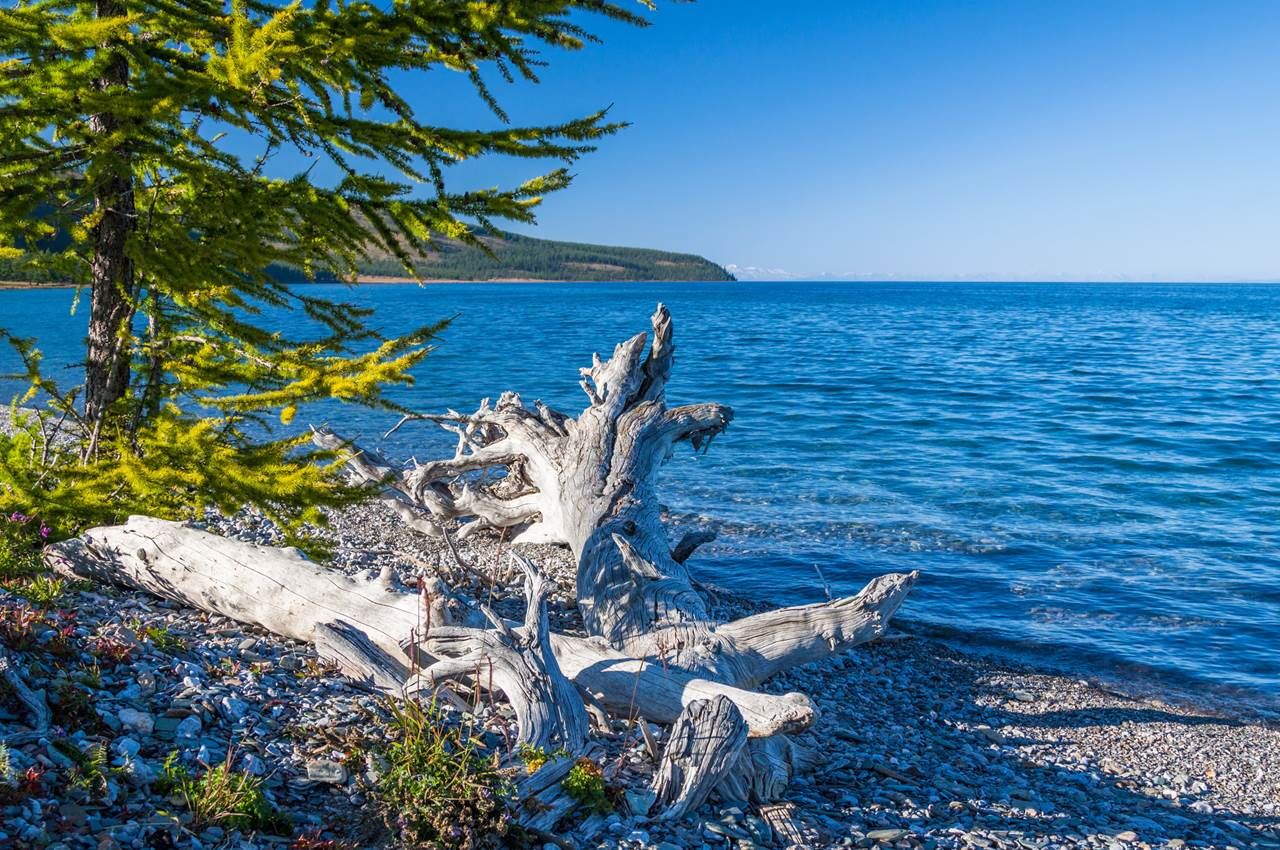 Photo pinterest.com
Variety of fish in Hövsgöl Lake will amaze any real fishing admirer. Therefore, they come here from everywhere with friends, family or even alone, to gain not only so valuable fish, but rather emotions, friendly chit-chats near campfire and simply 'get back to nature'. The lake provides habitat for huge amounts of both small fish, and giant grayling, burbot (nalym), perch, lenok and taimen, which is also referred to as river wolf for its predatory habits, it can be longer than usual wolf. Yet, despite the number of fish, it never throws itself on the hook. Fishing on Hövsgöl Lake requires outstanding skill and dexterity.
Read also: On the catwalk: Mongolia
The coastline of Dark Blue Pearl is equally beautiful to the jewel. In 1992 there was founded the Lake Hövsgöl National Park - one of the most unique and beautiful places in Mongolia, where natural riches intertwined with man-made facilities. Peoples living here from time immemorial are Evenkis, Tuvinians, Buryats, Soyots, Darkhad, Tsaatan, they bred reindeer and other livestock. To the delight of tourists, in these area one often can see araba carts drawn by domesticated yaks, along with the same yaks which freely stroll on lush meadows around the lake. The area is home to a variety of wildlife such as mountain goats, wolves, moose, sables, and brown bears, which are listed in the International Red Book and feel safe here. Ornithology enthusiasts can easily meet and record such rare species as silver gull, bustard or black vulture.
Photo adventureworld.com.au
Everywhere, on both sides of the lake, one can see scattered herders' tents which look like tiny sandcastles left after kids in a sandbox. It is an atmospheric place to explore nomad culture: bright belts on waist of Mongols, national hearty dishes and traditional alcoholic drink arak made from mare's milk, horseback riding, and even dog sledding in the winter, when lake freezes over completely from December to May and the dark blue pearl becomes white and icy... Any American, Finnish or Ukrainian tourist can feel like a true nomad on the shores of Hövsgöl Lake.

Cover photo heroesofadventure.com