A wife is never known till hunger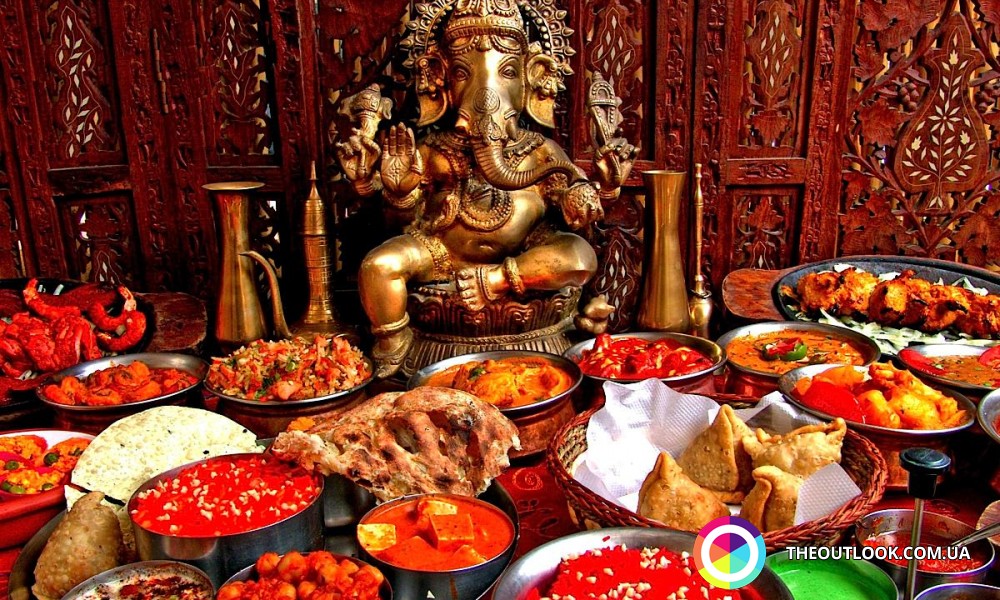 The ancient Indian belief has it that a wife is never known till her husband has poverty. Who knows if hunger can be considered as demonstration of poverty, but once a year Indian men watch a manifestation of loyalty and commitment of women in this way.
Karva Chauth is a traditional Indian festival of married women, or rather it is a celebration of a wife's love to her husband. It is shrouded in mythical stories and a bunch of rituals, and is celebrated mainly in northern and western parts of India.
Karva is literally translated as "a pot" used in festival traditional ceremonies, and Chauth is a term that means "the fourth day", as the festival is held on the fourth day after moon wane (ten days before the Deepavali - Indian holiday of lights).
The main ritual of Karva Chauth is strict fasting of women from moon to moon. They are not even allowed to drink water. It is believed that abstaining from food adds years of life to husbands. Wives have to pray and offer gifts to the gods. All these actions are designed to protect health, well-being and prosperity of the stronger sex.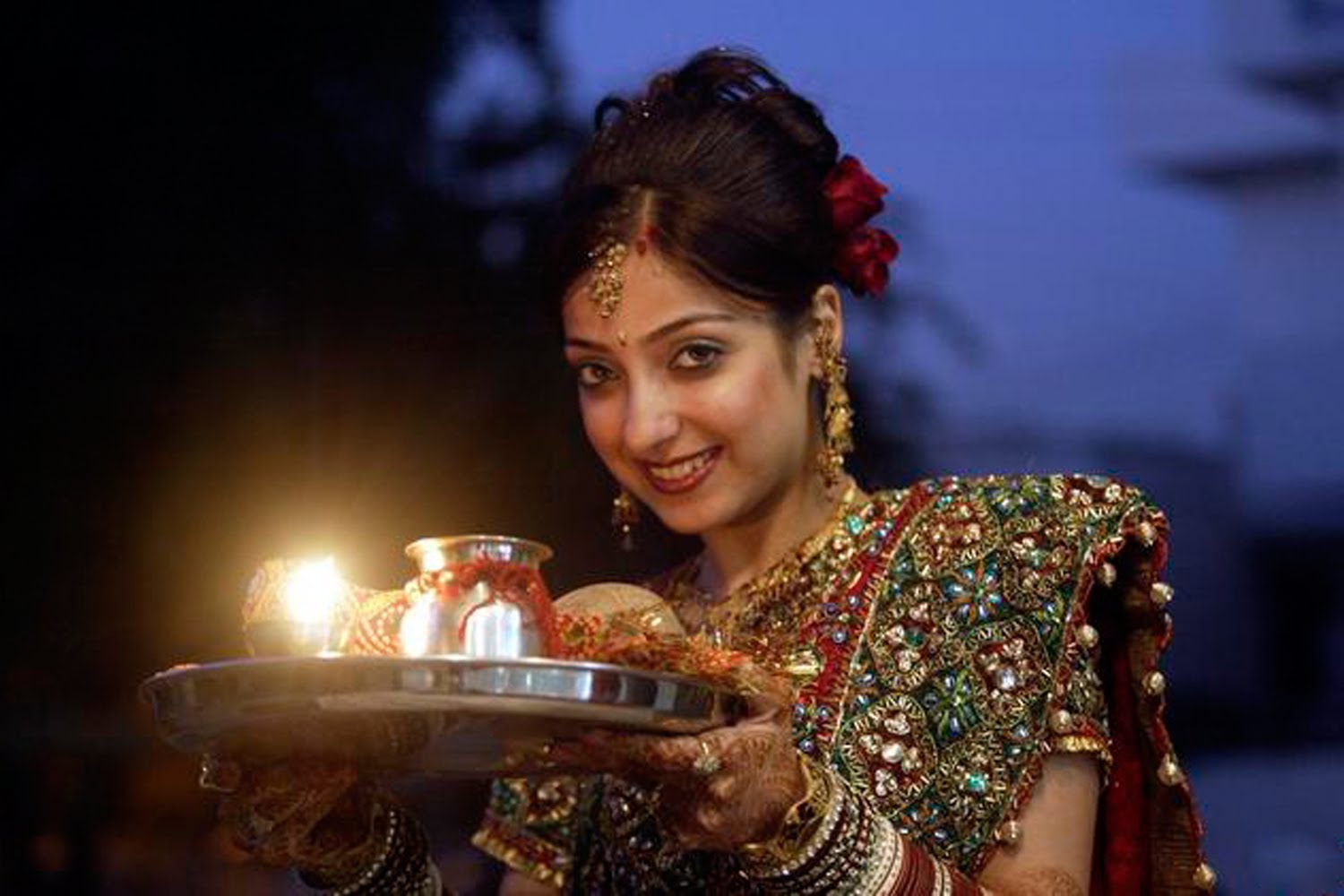 This day has been celebrated for such a long time that from the moment of its launch there retained stories and legends only.
According to legend, a loving Karva rescuing her husband from a crocodile. She prayed Yama (the god of death) to drag the beast to hell. However, the god refused Karva and then she promised to curse him. Frightened by anger of the devoted woman, Yama decided to take the animal away thus enabling a long and happy life for Karva and her husband. Her determination and absence of fear of the god became Indian symbol of fidelity.
There is also a tale saying that this day is celebrated to honour the bonds of friendship and sisterhood, so many rituals are carried on with the participation of the fair sex.
Women do their best to pretty up for Karva Chauth. On the eve of the feast, there is barely room to move in beauty salons. Most of all masters conjure over painting – they cover clients' bodies with elaborated jewel-like lace of mehendi. Henna patterns symbolize luck and prosperity. Songs dedicated to Karva Chauth often accompany preparations.
Mothers-in-law play a significant role in the ritual, as they are critics who evaluate behaviour of their sons' spouses. It is believed that this day brings a woman closer with her husband's parents. Strict mothers, following tradition, send out saris, various jewellery and cooked snacks to their "daughters".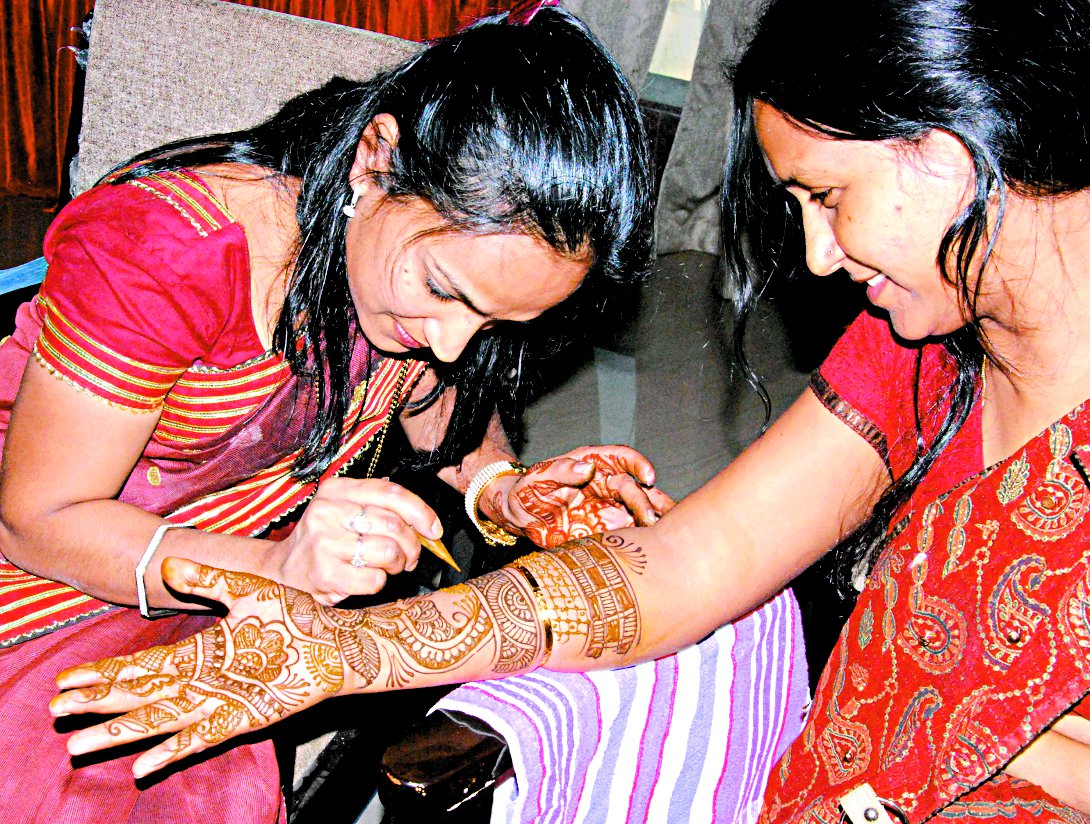 A feast for heroes of the day begins very early, before sunrise. Dresses for this event are mainly of red and pink shades, or saris donated by mothers-in-law. Young wives are allowed to wear a wedding dress. The forehead is decorated with the famous red spot called bindi.
When the sun sets down, it is time for Puja - women have to worship the gods and offer gift pots (karvas), a symbol of peace and prosperity, filled with sweets, nuts and jewellery.
Together with their husbands, wives go outside to look for the moon in the sky, which is not easy to spot this day. Having found it, they take sieve and look through it at the night lighter, and then on the face of a loved one. If for some reason he is not around, she has to look through a sieve at his photo. In some regions they look for image in jars with water.
The first food that woman may taste after a hungry day should be sweets from the hands of her husband.
After all rituals, gentlemen reward their beloved life partners with precious jewellery, and a family couple goes home to relish dishes cooked by wife in advance, or, in view of the present day, they go to restaurant.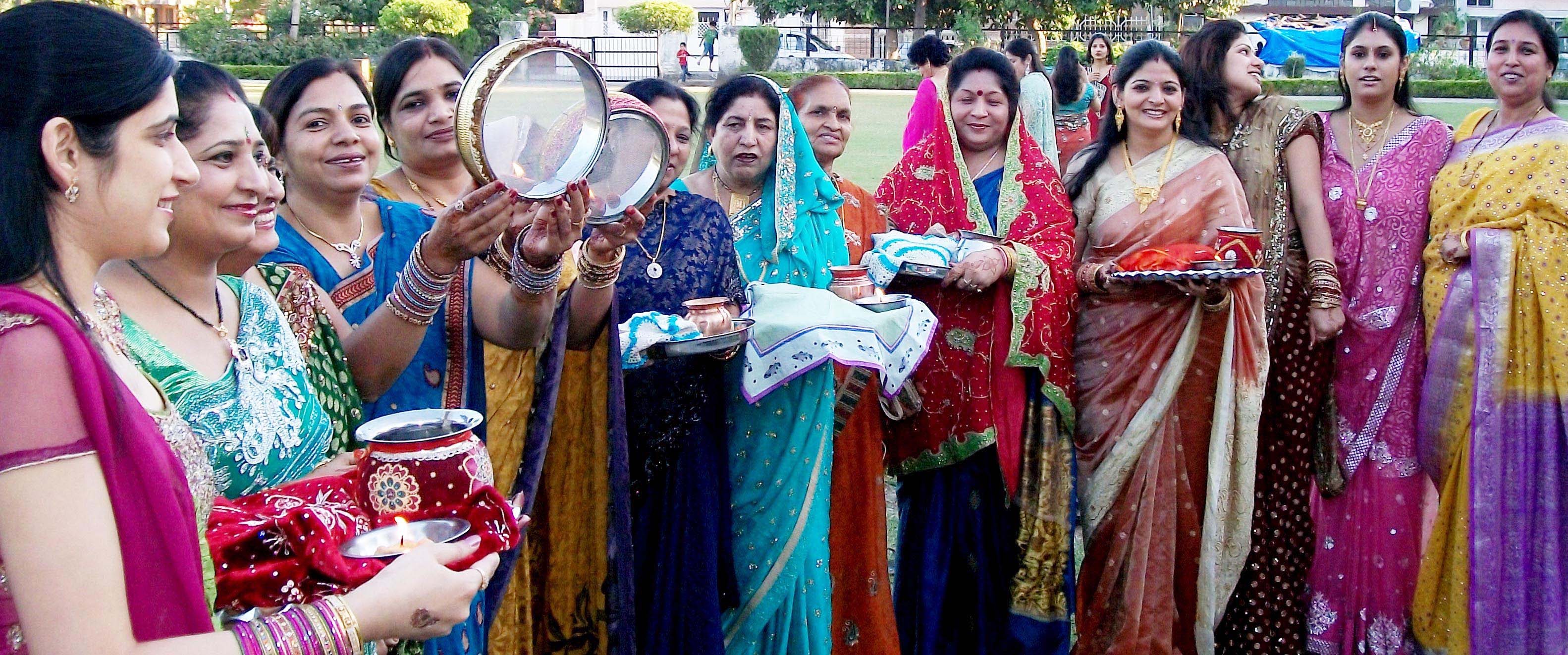 The passage of time inevitably affected the traditional festival. The modern attitude allows women to transform cooking into parties and socialize with friends, they partially reorder rituals, mothers-in-law may not make gifts with their own hands, but buy them from a store, men often present to their spouses something more modest instead of jewellery. In general, today the fair sex has every right to refuse fasting and increasingly enjoys it.
However, until now Karva Chauth is a wonderful tradition, full of myth, dedication and love for family participating in this action.