Serpent Charmers: How to make a snake dance?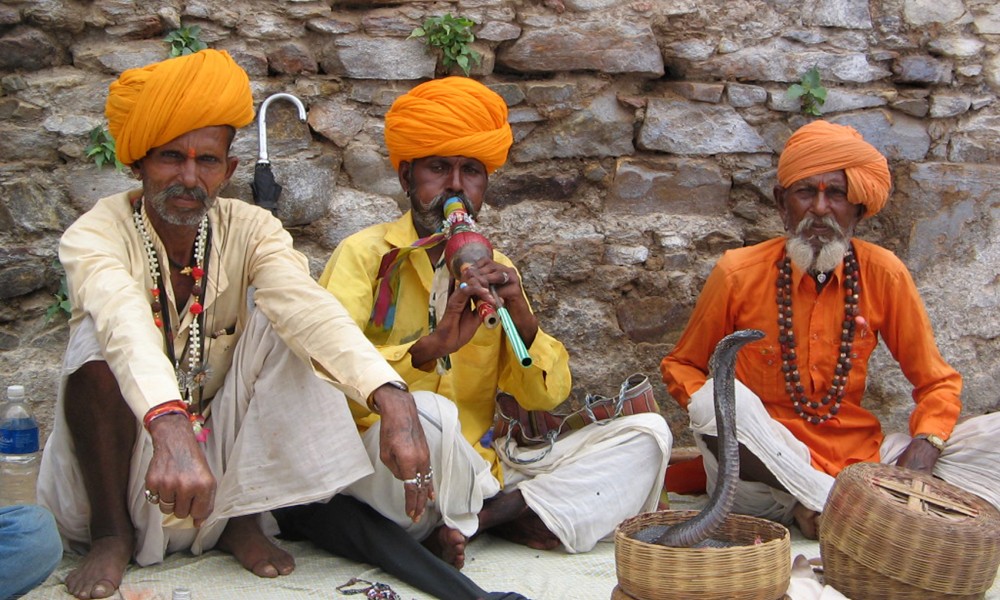 Magic dance of a snake in time with flute's melody often described in Eastern fairy tales and depicted in movies is no fiction but a true symbol of those countries. In Egypt, India, African countries and some other states slithering tribe are tamed to make a spectacular entertainment out of it. Profession of reptile charmers exists there; it is believed to be as nearly as the most amazing on Earth.
What does this mysterious trade represent, its experts teetering on the brink between life and death?
Serpent charmers, also known as fakirs or Bede are one of the symbols of India with its distinctive and colorful nature. However this profession emerged as far back as in ancient Egypt. In our times it is considered vanishing: number of present-day experts hardly accounts for a million people. Given that once their trade used to be iconic practice…
Due to peculiarities of climate in hot countries, a great lot of reptile species dwell there. One can come across them as nearly as on every step and they can even slither inside houses. Therefore since olden times snake charmers have been respected and necessary experts. People have turned to them, for instance, to spare their dwellings dangerous guests. With time trade of "taming creepers" developed into a spectacular art. So, nowadays exotic-thirsty tourists are ready to pay generously for this kind of performances.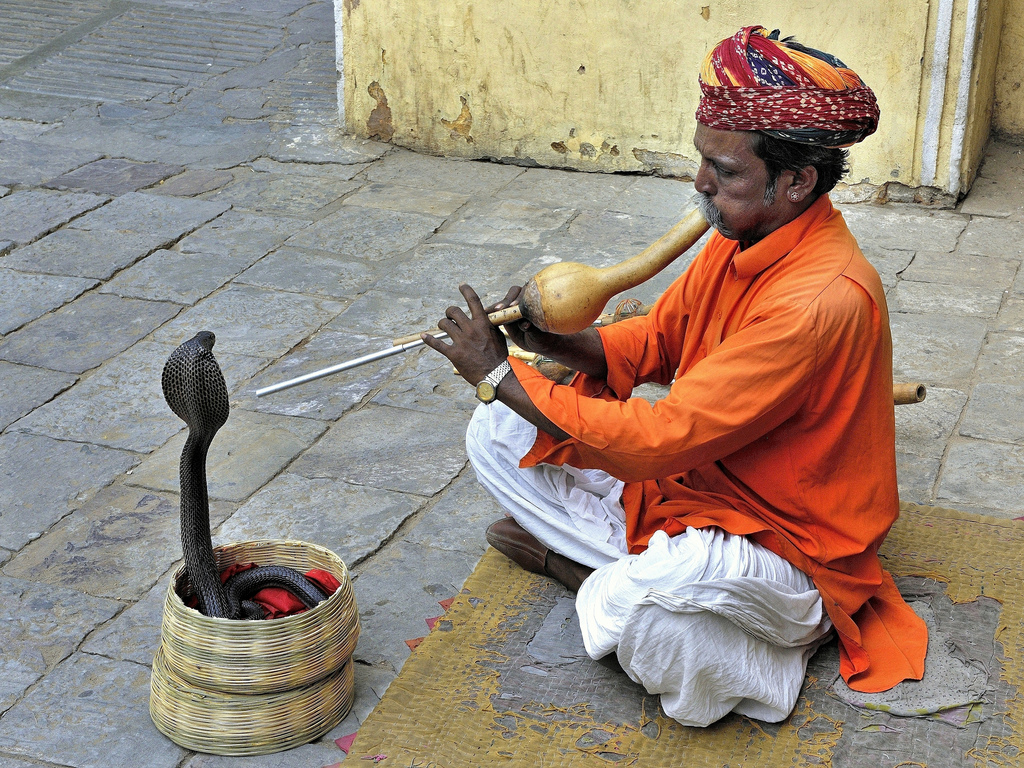 Photo staticflickr.com
Fakirs pass traditions of their art from generation to generation. In India, for one, entire villages of hereditary Bede exist like, say, Seperagon settlement. There they used to keep about 5 snakes in every family. And only recently a law gained force in India on wild life protection that forbids keeping this species in captivity. Therefore fakirs hit a rough patch. But it is for good in part because "art of snakes control" has nothing to do with neither education training, nor mysticism. At times cruelty to animals and dirty tricks lie in its heart.
In the village Hadaitala (located hundred kilometers away from Calcutta) Conference of Snake Charmers is held annually. This way they honor Hindu goddess, tutelary of snakes – Manasa. Unusual routines are in the program: snakes winding around bodies of fakirs, squeezing out and swallowing of venom off of a snake's tongue and, sure enough, traditional moves to the sounds of flute.
Dance of a snake is no art – more like training, and occasionally a fairly cruel one. Several methods to make a snake meander in time with music exist.
Read also: South Goa with the eyes of Kira Kondratenko
A snake charmerer can train an animal by beating it with a flute. He catches a snake, puts it into a wicker basket that becomes its eternal prison. During trainings he hits the container and opens its lid, the snake, hyped-up and rattled by the sounds of the instrument, slithers out hoping to break free but gets a hit on its head instead. And so it goes with its every move. Ultimately: during a show poor creature simply tries to avoid a flute in fakir's hands.
Experienced charmers can create illusion of a dance of a reptile even with freshly caught snake. Most skillful Bede demonstrate it upon pulling them to the public eye directly from their holes. The secret here is in knowledge of peculiarities of their character and physiology as well as agility and attention of a charmer. Snakes have almost no hearing by nature so the music itself has no impact whatsoever. Instead they are gifted with a special sensitivity of skin – it perceives air vibrations for reptiles to be able to protect themselves should anyone be approaching them. Those are created by, for instance, footsteps. Thus sounds of a flute excite snakes by creating similar vibrations. At that during a performance a snake follows fakir's hand. And this is what his talent is about – hyped-up with the sounds of flute, the snake is ready to protect itself, but movements of a skillful fakir's hand make a snake lose concentration and perplex it – thus, getting ready for an attack, an animal watches rhythmic movements cautiously. This monotony tires the animal down and ultimately drives it to a state of drowse.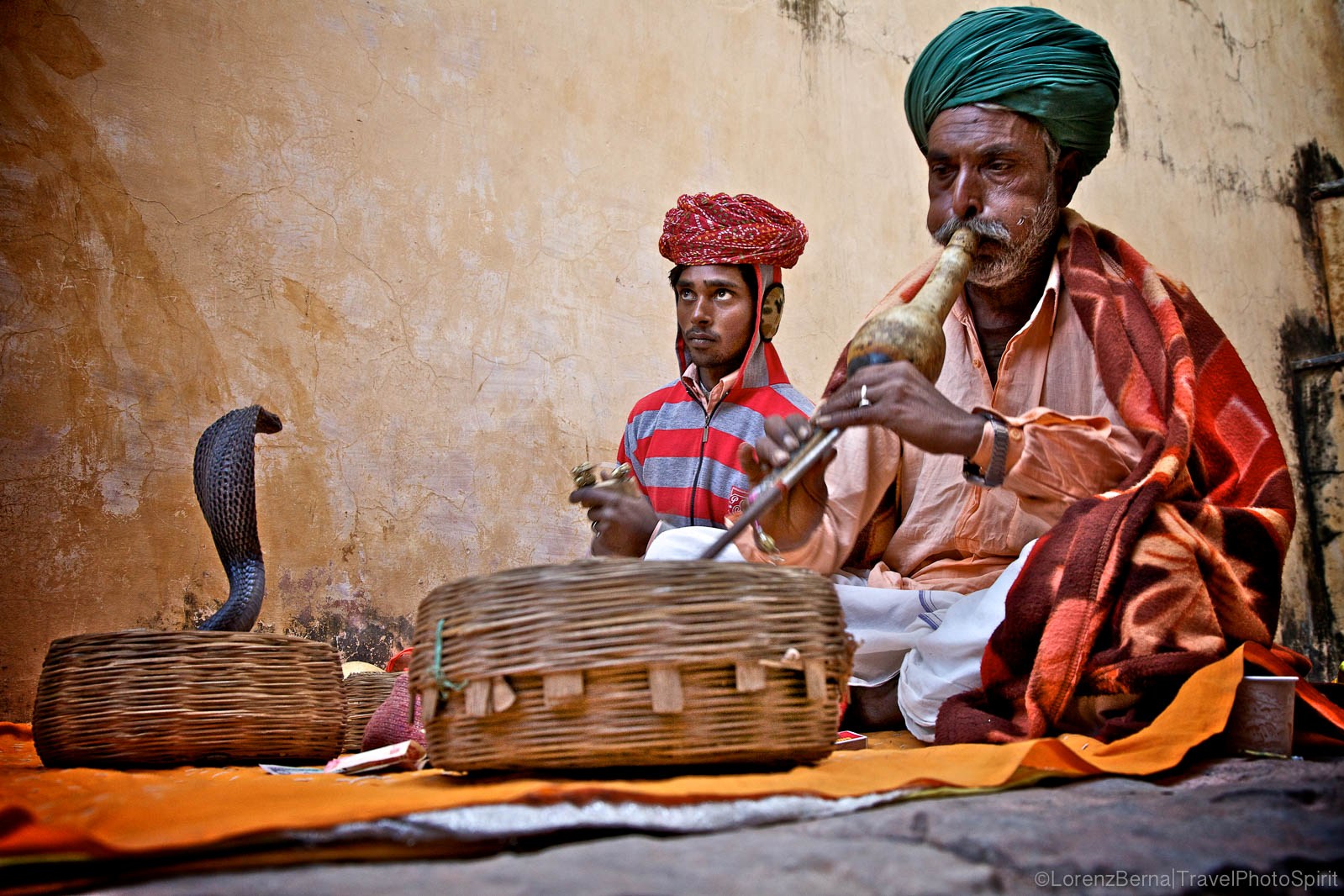 Photo travelphotospirit.com
But most importantly and scary – "delete" a snake's venom. This can be achieved by several means: pulling snake's fangs out or before a show they make a snake bite fabric – thus its venomous bags get empty. It is a long and exhausting affair – both for the snake and the fakir, however it produces only temporary effect – soon bags get filled with new venom.
So the cruelest ones go further – and sew a snake's mouth up with the help of an ordinary needle and a thread. As a result, nobody sees threads, a snake can stick out its tongue but it cannot bite – perfect for a perfect performance. But it results in a snake starving to death. In order to secure themselves, charmers restore to other gimmicks. They get vaccinated – this however doesn't give a hundred per cent guarantee. They also anoint their bodies with snake fat thus acquiring a special serpentine smell to be perceived by snakes like the ones of their own.
Most famous representative of the profession was Sheik Mussa from Luxor – he became a true legend of our times. Mussa is famous for striking tricks. For instance, cobras that he "charmed" would approach him gradually and put their heads in his palm humbly. Then he would put them inside a circle in the sand and animals would stay there until Sheik permitted them to leave it. But, ironically, despite his amazing skills, Mussa ultimately died of a bite of one of those reptiles…
Cover photo fr.wikipedia.org