Oriental makeup as a tradition: Seductive and languishing look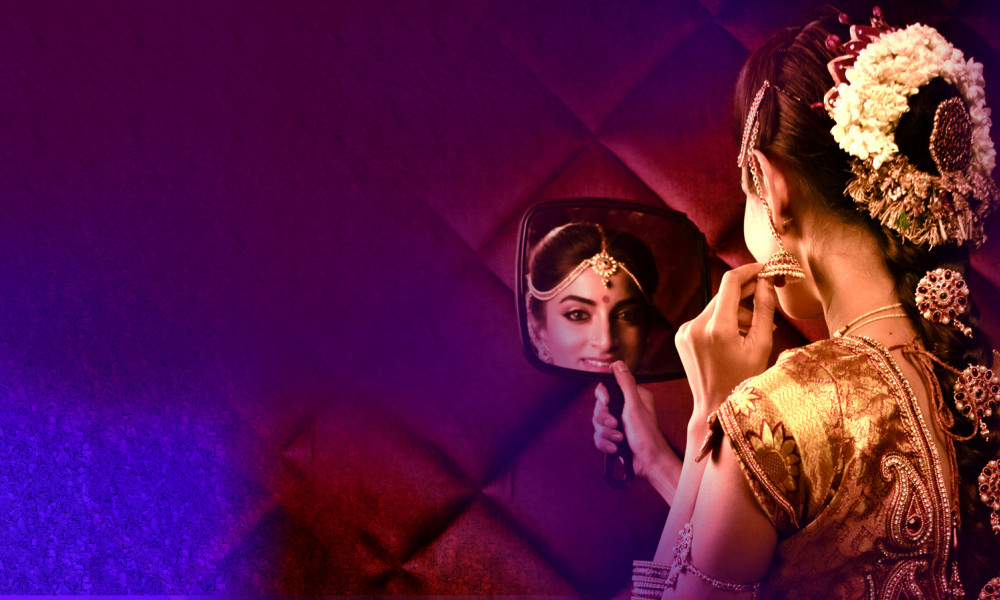 The well-known saying goes: east is a delicate matter. All-in-all, it is true as evidenced even by details. Due to specific climate, eastern women have similar type of appearance, and their nations are united by close cultures. Therefore, they prefer the same beauty standards. Women are supposed to be modest, to dress so as to completely or almost completely conceal figure.
Therefore, all that remains to them is to charm a man by play of eyes, so eastern makeup concentrates on eyes. The term "east" means several countries. Of course, they share common cultural traits, but nonetheless they have strong differences. So, in the oriental-style makeup there are several major trends: Japanese, Indian and Arabic styles.
Japanese makeup: the unity of Yin-Yang
Beauty sample in Japanese calls for a flawless and very pale white complexion. Suntan or blush is considered almost as a sign of ugliness. Japanese women are taught from childhood how to take care of their skin for it to be perfectly clean. Japanese makeup tradition started in the Heian period. The Chinese culture had a great influence on its formation. An interesting point is that a good makeup provided for... blackening teeth as it was an elitist sign of high social status.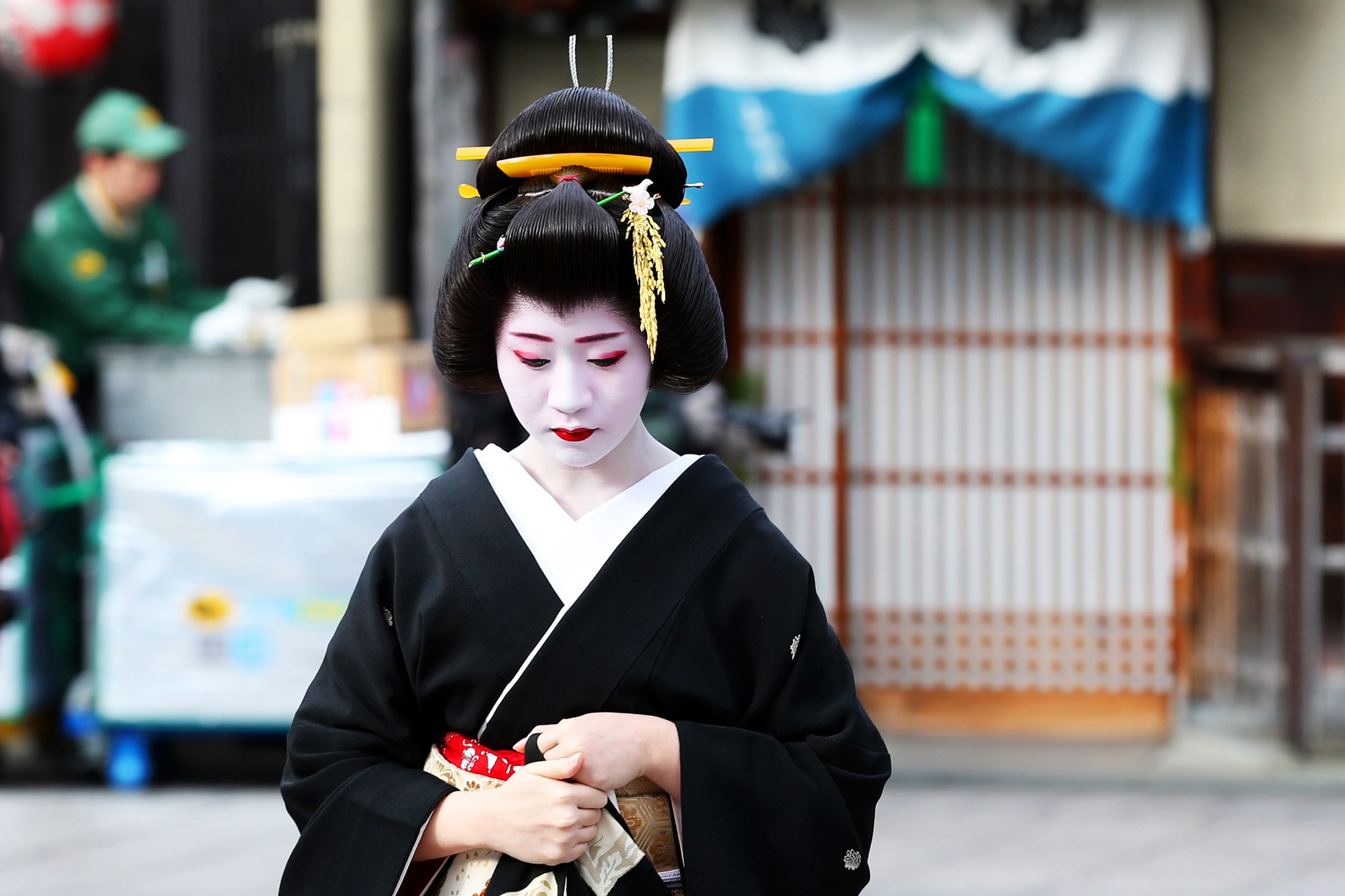 Photo vogue.com
The main feature of the Japanese makeup is to even out skin tone, at least 2 tones lighter than the natural complexion. A thick layer of foundation is applied on face. White powder is usually difficult to apply and not long to wear, so before applying foundation on skin, Japanese women cover skin with a thin layer of wax. After a foundation, it is turn for the same thick layer of powder. Eyebrows are clear straight lines of dark colour – from brown to charcoal black. Jet-black eyelash lines must be clearly visible. Neat small lips are designed with juicy red colour. Interestingly that while the Europeans tend to make lips as full as possible, the Japanese like it vice versa. Therefore, they draw lips below their natural line, so that they look less than natural. On the upper cheekbones they put a faint light pink tone as blush, to give the skin not a natural blush effect, but some transparency and glow.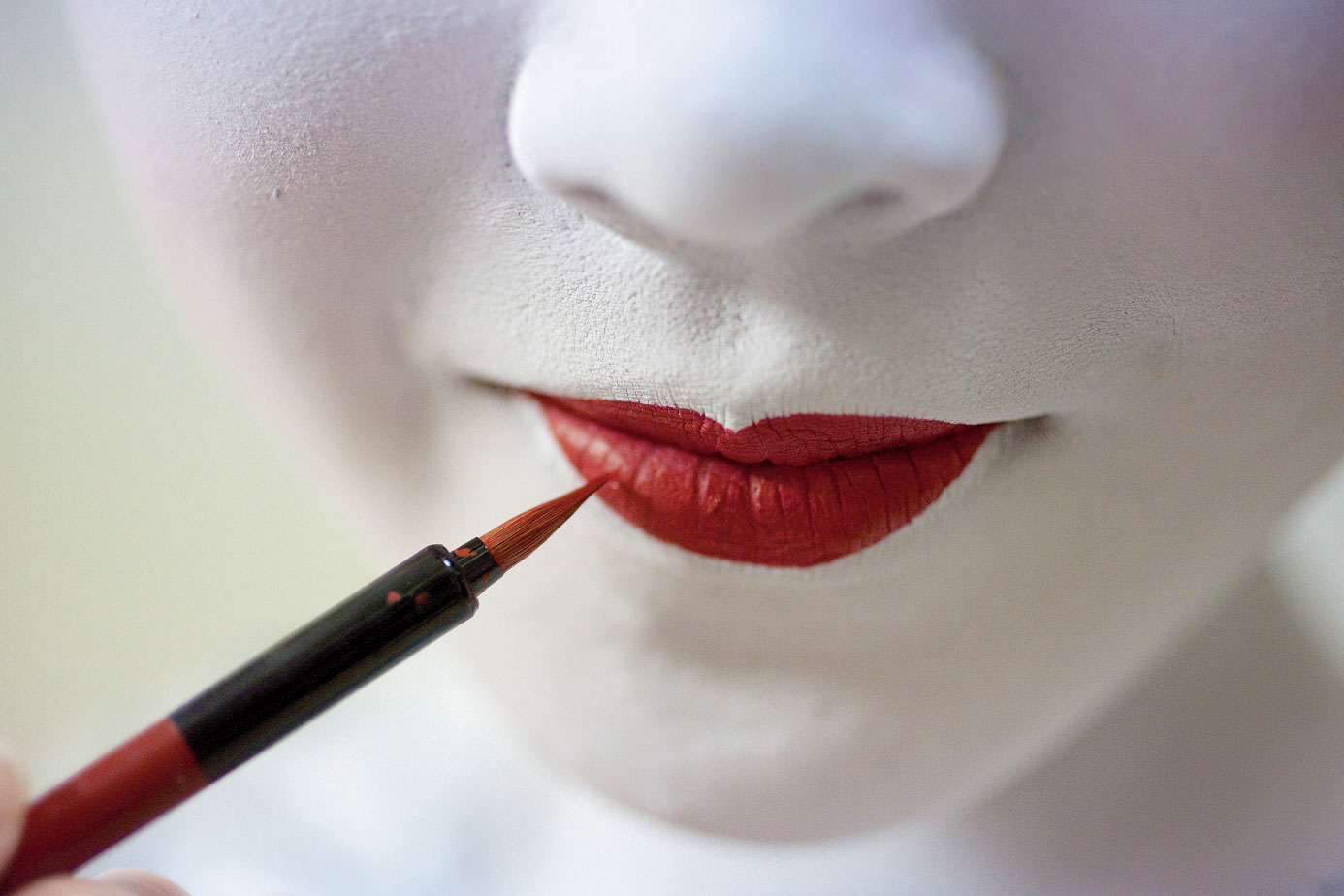 Photo wallpapercave.com
In short, the Japanese makeup involves just three colours: white, black and red. For the Japanese these colours are special and heart appealing: red symbolizes grace, prosperity and good fortune; white is a cleanness, new birth and perfection. The combination of white and black in the Japanese tradition represents mourning and sad events. But their trinity with red means harmony: beauty and decay, peace and mobility, life and death... That is a colour reflection of Yin-Yang.
The Indian makeup: attraction of energy
For Indian women makeup is a sacred daily ritual. Woman has to wake up earlier than her men, to bathe with special oils, put on body decoration, and only in such a way to appear before her husband. The Indian makeup focuses on eyes and lips, it is outstanding by a dot Bindi on the centre of the forehead and painting tongue red. Why do Indians highlight two basic points together in one visage? Eyes and lips are equal points of sense organs. And in the tradition of these people, they highlight all points thereby increasing the impact of energy and strength.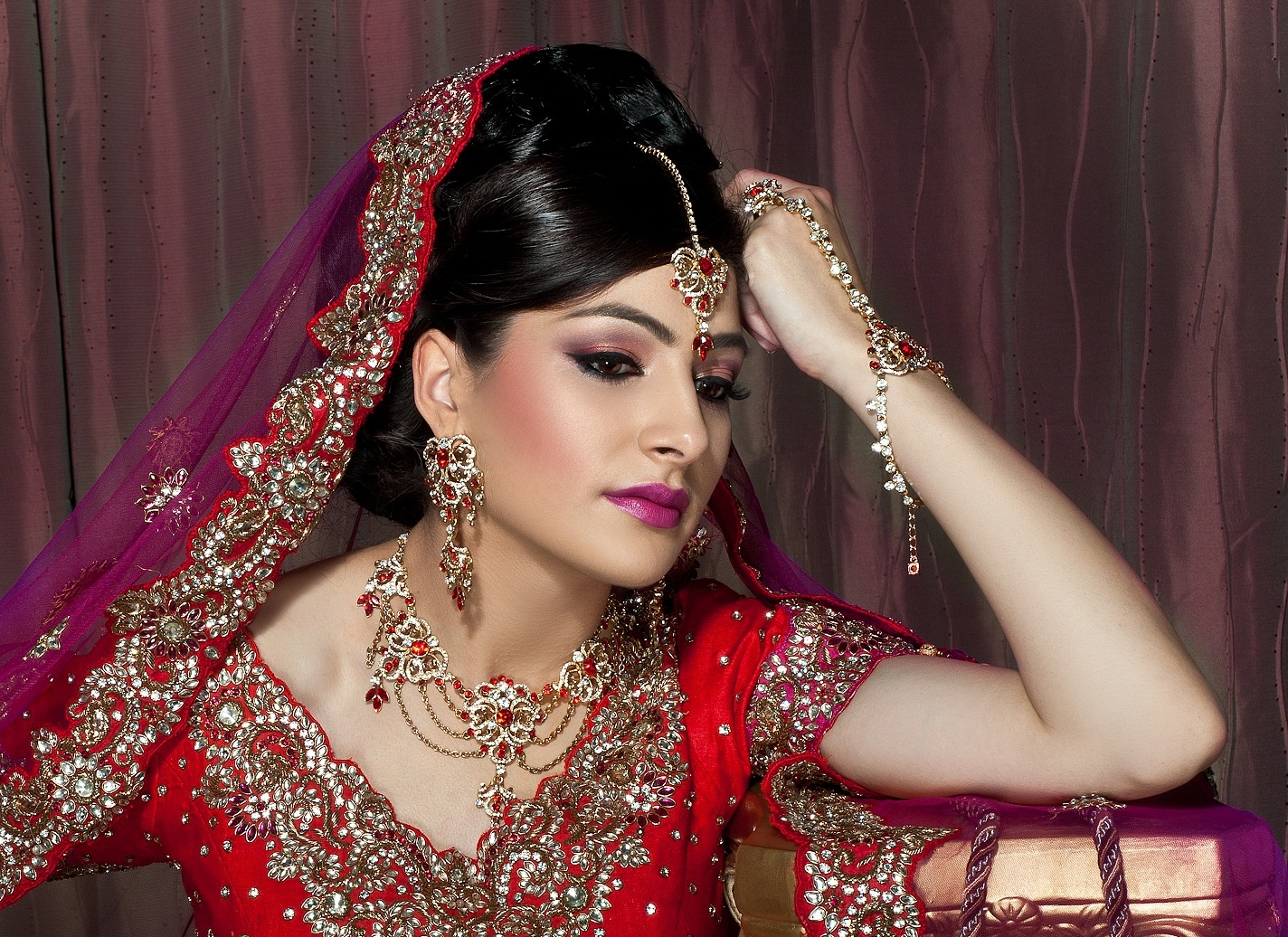 Photo wallpoper.com
Thus, according to the beliefs of the Indians, a woman has eyes to express feelings and to bewitch a man. Eyes makeup enhances the feminine sensuality. Therefore, a mandatory ritual of makeup is a kohl - thick pitchy black eyeliner. In addition, it is believed that kajal (a pencil for drawing eyelines) improves vision and protects against evil eye. Therefore, it refers even to men, and starts from the youngest age. Makeup in this case performs protective function of warding off evil spirits.
As for the eyeshadows, they like spice colours: brown, gold, yellow, terracotta, green. After all, the patterns of body decoration in India are associated with vegetation as a symbol of fertility, procreation. Also, eyebrows should be dark and well-rounded - they enhance eyes' glow.
Lips are covered with bright lipsticks made from plant components. They are outlined with a pencil, using bright red, pink, coral colours, welcoming pearl glow and sequins.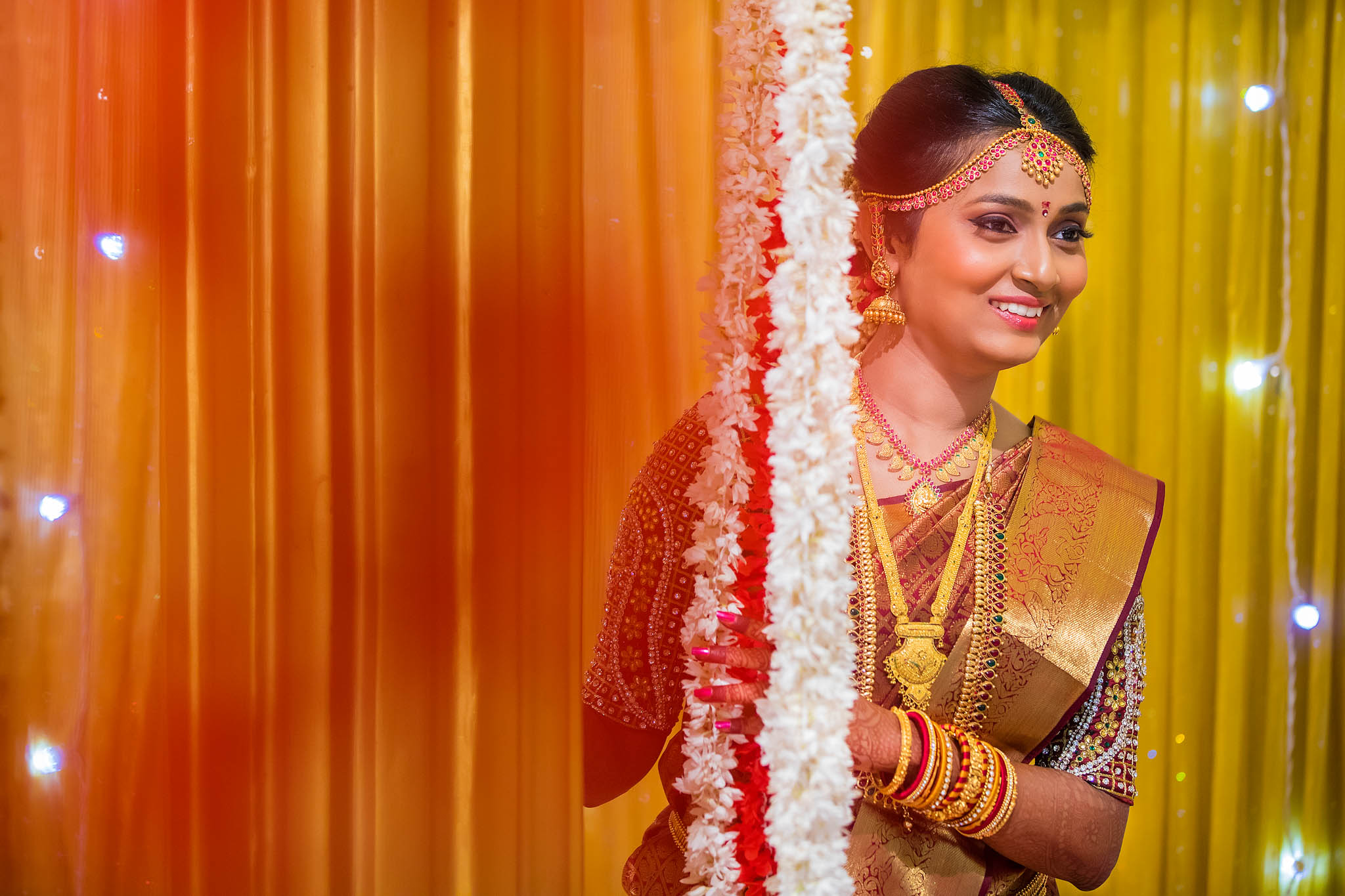 Photo makeupbykavithasekar.com
The Bindi dot exists to strengthen the Ajna chakra - it activates the feminine intuition, wisdom and, according to legends, prolongs youth. Bindi is worn by married Indian women only, because they need these qualities to inspire, encourage and fill with energy their husbands for their life achievements.
Arabic Makeup: Cosmetics of spiritual origin
Arab women have formed their own signature style of makeup with accent on eyes. This is due to the religious reasons. All Arab countries are Muslim. These are Turkey, Iran, Jordan, Iraq, Pakistan, and Saudi Arabia, and others. Women's rights are governed in accordance with national traditions within the Koran. It does not clearly set a makeup rules.
But, nevertheless, Islam requires modesty from women: burqa, hijab, niqab are mandatory clothing for Arab women. They completely cover body, hair, and sometimes even face, leaving open eyes only.
So, the main means for the Arab makeup is kaya, the Arabs called it kohl and antimony. Because it is made of black stone with the same name. This is a jet-black eyeliner, traditionally, women make it themselves.
Interestingly, nationalities of dryland consider such eyeliner as eye protection from sun, wind and sand. In Arab countries, there are legends that antimony cures eye diseases. Therefore, in ancient times, men started using antimony, and later women followed the trend. It is used not only for eyes, but also to paint eyelashes/eyebrows.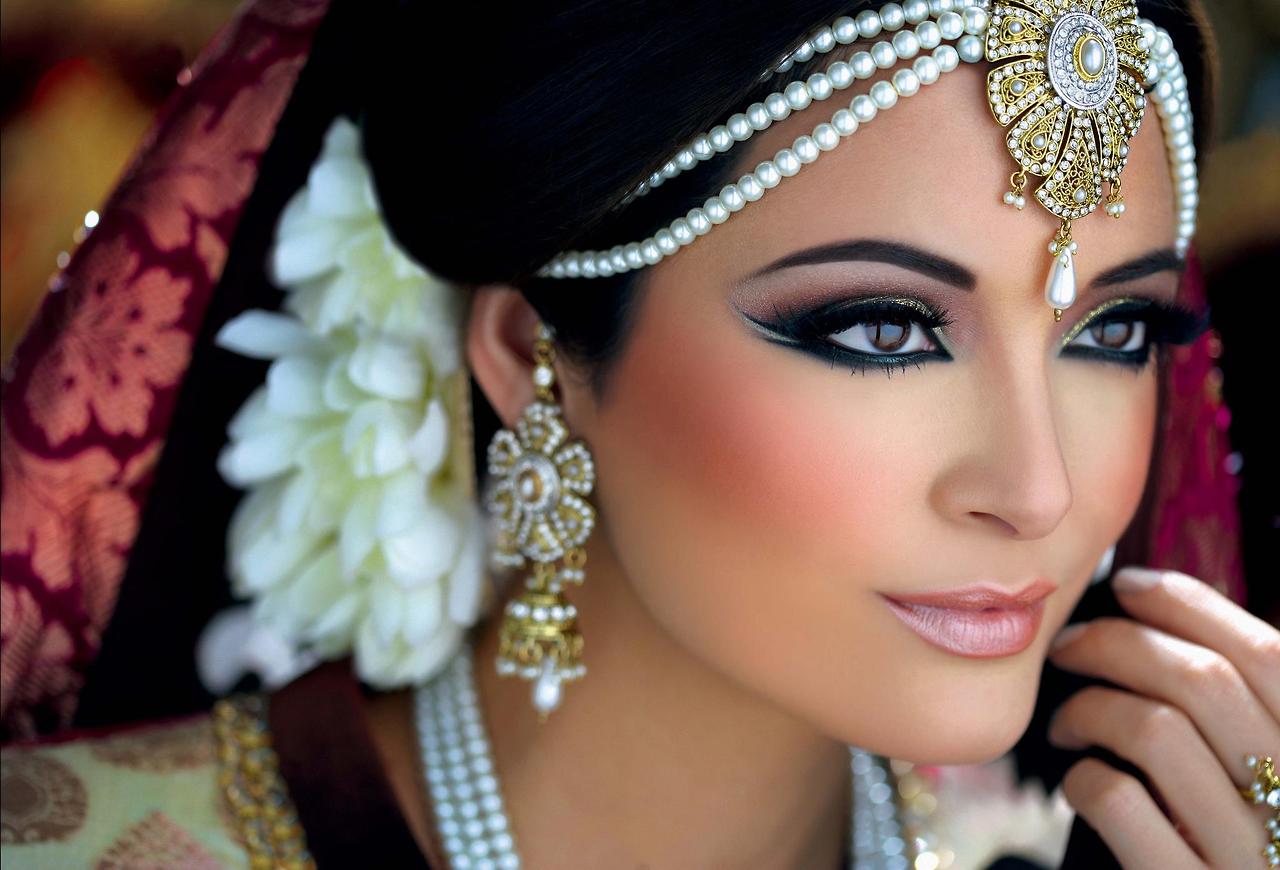 Photo bm.img.com.ua
Cover photo naturals.in