Foot walk around Aachen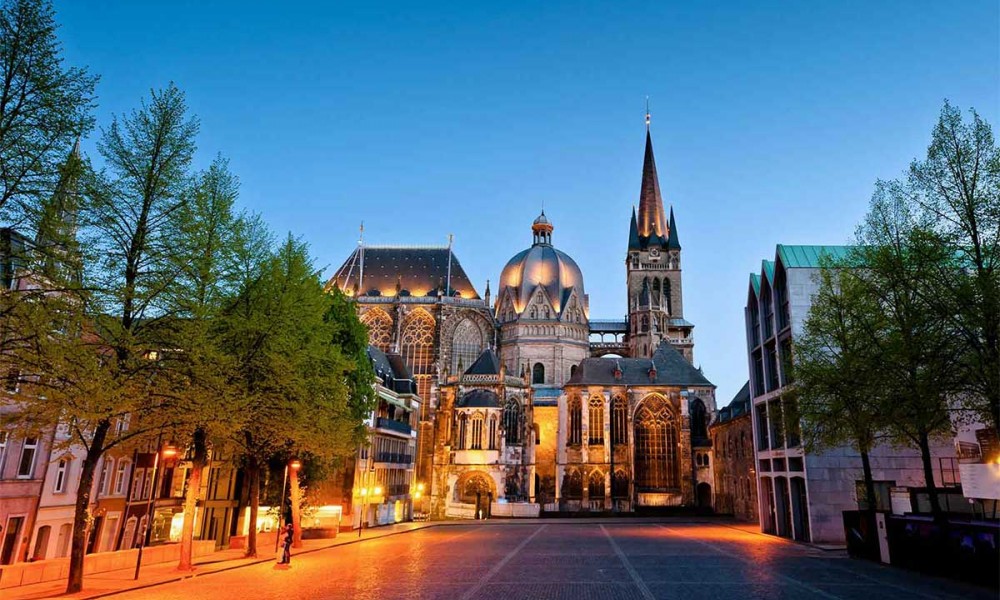 To visit three countries over one day – it is possible if you are in Aachen. Situated amid Germany, Belgium and the Netherlands, small student town took in features of medieval culture that reflected in its astonishing architecture. Yelena Buravtsova visited the town for it to win her heart with its off-beat monuments, streets paved with stone blocks, cozy cafés, one of a kind printed spice cake, museums and spectacular races.
Epic constructions with obvious imprint of Gothicism have impassionate rest on ancient streets while nearby simple student life twists into a whirl of daily routine – whole Aachen is about it. RWTH Aachen University operates there for over a century – one of the world's most prestigious educational institutions, that ranks among TOP-9 best universities of Germany and TOP-5 leading universities of Europe. Therefore 45 thousand dwellers of the town are students from different countries.
Small German town that made itself cozy in North Rhine-Westphalia, because of is location on German border with Belgium and the Netherlands used to be the epicenter of three worlds, three different cultures in its due time. It is believed that ancient Aachen was founded by Romans interested in its mineral springs. In Middle Ages it served as a residence for Frankish kings to reach heyday of its development under reign of Charlemagne who loved Aachen so much he didn't hesitate to make it the capital of Carolingian Empire.
Photo codart.nl
Having settled on one of Aachen's neat streets, I didn't find it difficult to get to its picturesque neighbors: Belgian Kelmis and Dutch town harmoniously called Vaals that is also very much open to Russian-speaking tourists. Not only did I see crowds of local citizens and Germans who animatedly purchase fresh vegetables and fragrant strawberries (even in November!), I also came across Ukrainians and Russians. Many price tags are adjusted to Russian language: Don't be surprised to see large sign "Селедка малосольная" (Russian for "Soft-salted herring") with small digits below to indicate price in euro.
It is inexcusable to visit residence of the Carolings and fail to see a picture of architectural genius and the town's main landmark – Aachen Cathedral or Aachener Dom as locals call it. Eye instantly catches that Frakish kings had their hands in creation of the construction: ornate lines, intangible size, rich decoration – all of it evokes awe. Such grandeur makes you want to shut foreign sounds out and devote yourself to onlooking. Entrance to the cathedral is free of charge but to take pictures you'll have to pay 2€! But trust me, it's worth it! Richness inside makes you dizzy: placers of medieval mosaics, gold-gilded chandeliers, multi-colored carpets. Once in seven years main Christian relics are put for public display there: sheets of newborn Jesus, Virgin Mary's garment, Jesus Christ's bandage and cloth that head of John the Baptists rested on after his execution.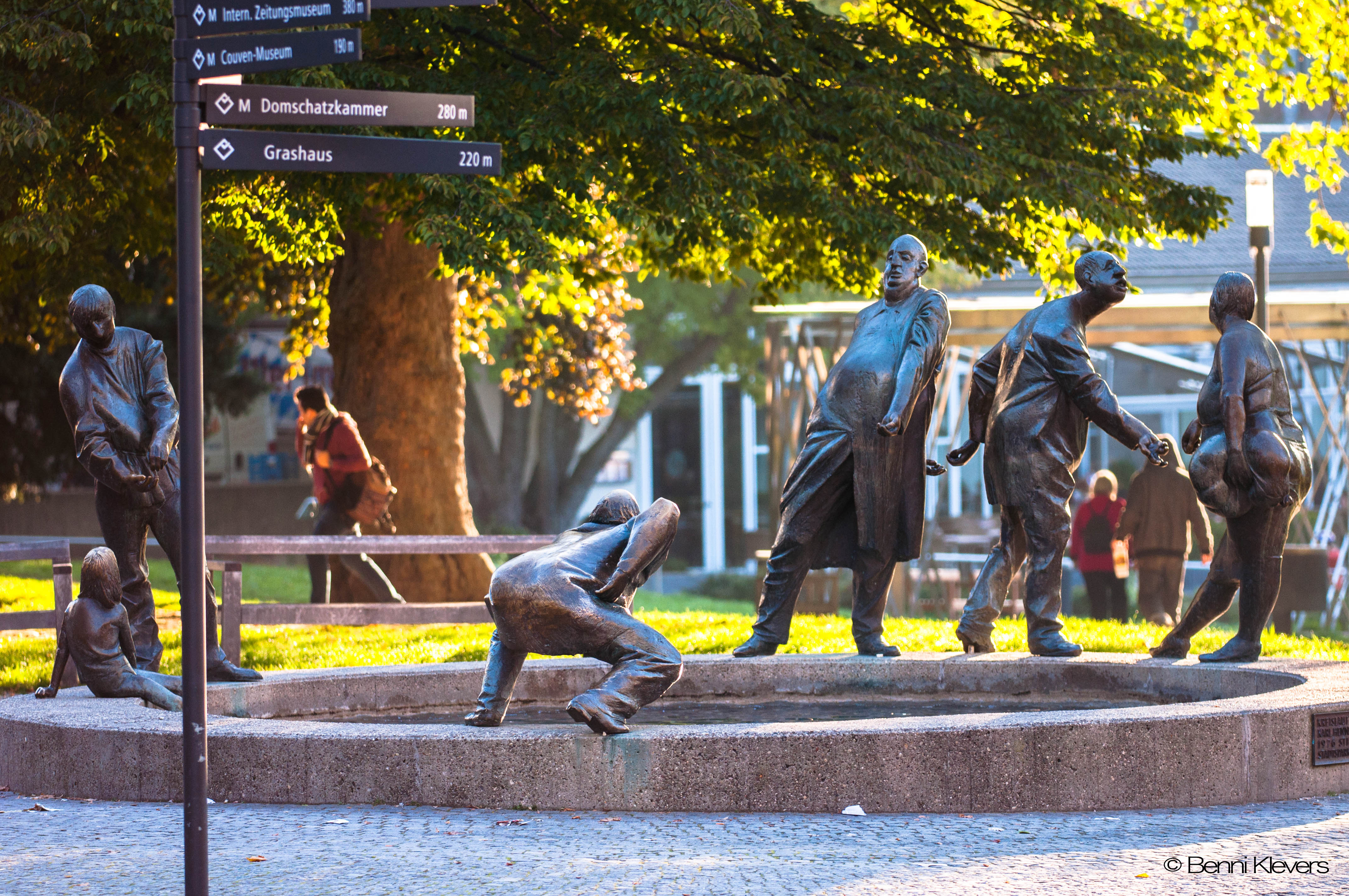 Photo imgur.com
Upon conclusion of two-year long restoration, International Newspaper Museum opened its doors for both citizens and tourists. Remarkably, screens instead of printed editions are believed to be main exhibits there. On one of them it is possible to open a world map and touch any spot – after that media, which are popular in a picked country, will pop up on the screen. Displays aren't the only interactive element in oasis of printed word. Each room of the museum isn't just a uniquely decorated hall – it also harbors an unexpected surprise. Thus in Lie and Truth Room an attack of omnipresent paparazzi with bright camera flashes was expecting me. Such an illusion is created for everyone to be able to feel like a celebrity. Be prepared, after literally bright impressions you'll sigh with relief for not having attended acting skills classes. When I recovered from phantom photographers I headed to Before and After Room – and there are things to look at, too. Famous photos, subject to merciless revelation, lacking any politically correct finery and bling sensation are displayed there. All in all there are 5 rooms in Newspaper Museum and it is possible to visit them all against 5€ for adults and 3€ for students and schoolchildren.
Read also: Shy Hannover
Relatively new Aachen's landmark is Ludwig Forum for International Art. Although the museum itself was founded in 1970s and was called New Gallery, its modern successor was opened in 1991 in three-storey factory premises. Odd building advocates modern art even with the way it looks and it also houses most eccentric artistic ideas. Alongside modern installations, engraved prints collection and topical exhibition on history of Berlin there is also place of honor for works of Rembrandt himself. One can get an eyeful of the abundance of color and genre against 5€.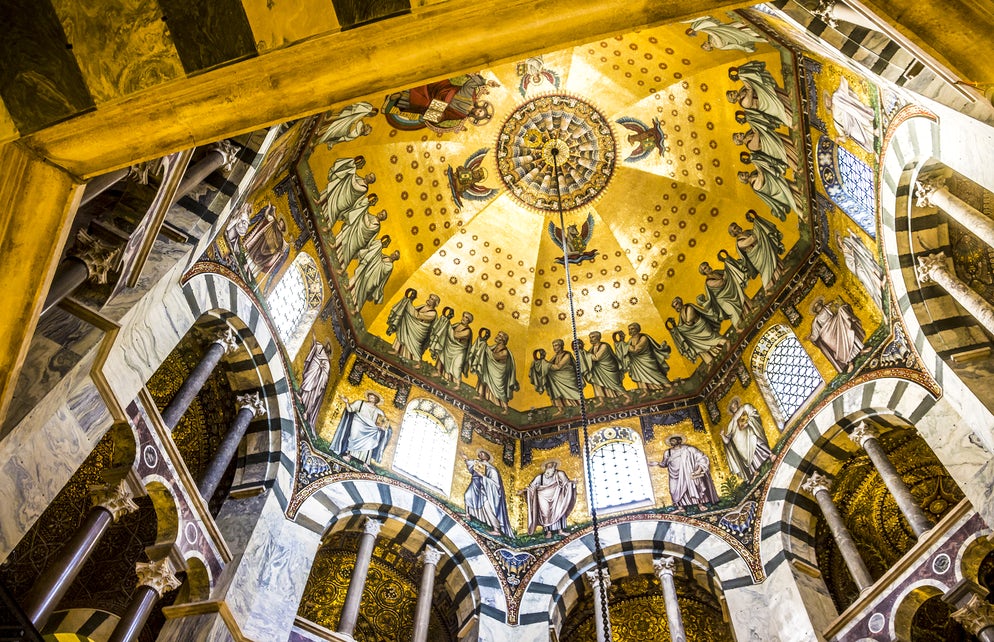 Photo itinari.com
Aachen is like a string of a German frau with its beads being old and not so much monuments that glorify everything and anything. There is a fountain-monument to beggars that is tolerantly called Cycle of Money, a statue of a girl holding gingerbread (issue of gingerbread makes hearts of native citizens tremble but we'll talk later about that), marble sculpture to River Calf that, by the way, looks more like an angry jaguar with a tail of a lizard that hunts drunk men at nights. Legend has it that not only it attacks but also mugs its victims. German women insist that the story of the Calf was made up by those who like to bend an elbow to cover their late returns and empty pockets. But men disagree justifying it by saying that one should respect legends! Even when I simply sat down to have a traditional German pretzel in one of cozy garden squares, a stone image was bound to appear nearby to silently watch me having meal.

Now that we've mentioned pretzels, it is worth mentioning that Aachen isn't just the city of students but also a place of dense concentration of confectioneries and cozy cafés with average cost of a drink being 3€. It is possible that those were students who urged popularization of places with süßigkeiten with their odor felt from a mile away or, maybe those were sweets that lured so many students to the town.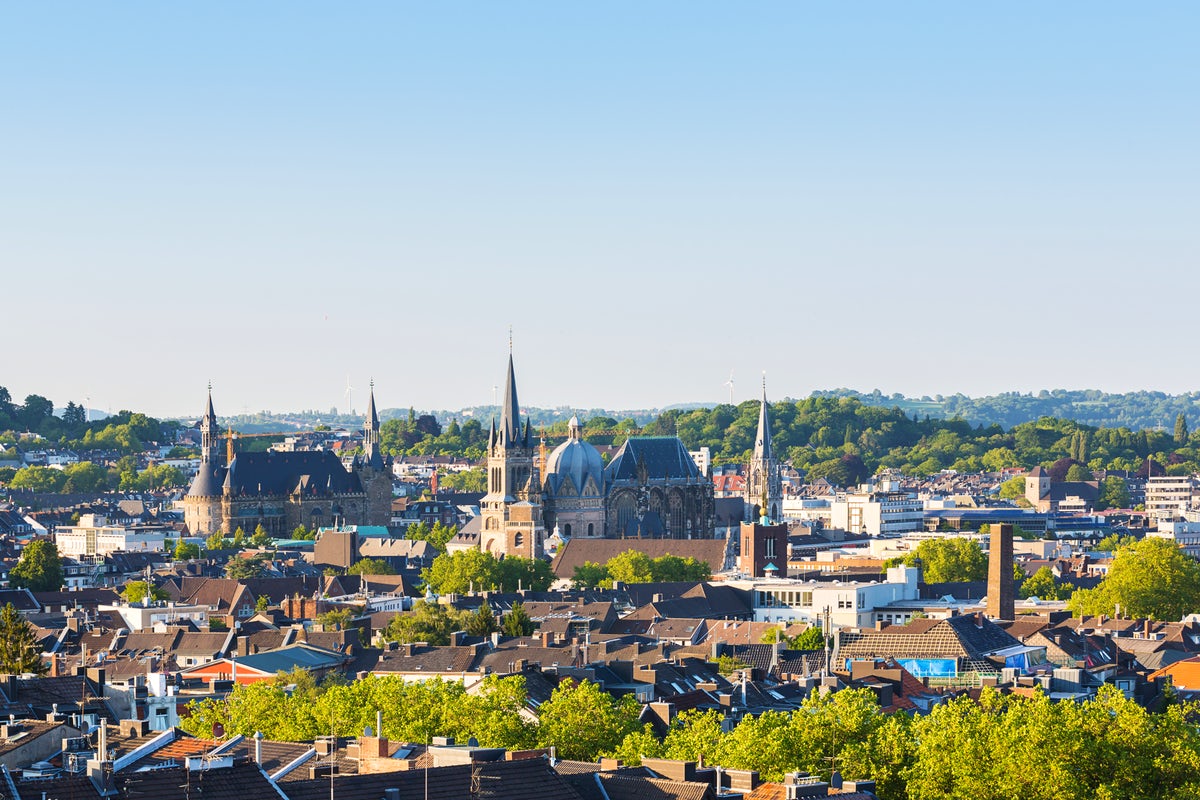 Photo itinari.com
Among delicacies of local confectioneries Aachen printed gingerbread called Printen deserves special attention – it became kind of a symbol of the town. Even when I wasn't going to enter one of numerous sweet shops and was simply passing by, odor of the bakery beckoned – and there I was, entschuldigung, on the hook. Price for a delight with a pretty distinctive history begins at 2€.
Unfortunately, I didn't have enough time to visit every hot spot of this wonderful town and my return tickets made me go to the railway station where by the entrance I was greeted by a herd of wild horses. Luckily, they didn't turn out to be my means of transport – Richard Trevithick has already invented trains. And horses were a bronze sculpture that became a distinctive element and decoration not only of the railway station but of the whole town, too. And that's because former Frankish capital was famous for its knights' tournaments. Laurel-crowned tradition lasts till now: annually prestigious equestrian festival is held in the town. World elite gathers there and the words is that rich ladies even postpone vacations to head for the town to show themselves in most splendid broad-brimmed hats while watching horse races.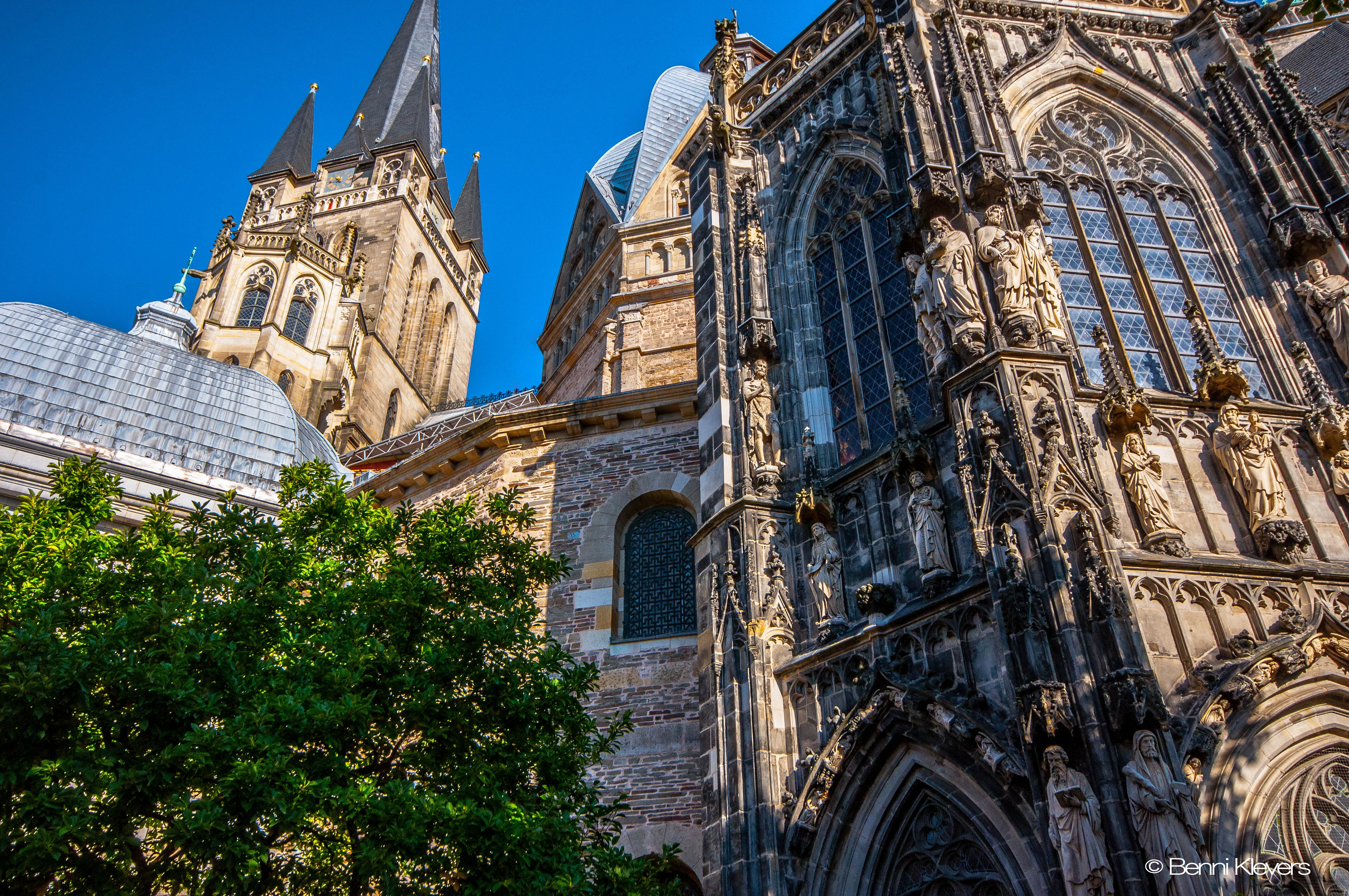 Photo imgur.com
Regardless of the time you are lucky to spend in Aachen – whether it be 5 days or 5 hours – you'll plunge into its endless omnitude, feel the spirit of history that every brick and pavement stone is saturated with and become sincere fan of this special town! I remembered it for its Gothic charm and ingenuous hospitality at the same time. More to that, I can say that I visited a borderland of three countries that, you'll have to agree, not every traveler can boast of.
Cover photo historicgermany.travel