OUTLOOK WORLD CULTURE FESTIVAL. Photo. Part 2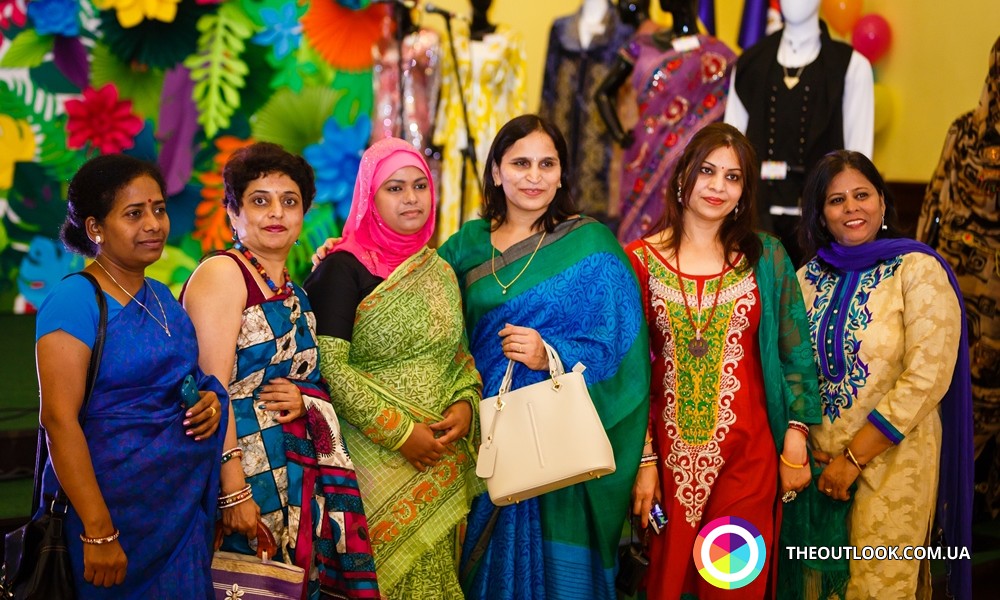 It isn't hard at all to make world around better and brighter. All you need is to have a sincere desire and to find like-minded people for help. OUTLOOK was created three years ago as a project both about and for the world and OUTLOOK WORLD CULTURE FESTIVAL, founded by our team, became a graphic example of how ideas of good are put into practice. We publish next part of a photo report from OWCF 2016 to bring up in memory pictures from the most multicultural festival of our country.
It was a pleasant surprise that so many embassies, people, teams, culture centers and non-governmental organizations found holding of currently favorite social event of our project – festival of cultures of peoples of the world – important and so necessary. It is hard to enumerate responses to participation in celebration of friendship and mutual respect, in OUTLOOK WORLD CULTURE FESTIVAL. Therefore we thank very much each and everyone who was ready to open own heart, show talent, demonstrate skills and heritage of own country completely pro-bono. BY UNITING EFFORTS WE MAKE SIGNIFICANT CONTRIBUTION INTO STRENGTHENING OF TIES BETWEEN COUNTRIES AND FOSTER ESTABLISHMENT OF FRUITFUL INTERCULTURAL DIALOGUE.
Now we'd like to recollect things that were pleasing guests of the festival in the Column Hall of Kyiv City State Administration on June 18, 2016.
It is time to once again travel to the atmosphere of the gala and have a little voyage along lanes of memory and topical areas diligently created by diplomatic missions. On the stand of the Embassy of Uzbekistan exhibition of dolls from various regions of the country shone; national outfits that wooden figures were dressed in astonished with diversity and sophistication of patterns. And the smell of traditional pilaf was luring visitors to halt or to pack bags and rush to sunny Tashkent.
Close neighbor, just like it is on geographical map of the world, Turkmenistan got settled to richly decorate its topical area with hand-made carpets; now that we've mentioned it, their price increases together with number of knots per square centimeter. Women couldn't go past exhibition of traditional adornments made of precious stones. Everyone's eyes rested on mysterious shimmer and unusual Asian design of jewelry.
It became possible to recreate a true Pakistani house with the hands of diplomats of the Embassy and spouse of the Ambassador, Mrs. Sima Atar, in person. It seemed as if visitors of the festival were joining hospitable Asians for a cup of tea to have a look at what decorations of locals homes are distinctive for and what kind of national household items Pakistani use to equip their dwellings. And an activity that the Embassy generously presented to Ukrainian women made latter ones line up in a many-meter-long queue! Indeed, no one can deny oneself a pleasure of having body decorated with exquisite Mehndi patterns.
After that everyone was following an odor… Sense of smell could hardly have failed anyone that day, so people were heading towards the stand of Iraq. Persistent Arabic odor of bukhoor lingered there to travel far beyond the limits of the topical area. Minted gold and rich vases in oriental style, hookah and sugary sweets in combination with cozy seats and abundance of pillows reflected color of Arabic relax area to a tee. For it to be not just the set that brings you to Iraq for a day, there was an opportunity to change oneself beyond recognition! Languorous black eyes were created in a matter of minutes, emphatic wings helped women become bright Arabic beauties. Workshop on creation of the make-up was held by the Embassy. Unusual, isn't it?
The Embassy of Argentina to Ukraine colorfully represented Latin America in the festival. An opportunity to get dressed in a bright poncho, boast pictures in social networks, check your knowledge about the country, see teaware for making of world-famous mate – all these things were expecting guests in Argentina's corner.
What is the first thing to come to mind when reflecting about heritage of Moldova? We are sure you would think of developed winemaking and guess that it was this trademark that the diplomatic mission in Ukraine could present. And you would be right. Let's just note that it was skillfully complemented with traditional embroidered towels and molded items from family collection of Ambassador of Moldova to Ukraine Ruslan Bolbachan. And what an odor of freshly baked round loaves was whirling there! Everything reflected cordiality and sincerity of this people perfectly.
In terms of active presentations Turkey had no peer in the festival. Citizens of this country presented as many as two attractions! Workshop on creation of pictures on water charmed much more than one guest of the event to have the magic of creation of wonder-pictures stick in their memory forever. Kids alongside elder guests learned ebru technique! And there is no way to do without invigorating "delight". One could inquire about ins and outs of making Turkish coffee from a flamboyant "barista" and after that make a sip to remember the aftertaste of a properly brewed drink.
Next one in line to be told about its topical area is Egypt. The story could be really long because number of authentic and antique show items demonstrated in the exhibition by Egyptians gave a true historic insight into rich legacy of great civilizations. Statuettes of sphinxes, pharaohs, Nefertiti and Tutankhamun, seemed to come to life for those attending the festival.
This year Kazakhstan made emphasis on presentation of one of the most significant global events that will take place in their country – EXPO 2017. Diplomats of the Embassy gladly told every interested one about preparation process. Exhibition of applied arts and folk costumes complemented colorful stand of the country.
Palestinian stand was a rave of national flags, not just because one was fluttering on a flagpole but also because employees of the Embassy got dressed in bright outfits colored green, red and white to accurately reflect color scheme of the national symbol. Girls with cordial smiles were inviting guests to see items made of olive tree and Hebron glass alongside copper tableware.
Display of Morocco and Lebanon was penetrated with feminine spirit. Ambassadors of these countries to Ukraine are ladies and their accurate supervision of creation of a cozy Arabic nook could be felt in every detail. Mrs. Mina Tounsi and Claude Al-Hajal introduced guests to their traditions during the festival in person. It was suggested to indulge skin in Moroccan rose oil and sense minty notes while participating in ceremony of brewing famous tea. Porcelain items from Fez, Casablanca and Marrakesh were as if hiding under a veil of light fabrics in the exhibition.
The Embassy of Lebanon to Ukraine got visitors acquainted with works of their craftsmen; landscapes picturing traditional houses of the Mediterranean coast that seemed to be floating in the air or more like hanging on rocks were gently luring to come and have a look at them firsthand. And there was also a legion of textile items and cedar wooden jewelry boxes.
Summer season is in full swing which means that the time for lace umbrellas that carefully protect you from sun rays has already come. Even more so if you are at one of resort in hospitable Bulgaria. Stand of the Embassy of Bulgaria to Ukraine was drowning in snow-white sun protection accessories and rose-trees, its flowers having been connected to this country of all others for a long time. Woven items and Martenitsas got cozily settled in the exhibition while samples of potter trade were given central place.
African color, so distant geographically yet so close to Ukrainians mentally, was demonstrated by Sudan. It's no big deal if your destiny hasn't led you to another side of the globe to look for adventures and learn culture of this country. It opened itself before our eyes during OUTLOOK WORLD CULTURE FESTIVAL 2016. Wedding rites with real newlyweds, frying of green coffee, wicker of baskets for harvest and wooden holdings to preserve water that control temperature of the liquid strictly, miniatures of deserts settlements that communicate knowledge on how locals live – all of that was quite enough to comprehend what Sudan is about.
For the first time Serbia introduced itself in the festival. The Embassy joined friendly atmosphere of the gala and treated presentation of own country with diligence and responsibility. Woven items and traditional outfits introduced to crafts of Balkan region and maps of Belgrade given to visitors will become right hands for travelers undertaking a trip.
There is no way to imagine Kyrgyzstan without felts. Hand-made textile not only preserves warmth but also harbors good wishes left by craftswomen who had created this works of art. There were exhibits to every taste: yurts and dolls, panel pictures and adornments, headwear and neck kerchiefs. Mountain landscapes of the country were reflected on a very unusual matter – on leather.
Area of OUTLOOK never lacked brightness and diversity. Amusing attractions and educative workshops gathered crowds of visitors eager to learn basics of origami, write own name in Bengali language (entertainment from Shahidul Alam), mat a felt souvenir, decorate oneself with a flag of a favorite country using face painting, watch Japanese hieroglyphs emerge from beneath a brush of Hitoshi Nakamura, paint a caricature from a "French painter form Montmartre" and many do other things.