OUTLOOK World Culture Festival 2015 successfully took place! Photos. Part 1
In incredibly friendly and casual atmosphere second annual festival of cultures of peoples of the world OUTLOOK World Culture Festival took placel. OUTLOOK is its orchestrator…
OUTLOOK World Culture Festivalis a large-scale event of OUTLOOK Project that annually takes place in Ukraine. The Festival is held with the support of diplomatic missions and embassies of foreign states in Ukraine, Kiev City Mayor Vitali Klitschko as well as with the cooperation of State enterprise "Directorate General for Rendering Services to Diplomatic Missions".
Our team established it as a traditional event last year. In July, 2014 at InterContinental Hotel Kyiv first OUTLOOK World Culture Festival took place to also coincide with the official launching of our online media about the world, THEOUTLOOK.COM.UA.
Inspired by last year's gala day, this time we decided to make the festival on a larger scale! The ceremony began with a salutary address of Deputy Mayor of Kiev City, Mikhail Radutsky:
"On behalf of Kiev City Mayor Vitali Klitschko allow me to congratulate you with the festival so necessary for the capital of Ukraine these days. Events like the one that takes place today in Kiev show to the whole world that both the city and the state are open and will always welcome various cultural and investment projects, projects that come to us with peace. On behalf of Vitali Klitschko and on my own behalf, on behalf of the city of Kiev I would like to wish that such events become traditional and that every other time their premises get larger and larger, so let's have this festival in 2016 hosted by Olimpiyskiy stadium. Good luck to you!"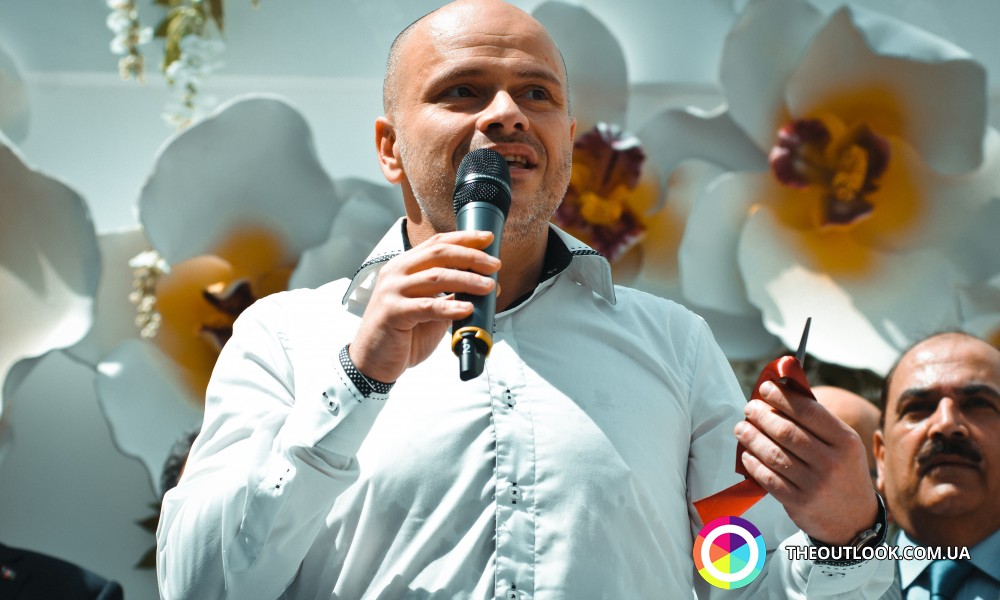 On behalf of diplomatic corpse Ambassador Extraordinary and Plenipotentiary of Uzbekistan in Ukraine Alisher Abdualiev delivered his opening speech:
"Today I have both a great honor and pleasure to greet participants of the festival of cultures of peoples of the world and I would like to take the opportunity to thank Kiev City state Administration, management of GDIP and personally Mr. Krivonos. With all my heart I congratulate Ms. Daria Kariakina with the successful project and express gratitude for the efforts made for development of intercultural exchange and deepening of understanding among peoples. I am more than sure that such events will contribute to enrichment of different cultures at that preserving their distinctiveness and identities. In its turn, I would like to express gratitude to my colleagues, ambassadors, for active participation in OUTLOOK WORLD CULTURE FESTIVAL. And wish the project future success."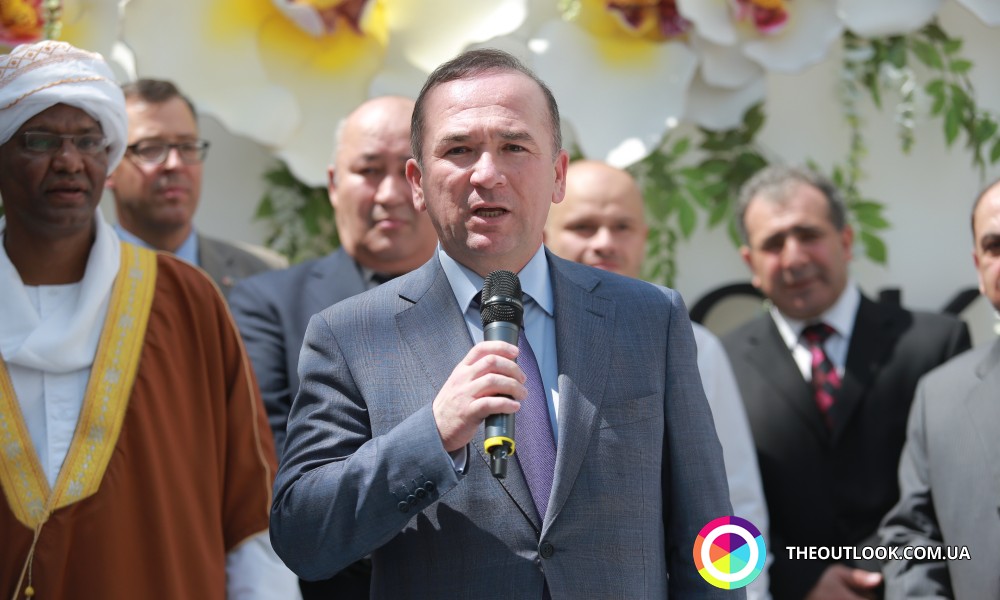 Director General of GDIP Pavel Krivonos also delivered his salutary speech:
"This festival is held with the support of Kiev City Mayor Vitali Klitschko and today his deputy Mr. Radutsky has already mentioned that such events are to be taken on a larger scale. So, third, fourth, fifth festival is going to take place in a bigger way. "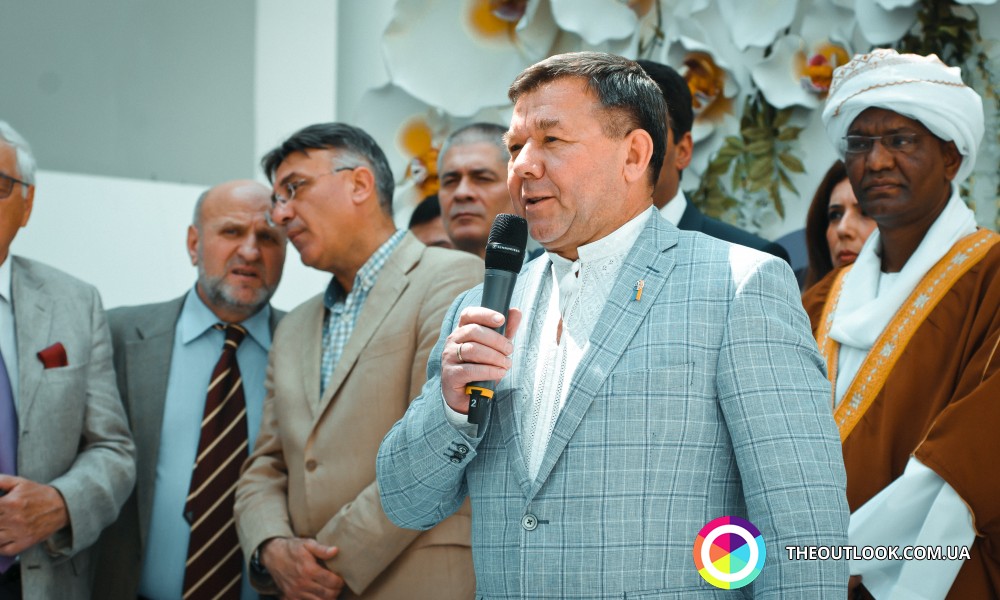 Editor-In-Chief of online media about the world THEOUTLOOK.COM.UA and Director General of OUTLOOK Project Daria Kariakina thanked everyone who had joined the celebration:
"I would like to thank everyone who together with us has taken the initiative of promoting cultures of peoples of the world in the territory of Ukraine. This festival is a message to the whole world that Ukraine is ready to learn, experience and feel other cultures. It is a great pleasure to see so many representatives of various nationalities in the hall, it shows that we are interested in each other. Today more than ever Ukraine needs a hand of friendly support and your open hearts; and we, in turn, are ready to open our heart to the whole world."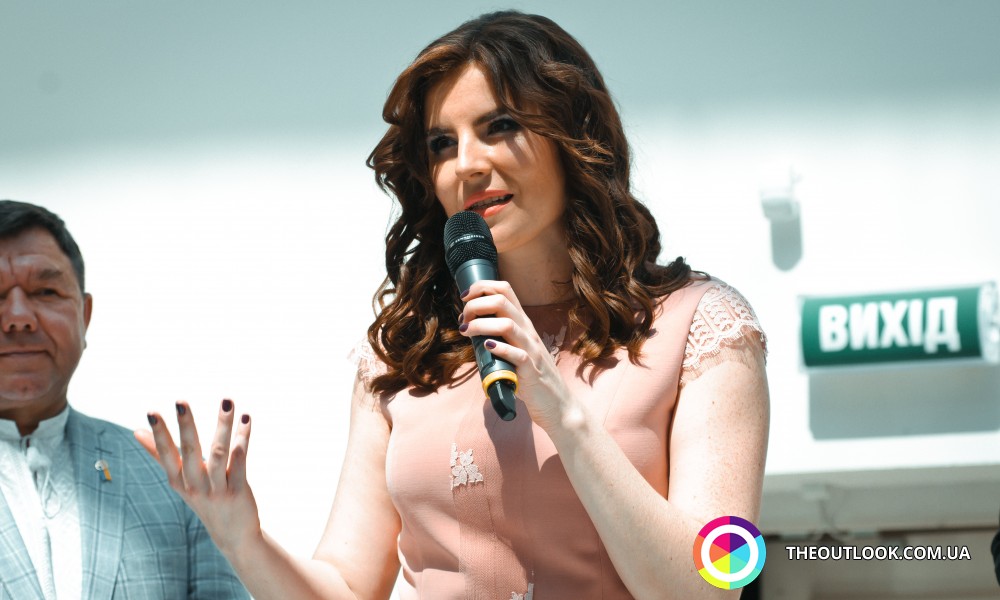 Then red ribbon was solemnly cut as well as the cake of the festival. The festival was officially open! OUTLOOK World Culture Festival was attended by representatives of over 30 diplomatic missions, and special respect was paid with their presence by Ambassadors Extraordinary and Plenipotentiary of Moldova, Iraq, Pakistan, Romania, Georgia, Palestine, Turkey, Mexico, Lebanon, Uzbekistan, Kyrgyzstan, Afghanistan, Sudan, Morocco and Malaysia as well as representatives of state bodies.
All guests of the celebration, and there were about two thousand of them, could learn how many-sided different cultures were – the ones that orchestrators attempted to present in as many shapes as possible: displays of everyday items of various peoples, national dances, workshops, tasting and many other things!
Thus, within the framework of the event exhibition of national outfits presented by Embassies of different states as well as Clerical Board of Ukraine's Muslims and African Union in Ukraine was shown. Visitors could have a detailed look at traditional outfits of over 20 peoples and learn how clothes are decorated and ornamented in such countries as Kyrgyzstan, Bulgaria, Afghanistan, Kazakhstan, Mexico, Uzbekistan, Iraq, Sudan, Pakistan, Lebanon, Palestine and African continent countries!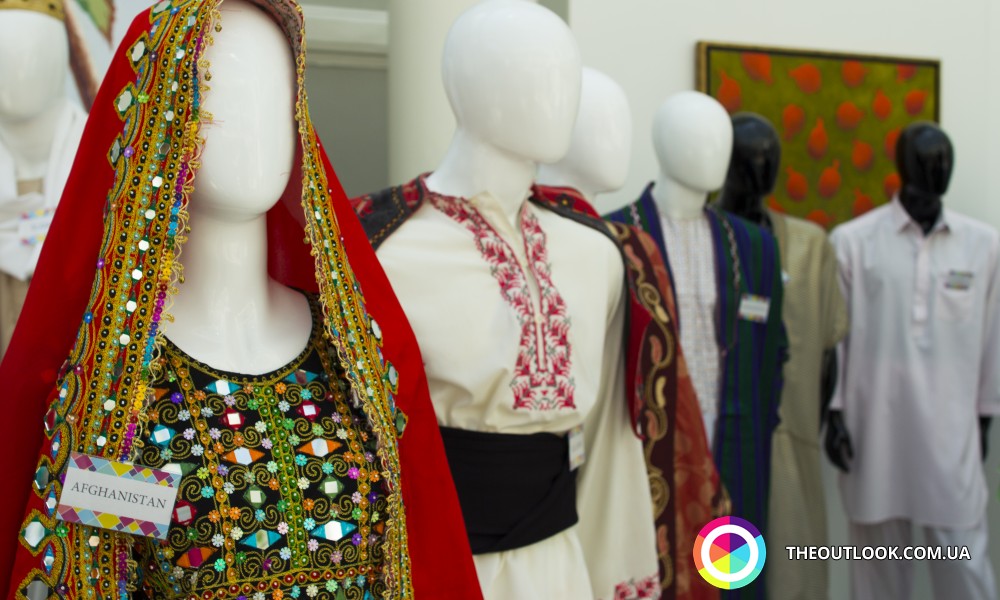 Embassy of the United States in Ukraine prepared for the visitors of the event an exhibition of a collection of unique artifacts called "History of Tribes: Art And Craft of American Indians of Southwest". Among impressive exhibits there were drawing that decorated buffalo's hide, feather headwear of Sioux tribe, adornments and necklaces from Pueblo region and carpets of Navajo people.
In the territory of the festival unique workshops were constantly operating. Embassy of Kyrgyzstan gave all the guests a possibility to create a souvenir to remember by learning felt fulling techniques.
Shared area was organized by Embassies of Arabic world representatives. Lebanon, Iraq, Kuwait and Palestine created for all guests an exhibition area of unique eastern items, among them elements of table decorations, traditional embroideries, forged and carved furniture, copper and bronze articles. And there was also a surprise awaiting female visitors! Every lady who attended the festival could feel herself an Eastern beauty by getting a real Arabic makeup as a present from professional makeup artist! And there was a workshop in kerchief tying from Clerical Board of Ukraine's Muslims. Remarkably, not only were ladies sharing their skills but also telling about various ways to cover your head appropriate for married and young women.
Embassy of Indonesia impressed with exhibition of traditional instruments, brought from Bali Island, brightly decorated and adorned with gold and carved wood. Unusual sculptures were attracting visitors' attention, too; it was impossible to walk past them without taking a picture.
Hospitable Ukbeks were warmly welcoming visitors of the event in their topical location, prepared by the Embassy of Uzbekistan. Invested in national outfits, students from Uzbekistan, who are getting education in Ukraine, were glad to share stories about peculiarities of their everyday routines, traditional textile items and secrets of creating magnificent silk dresses. Guests were inquiring with great interest about ceramic items and exhibition of dolls in colorful outfits – thank to it, it was possible to find out to which region of Uzbekistan one or another ensemble pertains. And a lavish table served in a true tearoom will remain in memories of guests for a long time.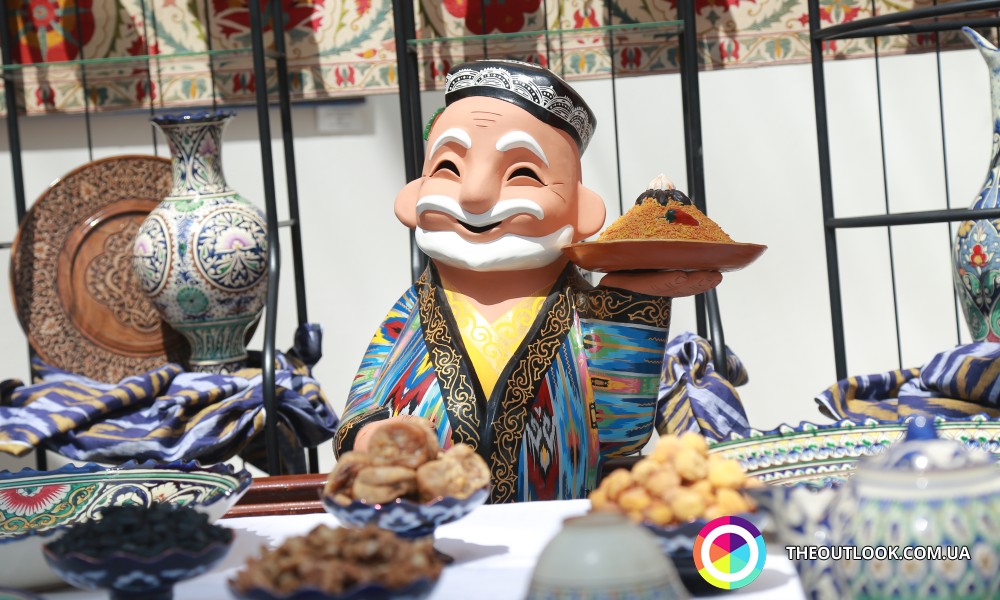 Sudan was especially enthusiastic when preparing their display. The Embassy decided to demonstrate to Ukrainians attributes of their country's weeding ceremony. Among exhibits there was a carpet for the dance of a bride, a set of 10 must-have items that newly-weds use during marriage ceremony, a stick for the rite of groom's beating of his friends. This whole ensemble was accessorized with the duo of diplomat's children in traditional wedding outfits.
Female visitors of the event took fancy in the area of amazing Pakistan, arranged under personal control of the wife of Ambassador Extraordinary and Plenipotentiary of Pakistan in Ukraine. Not only could every guest delight own eyes in items and outfits that reflect the color of the country but also take away on her hand traditional Pakistani henna painting – mehndi.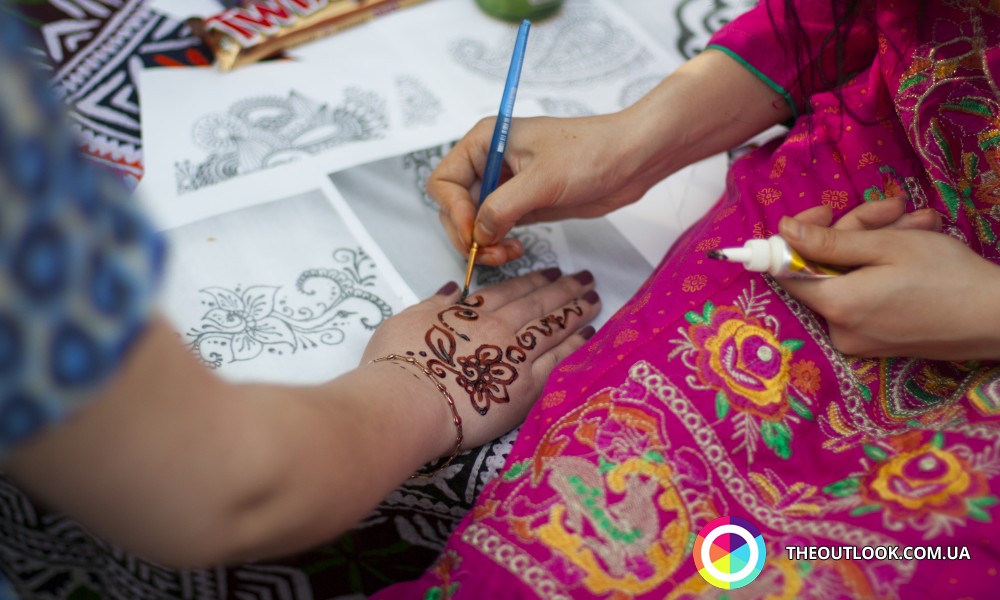 As to traditional crafts, during OUTLOOK World Culture Festival one could create a picture on water with own hands after learning basics of Turkish art of Ebru – when visiting a workshop arranged by the Embassy of Turkey in Ukraine.
Nook of cuisines of the world was presented by partners of OUTLOOK World Culture Festival – YOLO Restaurant and chillout café Chaikhona Bazaar.
Сhillout café CHAIKHONA BAZAAR (Tearoom Bazaar) is a restaurant, true picture of Eastern Bazaar, so generous, colorful, the one that impresses with abundance, colors and cordial climate! Specially for guests of our festival chef together with the restaurant's team of cookery specialists cooked very delicious sambusiks, Tabouli Salad, various kebabs, samosa, eastern delights and many other things! And a life-sized doll of a sheep brought so much fun from the restaurant to children!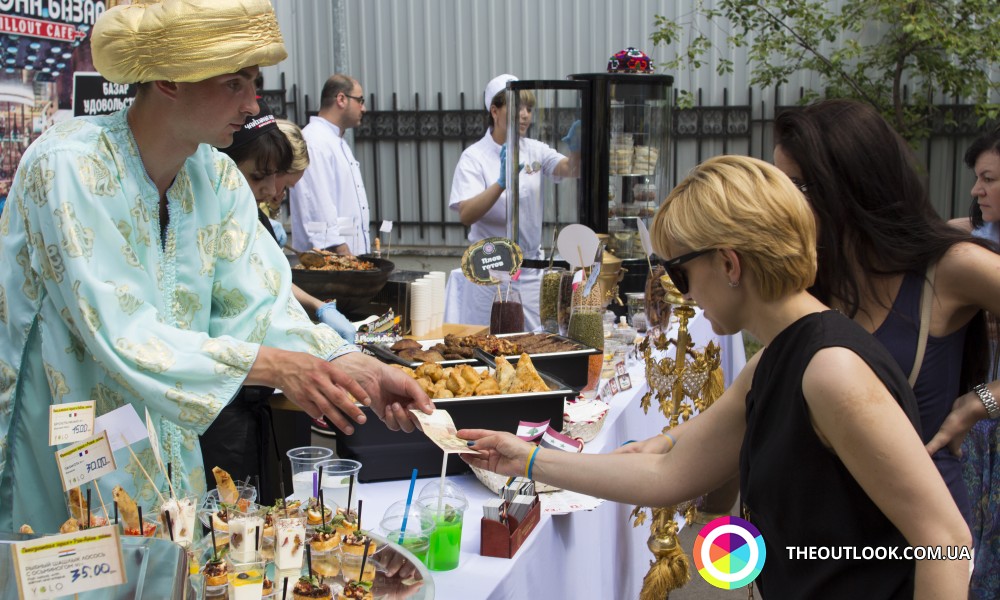 YOLO Restaurant also impressed with diversity of treats. In its menu you could find everything that allows you truly enjoy excellently cooked dishes, relax and have a pleasant time! Unusual spring rolls with sweet chili sauce, Italian bruschettas, French sorbets and Ukrainian vareniki were bringing joy to visitors of OUTLOOK World Culture Festival in the area of national cuisines! Cuban Mojito with addition of real reed was a favorite on this torrid May day.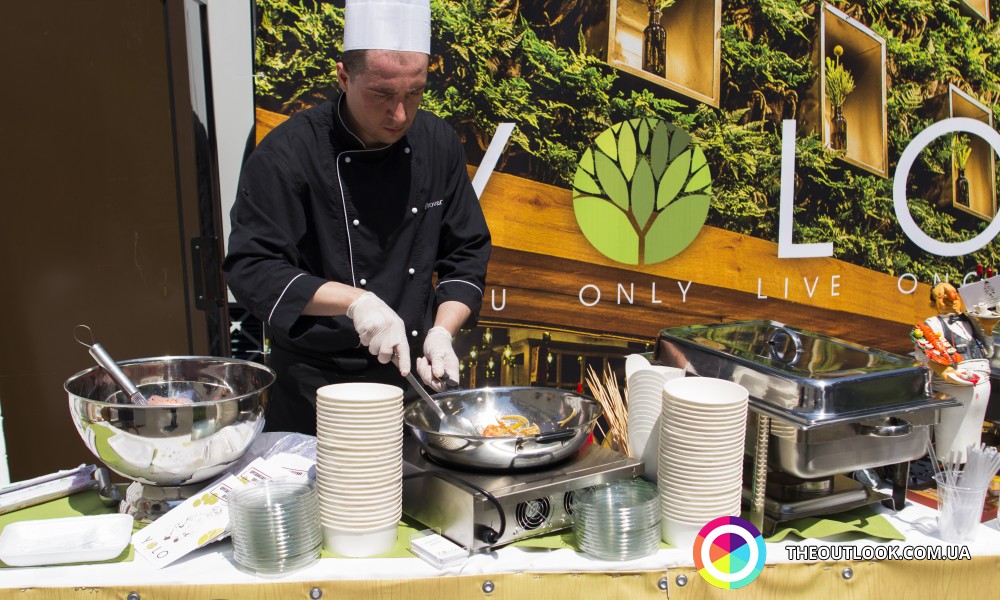 Drinks of peoples of the world were presented by Embassy of Turkey in Ukraine, that treated guests with traditional Turkish coffee; Embassy of Sudan, that prepared four exotic drinks made of desert herbs; and partners of the event, Azerchaj Company, that treated guests with their nosey high-quality products.
Organizational assistance in creation of large scale fest and location of cuisines of peoples of the world was rendered by InterContinental Hotel Kyiv – quality and service in the heart of Kiev.
In the territory of the festival unique photo areas operated constantly that allowed every willing person to get to various spots of the world for several minutes: to bright Italy with a touching mine, to romantic France or a nook of fairy-tale Denmark, prepared and executed by professionals and partners of the event, BLOOM DESIGN STUDIO! Now that we've mentioned it, here, alongside picturesque photos, every one could also get as a souvenir own silhouette cut out by silhouettist dressed as a real Andersen! By the way, pen expert himself, alongside literature, was very fond of this art. And in the area of Belarus, that enjoyed special popularity among children, cute articles of straw were made.
And there is no way to pass over colorful stand of Latin American countries! Mexico, that is associated with bright colors and festive feeling, was presented by attributes and exhibits of people just as colorful – Huichol. Unique technique of creating incredible household items, sometimes out of materials on hand, was such a riot of colors that visitors could hardly refrain from touching those masterpieces of patterns made of seed beads.
Argentina, in turn, emphasized on items, that have become true symbols of the state and carry its glory far beyond its borders. Flowery wine and accessories of traditional mate drinking, silver bombillas, leather articles were worthy adornments of Argentine area. And, of course, everyone interested could compare and find differences in techniques of creating traditional Mexican and Argentine poncho.
Sure enough, as citizens of the country that hosts the festival, we couldn't but arrange Ukrainian location. There was a photo area with authentic view of Ukrainian house 'khata' with addition of traditional household items and with a charming Ukrainian lady who was giving every guest blue-and-yellow ribbon as a souvenir! And performance of "Kalynovy Haj" band with its distinctiveness and skills got imbedded in hearts of visitors.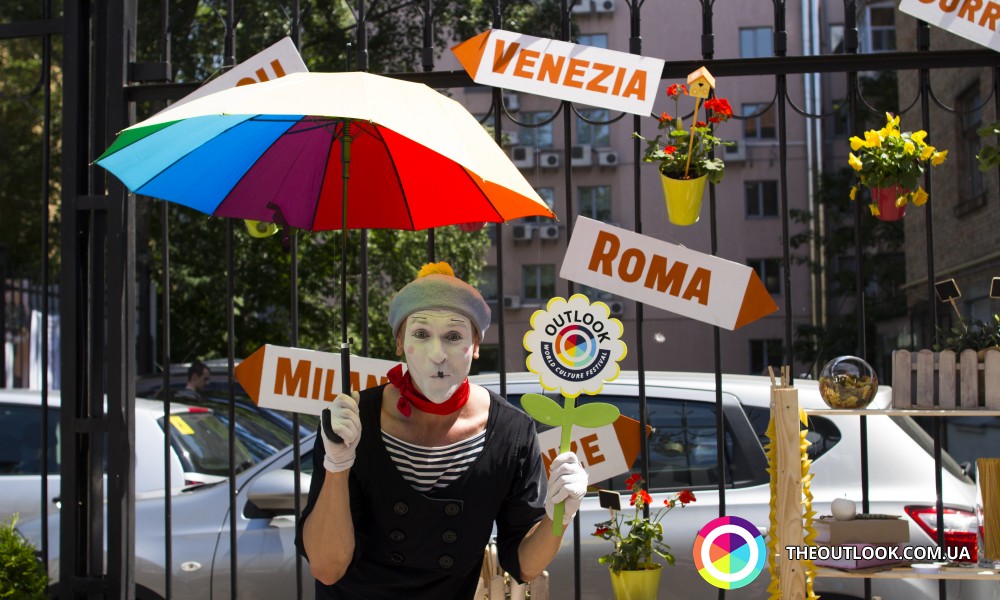 For those willing to get acquainted with cultures of various peoples through national dancing and singing routines, there was permanently operating cultural and entertaining program on stage of OUTLOOK World Culture Festival. Catching Brazilian, Azerbaijani, Argentine, Uzbek, Afghan, African, Bulgarian, Kazakh, Mexican routines and routines of Crimean Tatars charged everyone with national colors!
Constant solemn and at the same time joyful atmosphere on stage was maintained by inimitable host of the event Kirill Kapustin (Russkoe Radio Ukraine)! Not only guests of the even applauded his professionalism and subtle humor – team of OUTLOOK does it with pleasure, too. Funny lotteries and quizzes served by the host made the festival even more cordial! Every guest, upon answering tricky questions from Embassies and OUTLOOK, could get souvenirs from different nooks of the world as a present!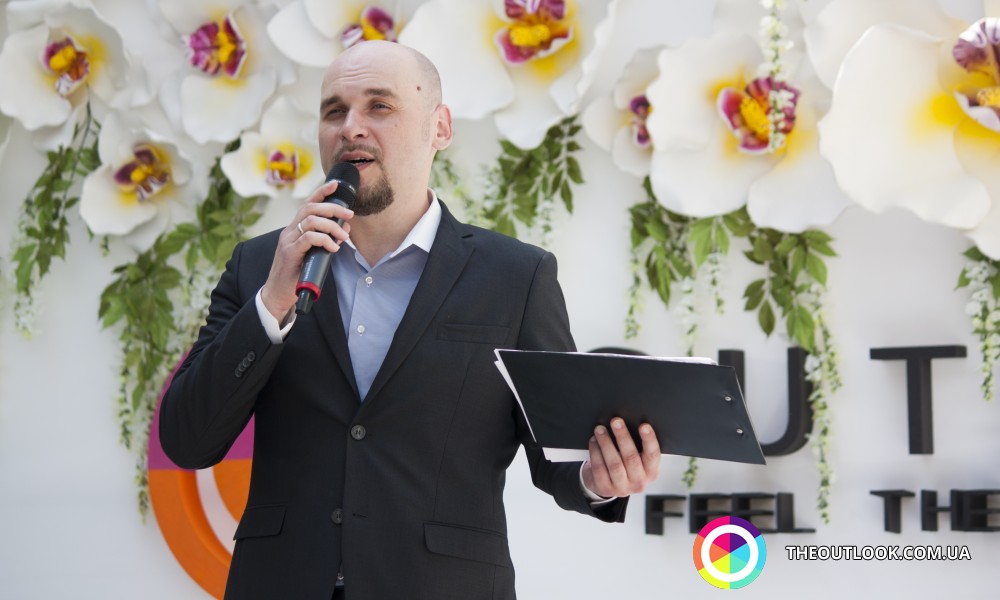 OUTLOOK World Сulture Festival will be taking place annually as a bottom-line event for the project's activities for the period. Announcements of all future events can be kept track of on our web site.
Team of OUTLOOK thanks everyone who took part in orchestration of this large-scale fest and believes that every year horizons of the event will broaden!