The kingdom of ice and snow. Harbin Festival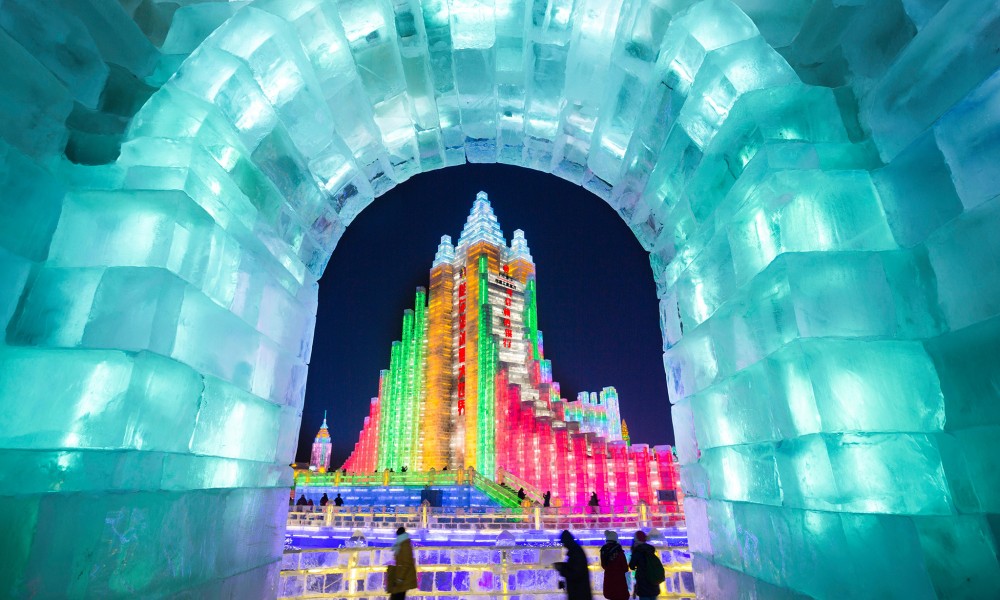 For not to have among our readers too many sad and whiny people counting days till summer or even warm spring days, the OUTLOOK would like to share at least one reason to love the cold season with all heart. The opportunity is to go to the Chinese city of Harbin and eyewitness fantastic and cool festival of ice and snow.
Located in north-eastern China, ten million residents city of Harbin was founded in the late 19th century by Russian railway workers. In its vicinity was operating a logistically important station along the Trans-Manchurian Railway. Since the first inhabitants were the Russians, do not be surprised about not Chinese, and even not oriental architecture. Russian flair spices the city, so most of the Harbin districts, especially old areas, do not differs much from the Russian Far East cities. Yes, and the climate is harsh enough with the Siberian accent: snowy winter lasts almost six months, at night the temperature often drops to minus 35-40 C, with bitter wind, it might be mind-numbingly cold. However, all these natural conditions allow local residents for more than fifty years host their world famous Harbin International Ice and Snow Sculpture Festival, which is listed as one of the top four ice and snow festivals in the world. The other venues include Japan's Sapporo Snow Festival, Canada's Quebec City Winter Carnival and Norway's Ski Festival.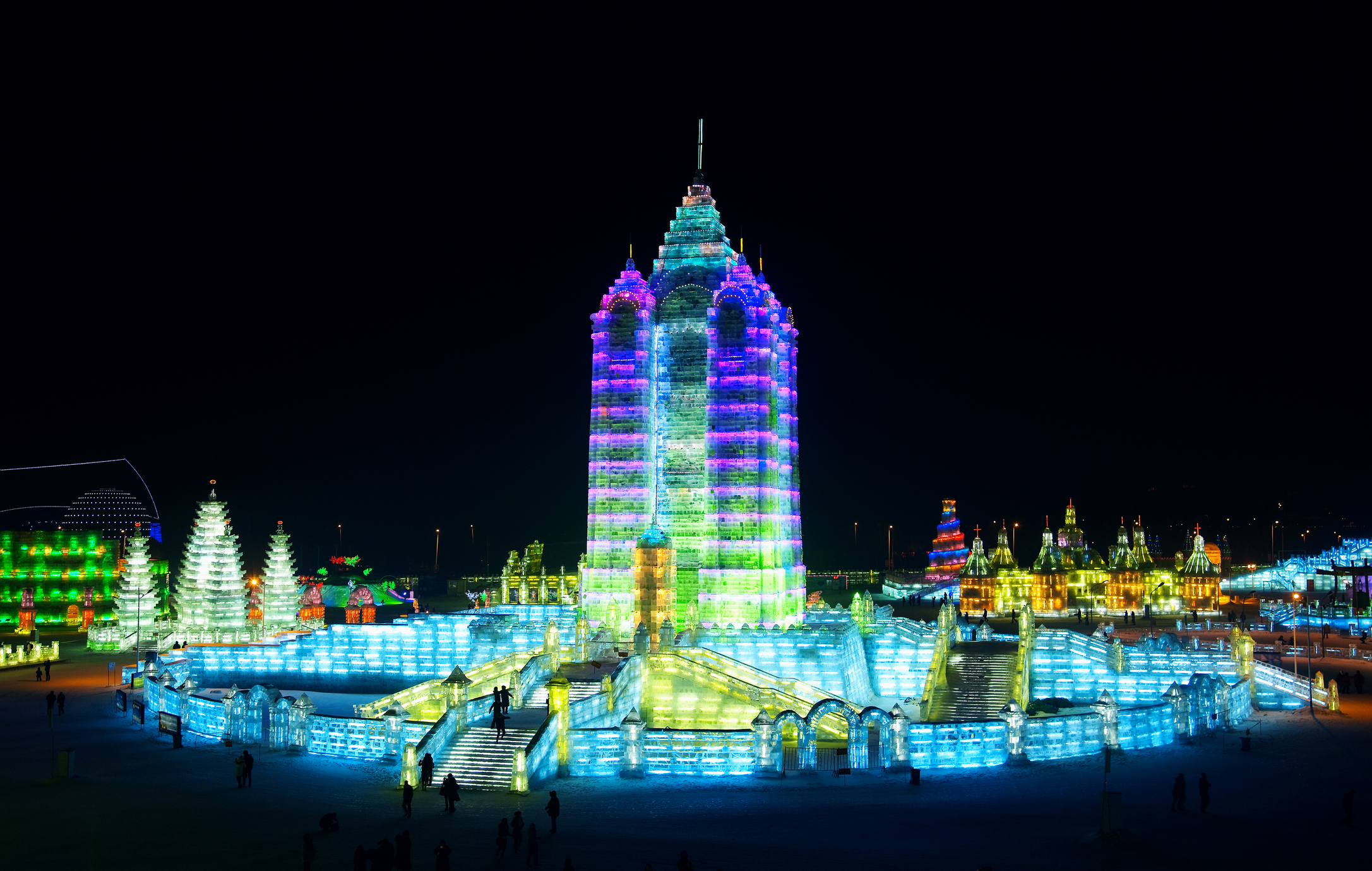 Photo nthegotours.com
For the first time Harbin Municipality organized this festival for children and adults in the distant 1963. Since then the fest has been delighting its visitors almost every year, it was interrupted only a few times just because of political or economic problems in the country during the Cultural Revolution. In 2017, everything goes according to schedule, and tickets for paid events are already available on the official website, visitors are advised to hurry up, because an annual winter festival is on the point to start - it takes place from January 4th to February 28th. To everything be arranged as usual at the highest level, the city authorities start getting ready for the festival since autumn, and December is the hottest month for organizers, sculptors and artists who create their masterpieces from the snow and ice. Right now in Harbin, a city that in summer looks totally different being green and flowering, thousands of people are working on the flashiest and most neck-craning sculptures, and the latest available rooms the hotels and hostels are being sold out, every year avalanche of tourists descends on Harbin for the annual ice and snow grand event.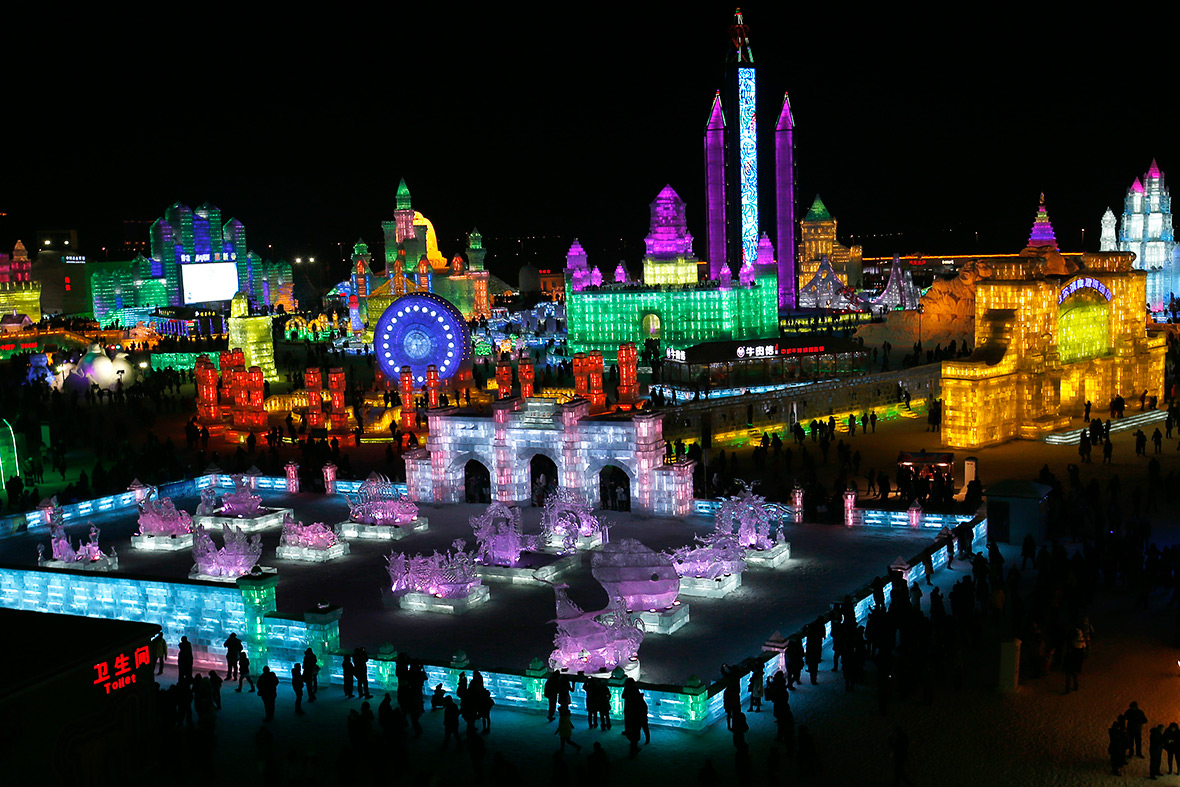 Photo dogonews.com
The first thing that impresses a guest is a scope of action. It seems that the whole metropolis turns into a fairy-tale snowy city: central streets, parks, banks of the Songhua River, Sun Island - all these parts of Harbin turn into venues for a variety of performances, events and extraordinarily detailed, imaginative and downright wacky snow and ice sculptures. So without a map with a schedule of activities, or a guide, you run a risk to miss something truly unique, as, for instance, winter safari, fishing or unusual fireworks lighting up icy glistening architectural wonders. Speaking of ice: all these hundreds of works stunning in all their white glory, both constructed by Chinese craftsmen, and international teams, consist of special demineralized water delivered from a remote mountain lake Songhua. Experts believe this its December type is the most suitable for the creation of massive ice and snow sculptures and buildings, because it is endurable and good to carving and processing. And its crystal clarity is the best to illustrate bluish white glistening during the day and magenta and neon illumination after dusk, thus creating a surreal kaleidoscope of colour to bitter winters in the city.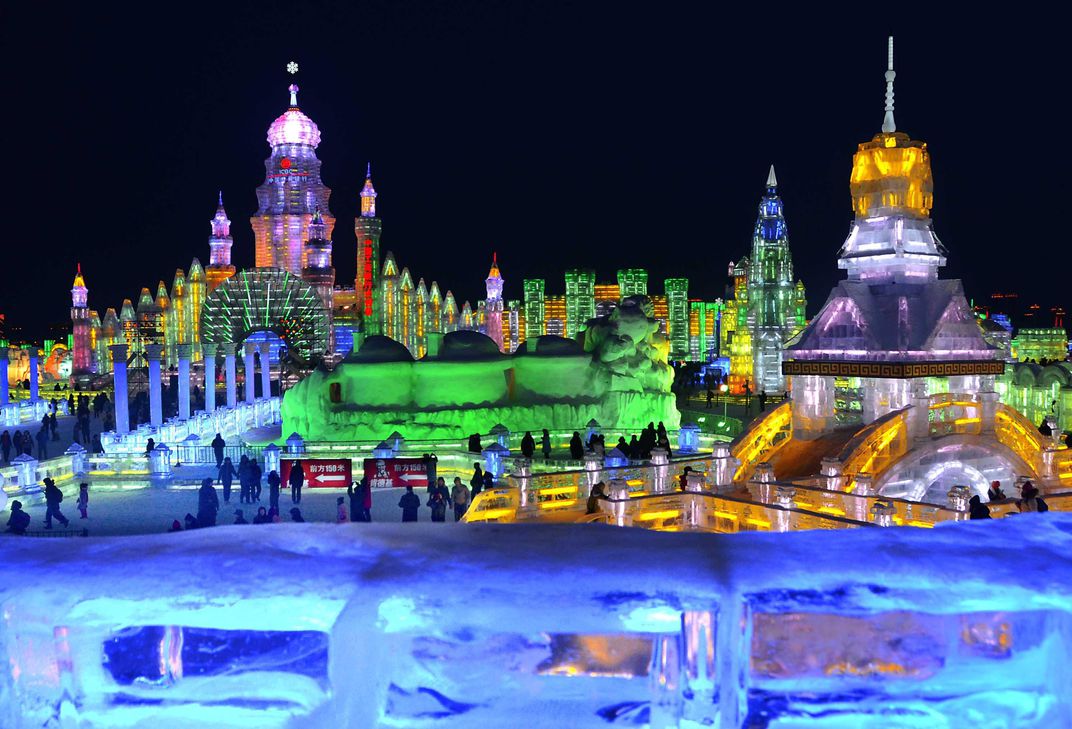 Photo smithsonianmag.com
Every visitor to the festival is sure to find what to do and no one will be bored, since the program is thought out to the last detail. Hungry? Welcome to mobile food courts and fairs, where you can taste local cuisine and a unique selection of Korean and Russian Far East specialities. Have a plan to join in marriage with your better half? Then get registered for a mass wedding on ice, when at the same time, thousands of people become spouses. Seeking for more adrenaline? To start with, you can watch, and then join dipping into icy waters, taking part in a traditional winter Harbin swims. Children felt cold? For a less hectic experience take your family to a giant oceanarium Polarland, where in addition to seas and oceans inhabitants, one can admire polar wolves, foxes, and even the Amur tigers. If animals do not inspire, then pre-book a table and go to a futuristic Robot Restaurant, where visitors are served by real robots, and a menu features traditional Chinese cuisine.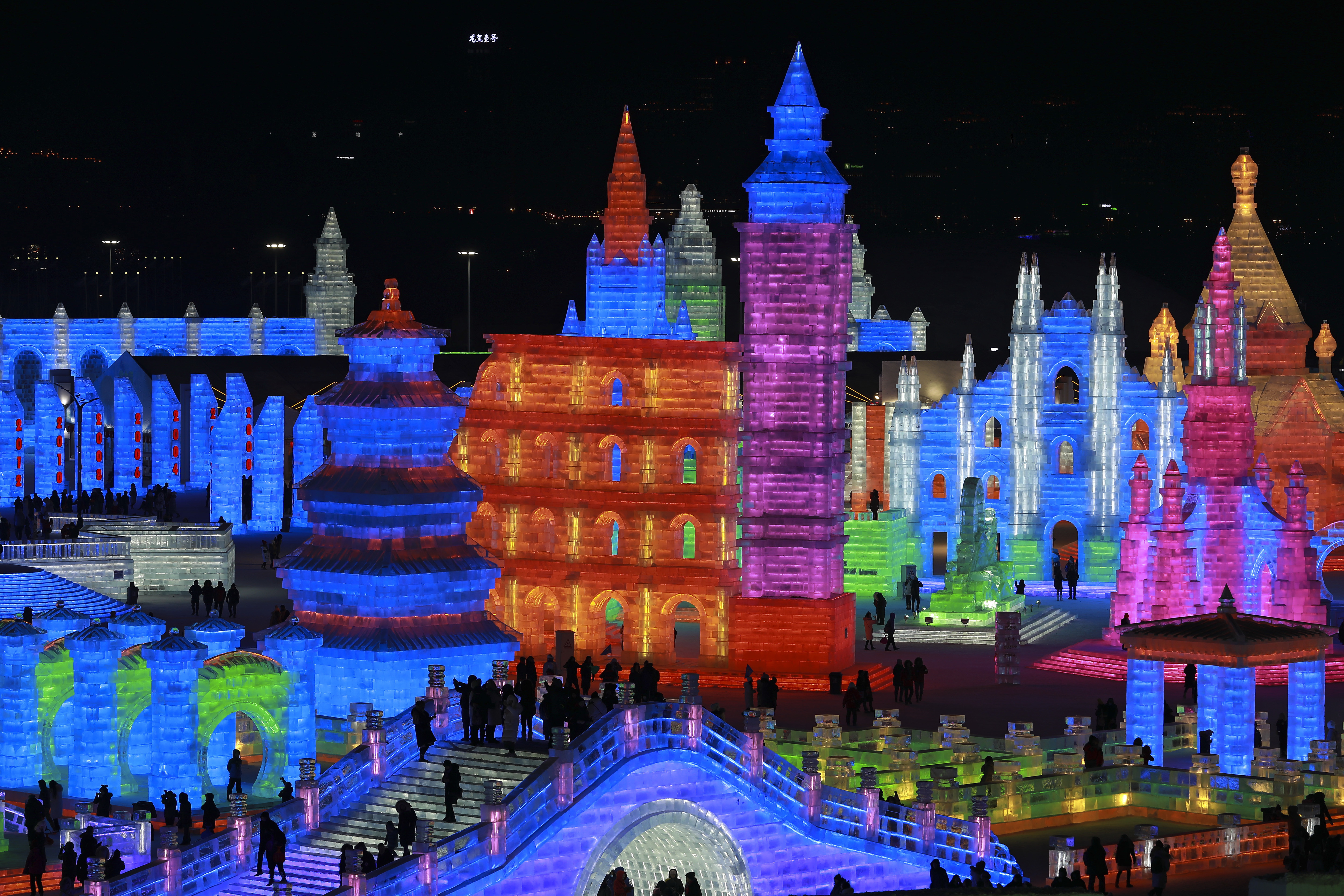 Photo world.wng.org
All-in-all, you can safely go to Harbin for more than a month of the festival and every day will be spent in different way. However, to soak into atmosphere and the incredible emotions, experts recommend to come closer to the end. Since all events are repeated from time to time, you are guaranteed not to miss a thing: another record for the Guinness Book or extreme activities, fabulous laser show, and you are sure to witness a unique spectacle, which is organized only once. This is the last day of Harbin fest, when heavy machinery fills the streets - bulldozers, cranes and all-terrain vehicles. All the splendour created by the skilful hands of ice artists, sculptors and engineers is dismantled. Of course, one can't help looking at this without tears, but all this has not only a practical sense, but also philosophical, real Eastern wisdom, because nothing lasts forever, and sometimes even something very beautiful has to be destroyed, in order to build new things which will be better, bigger and more beautiful - this is life, and no one can escape it. So that visitors and tourists do not feel sad and freezing, the organizers give crowbars, ice axes and shovels to all volunteers and invite them to take part in the destruction. Accompanied by fireworks and general physical education, the festival comes to an end, leaving incredible emotions in the hearts of its guests and the desire to go back to this winter wonderland.
Cover photo nationalgeographic.com