It was the third time that OUTLOOK gave to the capital of Ukraine this celebration of friendship and tolerance, OUTLOOK WORLD CULTURE FESTIVAL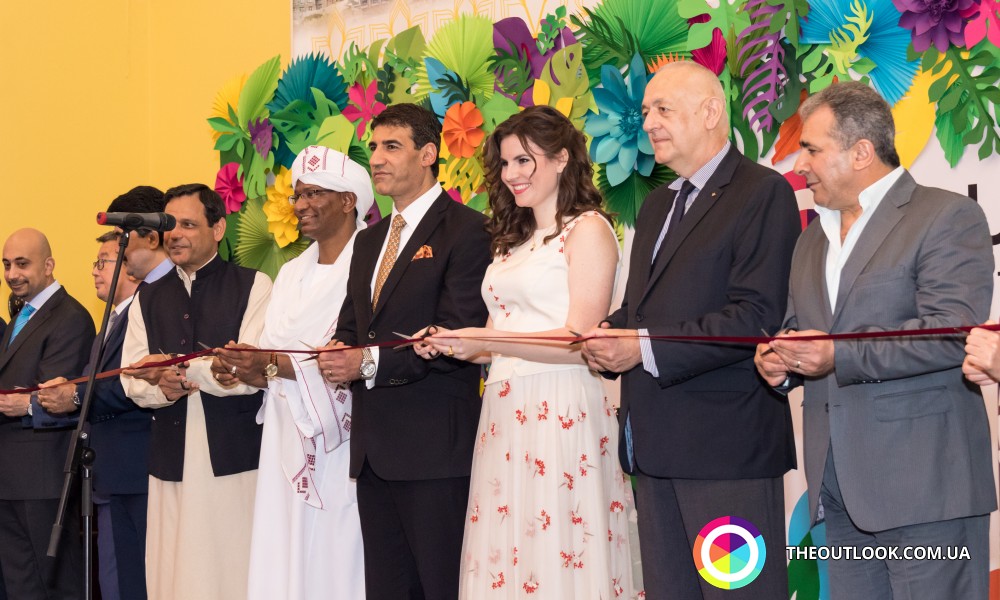 Thank to OUTLOOK WORLD CULTURE FESTIVAL for nearly entire day of June 18 Column Hall of Kyiv City State Administration transformed into an international platform or maybe even some sort of large-scale transportation hub where one could easily exchange tickets with representatives of other countries and travel to explore their homelands instantly.
Each corner of the space greeted guests not just with hospitality but also with amazing cognitive entertainments. For the third year already the event gathers growing number of Ukrainian admirers and guests from every nook of the planet who easily exchange heavy suitcase of noisy Kyiv streets and daily routine for a tourist's backpack of emotions to set on a round-the-world trip.
This year the festival was participated by 20 embassies and 14 expatriate communities that live in Ukraine. Among them: Embassies of Uzbekistan, Serbia, Kyrgyzstan, Pakistan, Turkmenistan, Iraq, Bulgaria, Argentina, Tajikistan, Morocco, Lebanon, Moldova, Palestine, Sudan, Turkey, Kazakhstan, Romania, Georgia and India. Also, Ambassadors Extraordinary and Plenipotentiary of Syria, Macedonia, Saudi Arabia, representatives of Ministry of Youth and Sports, Verkhovna Rada members, Kyiv City Council, heads of expatriate communities and non-governmental organizations honored solemn opening of the festival with their presence.
First Deputy Minister of Culture Svetlana Fomenko addresses guests of the festival with salutatory speech. "I am happy that so many countries present their culture today to show how similar and different at the same time they can be. Such festivals are very important to unite nations and it is my pleasure that they are held in Ukraine".
Ambassador of Romania in Ukraine Mr. Cornel Ionescu spoke on behalf of the foreign diplomatic corpse and expressed his respects to OUTLOOK Project for such labor-consuming yet socially significant work that its employees have carried out for several years together with embassies.
When opening the event, Director General of the OUTLOOK Project Daria Kariakina noted: "Actions of representatives of civil society manifest themselves increasingly in Ukraine day by day and OUTLOOK constitutes graphic example of that. Our team love their country very much and try to make this world a little kinder and more tolerant and with such a large-scale event as festival of cultures of peoples of the world OUTLOOK WORLD CULTURE FESTIVAL we foster establishment of respectful and friendly relations between peoples".
Bright and relaxed atmosphere of the gala gave an opportunity to every one present to become a bit richer. Some tried unusual dishes attempting to buy out secret ingredients of centuries-old recipes from their keepers with a smile, others took pictures with foreigners in rare national outfits like tourists do and some couldn't have enough of workshops. Learning how to paint on water, dance Georgian Kcharoli, make Moroccan tea, beat rhythms on African drums, write own name in Bengali and Japanese was simplicity itself in the course of the festival.
In topical areas prepared by embassies one could touch museum showpieces and national antiquities that treasure national codes of peoples.
During a six-hour concert marathon musical greetings sounded in over 30 languages of the world and the stage will remember inflammatory rhythms and graceful steps of dancers for a long time.
The festival gave its guests an opportunity to feel as if they were a large international family. When each of us is ready to give something to this world the world is sure to give something back therefore it is so important to be ready to make this first step. We are proud that we once again gathered representatives of different continents, religions and traditions under the same roof and this is what vision of the OUTLOOK Project is about.
We cherish hopes that our events will keep gathering thousands of guests and participants who seek harmony and peace.