World ghettos: Hindu District of Singapore
Singapore with its dense population, tropical climate and fruit trees in central streets that reflect in glasses of skyscrapers is a very bright city with distinct color. However there is a district, the one locals call Little India, that is beyond doubt the most picturesque of all. We suggest you have a walk around it together with us but we warn you right away: mind your eyes – it is going to be really bright and colorful.
Hindu have inhabited Singapore since the moment of its foundation therefore they didn't have to adjust to the state-city much and the fact itself that it was Asia, not Europe or America, brought acclimatization to naught. It saves the effort of talking about any kind of difficulties connected to life in a strange and unknown country. As far back as in 19th century when race track started being built in the vicinity of Serangoon River, mainly migrants lived there and there were more Hindu than anyone else. Now that we've mentioned it, there still are quite a few of them – about 10% of total population. Back in the days, natives of the Land of Elephants were mainly involved in agriculture and farming because back then both Selegie Road and Lavender Street alongside other currently wide and noisy streets and avenues used to be fields and plantations. However, races at hippodrome and development of entire infrastructure necessary brought along some serious money infusions, including ones from Europeans. All of that gradually turned the neighborhood into the centre of commerce and due to the fact that Singapore was growing, Little India found itself not just within the city but in its very heart.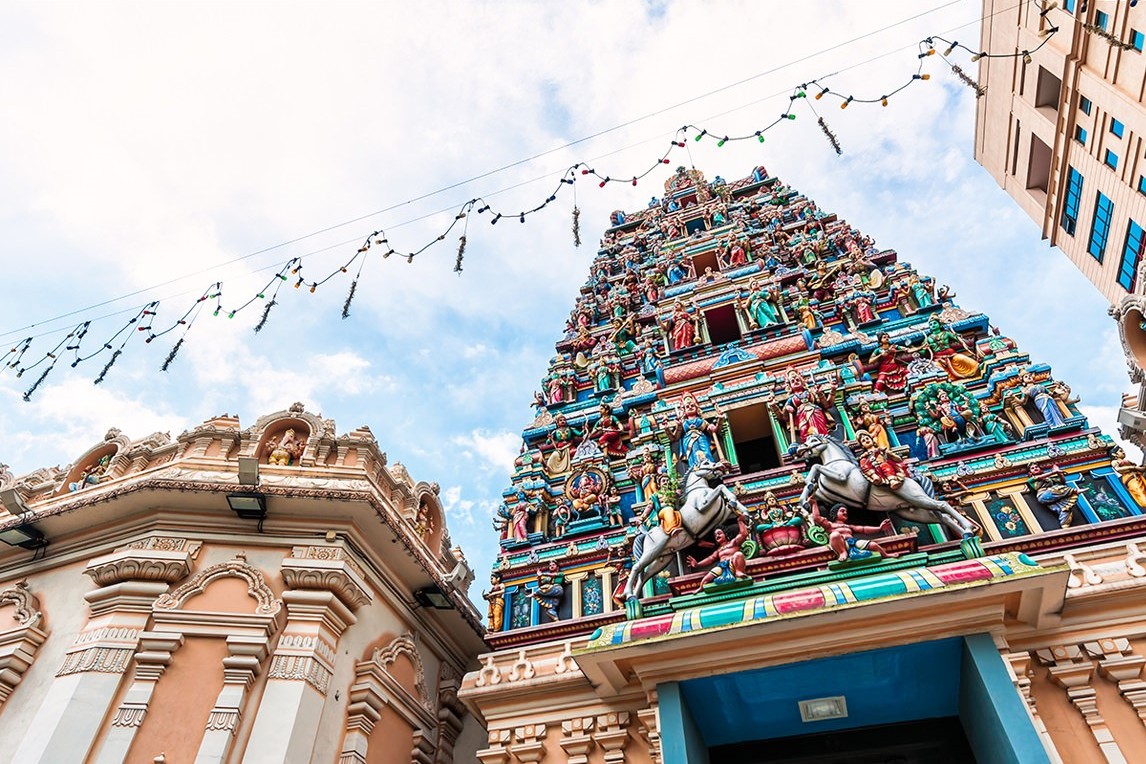 Photo incomartour.com.ua
Today in order to get there it is enough to take subway and get off at a namesake station, Little India. If a tourist has found the state-city too loud before, it is this ethnic district that will make it clear what it means to be really noisy. Endless markets, counters loaded with everything and anything, frankincense odors of all kinds – these are things that attack you from every side instantly. Nevertheless, both Singaporeans and travelers like the neighborhood very much and truth be told, for a good reason. Alongside great cheap cafés and restaurants there are numerous architecture landmarks, temples and simply interesting streets – in their sidelines one can't help but expect a cow appear now and again. However, luckily or not, there is no way to come across this animal there, though the atmosphere resembles the one of Delhi. Still, there is also a big difference: it is much cleaner in Singapore which is undoubtedly a huge advantage because constantly buzzing flies and the smell of sewage add some color, for sure, but they also spoil impression somehow.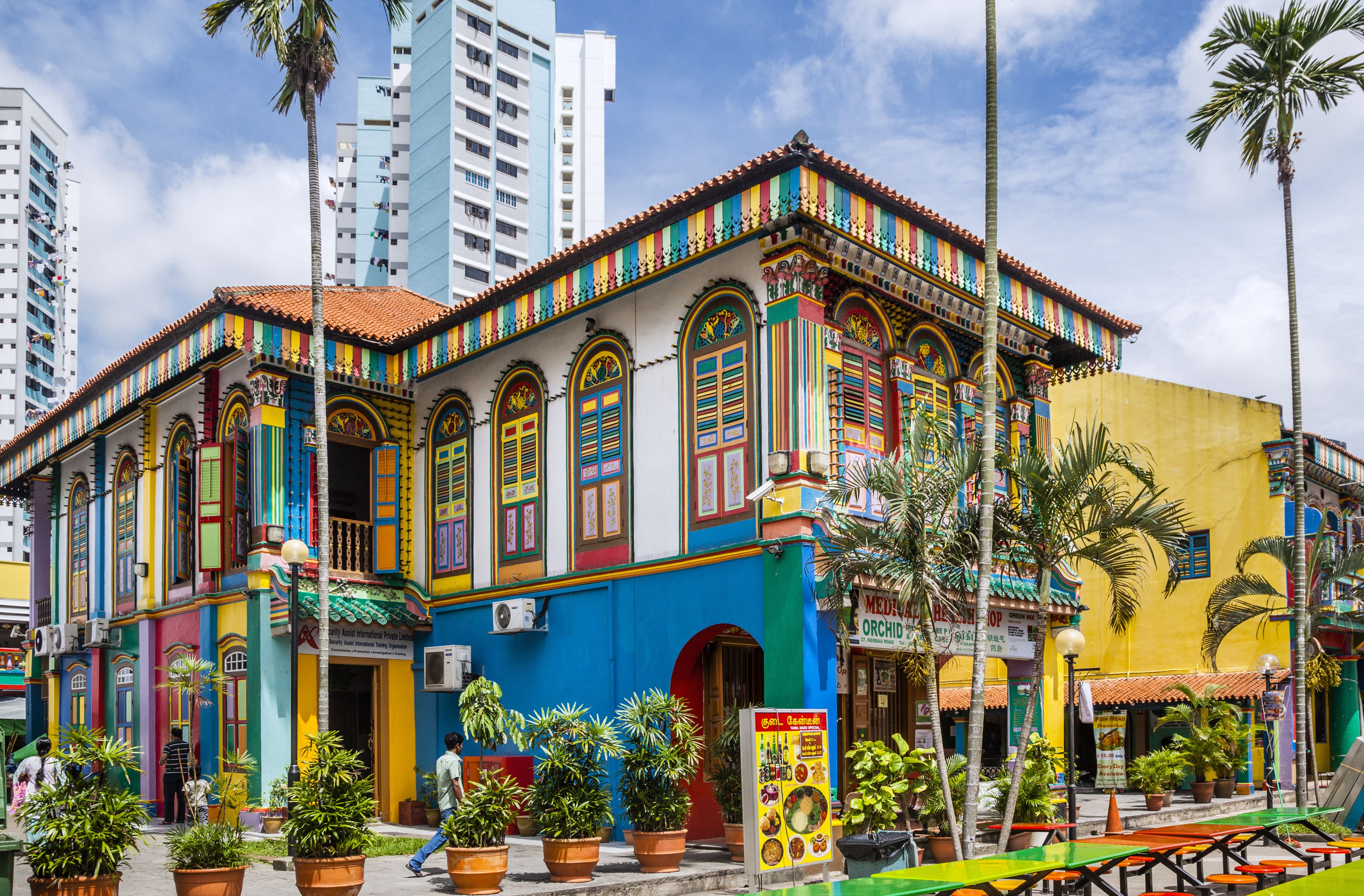 Photo iccoe.org
The heart that sets pace for local life is a giant Mustafa Trade Centre located at 145 Syed Alwi Road. There you can literally purchase everything, real deals and fakes, for that matter, and nobody and nothing but your wallet will spot the difference. Singaporeans with their entire families go to Little India for shopping because products, clothes and devices are times cheaper there and shopping itself is considered as nearly as a national sport. It is a pleasure that one can purchase things not just in trade centers but also while walking along picturesque markets and fairs with many-centuries-old history – Arcade and Tekka Centre. We assure you, there is no way you can do without a purchase and without street food when comfortably seated in the territory of food courts!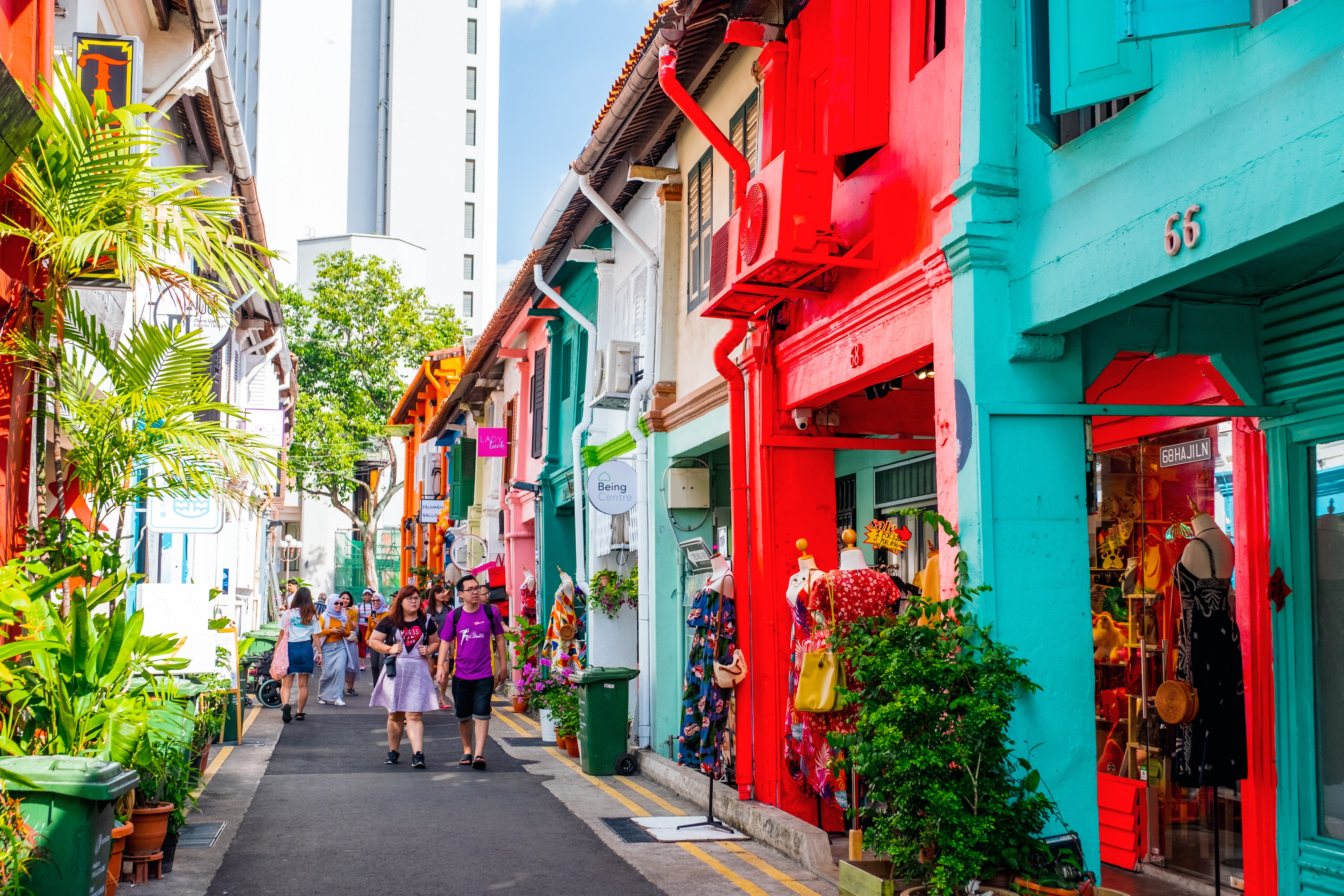 Photo cntraveler.com
Serangoon Street is the main in the district. Cafés, bars, iconic objects like, for instance, Sri Veeramakaliamman Temple are all located on it; the latter one is the oldest Hindu temple in entire Singapore. Street noise, endless flow of tourists or "purchase&sell" on every step don't distract local clergymen. It seems like monks have obtained harmony and peace long time ago therefore nothing annoys them. While this temple is dedicated to goddess Kali, Sri Perumal Temple located nearby to be second most popular was built in honor of Krishna himself. In winter months it becomes the centre of colorful Thaipusam festival.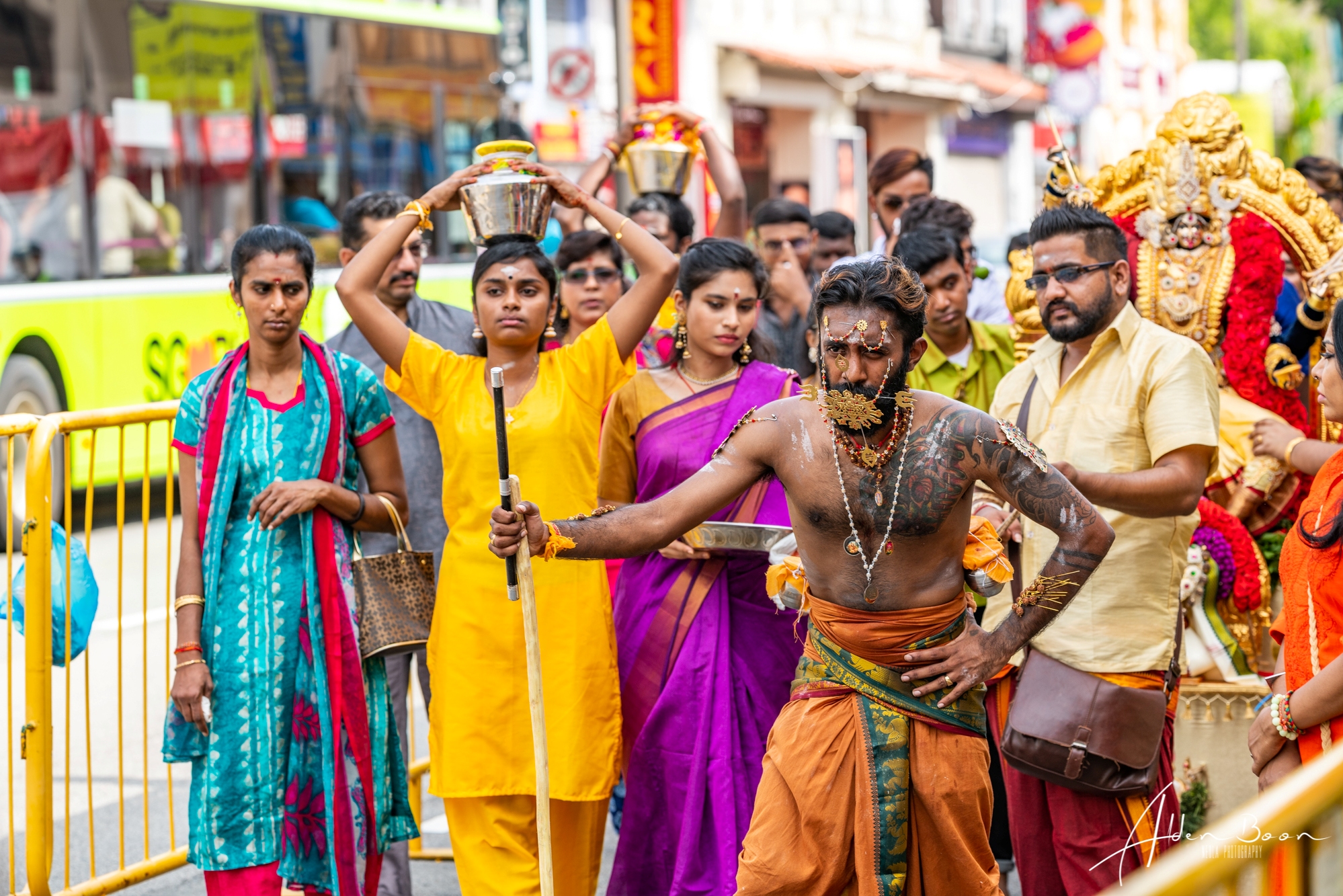 Photo magazine.nedla.sg
There is another legendary spot in Hindu neighborhood but this one is the opposite of temples in terms of purpose – red light district. Brothels are considered the most dangerous place in the city however this fact doesn't scare tourists away, more to the contrary. A walk around local fleshpots is second most popular entertainment after cycle rickshaws. The thing is that most high-end and futuristic Singapore is short on rickshaws while there is a plenty of them in Hindu district and tourists are glad to ride them to leave some 20 dollars for a 45-minute ride.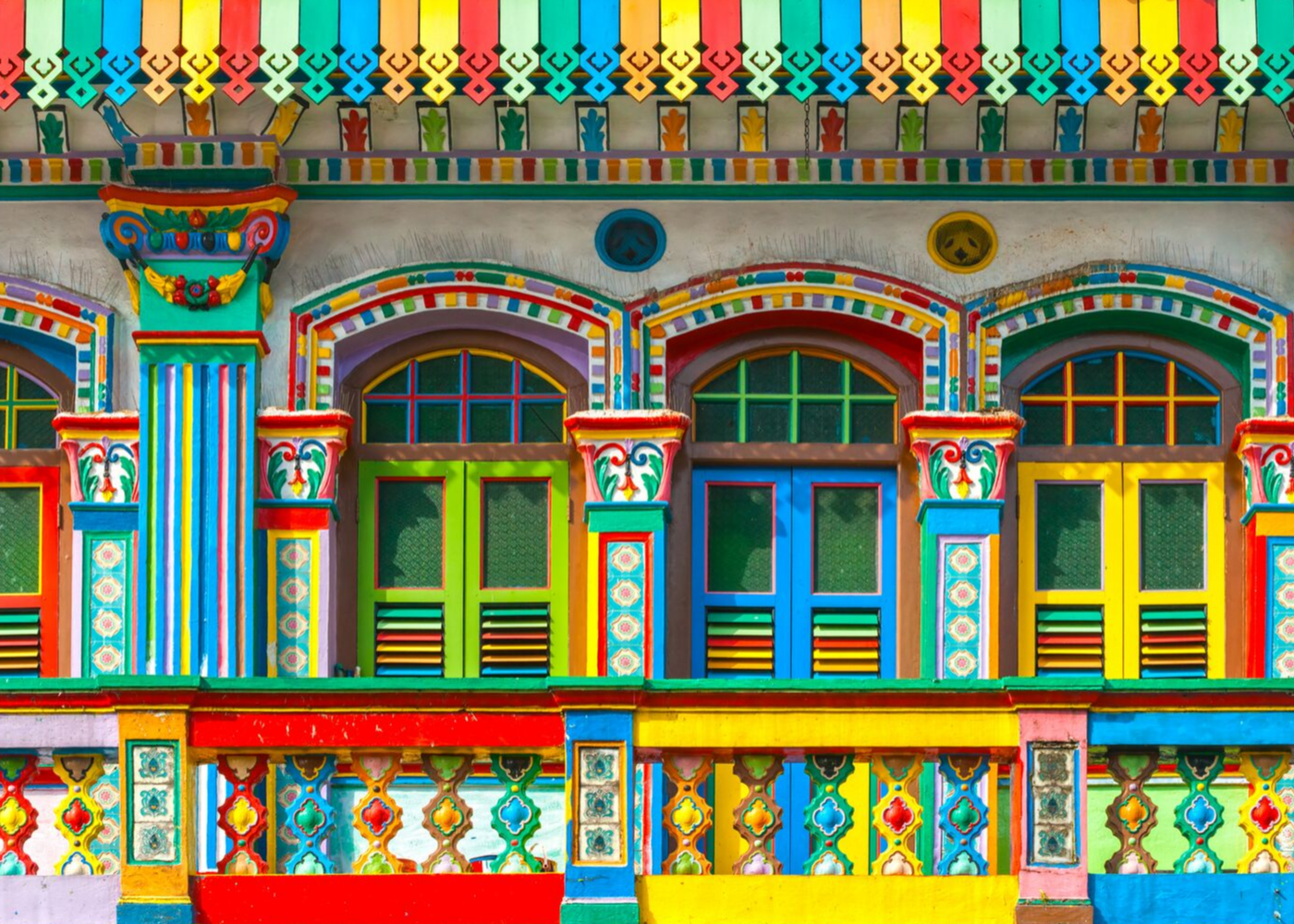 Photo thehoneycombers.com
All in all, when talking about Little India, one can't but mention that together with a neighboring Arab district they make for a great and colorful migrants' ghetto to add a certain zest to the state-city. Its well-organized and high-tech life can inspire boredom at times. But Hindu and Arabs with their bit of chaos and non-stop trade don't let Singapore get overgrown with vulgarity and become merely a decoration for movies about future. Trust us, there are things to look at except cocktails on roofs of skyscrapers!
Cover photo quora.com