Viktor Vatsko at the Microphone
On the eve of International Sports Journalist Day Ukrainian commentator Viktor Vatsko told OUTLOOK about his profession, football behind-the-scenes games and reasons why after some coverages he cannot fall asleep as late as till 5 a.m.
«I used to play football - that's major league. The rest was just pottering around»
On might-have-been player career
I studied at children's and youth sports school, had some plans for "adult football". But then two accidents happened to me to change my life priorities. First I didn't pass selection to one of the teams although I looked fine on trials. It was a sign of a kind - I wasn't going to become a great player. And some time later I got serious knee injury. It was in that moment when it became conclusively clear that I wouldn't make it to elite sport and I didn't feel like torturing myself with tournaments in villages and administrative regions so I decided to "wrap it up" and concentrate on education. Until now I don't know why I opted for journalism - may be it is in my blood, my father was a journalist. However in school I graduated from a class with mathematical specialization with grades no worse that 'B's.
«I was at home in football community, because I knew what I was talking about»
First journalistic experiences
After my first year at university I went to have practice not to the newspaper my father advised on but to "Saturday Post" instead - I decided to show my mettle and independence. I was offered covering sports issues. My first assignment was to interview Stepan Yurchyshyn. Mr. Yurchyshyn was main coach of FC Lviv at the time and they were going to a training camp so I basically had half a day. I called a friend of mine who I used to play with - he had worked with Stepan Fedorovych and gave me his number - we had a chat, I that's how it all started. Having known many people from junior teams' tournaments and administrative region competitions, it was easier to get necessary information. Coaches, players and managers on realizing that I knew what I was writing about were more eager to open up regarding me as one of their own.
«Tongue, tongue and eloquent tongue only»
Moving to Kiev, transferring to TV
At the age of 18 I started working as a sports editor in Lviv newspaper "Express". After having worked there for some time I came to one of business trips to Kiev. I was staying with an old friend of mine, Sasha Glivinskiy, who worked on TV by that time covering matches. It was him who invited me to his show "Football from UTN Channel" on First National Channel. I hadn't dealt with television by that time but significant journalistic experience, friends in football sphere and self-confidence made me agree - after all, I knew better than many what "side-foot" and "4-2-4" meant.
In six months of endless business trips and "life in trains" as a reporter I offered myself for "commentator's trials". 15 years ago there were no such things as competitions, trainings or seminars at all. I was simply taken to a basement in the channel's building, where one of control rooms was situated, a tape with one of football matches recordings was put on and I was told "Go!" Ultimately producers and management liked my tape and they committed to me night airings of the League of Champions straight away. 20-something guy working at the microphone on serious tournaments may be surprising now but back then it was normal, we all started at about the same age: Dima Dzhulai, Denis Bosyanok and many others. 'Old guard' was leaving TV and our generation came into its place.
On sports journalism then and today
Sure enough, preparing oneself for a match as well as commenting in general is easier now. For instance, before the match Dynamo vs Rapid I watched 6 previous games of the Austrians on the Internet and collected tons of useful information on every player. Nowadays one can surf the network while commenting and find something but when I was beginning with my career starting line-ups were sent by fax. In the whole channel there were only a couple of computers with Internet connection that our top guns didn't know how to use. I recall one of these "maitres" rushing into the room shouting: "Enter your stupid Internet and print starting line-ups for me!" In order to prepare for the work one had to be calling colleagues, trainers, players and study one or another team from their words, ask for under-the-table recordings.
Yet, technologies alone won't get you far enough. Although now on leading channels we almost keep apace with the rest of the world in terms of "picture" and promptness, when it comes to the profession and attitude towards it, Ukraine is 20-30 years behind Europe. When reading football analytics I would like to learn about playing schemes, about why this or another person got to play, how the team rearranged and what helped it win. But we more often than not discuss where and with whom a player was drinking before the match and what kind of car he had bought. These kind of "yellowness" can also be found in the UK and in Germany but there readers have a choice while our fans are fed with all and sundry.
I, for instance, wasn't very much into German championship but when I was assigned to Bundesliga, I had to be spending my entire free time studying teams, players and their playing manners. Before that I only knew that there was Borussia - the one I liked - and Bayern - the one I didn't.
But it isn't only journalists' fault. Same coaches and football players are often rude, deflect from communication and look down at reporters. People don't get a simple truth: they have to answer questions not for the press's sake but for the audience who are interested. Sometimes I even ask myself: why these of other Ukrainian football clubs exist? Organization men don't understand why cooperate with journalists: I mind my own business - mind yours and leave me alone. Therefore it is necessary to make all the arrangements, develop and adopt other countries' positive experience.
«Ukrainians is not a football nation»
The way they support their teams in our country and abroad
Look at our stadiums when non-top teams are playing - people very rarely attend humdrum matches. There are no conditions, the outcome is often obvious so why pay money and go to a stadium with a rotten roof. In Germany, for instance, they support a team in such a way that I don't understand how can one but become a fan of Dortmund after visiting Westfalenstadion (the one of Borussia). There is this energy, this drive on days of matches - in the streets and in bars, too. Every club conducts serious work with supporters. And all the conditions favor it. In Ukraine stuff like that only happens when national team is playing. During euro-2012 I was at Olympic stadium covering the game Ukraine vs Sweden and saw this unification of the country, all 75 thousands in a single chorus, celebrating the victory - I couldn't fall asleep till 5 a.m. after that match. Unfortunatelly, these are isolated cases.
«500 thousands: one hundred here, two - there…»
On the experience of vice-presidency in Karpaty FC
After in-home Europe championship I felt like I'd had enough of football. And there was a friend of mine from FC Karpaty Lviv who suggested cooperation - at first we talked sports director functions but later the club settled for the vice-president's position.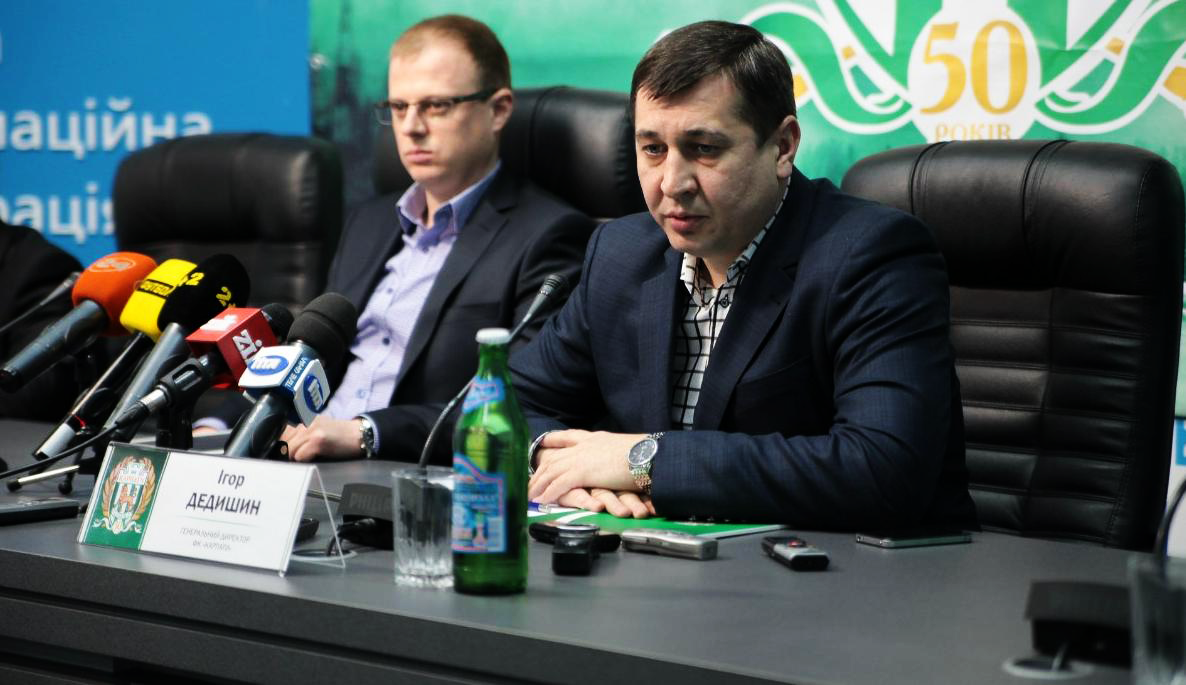 My main task was looking for players. Some experts had been asking for my opinion on this or the other player before. Being a journalist, I knew how to find all round information on football players. And in our country it often happens in the following way: agent send YouTube videos with well-executed actions of a player to a club - here you go, watch and admire… But even out of my playing on Sundays with friends one can make such a compilation that FC Barcelona and FC Real will get interested. Professional search includes not only playing skills criteria but also personal qualities of potential 'newcomers' - something you won't get from YouTube. It was this kind of work that I was trying to orchestrate in Karpaty. Now that I mentioned it and with 2013-2014 season over, I can proudly say that all my placemen started playing and became of use for the team.
Sure enough, work of an organization man is a totally different experience that allowed looking at numerous things at a different angle. I knew before about various 'kick-backs' and 'payoffs' but here I learned the hard way. There was one player who had an expiring contract with his previous club, so I met with his agent offering a transfer to Karpaty. The agent said straight away that we'll have to pay 500 thousands for the transfer. Surprised, I said that the contract's period was running out but he answered, smiling, that the club's investors didn't know about it while money could be shared. I nodded and the meeting was over - I'm not the right person for such operations. By the way, that player didn't get to Karpaty.
All in all, having worked a year away from mass media I realized how much I love my main occupation - at the microphone. Nevertheless, I don't rule out the possibility of giving a shot at something new. The only thing I'm sure I don't wan't to engage in is coaching. I'm positive it is not my cup of tea.