Packed and Ready: Oleg Borschevskiy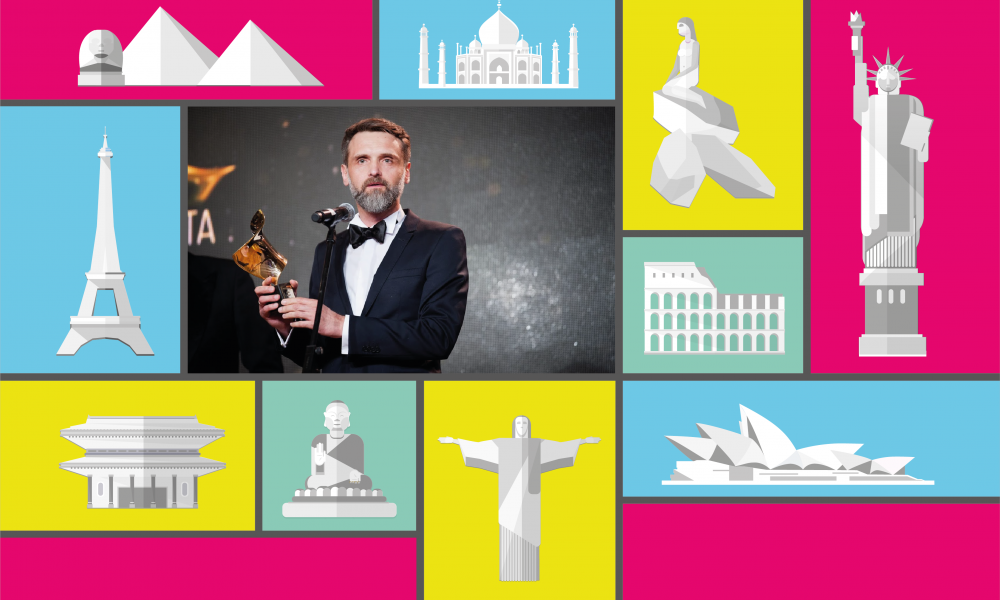 Oleg Borschevskiy is a famous film director, screenwriter and music video director. Among his works, there are music videos for such stars as Potap and Nastia, music bands NeAngely, Boombox, NIKITA, singers Maria Burmaka, Tonia Matvienko and many others. In a nice conversation, he recalled the most interesting places on the world map, which he visited and shared his personal disappointments.
I visited 12 countries.

These are Poland, Slovakia, Slovenia, Hungary, Austria, the Netherlands, Belgium, France, England, Spain, Italy and Turkey.
I like to change the surrounding picture, because in Kyiv we walk through the same places and stop seeing those beautiful places that a foreigner can notice. I travel to get away from our reality and see new places. I like to walk a lot in unfamiliar beautiful cities and take pictures. I usually travel with my family, sometimes I have to travel around the world for business.
So, my relatives and me first travelled to beaten tourist destinations: Barcelona, Amsterdam, London, Vienna, Budapest. Then we realized that all European cities more or less resemble each other. Each city, of course, has its own architectural or atmospheric feature, but generally, a typical face of a European city emerges. This is a cobweb of central area, monuments, and museums, what else? Even Florence, I would say, is an average European city. Therefore, our previous trip was devoted to little-known beautiful places.
My first foreign destination is Barcelona.
We stayed there for 10 days, and then it seemed that even those days were not enough. Certainly, Barcelona made a very strong impression on me. After all, this was my first foreign city, at which I looked with enthusiastic wide-open eyes of a tourist from a completely different country.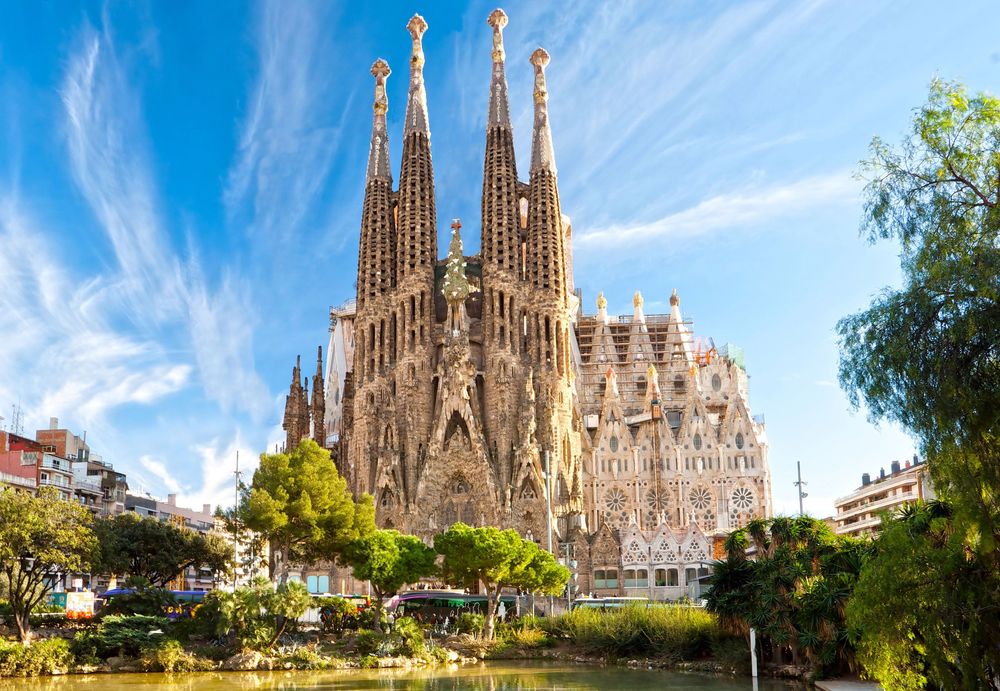 Photo sakhalife.ru
Barcelona is actually my first love... I would return there if there were no other places to visit. It is eclectic: it has both gothic and mega-scrapers, a lot from Gaudi, a lot from Picasso. There are both classic buildings, and many unique modern architectural objects. You can just walk around Barcelona and see the unimaginable structure of channels - here is a sculpture for you. This city is constantly surprising: there are various sensations in different areas. For example, the very old Eixample district is special since all its buildings have the same chamfered corners - a beautiful square-nesting area. This is done so that more light comes on the streets, because full corners overlap sunrays. However, it makes walking rather inconvenient.
This aesthetic variety attracts me very much. In addition, there is an incredible sea, as if covered with a veil of mother of pearl.
Three must-see places
My favourite object is Manarola. I have been here twice. This is an extremely small, but magically beautiful city filled up with the spirit of Italy... Houses here are nested just on the hills. Tiny restaurants, there are actually only 5 of them, a couple of eateries and 4 shops. It is almost impossible to rent an apartment there, and all the hotels are of home type.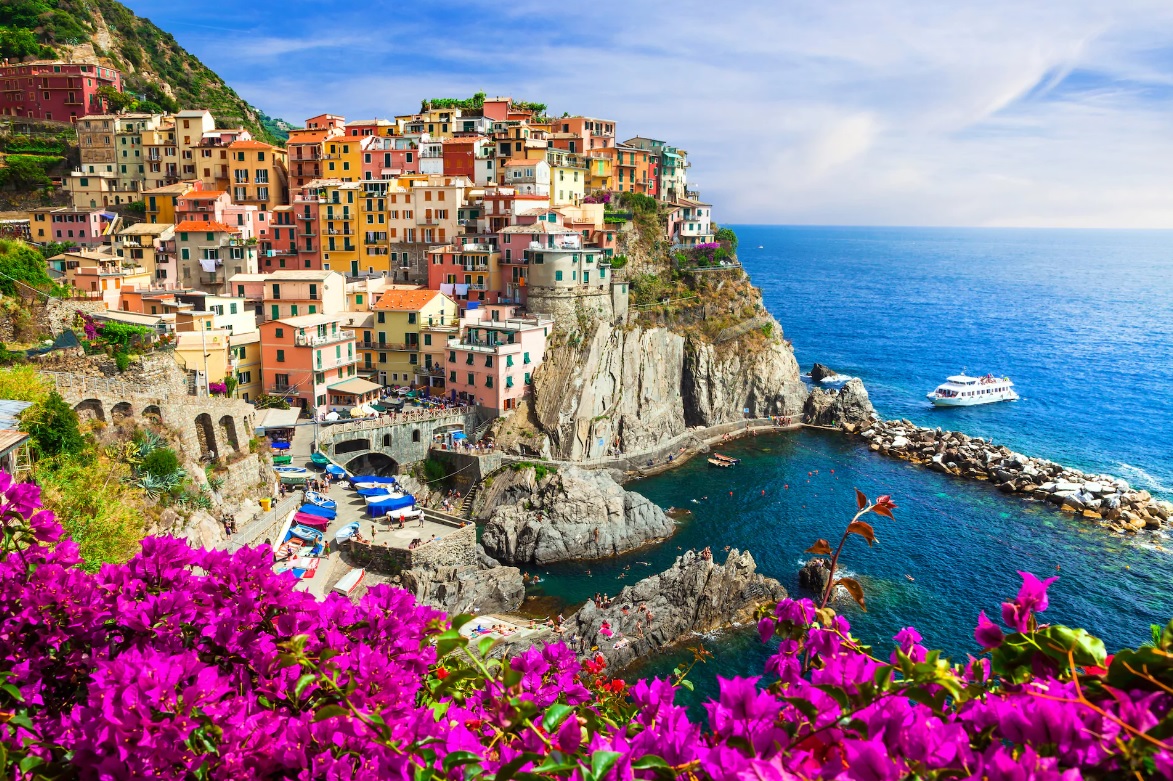 Photo telegraph.co.uk
This city is on the west coast - the sun sets down directly into the sea and gives an incredible sunset. You swim, dive straight off the cliffs, and enjoy the real Italian atmosphere in a chamber format. It seems to me that here people know how to enjoy the moment, because there is no fuss.
There you have a feeling of staying in some paradise area, but, compared to other cities, Manarola is not very well-groomed. Apparently, due to the constant flow of tourists, local people do not have time to keep it in perfect condition. So it is a bit worn out. However, all of Italy is like this - half-ruined. Manarola does not look well-manicured. This is such an insane charming layering of houses, narrow forked stairs and vegetation.
The second object is Amsterdam. It is a tourist commonplace, but it has a special youth spirit of freedom. This is a city of artists, dancers performing capoeira on the streets, all-in-all, a cool atmosphere is created, I would say, vibrations of youth. In addition, as I noted, this is the most thoughtful city for cyclists. Take the bike and drive away from the centre. In addition to the hyped gingerbread houses, there is still much to see: it is a gorgeous large city. Skyscraper blocks, peninsular neighbourhoods, where windows and steps of small townhouses lead directly to water... These are real peninsula bays.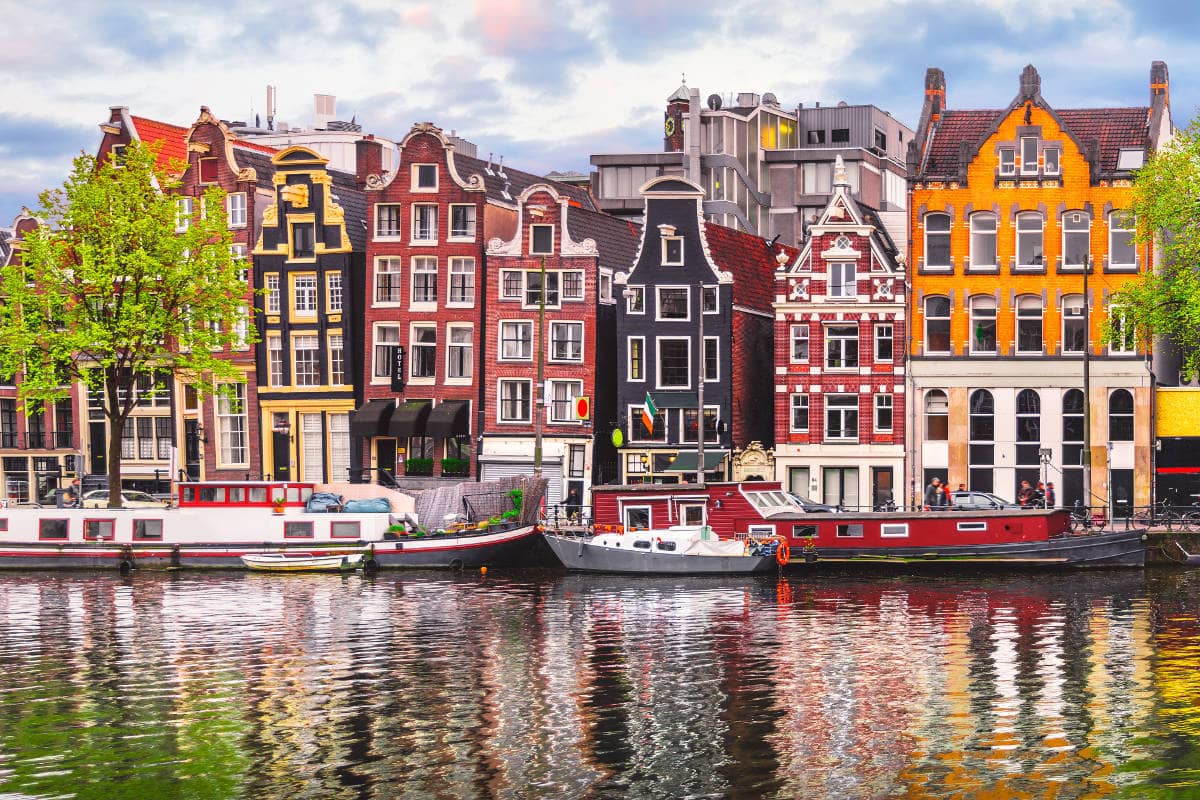 Photo civitatis.com
And the third is, of course, Barcelona.
I will never go again to...
I got a very strange feeling from Istanbul. Many friends sang praises to it, so, when we had the task to shoot a video with an oriental flavour, we decided that Istanbul would be a perfect solution. Nevertheless, when we arrived there, I must confess, for three days I was shocked: I did not understand at all why people could love this city. Very dirty, no stylish architecture, fast transport and traffic jams, dirt, terrible food... To be honest, after 6 days, I began to feel Istanbul, and I even liked it.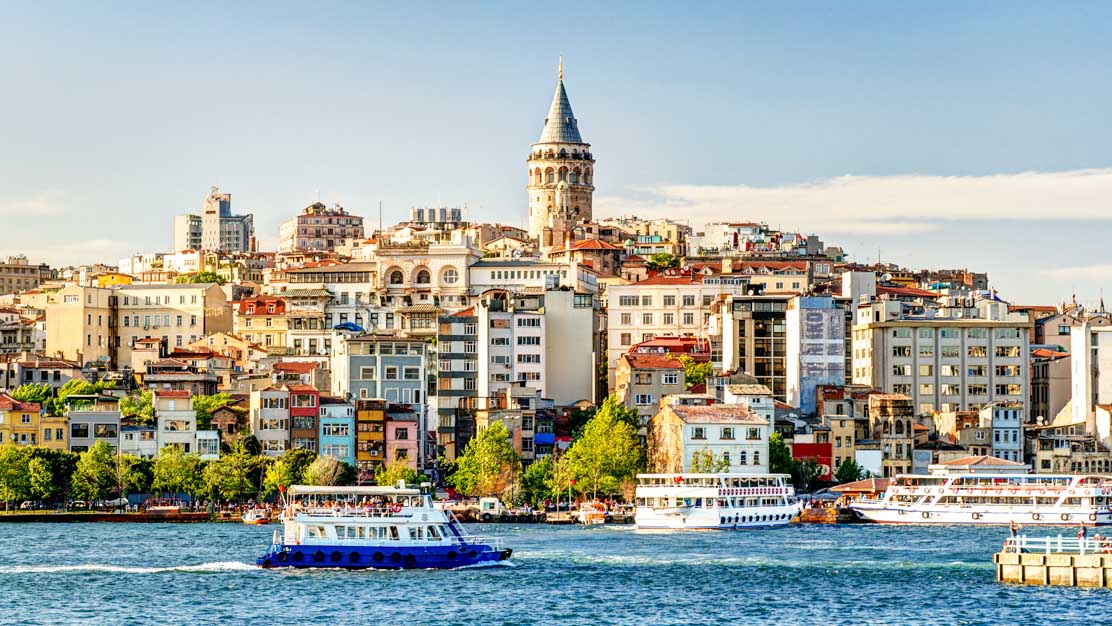 Photo a1on.mk
However, my biggest disappointment is Prague.
My second home could be...
Perhaps I would stop at Barcelona. Very creative city.
I liked beach and hotel holiday in Turkey.
We spent holidays in Turkish hotels several times when my child was small, and we selected places interesting for the child. This is the perfect family vacation.
The most unusual dish...
My most strange dish, for now, is a kebab in Istanbul in a street restaurant recommended by friends. This is a thin layer of meat in a two-layer thick pita with mayonnaise, and no other ingredients, and it is very unsavoury. Compared to it, our Kyiv shaurma is a top culinary art. Nadia, my wife, travels a lot for work, she highlights the following interesting dishes: ice cream from tomatoes in Paris and a salad with flowers in the Czech Republic.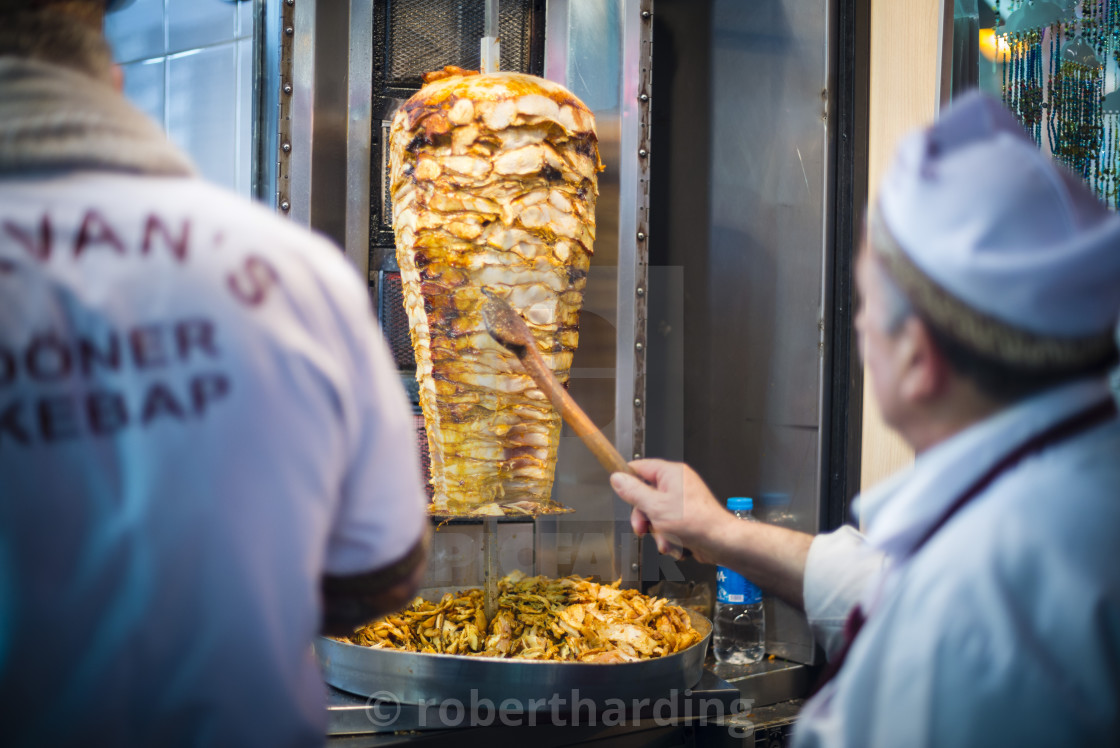 Photo picfair.com
The following mentality was most surprising for me...
Difficult to answer about the mentality. You need to communicate a lot with the locals to get to know it well.
Now I want to visit Peru to look at the megaliths.
There are many remnants of ancient civilizations. It is inexplicable how people built, and for what purposes it was intended. It is simply impossible to understand the technologies to process a huge stone, cut out flat planes of geometric shapes in it - some windows, hollows, steps. They cut it all out smoothly and, apparently, ages ago. Archaeologists, who study this, say that even now humanity does not have such technologies to create the same. Moreover, there are huge stone plateaus on which you can see pictures, the so-called glyphs (tortoise, birds, etc.). They are several kilometres long. It is impossible to understand how the managed to draw them.
I really want to see Machu Picchu. Beautiful mountains, and there, in the depths on one peak, you can see remains of the stone city...