Eternal love. Monuments to love in Ukraine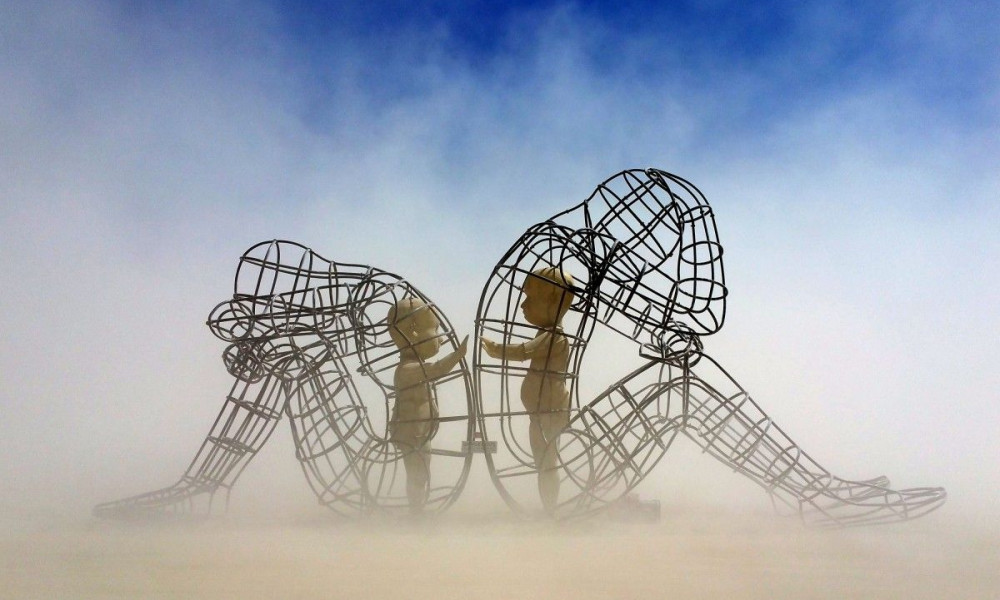 How much love weights and can its volume be measued? Does it have a garvity center and how it behaves in hours of ardent heat ot snow storms? Sure enough, love is an ethereal feeling that rather resembles crazy butterflies dancing in your stomach. However people, who have deep feelings, have learned to "create love" and convey its meaning in stone, wood or metal for others.
Love is without a doubt eternal, but close to late winter it gains special vogue. In view of this, a real pilgrimage commences to the monuments depicting it. Lovebirds who had spent together many years or who have just met, come to them as well as lonely hearts looking for warm feelings, curious ones that see every art object as a totem of a kind and simply art lovers. Many believe that when the world pays tribute to people in love, monuments that resemble this feeling acquire a certain power able to infuse some warmth even into the coldest of all hearts.
There are such monuments and places, dedicated to winged feelings, in nearly every oblast center of Ukraine. There are several of them in the capital. Probably, one of the most touching ones is located in one of the nooks of Mariinsky Park. Those are the figures of two old people hugging and supporting each other tenderly. The sculpture is called the Love Story. Real life people, an Italian Luigi and a Ukrainian Mokryna became prototypes for them. They met in times of the World War II in Austria when a back then young girl was transported there for compulsory labor. Tender feelings that emerged between Luigi and Mokryna helped them survive the hell of Austrian camp for prisoners of war. Upon conclusion of the war the Italian wanted to take Mokryna back to his homeland but politics intruded and he wasn't allowed to do that. They separated. Later each started own family with kids and only sixty years later they got a chance to see each other again. When the lovebirds met, they cried of happiness and unfairness because their love was stolen from them. They couldn't part hands for a long time. They were both over eighty.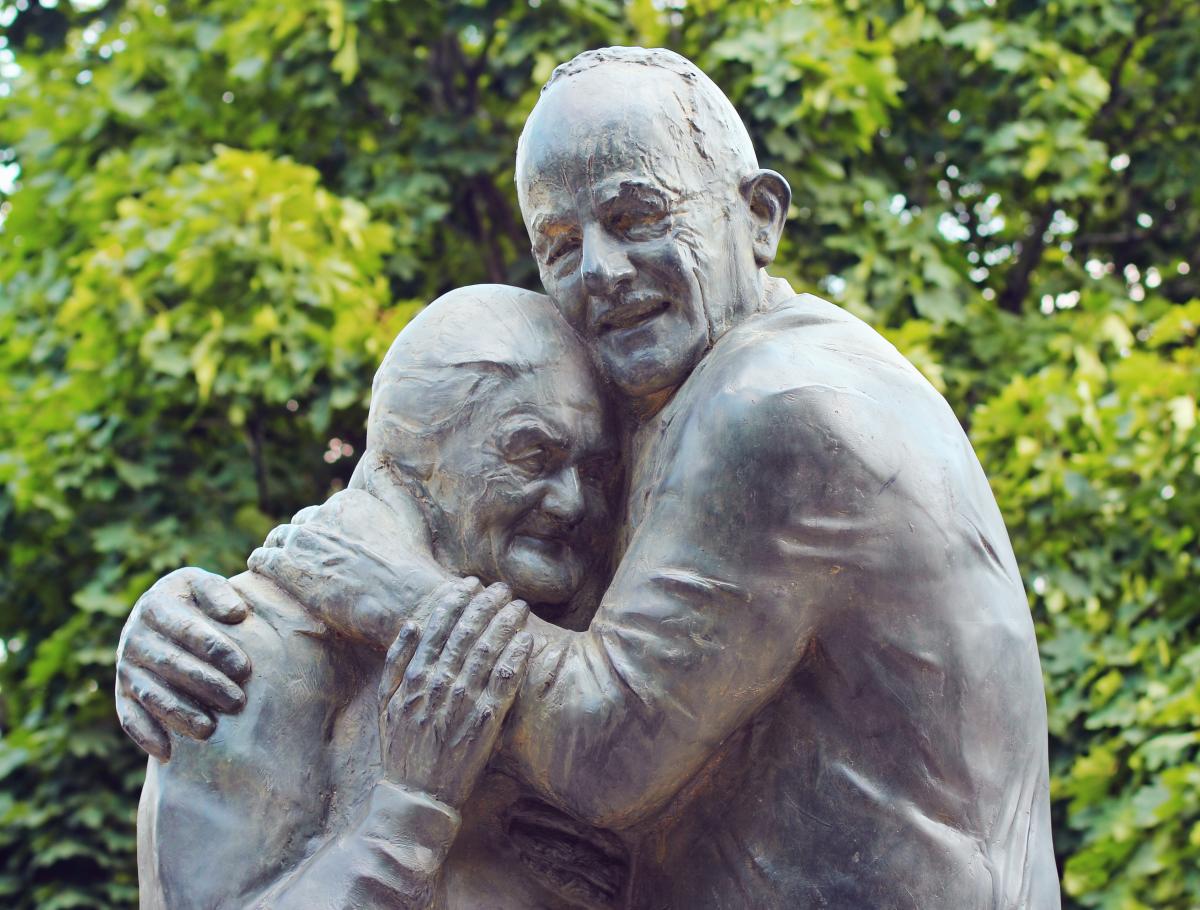 Photo expl0reita.wordpress.com
In the vicinity of the previous monument, there is another place were romantic people flock. It is the Lovebirds Bridge. Ancient, framed with whimsical railings, it connects Khreshchaty Park with the City Garden. It overlooks a fantastic view of the left bank and Dnipro River. Initially the bridge served as a passage but nowadays it became the place where people confess their love. In order to give extra strength to their feelings, lovebirds leave ribbons and locks on the railings, write their confessions on them.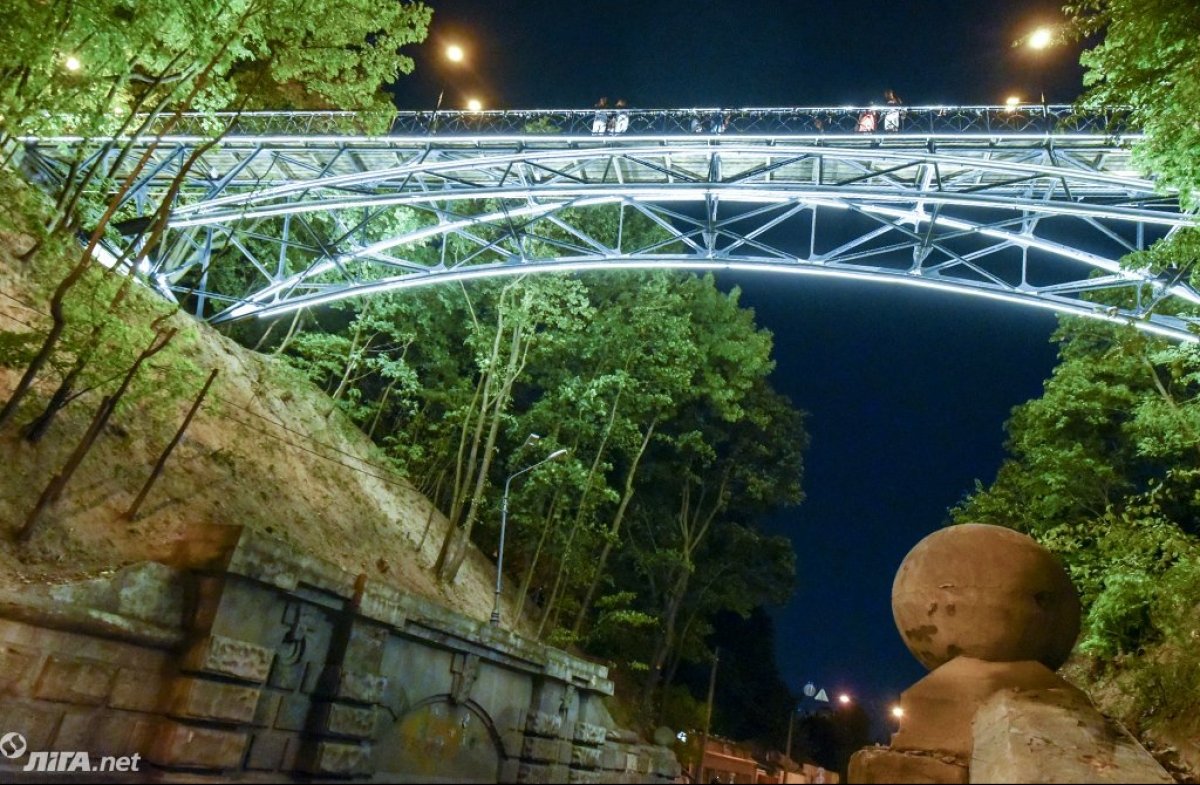 Photo 5.ua
Slightly lower than this spot, in the very heart of Kyiv, on Maidan Nezalezhnosti there is another monument – to Lanterns in Love. Kids and out-of-towners adore it. They joke, laugh and have all kinds of nice reactions to the design of the sculptor while two huge lanterns sit on a bench, look at each other with tenderness and promise ardent love to everyone who has a sit by them.
In Passage of Kyiv there is another epicenter of love. It is Stools in Love sculpture. So sweet, they have rest on a bench, hugging. It is impossible to go by this artwork without a smile. Kind, slightly naïve stools call for a true joy in your heart.
A loving couple also decorates Taras Shevchenko Park in the center of Kyiv. Smooth lines of the installation – outline of two silhouettes – dazzle, surprise and carry your thoughts away somewhere to where there is nothing more important than a feeling that emerges deep in your heart. The sculpture has a name "Love – Universe".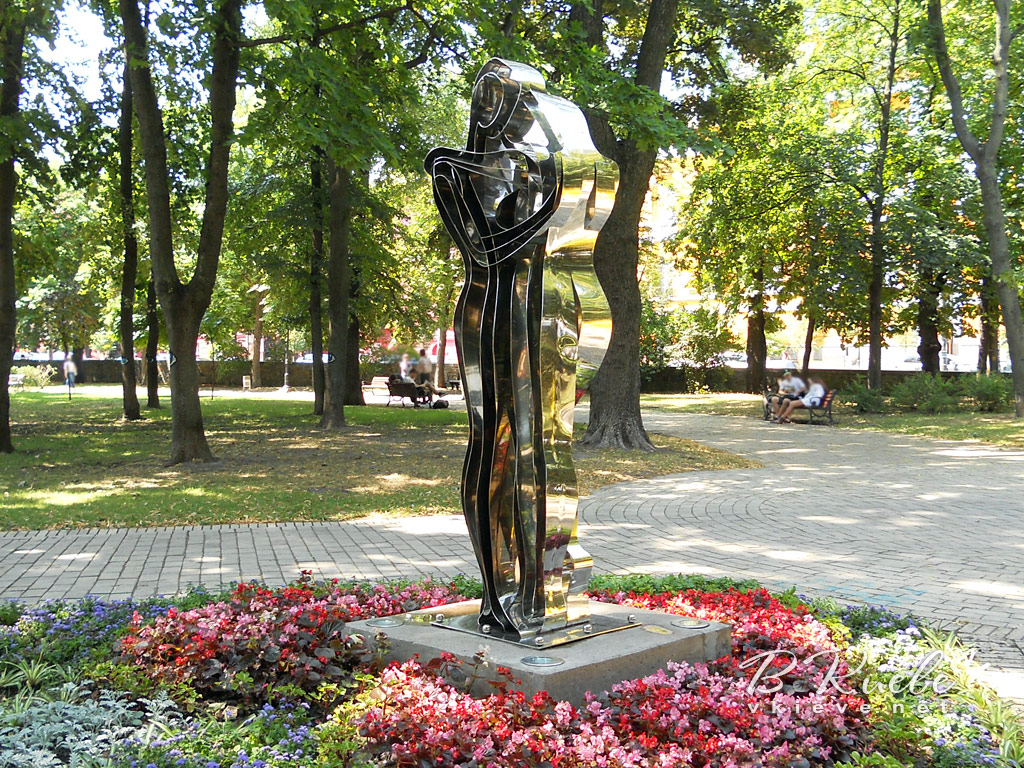 Photo vkieve.net
They know how to love not only in Kyiv and it's not just the capital where people try to immortalize this magical feeling in something tangible. In Odessa thousands lovebirds go to a metal heart installed in one of the parks of the city. Designed as a demonstration of love and fidelity, it is covered with symbolic locks and handwritten love confessions all the time. And for it to be easier for the couples to affix their promises on the installed heart, there are numerous holes in it. Public utility services unload it regularlybut not for long. The word is, this heart can hold slightly over two thousand confessions.

Read also: Duduk: music evocating love
Another place in Odessa where lovebirds go is the city garden. The Tree of Love grows there. It is magical and fructifies with hearts. Citizens of Odessa often come to stand under this sculpture. Some expect love to fall right into their hands from a branch, others start shaking the tree to meet own other half as soon as possible.
A monument in Kharkiv turned into a true Mecca from people in love. Designed and created by the hands of young architects, it is a little naïve, pure, telling about the first feelings of two young creatures who share tender connection to each other. Kharkivites love to set dates and swear deep feelings nearby this sculpture.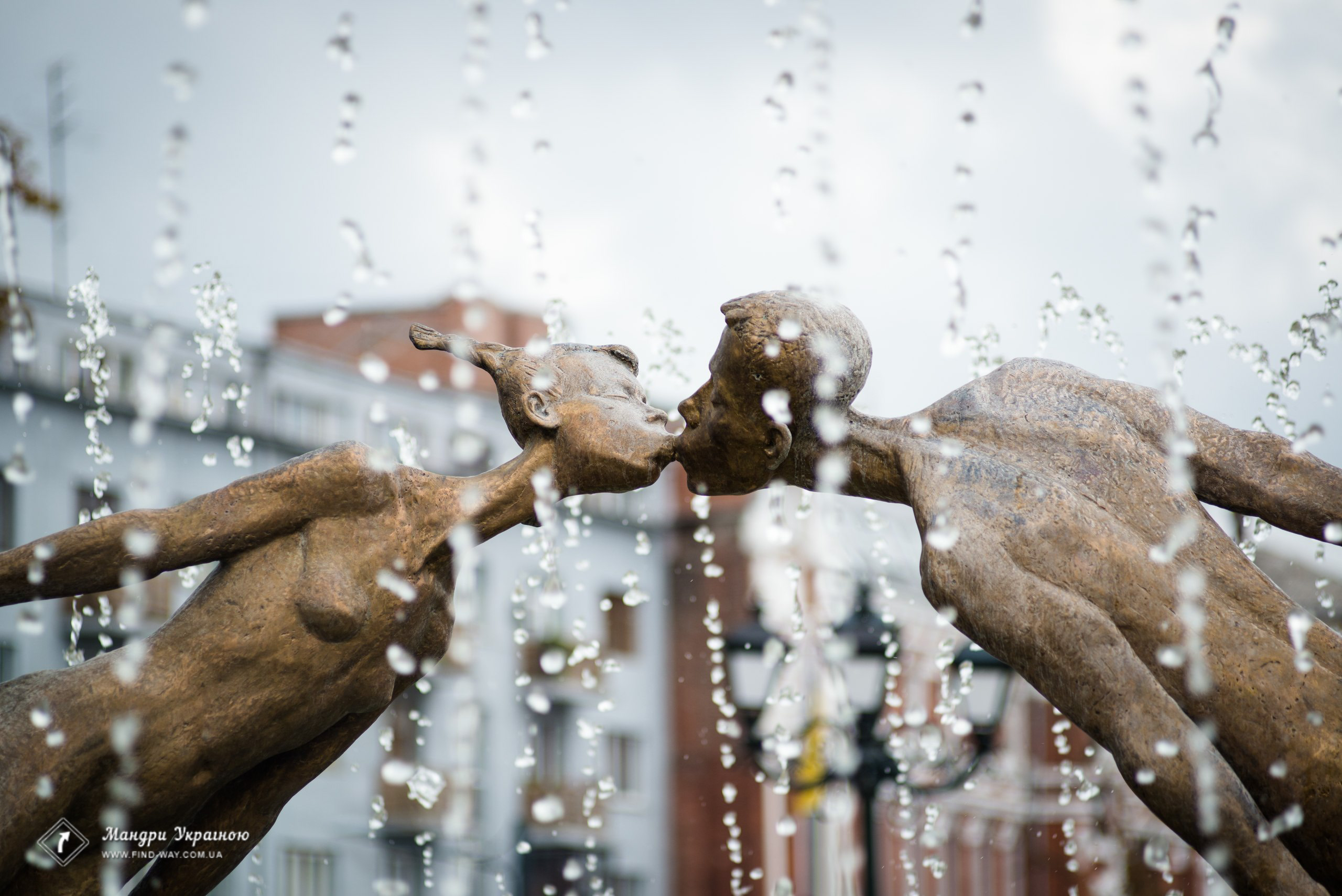 Photo find-way.com.ua
In Dnipro they have decided to keep up with the others. They installed an amazing, somewhat funny sculpture to two Koloboks in Love on a quay there. Wrought round figures cozied up on the rails leaning against each other with their gazes to the skies, obviously looking for that very lucky star. Local dreamers are certain that if you hug the Koloboks and make a wish filled with a romantic sense, it is sure to come true.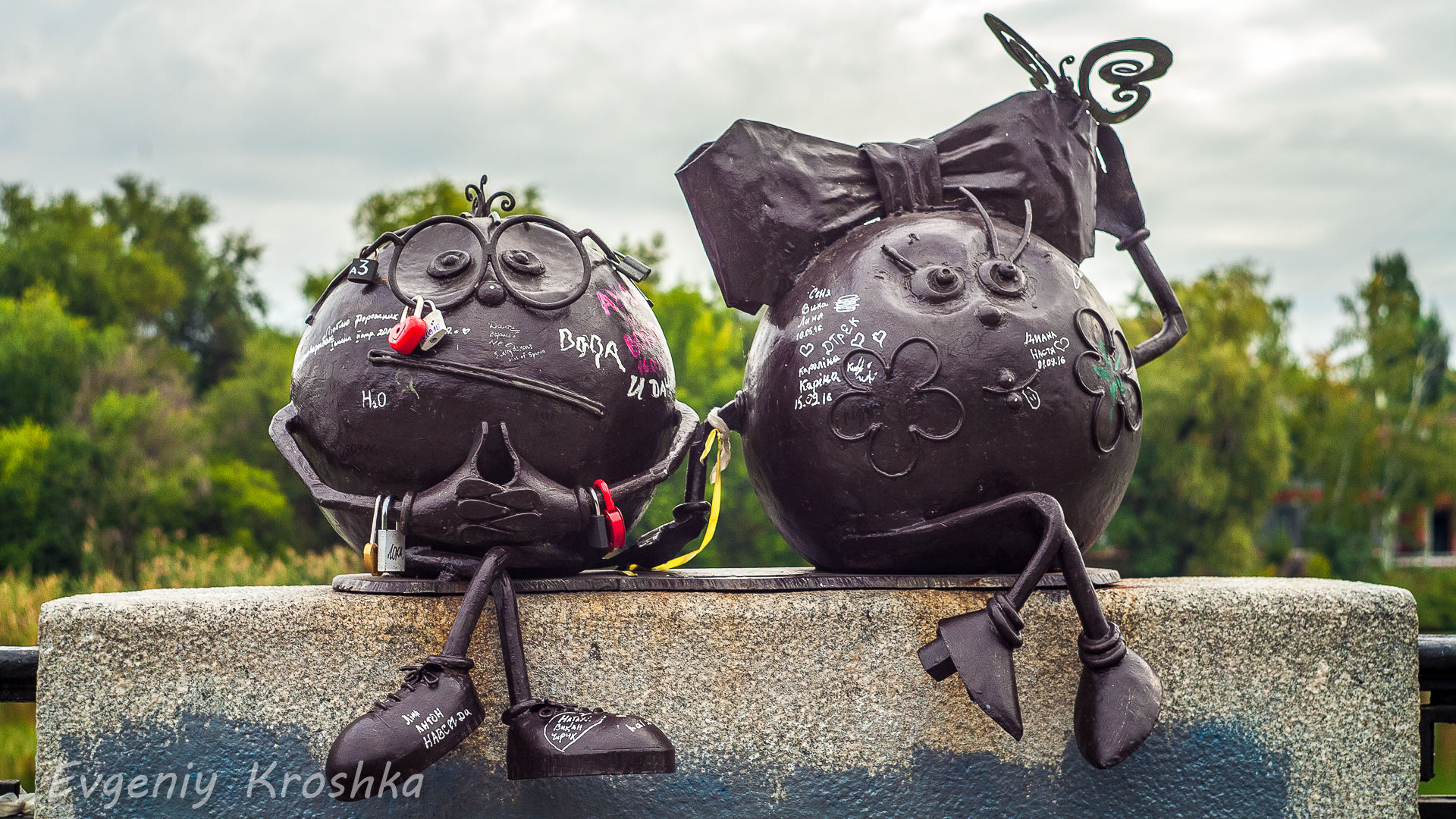 Photo lookmytrips.com
A monument to two stones in love was rected in Korostyshiv, Zhytomyrska oblast. Those are two kissing boulders with features of human faces. Authors of the idea insist: love can work miracles and even a heart of stone can't resist true feelings.

Citizens of Sumy associate love with stones, too. Almost miraculous boulder is installed into a wall of the Resurrection Temple. It is crowned with the figures of two angels. Designers of the idea assure that if lovebirds rub the stonen with their hands together and wish for etrnal love, the latter one is bound to be strong and blessed. People line out to the Stone of Love. Rubbing it and taking pictures with it has become a tradition for loving couples of Sumy.
Read also: 10 facts about Ukraine

In the center of Lviv there is a music fountain decorated with the figures of two unhappy people. These are Romeo and Juliette of Lviv, or more like, locals believe, real-life prototypes of the characters of the famous Shakespeare's tragedy. An Italian and a Ukrainian. Their families dwelled in Lviv in 16th century. Young Romualdo and Pelageya loved each other. In order to shield their son from the undesirable marriage, the parents sent their offspring to Europe. When he came back, the girl was at death's door. Plague raged in the city. Soon they both succumbed to the desease and died. Nowadays lovebirds often meet by the monument to hug each other and swear to be loyal to each other like Pelageya and Romualdo.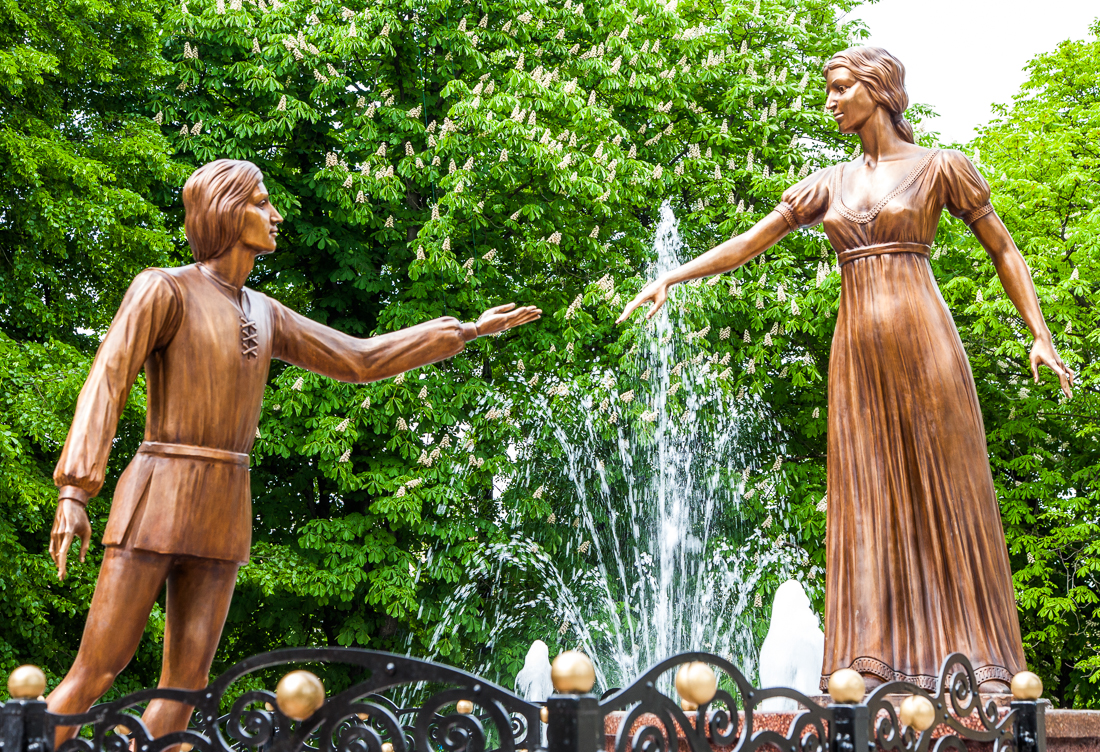 Photo sites.google.com
In Ternopil they have decided to dedicate entire island to love. It is a small piece of land in the middle of a pond. Citizens believe that a good spirit lives there. Newlyweds traditionally come to the island to hug the Tree of Happiness and look into the water while sitting on the bank. The word is, if you look without blinking, you can see the future of the young family.
There is also a monument to a couple in love in Zaporizhzhia. These are two large hearts beating in unison. With the arrival of each hour the hearts "come to life" to perform a music fragment from 'Spring on Zarechnaya Street" movie.
Not only people can love - this is what they are sure of in Zaporizhzhia. It is in this city where they have decided to go an extra mile and erect a monument to loving dogs. Funny and bright sculpture to two kissing dogs constantly gathers crowds of lovebirds and onlookers. It got overgrown with city legends. Locals assure: should you scratch your ear and wave an imaginary tail while standing by the monument, your wishes will deffinitely come true.
It is called the most romatic place in Ukraine. Tunnel of Love. A small section of a railroad closely surrounded with trees that grew together to create a perfectly-shaped arch; it is quite popular not only among Ukrainians but also among foreigners. The tunnel ows its nearly fairytale look to the train that shuttles to and from the nearest factory and breaks off growing branches. The tunnel is gorgeous any time of the year therefore thousands loving couples and simply curious ones go to the small town of Klevan in Rivne region.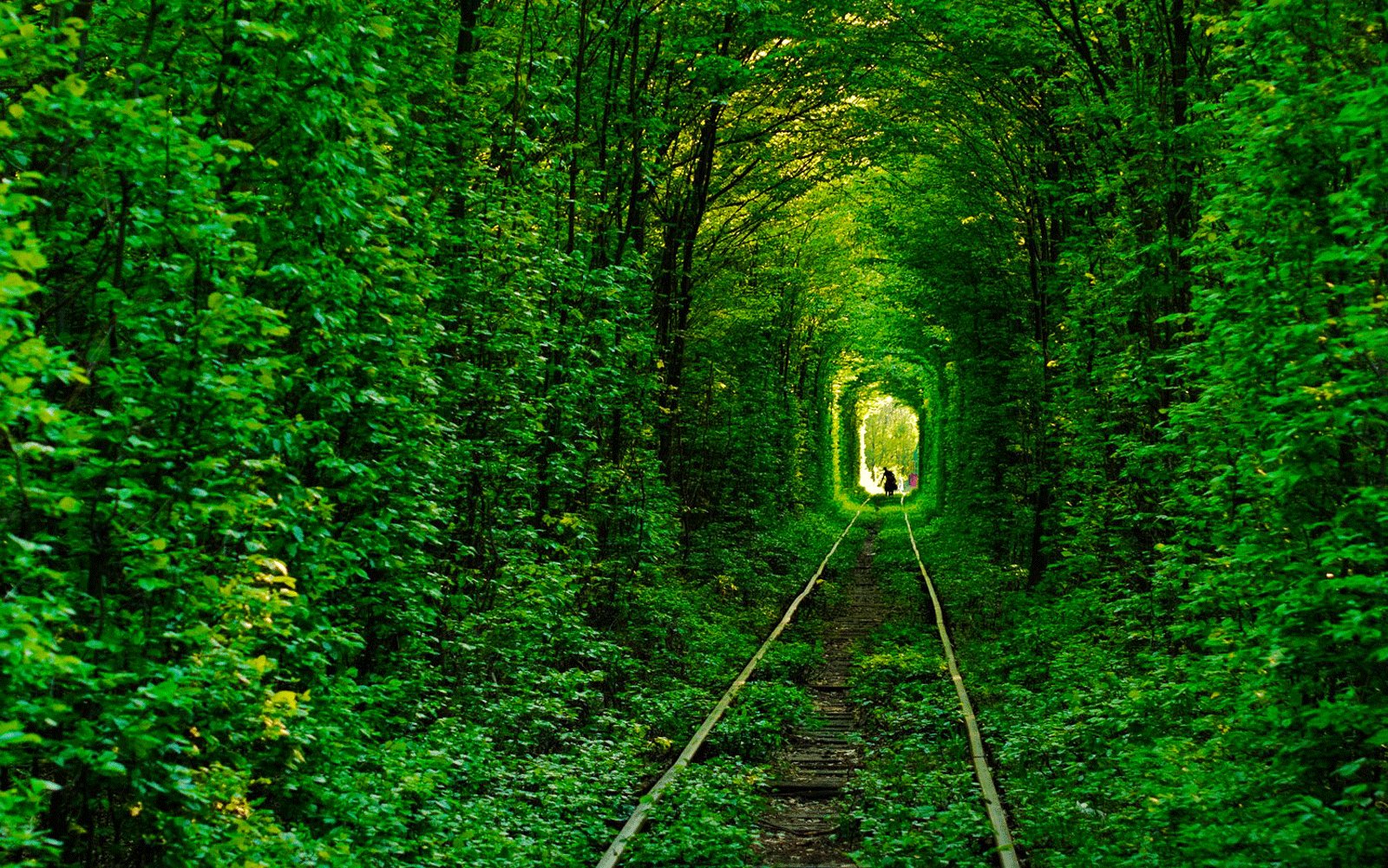 Photo press-centr.com
In Ukraine there are numerous places of this kind that symbolize love. Dramatic event and stories are behind some of them, others call for a smile and recollections of the first childhood love, thrid ones make you tremble in a magical stupor. Some monuments of love emrge to last for centuries, others disappear along with commercialized Valentine cards and hearts right after St. Valentine's Day. But those in the know assurethat there is no need to look for a stone or metalic incarnation of love to pay tribute to it. You just have to love somebody.

Cover photo shutterstock.com