What do they eat: Ukraine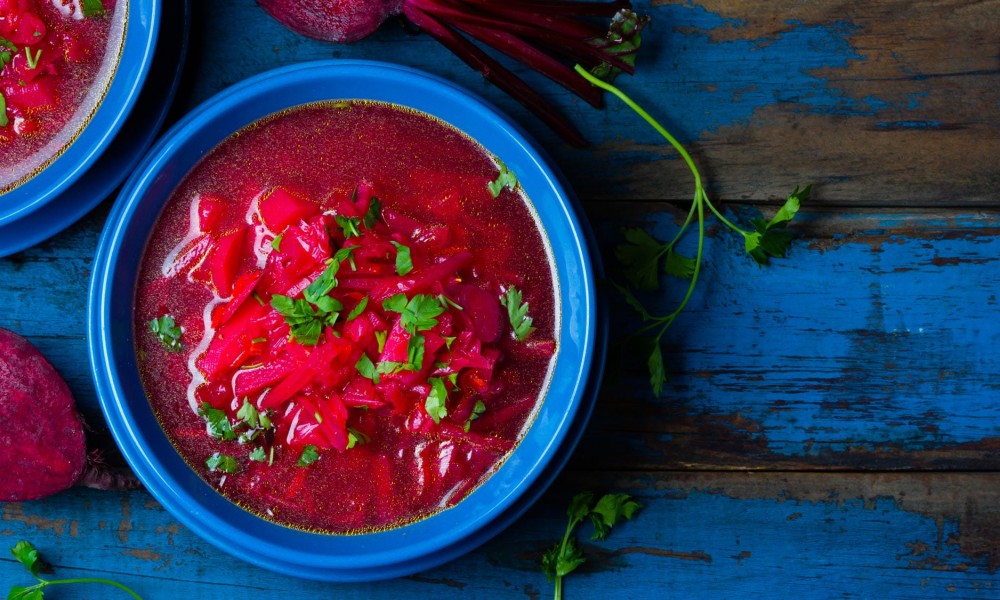 Spoiled with home-made borshch, holubtsy and cotlets, we are under an illusion that we know Ukrainian cuisine like the tips of own fingers and there is nothing distinctive about it while in fact gastronomic heritage of our country is far richer than a grandma's ingenuous menu. Time has come to recall original Ukrainian dishes that were undeservedly forgotten in the era of semi-cooked products and fast food.
Abundant and eclectic Ukrainian cuisine reminds canvases of impressionists: juicy touches of Polish, Hungarian, German and Turk borrowings shape a neat picture performed by a virtuoso on a trembling string of mood, enhanced with overtones of associations and impressions. Isolated multi-staged thermal treatment of goods, inherent in Ukrainian culinary tradition, partly compensates for limited palette of tastes and rural simplicity of main dishes by allowing each component to sound in full swing without outshining a leading tune. Meat and vegetables are fried on slow fire, than sautéed and stewed in a dish with thick walls to ensure even warming of the mixture.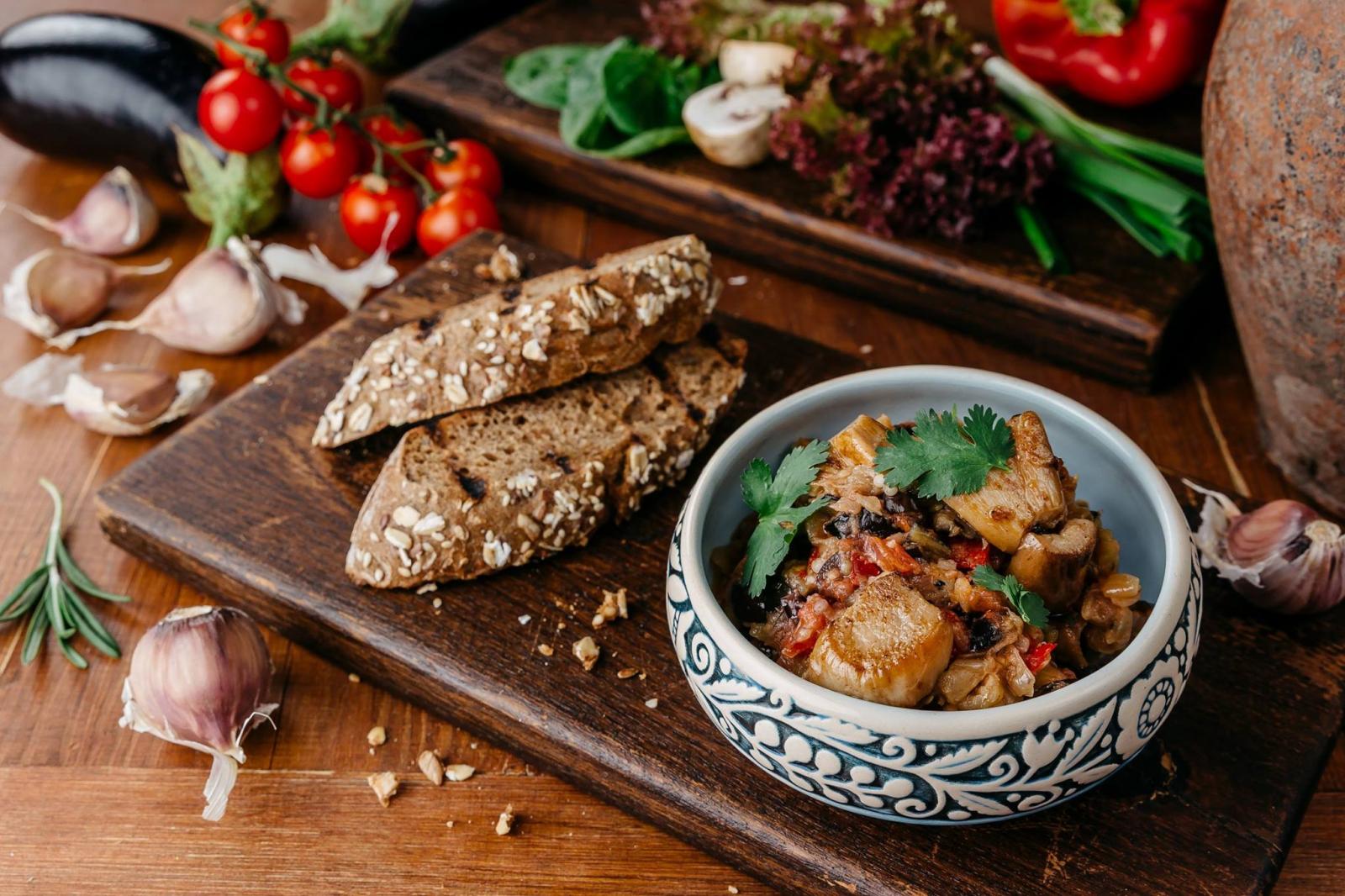 Photo cf.ua
Ukrainian cuisine is relatively young – its specific features began to shape as far back as in 17th-18th century however it got fully formed only as late as in the middle of 19th century. Since part of population of Ukraine belonged to peasants' layer engaged in physical work, high-calorie products prevailed in their menu: millet, buckwheat, leguminous plants, bakery, unleavened starchy foods, tallow pork and, sure enough, fat – universal energy resource, fit for consumption in raw, salted, smoke-dried and melted shapes.
Traditional Ukrainian lunch began with a thick rich soup, at that red borshch, that has over twenty ingredients in it, used to be cooked only on weekends and holidays. On weekdays full of work our predecessors preferred something simpler and faster. In the south-east they boil kulish – chumaks' lorelei with millet, richly seasoned with pork fat. Lovers of hot dishes are sure to like cabbage soup with onion from Cherkassy or the famous hodz – pickle soup on beaf bone tea, flavored with forest mushrooms, rice and celery.
Read also: On the catwalk: Ukraine
At Zaporizka Oblast they still remember recipes of ancient dishes from Cossacks' cauldron. Don't panic should you discover a mysterious dish called "ryabko" at a restaurant's menu – they don't mean innocently killed watchdog (Ryabko is a common name for watchdogs in Ukraine) but about a most tasty broth on rye flour mixed with milk with additions of meat, cracknels, fish or crawfish. It was commonly chased with potaptsy – dry bread with garlic and onion, rye Zaghreb crusts or lemyshka – Lent-diet baked pudding or mush made of buckwheat on sunflower oil or lard, that is poured with either hemp or opium milk few minutes prior to taking it off the fire. To disappointment of fans of extreme, nowadays lemyshka is only served with kefir.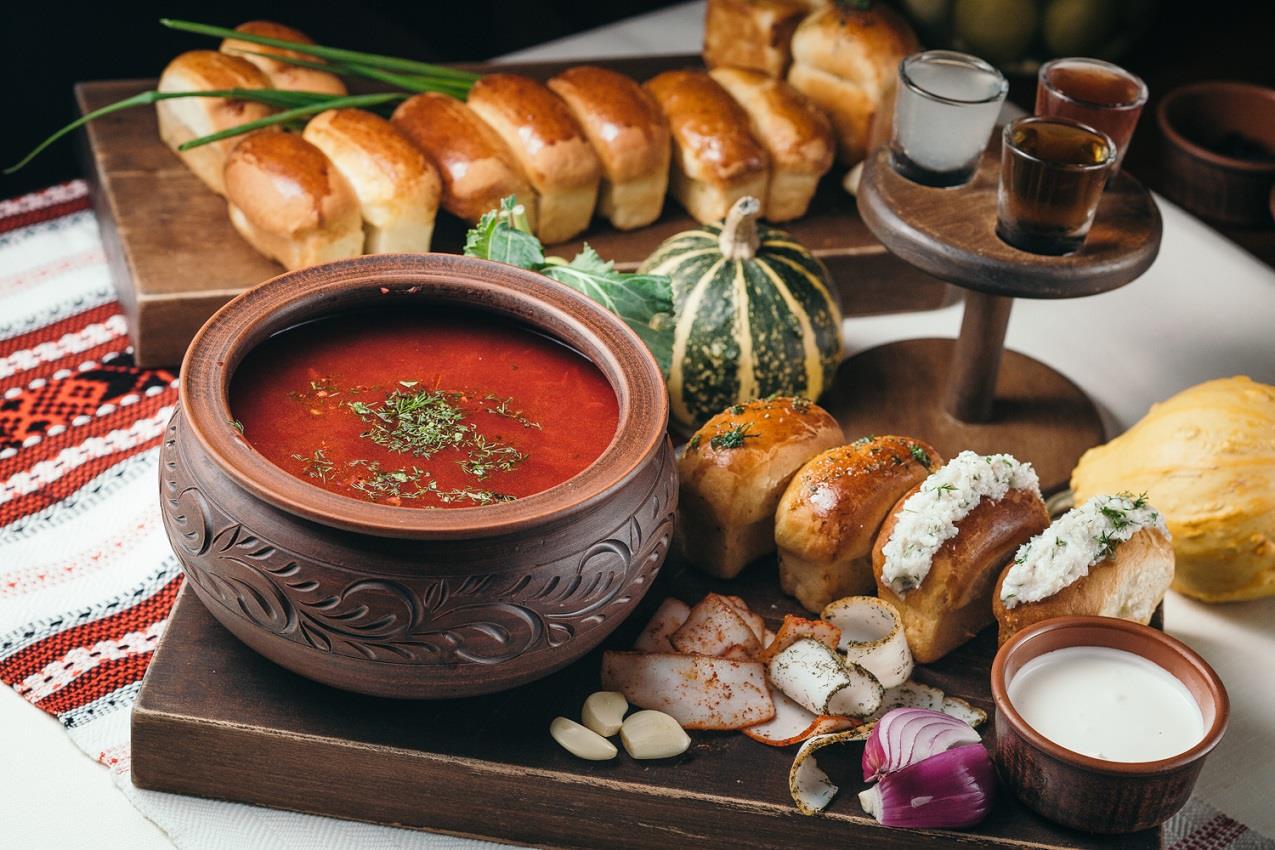 Photo bzh.life
Ukrainians saved meat, baked puddings and bakery made of unleavened dough, boiled in soup stock for main course. Alongside widely-known halushky, in Poltava region they hold pundyky in estimation – thin crusts, mixed on curdled milk and hastily parched on a frying pan with onions and cracknels. By the way, classic Poltava recipe of halushky provides for meat or chicken filling – not cottage cheese dough we are accustomed to: such halushky were called "lazy" and cast a slur on reputation of a cook. Our ancestors had a sneak peak at varenyky, anthemized by Gogol, and borrowed them from Turks to replace a not-too-popular lamb with cabbage, cottage cheese and champignons fillings; and in Ternopilska Oblast they make hrechanycky ("hrechka" is Ukrainian for buckwheat) filled with red-hot buckwheat.
For better accessibility challenging meat dishes are consumed with vegetable garnishes – beet-rout, cabbage, turnip, radish, cucumbers and tomatoes. Classic example can be pechenya – pork stew with cracknels and vegetables, baked either in potties or bread plates. In Zakarpattya you'll be offered a chowpent – ham or brisket with barley, beans and paprika. Potatoes, on the other hand, never managed to become second bread for Ukrainians: even mashed potatoes are recommended to be seasoned with beans, peas, sauerkraut or grated carrot. In Halicia they cook chinakhy this way – smoked pork ribs, layered with ground beans and baked potatoes.
Read also: 10 facts about Ukraine
Ukraine adopted affection for chopped meat through Polland from Germany. On holidays ladies try to serve as many delicacies as possible: tenderized rolled steaks "kruchenyky" with cabbage, mushroom or cottage cheese filling, sichenyky – flatbread made of chopped meat or vegetables, twisted rolls zavyvantsi, homemade sausages and blood sausage. In western regions one can also try kendyukh – young pig's stomach filled with chopped meat.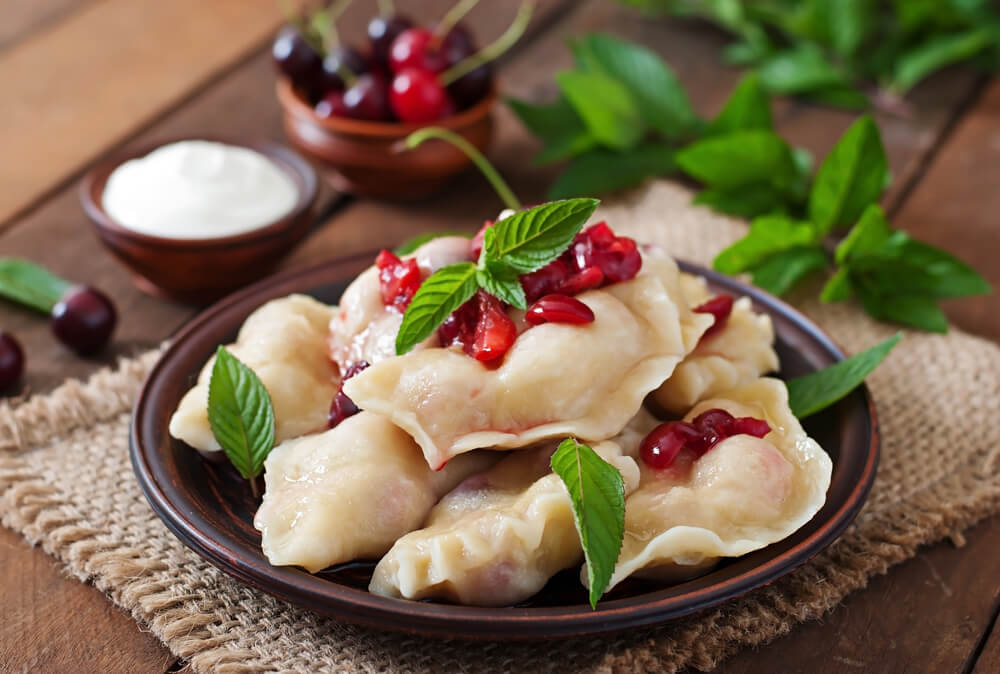 Photo forumdaily.com
Ukrainian native gastronomy will come as no disappointment to sweet teeth, too, for whom no feast is a pleasure without some desert. In summer season of sweet varenyky with cherries, honey and poppy seeds comes while long winter evenings are prettified with cookies, syrnyky – cottage cheese pancakes, verhuny –Ukrainian angel wings, and slozhenyky – egg pancakes with cream. While having dear guests, welcoming hosts are sure to take the advantage and serve a favorite liqueur on fragrant herbs, pungent horilka with pepper for a men's heart-to-heart talk or a balmy cherry liqueur for beautiful ladies.
Cover photo kamis.ua