Lantern craftsmen - Festa della Rificolona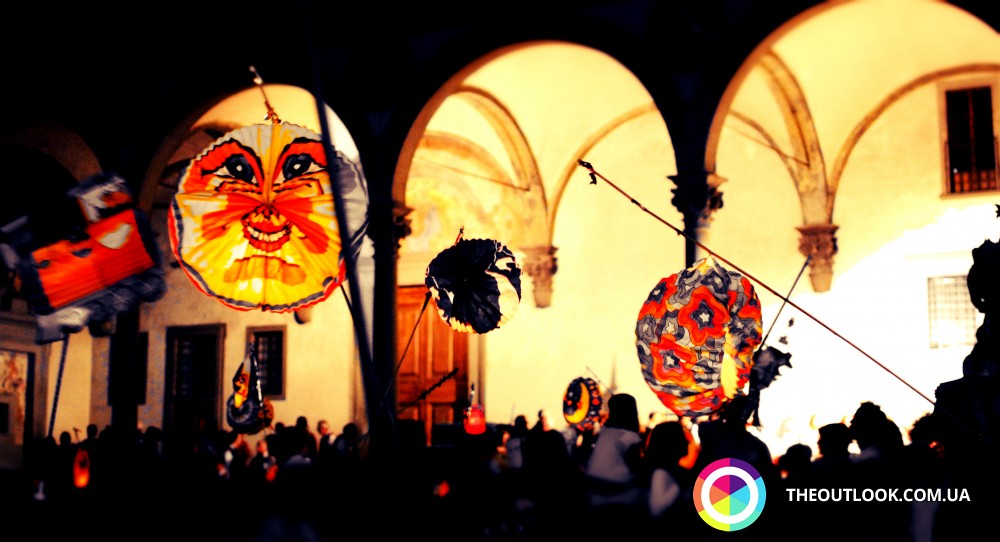 Italy's Florence is a place where it is a must that one walk with the head thrown back. And it isn't just about architecture – for the sake of cosmic violet sunset it is worth to see skies of Tuscany at least once in a lifetime. But that's not all. Annually on September 6-7 fabulous Paper Lantern Festival or Festa della Rificolona takes place there.
The tradition to set all kinds of lit paper lanterns flying over the city on the eve of the Nativity of Theotokos originated as far back as in 17th century. However it isn't unimpeachably clear where the roots of the performance lie. Two versions exist, both claiming to have 'official' status.

According to the first one, countrymen from adjacent Italian villages used to come to Florence to honor and humor the Mother of God. Combining pleasant and useful, they used to arrange a large market nearby Santissima Annunziata church where the solemn service was customary held. Urban community, especially women, used to point out with irony countrymen's strive to put on their best outfits that were oftentimes out of fashion, so among themselves they used to call out-of-town visitors in no other way but 'Rificolona' – 'mummers' and 'gaudies'. Because folk festival used to end with processions and round dances that had paper lantern with lighted candles in the lead, the festive weekend as a whole couldn't have been called differently.

Another version suggests that although Italians favor Virgin Mary, they started gathering and 'light things up' in Tuscany's main city because of the triumphant conquest of the neighboring Sienna by Florentine soldiers in 1555. It were lanterns affixed to weapons that military men used to light their way when they were coming back to their native city.
Over four centuries the celebration hasn't transformed much: paper lanterns, market with delights from villages, eternal competition of urban community versus countrymen – all these things still happen to be there. Only guests from other countries started coming, too.

With hundreds of years going by, the event became famous far beyond Italy. Therefore – if you don't know yet where and what to experience on an autumn weekend – recall Florence, because it is shining for real. To see the exact way it does, check our gallery.