Shy Hannover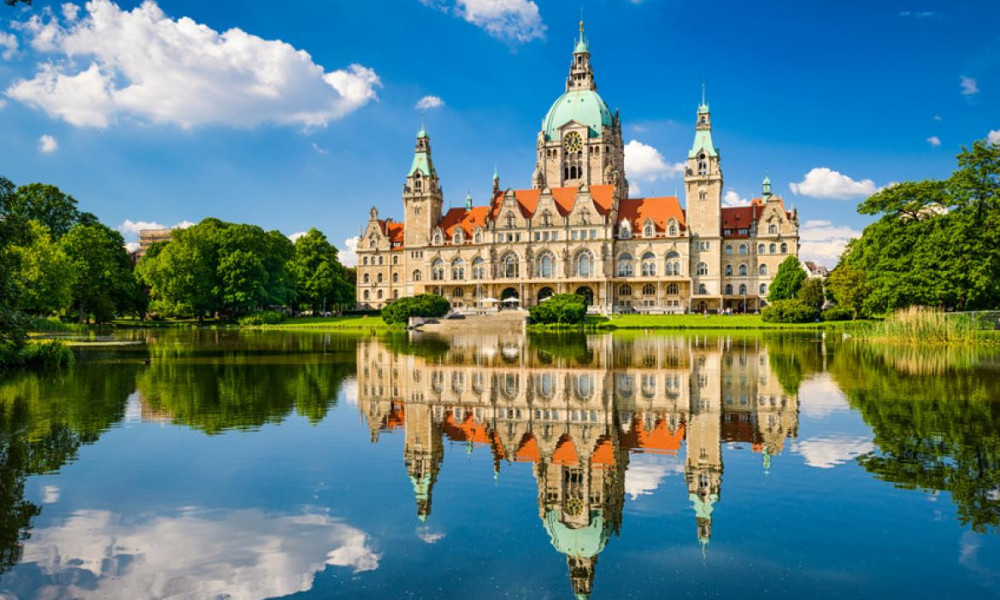 What kind of city is the small Hannover, lacking the high profile of its German brothers top-popular among tourists? Hannover has repeatedly changed its outfits and its look, but preserved a piece from each era of its experience, without losing its identity and integrity.
The heart of Hannover is uniquely stored in the building of the New Town Hall. It does not have a long train of millennial history of legends and mysteries, its age has nearly reached a century, but the Hall looks like a real baroque resident of the medieval ages.
It was built in 1913, so that it could admire its reflection looking at mirror of artificial lake nearby. Turquoise hats of peaked turrets, reddish cheeks of terracotta tiles, rows of large and small windows that reflect sun smiles in the morning and splashes of lanterns lights at night. Indeed, there is much to see. The building is decorated with numerous reliefs depicting motifs of city life and is featured with the majestic stone staircase.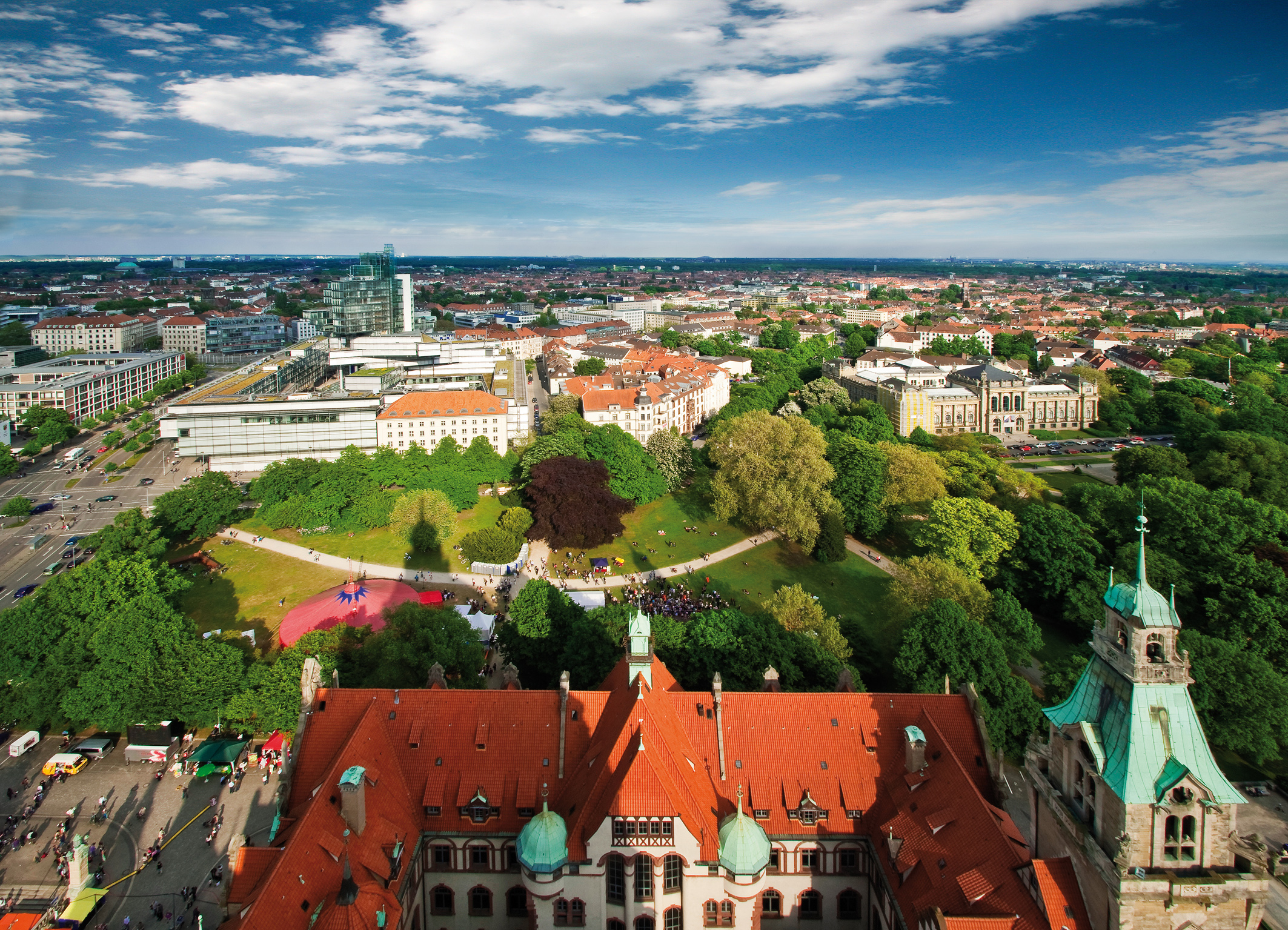 Photo siemens.com
In the central lobby of the City Hall, beneath the hundred-meter dome, one can see and feel history of the city: in the middle there are four panoramic models that represent crucial stages of Hannover life: medieval times (model of the city in 1689), the city before the war (1939), the remains of post-war Hannover (1945), and its current state (2000).
See also: On the rails overhead: Wuppertal cable way
The latter model shall and worth be examined alive. The observation deck of New Town Hall offers a great view of the entire city. You will be taken up by a unique elevator: it ascents tilted at an angle, the value of which depends on the curvature of the dome. However, in the cold season, this mechanism cannot operate, so the observation deck remains inaccessible.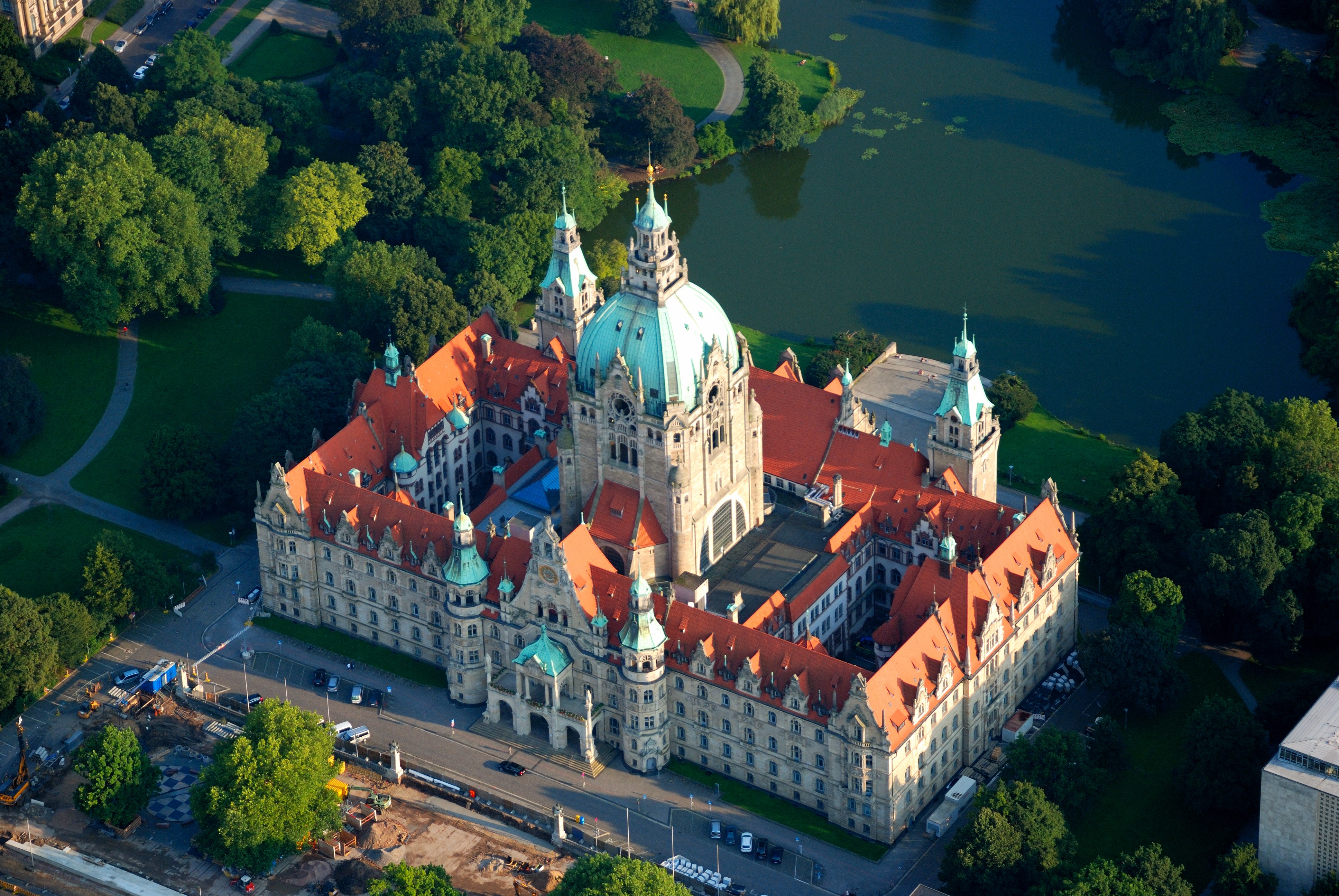 Photo wikimedia.org

Not far from the New Town Hall, there is its grandmother the Old Town Hall, which for centuries has been whispering with the Market Church, which is considered the oldest building in Hannover and was built in the 14th century. The Old Town Hall and the Market Church chose a non-trivial architectural garments of "Brick Gothic" style, and thus has been long capturing the locals and the guests.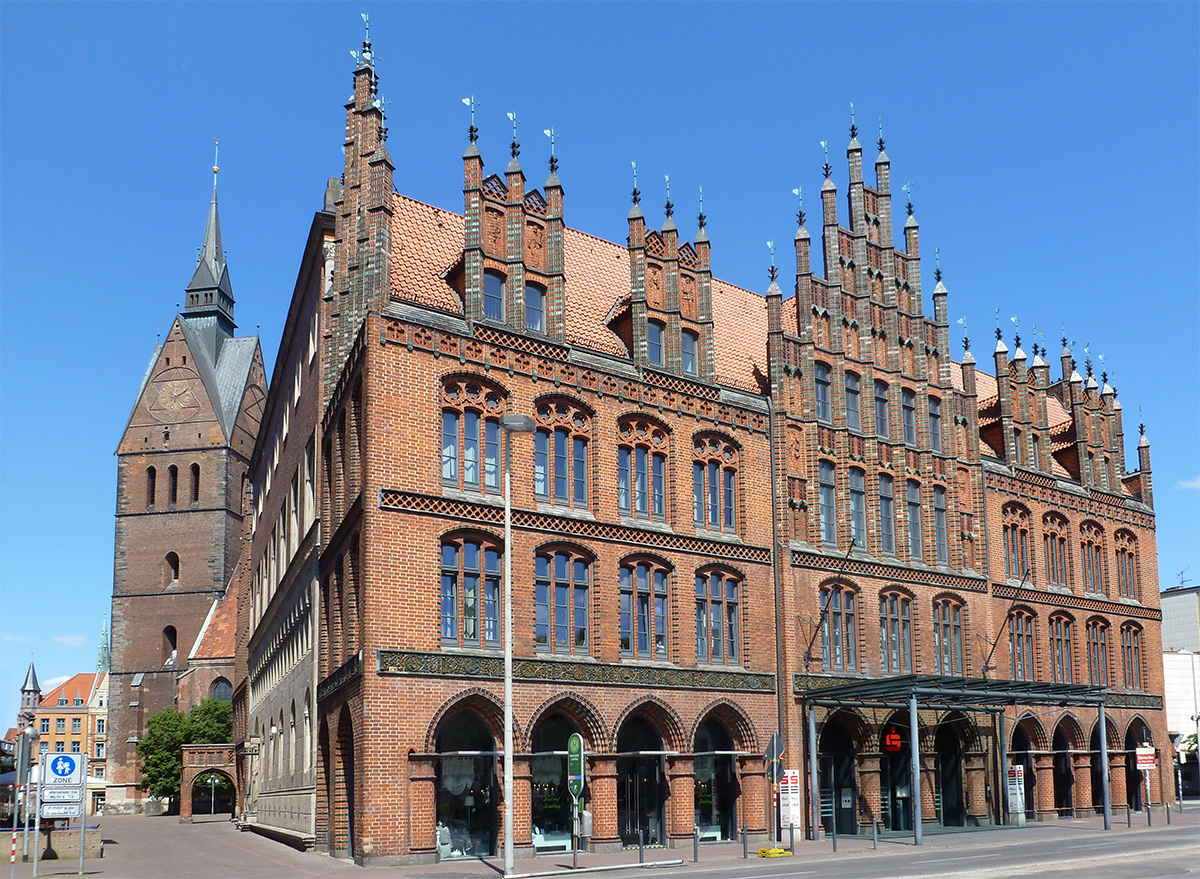 Photo jt.de
Another important Hannover sight is its railway station. In its pocket it keeps a tangled knot of lightning-like rails. Located at the concentrated intersection of intercity roads connecting such points as Berlin and Amsterdam, Munich and Hamburg, Hannover daily wishes a happy journey to almost seven hundred trains.
Rare gems of German city are located mostly at Burg- and Kramer Strasse. Most of what remained of the old city after the historical upheavals (and there are not many things remained), had been brought into one district. Now this is where you can examine Hannover half-timbered houses, the medieval ones, with beams. They stand straight, girt about with their wooden belts, carrying on their architectural service since 16th - 17th centuries.
Across the length and width, the modern city is crossed with red and blue threads. Red Thread is a tourist route, it connects 36 the most important local attractions. Seam of red thread begins in the heart of Hannover and stretches about 4 kilometres and 200 meters. The route is designed for pedestrians so on the way they are guided by stitches - painted signs with arrows that indicate the right direction. And the Blue Thread extends the red one, connecting further 38 sites, but it is for the stubborn seekers, as it is not featured with arrows, so to search it stops you need to make topographic efforts. However, in the age of digital technology both thread routes received their individual official websites, that facilitated greatly life of fans of exhaustive walks.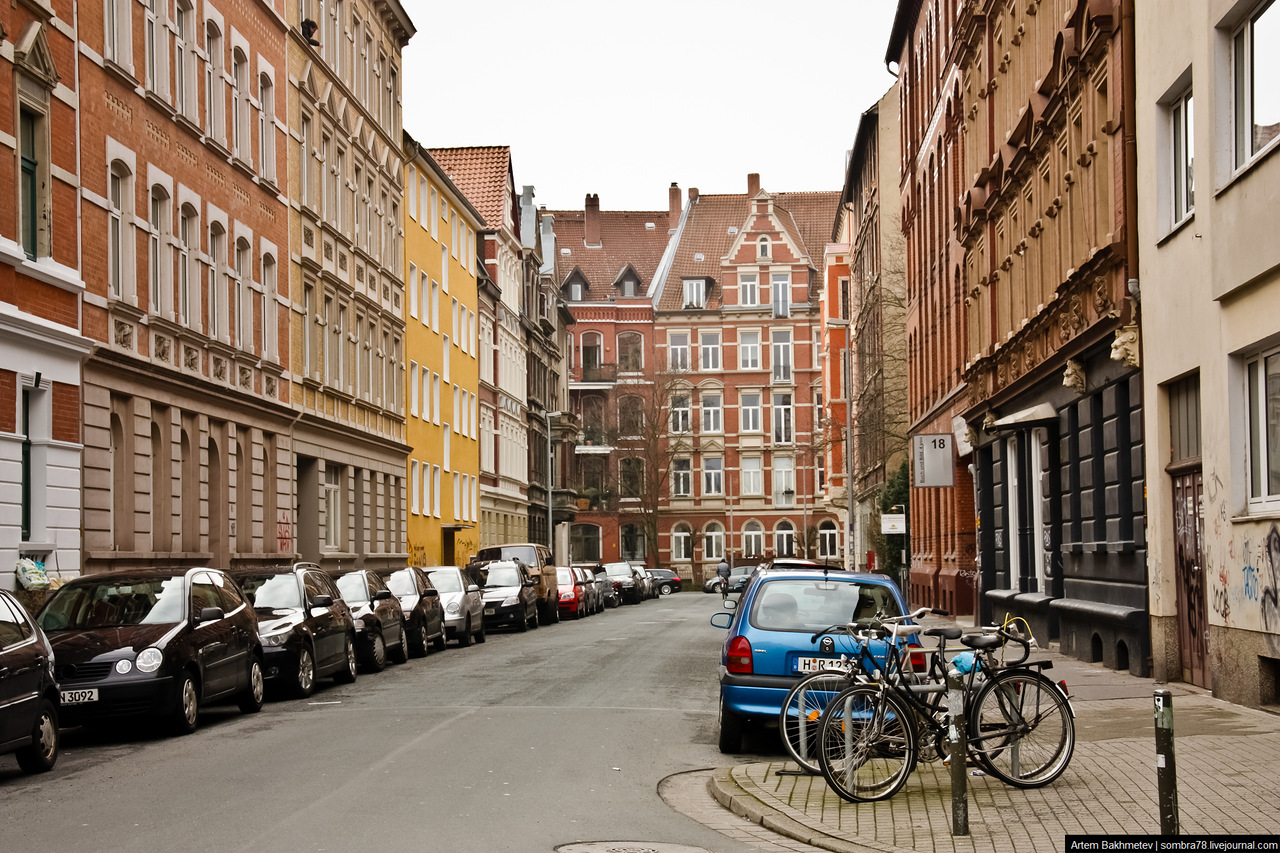 Photo img-fotki.yandex.ru
Modern Hannover is a huge exhibition centre. It regularly hosts various major international exhibitions, conferences and specialized festivals. And while visitors come to the city quite often, the majority of the tourists there are serious business people strolling around new destination, admiring and looking at it, but never forgetting about their professional ideas, missions and work assignments.
Perhaps that is why, Hannover is slightly different from its German brothers full of tourist: Dresden, Munich and, of course, Berlin. It is rather silent, balanced, calm, both in daylight and after dark.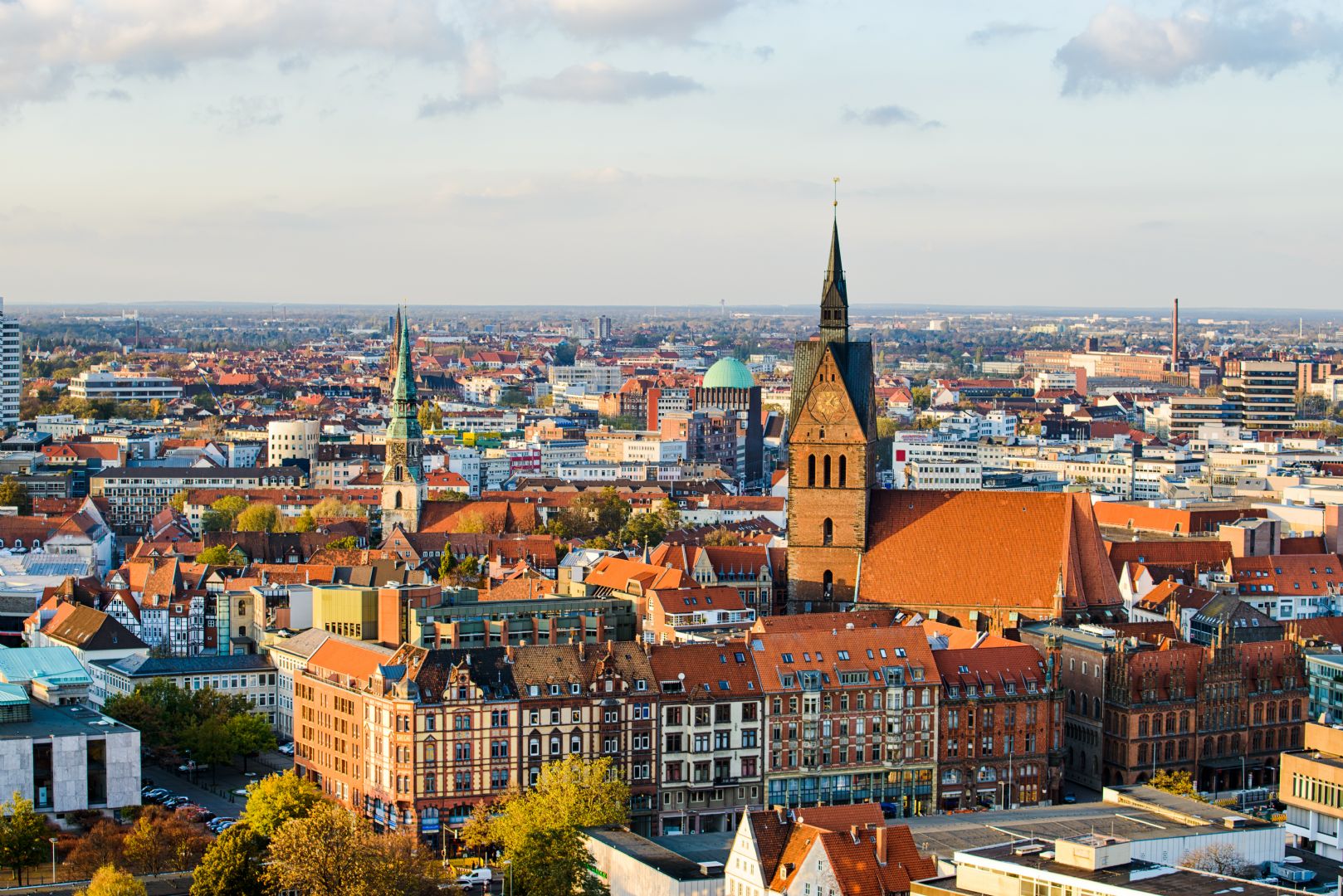 Photo bestprivateguides.com
While travellers are only planning to discover shy Hannover, the city due to its famous inhabitants, have long ago made its contributions to the development of the world. No doubt you know Scorpions and Fury in the Slaughterhouse, so they are Hannover natives, as well as significant astronomer Friedrich Herschel, who discovered the planet Uranus.
See also: On the catwalk: Germany
And the city is proud of philosopher, mathematician and physicist Gottfried Wilhelm Leibniz who predicted the principles of combinatorics, created the first mechanical calculating machine, introduced Newton–Leibniz axiom and did a bunch of important things which are highly appreciated by people with a mathematical mind. Rich in cultural heritage, Hannover is still waiting for a touristic discovery.

Cover photo verbraucherzentrale-niedersachsen.de