Incheon: Korean city of the future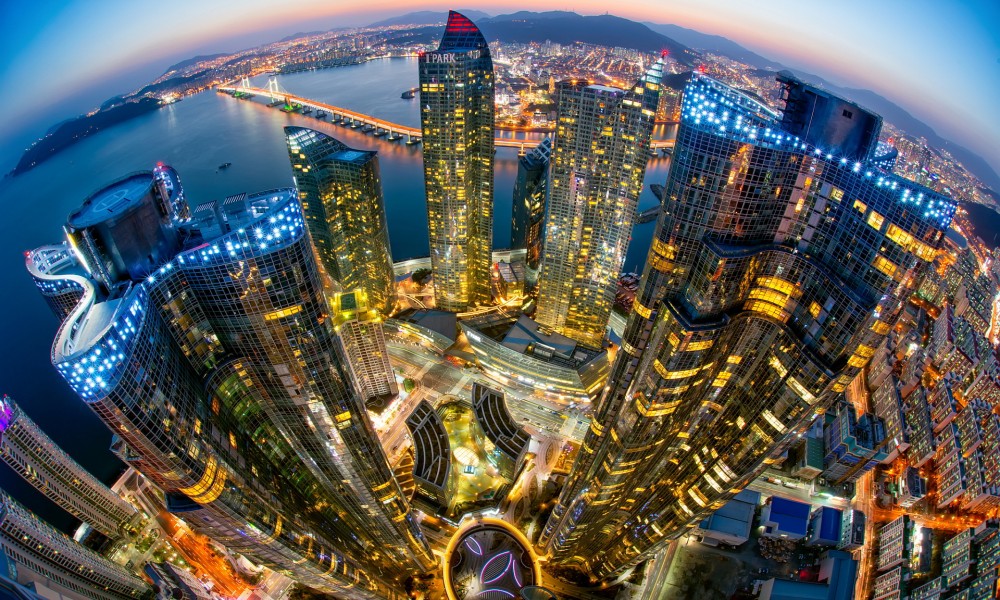 Incheon is considered to be sea and air gateway to South Korea since it has one of the country's largest seaports and the most spacious, world-class airport in the region. The city is growing rapidly: within just a hundred years it developed from a modest port settlement to an ultramodern industrial and tourist hub.
Incheon confidently declares its aspiration for the future with its image and atmosphere. Cutting-edge technology, modern architecture and stylish business centres endow the city with a special modern charm and look breath-taking for all admirers of innovations and progress.
Ahead of time
The port city of Incheon is situated on the coast of the Yellow Sea. In the old days it used to be a stepping stone for merchants from neighbouring China and the Russian Empire, who added their own cultural paints to the palette of local traditions, but preserved the special flavour of the town.
Nowadays Incheon takes full advantage of its favourable geographical location and advanced transport industry, proliferating in breadth and upwards year by year. As a kind of a business centre in South Korea, the city is full of ultramodern office buildings and newest residential complexes. Just take a grand project of New Songdo City, a smart city built using cutting-edge technologies. It is there that the Northeast Asia Trade Tower, 305 meters high, the tallest building in South Korea, pierces the sky.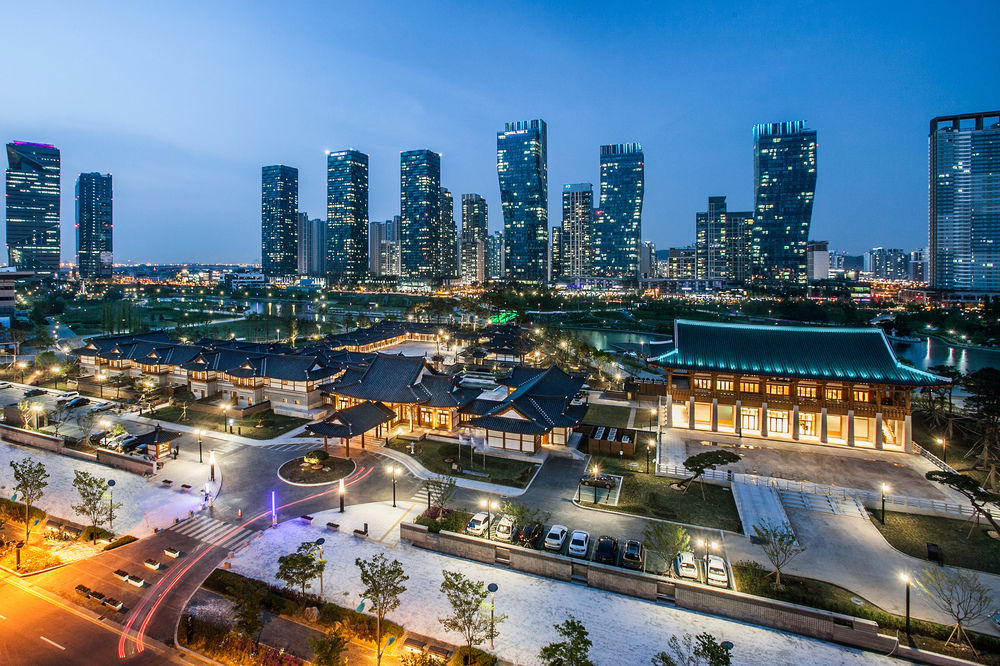 Photо thеmes.com

A great impetus to such rapid development was the Summer Asian Games (the analogue of the Olympic Games, but for Asian countries only) that Incheon hosted in 2014. Especially for this event, architectural firm Populous developed project of a very unusual stadium with shapes consistent with the principles of the Buddhist ritual dance Seung Moo. Location of the roof and the stands repeat exactly movements of the dance. This is an essence of Incheon: combination of ancient traditions and modern technologies.
Transport
As for the transport sector in Incheon, it has no equal in the region. Just have a look at the Incheon International Airport, a modern high-tech transportation hub which is now focused on the future as it provides for possibility to accept supersonic aircrafts.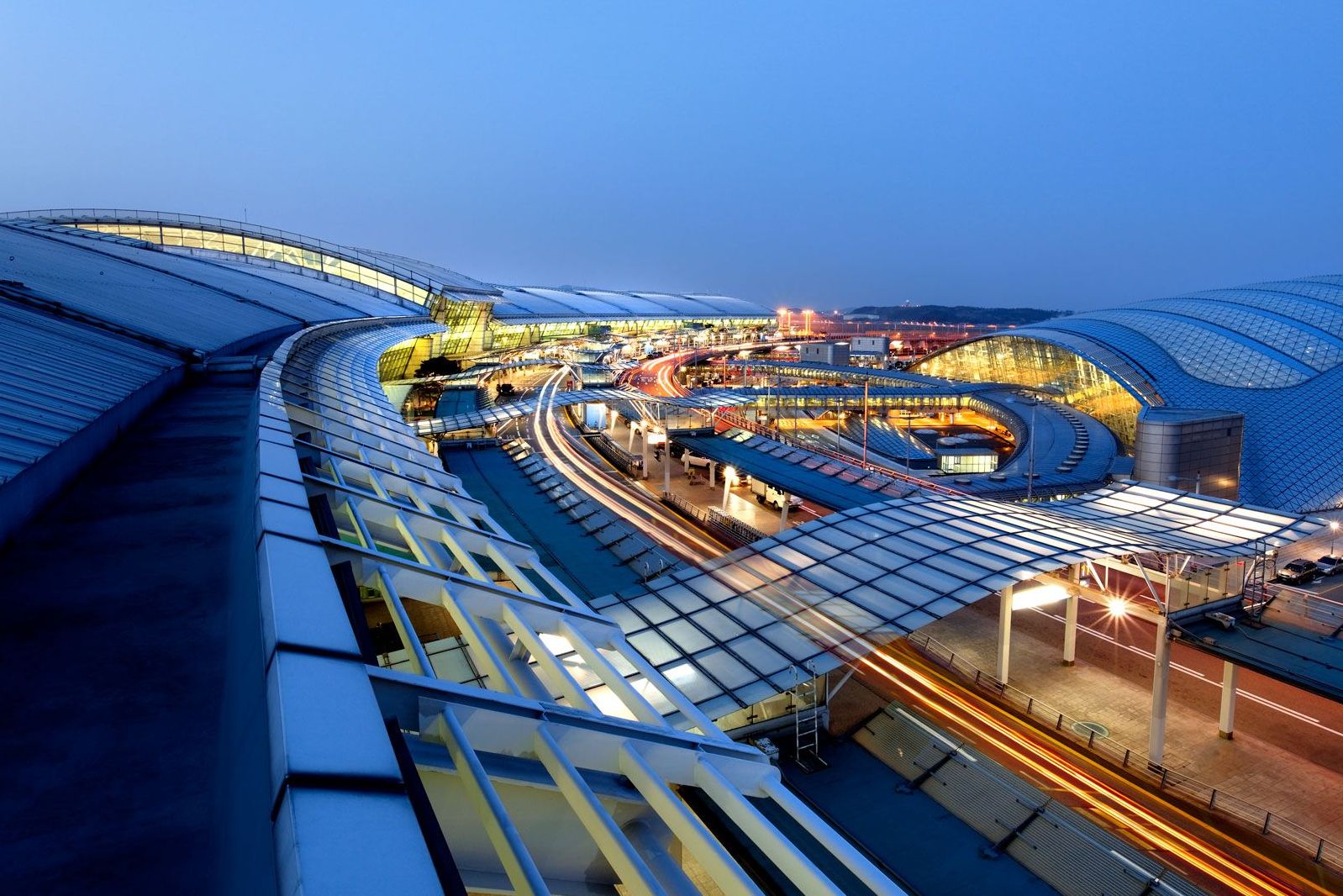 Photo pinterest.com
Sea transport does not lag behind boasting with large industrial port. Ferry route goes from the metropolis to the surrounding islands and to several cities in northern China. The peculiarity of urban transport is that Incheon is connected to Seoul by one subway line.
Wolmido: entertainment area
In Incheon they care about tourists. There is a special tourist area, teeming with loud nightclubs, fashion boutiques and cosy restaurants.
Read also: Forgotten art: Chinese ceremony in Korea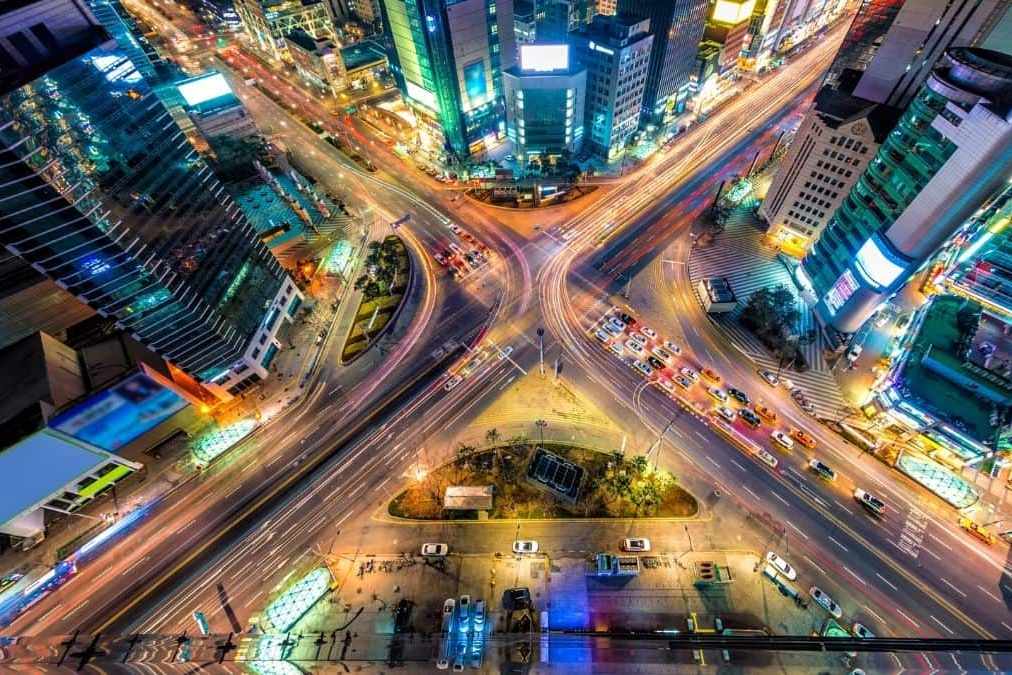 Photo blog.waug.com
It is a popular vacation spot in Incheon with strikingly beautiful sea views, picturesque hills, pleasure boats and romantic sunsets. Strolling along Wolmido waterfront, on the one hand you see the boundless blue sea, and on the other - an endless line of exotic cafes. This place is a favourite for both Wolmido guests and local youngsters. Culture Street features all the creative life of the city: concerts, dance and music battles, carnivals and performances. Any casual visitor can take part in such events. Coloured lights, sound of music pouring from all sides, and children's laughter coming from the nearby amusement park, contribute to festive and elegant atmosphere of Culture Street. For those who would like to relax, there is a water park Chinsoo Space: a coastline lined with stones, on which anyone can go straight to the sea and enjoy its majestic serenity.

Handmade in Incheon style
The advanced technology is not an only achievement that Incheon can show off to tourists. The city has long been a centre of pottery production, and today it offers travellers a precious opportunity either to buy a souvenir, or to create it with their own hands. To do this, there are special training programs that teach this ancient craft. If the process excites you so much that you want to know more about it, you can visit the Haegang Ceramics Museum where the whole exhibition is devoted to the art of pottery. If you require more, then next to the museum you will find the Icheon World Ceramic Centre, home of an international ceramics biennale. But the event is held only in odd-numbered years, so visit it next year.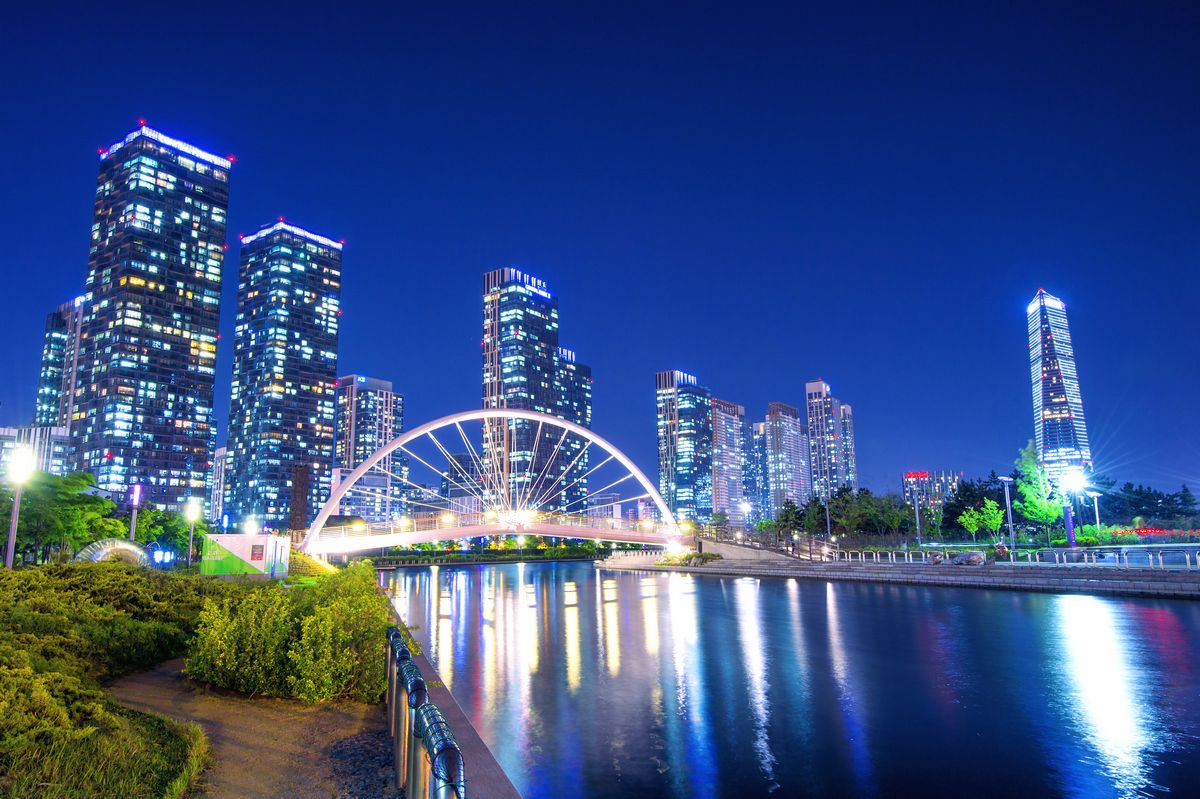 Photo silversea.com
Ferry goes to nirvana
While this expanding metropolis is considered to be restricted in sightseeing attractions, its surroundings compensate it over and above. Nearby islands offer visitors to gaze at magnificent views and monuments of antiquity, which look like frozen history of the East. You can get there by ferry, enjoying the beauty of the Yellow Sea along the way.
The most popular islands are Baengnyeong and Jeju. They are known among tourists for their picturesque sandy beaches. Also, the first is famous for a huge variety of natural stone sculptures with bizarre shapes resembling various animals. The second island is a home to an ancient Buddhist temple Pomun-sa. According to the local residents, it was founded in the 7th century. Special attention of tourists is also paid to Sanbangsan mountain showing carved ten-meter Buddha image.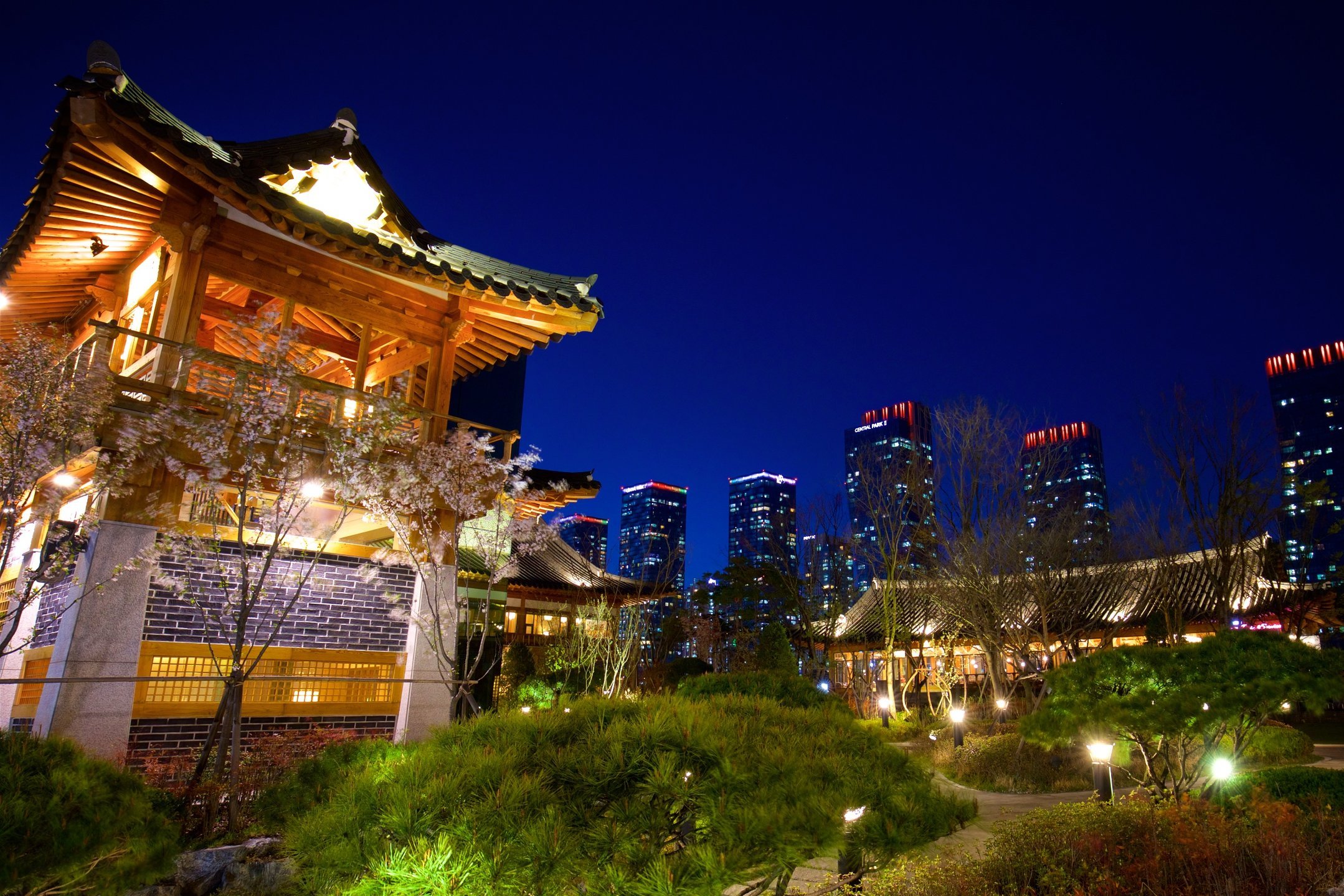 Photo expedia.com
Another must-visit is located on the island of Ganghwa - Mount Manisan. For those who prefer a quiet mountain walking, it is an ideal gateway from city bustle. And most enduring will see on top the altar with the mysterious name Chamseongdan which is more than 4000 years old! According to legend, it was here that the ancient Korean rulers sacrificed to the gods of heaven.
Cover photо stаtic.thousandwonders.nеt