Kabuki: thorny path of flower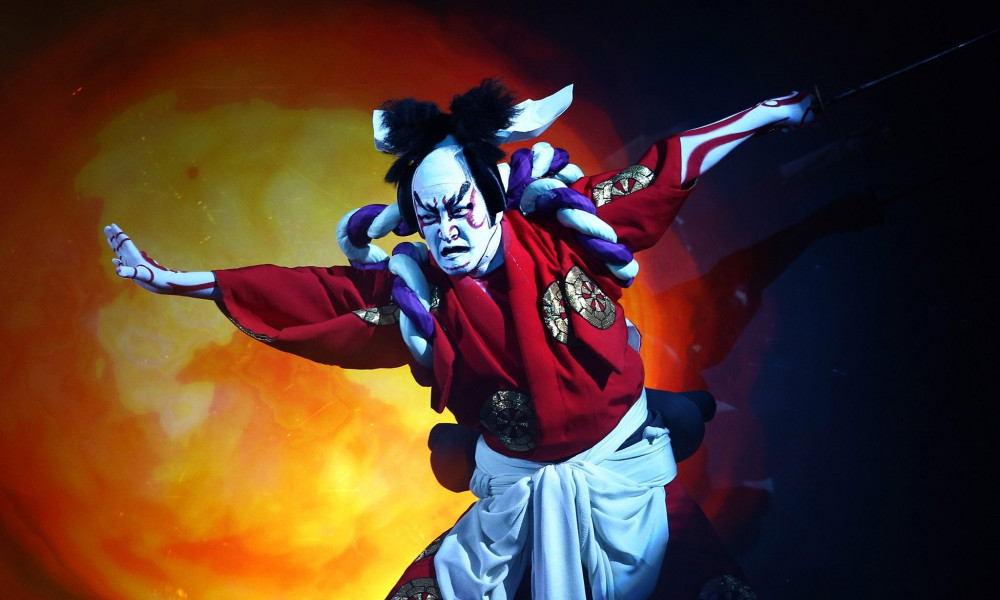 Traditional Japanese kabuki theatre has always been a mystery to the European mentality: only an expert on the culture of the Land of the Rising Sun can understand a play without guide's tips. The word kabuki is sometimes translated as "the art of singing and dancing". Why not an operetta? The essence of performance is not confined to musical presentation only...
...the same as an experienced actor rips off his kimono at rapid-fire pace, revealing a new attire under a pile of hand-painted silk, a sentimental drama of the Edo period reveals the deep layers of the Japanese philosophy, making a viewer feel involved into the national history.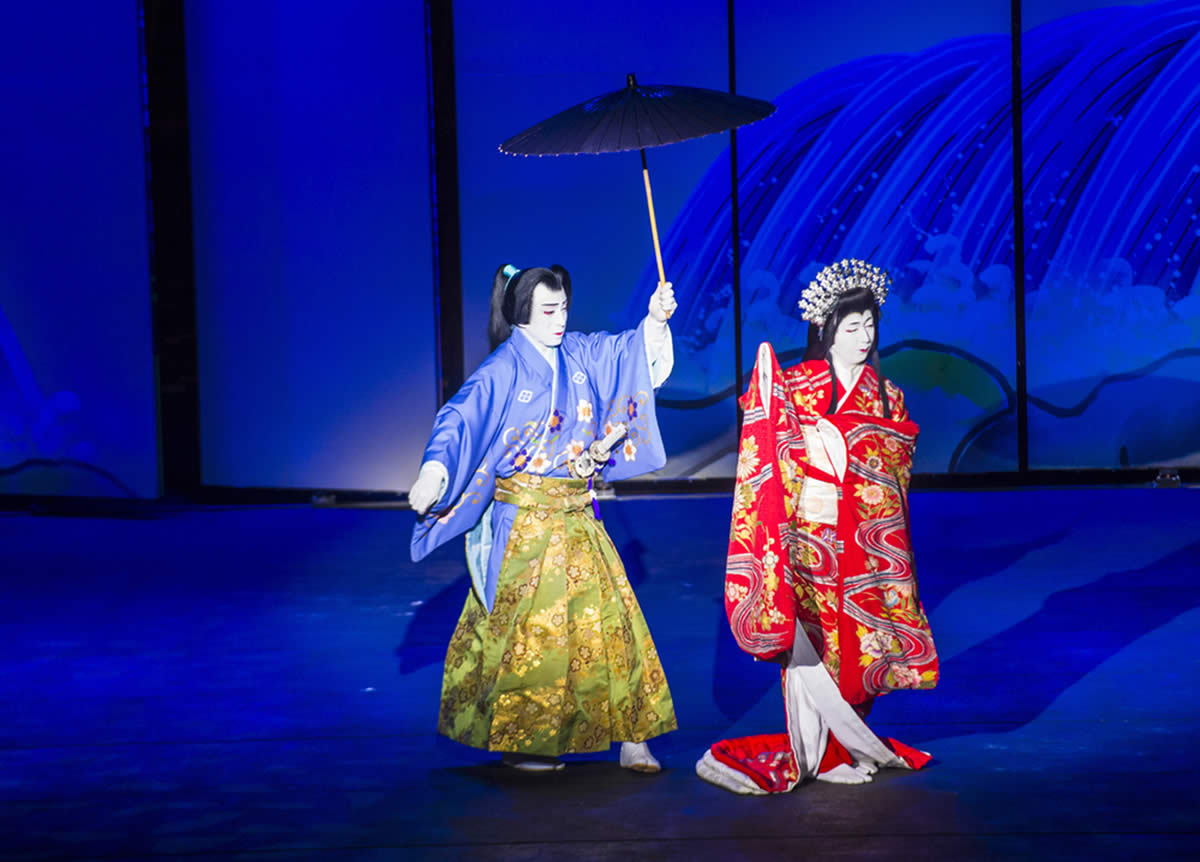 Photo yabai.com
Dipping into he atmosphere of the play begins with a procession of actors on a wooden walkway hanamichi running from the left edge of the stage through the hall. During the performance hanamiti serves as a projection, and in some theatres hanamichi pathways are built on the right side, thus surprising the audience with brilliantly synchronized three-level performance. After the play, the grateful fans adorn hanamichi with flowers, so the name of this stage in Japanese means "path of flowers".
Theatre audience is appealed directly through a delicate art of "face play", providing an actor with an opportunity for self-expressions within unchanging canon. Each kabuki image is a static mask created by a multi-layer kumadori stage makeup. White colour of foundations symbolizes youth, and yellow-brown colours are associated with maturity and withering. The nature of male character is revealed through colour pattern painted on cheeks and forehead: red colour represents courage and nobility, black accompanies magic and divine providence, and blue paint is used to label cowards, spiteful critics and demons in human likeness.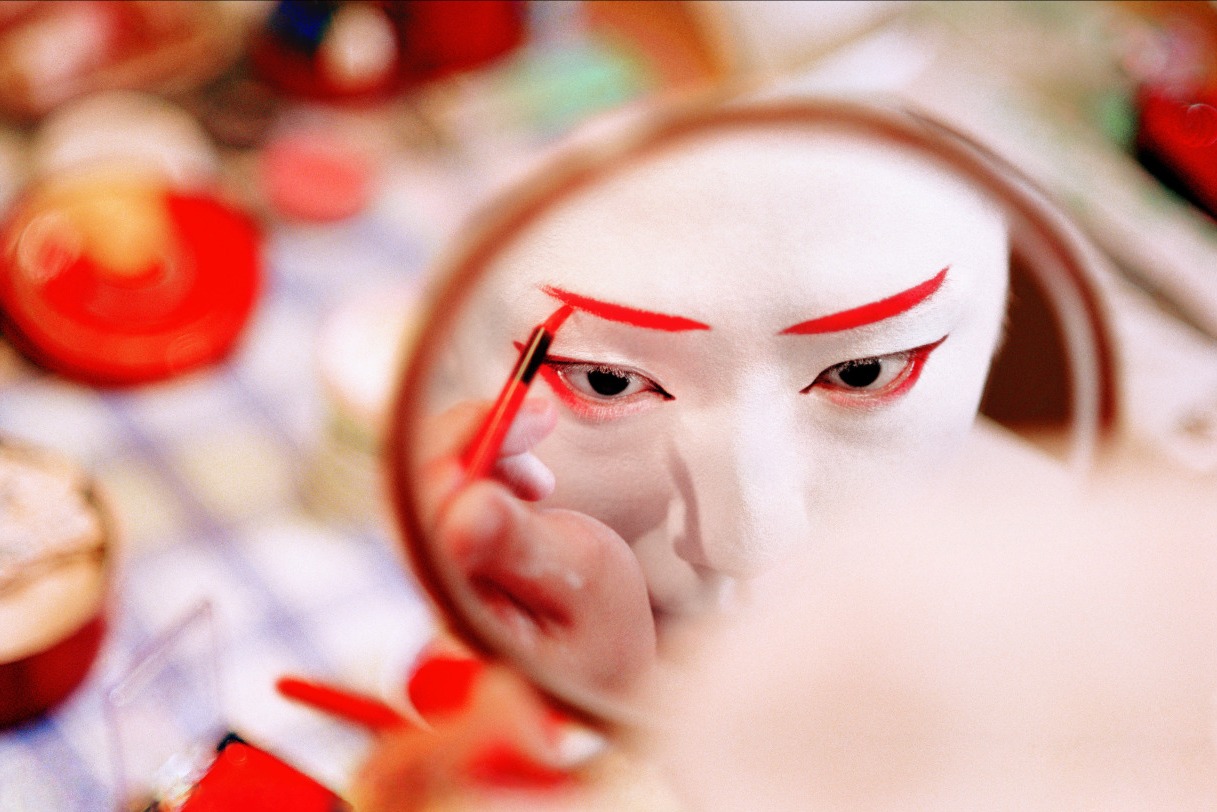 Photo wearejapan.com
At first glance, mask completely subjugates personality of an actor assigning a strict order of gestures, intonations and poses to the role, thus creating an easily recognizable line of character. The choice of protagonists is limited to three types widespread in folklore: aragoto – a strongman endowed with supernatural power; wagoto – a refined gentleman and ladies' man; jitsugoto – a wise man defeating a formidable enemy with his fortitude. Companion of a protagonist is usually a comic figure: a funny fool dôkegata or koyaku – a little boy who is played by a son of some troupe's member.
According to the logic of the play's plot, sooner or later there will be a scoundrel poisoning life of good characters. The images of villains are more dynamic, but they are quite predictable: jitsuaku is an evil conspirator or a big-time cruel villain seeking for wealth and power; iroaku is a handsome, young and crafty seducer; kugeaku is a misguided off-spring of a noble family.
Favourites of the public usually are onnagata, performers of female roles. Young shy girl musumegata, high-ranking courtesan keisei, virtuous wife of a merchant sewa nyôbô, vicious aristocrat akahime and cruel femme fatal akuba. The female nature has thousands of faces, like the Kannon Bodhisattva, and each of them is perfectly played by a male actor. Older generation of theatre-goers often complain about the sharpness and directness of modern emancipated Japanese women, in their opinion, only onnagata retained the elegant manners and grace of a noble lady.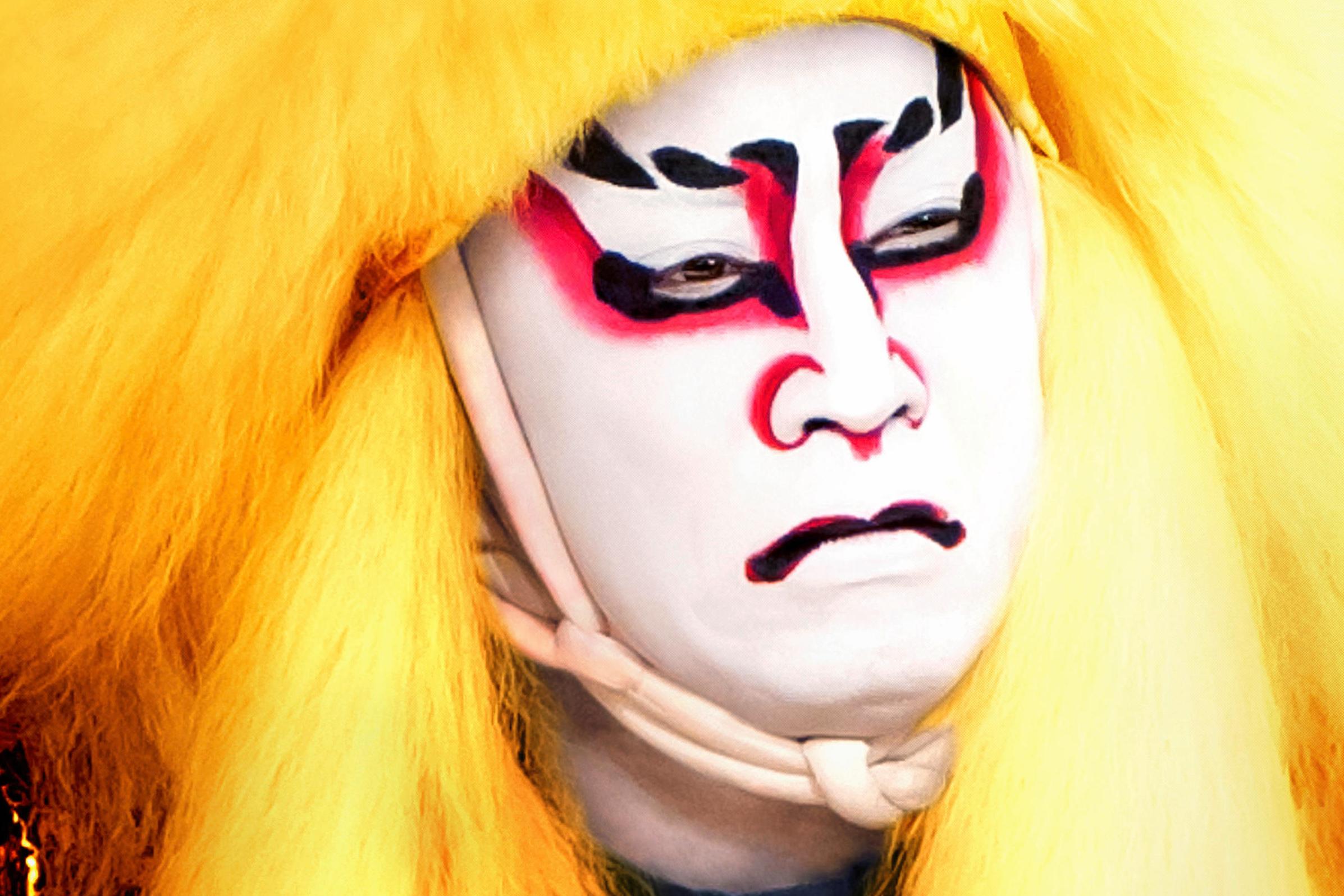 Photo blog.vegas.com
Ironically, theatre forbidden to the fair sex, was founded by a female dancer Izumo no Okuni from Edo who was a skilful dancer at the Grand Shrine of Izumo. Trying to ease the perception of a complex ritual symbolism of temple dances for ordinary citizens, a priestess accompanied her performances with recitation of folk tales, and in between choreographic pieces, the prima amused people with comic songs with erotic overtones.
Thanks to the patronage of the youngest son of the shogun Tokugawa Iemitsu, Izumo no Okuni was given a stage in the Kitamo temple and assembled around her a troupe of wandering female performers who danced and acted in knockabout comedies and sketches. Okuni and her entourage were directed by rhythms of shamisen and beats of mallets, and the singer-narrator told what was happening on stage, so that even completely uneducated citizens could follow the plot of the play. The revolving stage facilitates and rapid replacement of the scenery allowed to keep a high tempo of play. Theatre of Okuni-san was rapidly gaining popularity, but the price for success was fights and scandals because of jealousy, as many of the actresses did not hesitate to provide sexual services to their fans.
After the battle in the theatre in 1629, shogun Tokugawa Iemitsu banned women from performing, replacing female actors by men, but among the noble samurai there were many supporters of same-sex love. The epic battle for morality resulted in decision to allow only mature men to go on stage, and to force all the theatres out of the city limits. The descendants of samurai birth were strictly forbidden to appear in the artistic quarter of Asakusa and bring actors home, but aristocrats still made their way to the performances, dressed up like artisans and traders.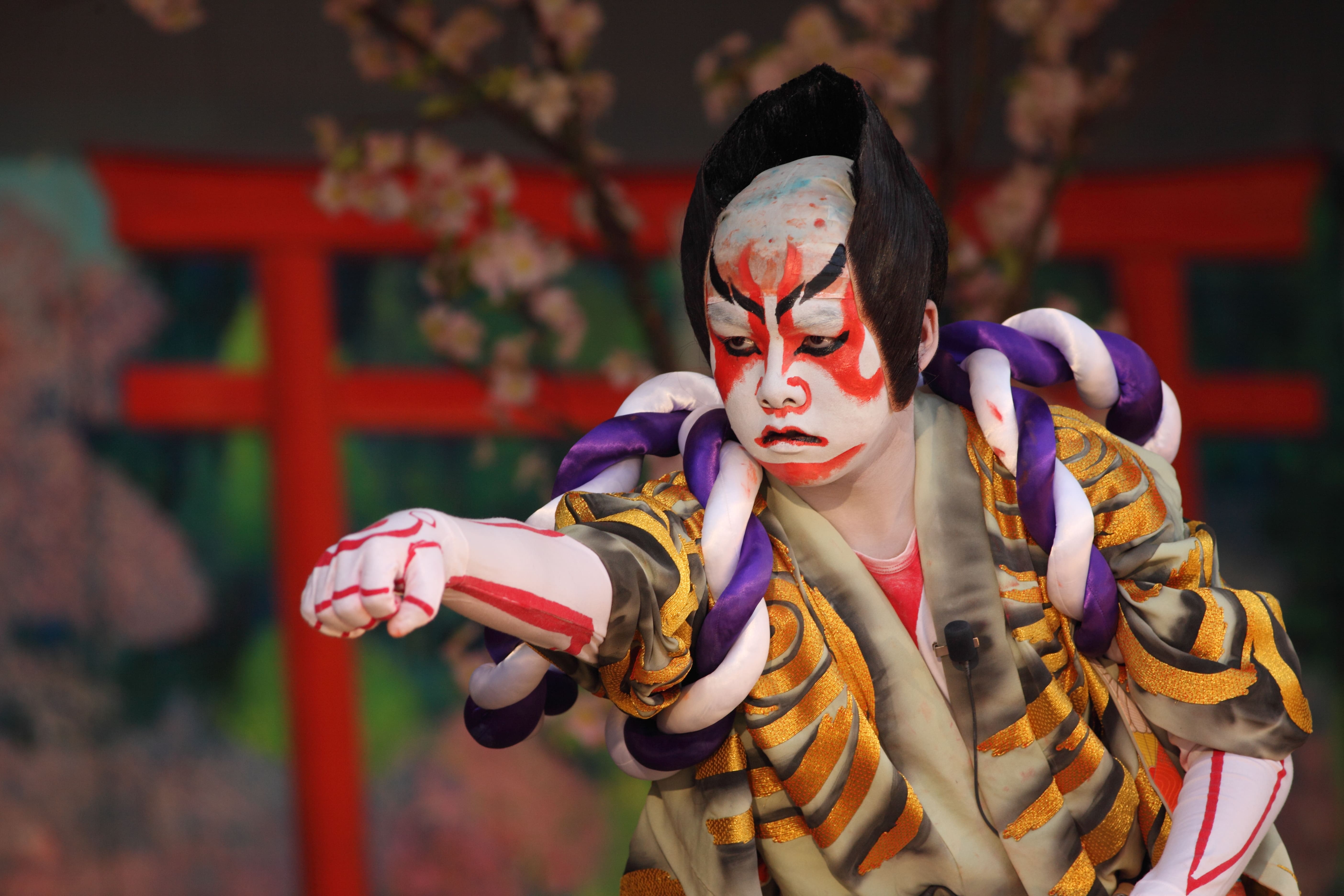 Photo englishonlycafe.com
Due to the constant pressure of censorship, kabuki artistic means gained strictly formal expression. No play was complete without classic techniques of tachimawari (fighting scenes with swords), mie (holding a picturesque pose to establish a character), danmari (a silent pantomime, with actors moving slowly in the dark) and roppo (a stylised, exaggerated way of walking to signify the exit of an important character). It may seem that extremely regulated play is unbearably boring, but in fact conditional action, multiplied by the outstanding talents, drew vehement force on the artistic temperament to exquisite psychological nuances that escape the attention of the viewer in the heat of passion. Spectacular art of pantomime of the Japanese bourgeois theatre has been realized in soulful close-ups of Akira Kurosawa and Sergei Eisenstein. Of course, it is still too early to send kabuki to the antiques shop: who knows what other wonders are hiding behind the stage curtain…
Cover photo independent.co.uk