The brightest places in Croatia: Gateway for aristocrats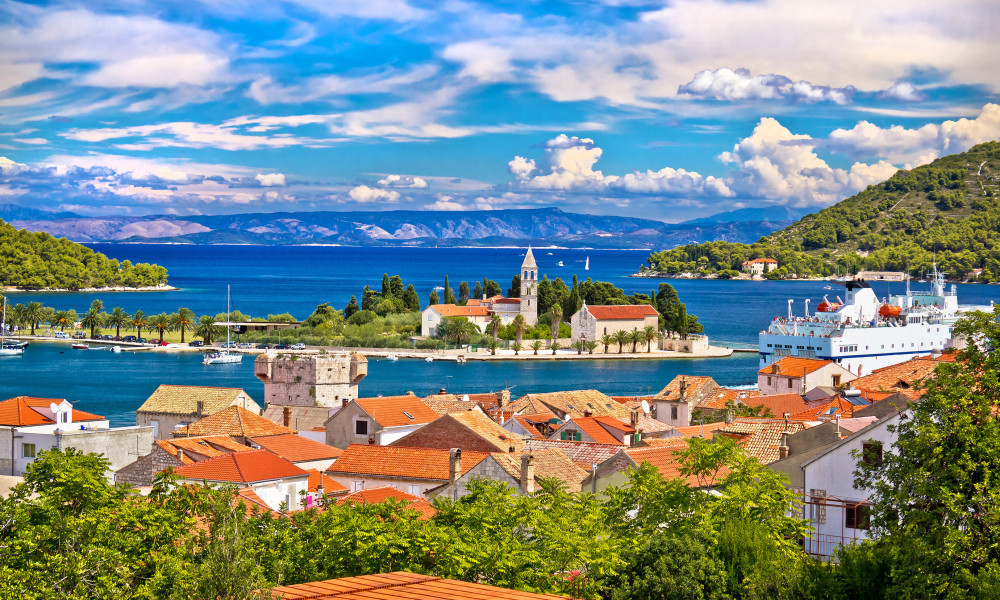 Croatia is dubbed the pearl of the Adriatic coast. This country in the south of Central Europe recently became a member of the European Union. Now its beauty sites are much visited: every year more than 10 million tourists come to enjoy it, that is even more than population of the country. Let's find out what attracts travellers so much.
Resorts in Croatia: a bit of history
Even in the 19th century aristocracy liked relaxing in Croatia. In the last century resorts on the Adriatic coast were almost the most popular in Europe. But this beautiful country had to go through difficult times.
Due to the fact that this sovereign state is relatively young and also came to independence through military action, in the 90's tourism here was in decline. But since the beginning of the 2000s, Croatia has regained its former glory of spa. Now the country's infrastructure meets international standards of service and quality.
Climate
Croatia is rich in historic and cultural sights and exclusive entertainments, nevertheless, due to its geographical location on the shores of magnificent Adriatic Sea, the country is mostly famed as a resort area. To combine relaxing holiday with excursions and yacht sport is a tempting idea...
Mediterranean climate prevails off the coast. Therefore, the high season lasts traditionally from May to mid-October. But even in the summer it is never too hot and stuffy. Average season temperature is from 25 ° C to 30 ° C.
Most popular destinations
Croatia is made up of two parts: the mainland and the Adriatic coast. For tourists most attractive is a narrow coastal strip. There are 3 main recreation areas each with unique offerings.
Istria peninsular with intriguing old architecture, an intricate fusion of several styles: Antiquity, Gothic, Renaissance and Baroque. Its resorts are surrounded by magnificent pine forests dotted with olive groves. The Italians are numerous among local population which gives a special zest to an area. Blend of Italian and Croatian cultures creates something qualitatively new and off-beat.
Middle and South Dalmatia is the central part of the coast; it comprises many islands. There are 2 national and 1 natural parks, secluded bays with coves, rocky and pebbly beaches and pine trees growing directly by the sea.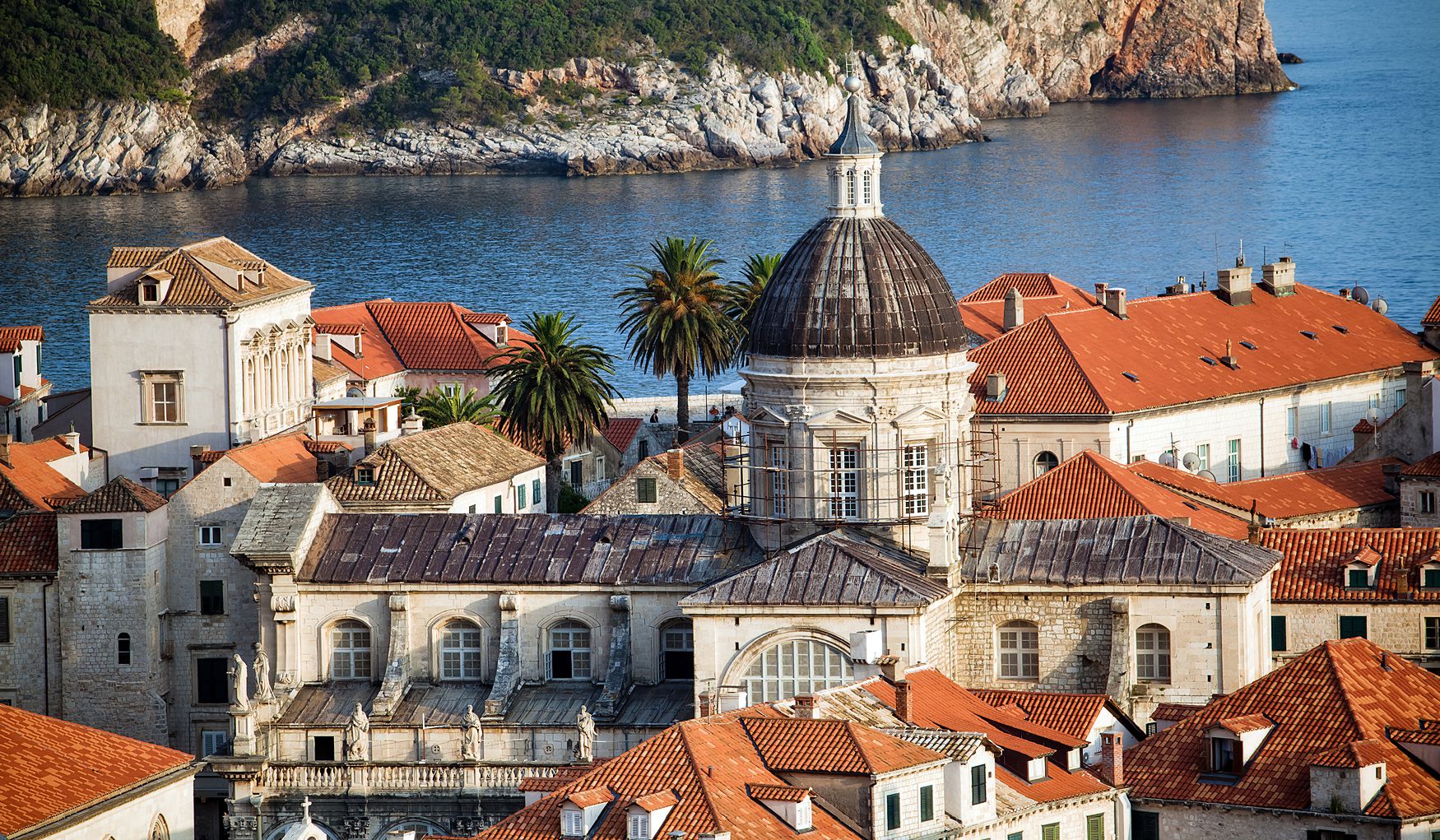 Photo 3.bp.blogspot.com
A novelty for local resorts is yachting. This recreation is being developed here at a frantic pace, marinas and yacht charter infrastructure is being developed. And every enthusiast of this sport can finish yachtsmen courses. And after passing the state exam, to obtain international qualification documents.
Only fabulous places and pristine nature. A lot of beaches and yacht moors are marked with a prestigious environmental award the FEE Blue Flag. This is certificate of quality of beach, which is granted by the Foundation for Environmental Education. This award is for only the best in the world, they have to take exam every year. The flag ensures at least that this place features free entry and clean water, which is tested on a weekly basis.
See also: Balkan constellation: 5 vibrant cities of the peninsula
Medulin is for athletes
The southernmost city in Istria. It adjoins dozen of uninhabited islands. It is easy to reach it, just rent a boat or a water taxi. However, even an ordinary taxi in Croatia is more expensive than anywhere else in Europe. Calling taxi costs about 2.6 euros and then it is 0.6 euros per kilometre. At night the price rises by 20%. So it is better to use buses or ferries.
Medulin is a perfect place for an active beach sports like camping, water scooters, water skiing, boating and others. But most of all it is suitable for travellers aimed at major sporting pastime, because it is equipped for it. There are many specialized centres for windsurfing and diving. And for aesthetes there is Medulin Golf Club.
In addition, for a change there is LOŽA Gallery exhibiting works by local artists, exciting excursions along bay by boat for swimming and observing dinosaurs' tracks. Route: Golumbera Cave, Kamenjak Cape, Fenoliga and Ceja Islands, Krmeda Cove Bay.
Novalja: paradise for dancers
Here is a paradise for clubbers. Novalja is a small town, but its beach discos resound throughout the world. Here come the most popular DJs and the most ardent fans of the club culture. Parties are held non-stop.
At night, the party-goers have a good time in the clubs on the beach ZrceBeach. For instance, in the company of Armin Vann Buuren and Tiesto, then comes after party in the morning, then a couple of hours for sleep and at lunch time new dance marathons begin. A special highlight is Sunset Boat Party, a disco on the yacht, which after boarding passengers goes off to the open sea.
Price for admission to the party depends on who performs. On average it is about 7-10 euros. You can buy one travel-package (accommodation, entrance to clubs and drinks included). It can cost between 70 to 300 euros.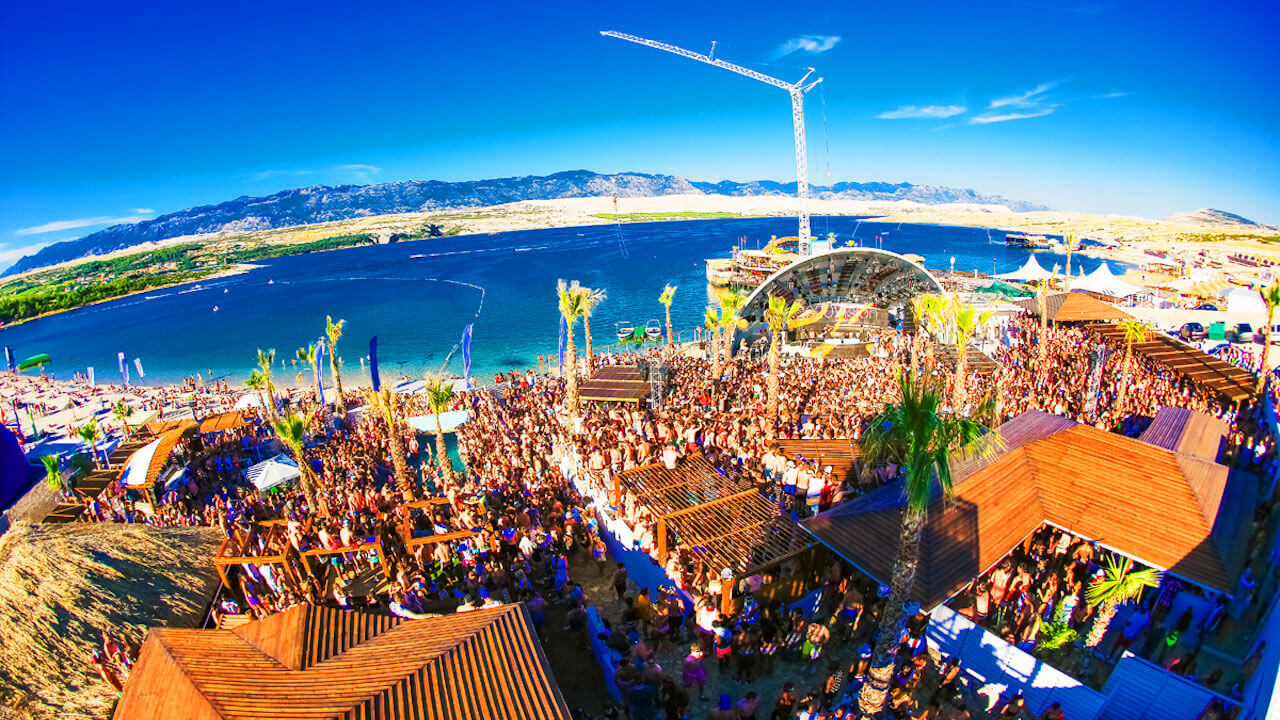 Photo a-transfers-croatia.com
Rovinj contrasting combinations
This resort combines the old town tranquillity during daytime, and rich entertainment after dusk. It is small, compact, therefore entertainment venues are not too many, it is not crowded with hordes of tourists.
Yet, there is an entertainment centre Monvi. It is considered the most fun party place in Croatia. There you can enjoy a quality fun for all tastes: there are 12 bars, discos, open-air theatre, pizzerias, snack bars and a gallery of modern art. Pool bar is the coolest place for open air parties. To start the evening, is has a sufficient number of cocktail terraces overlooking the harbour.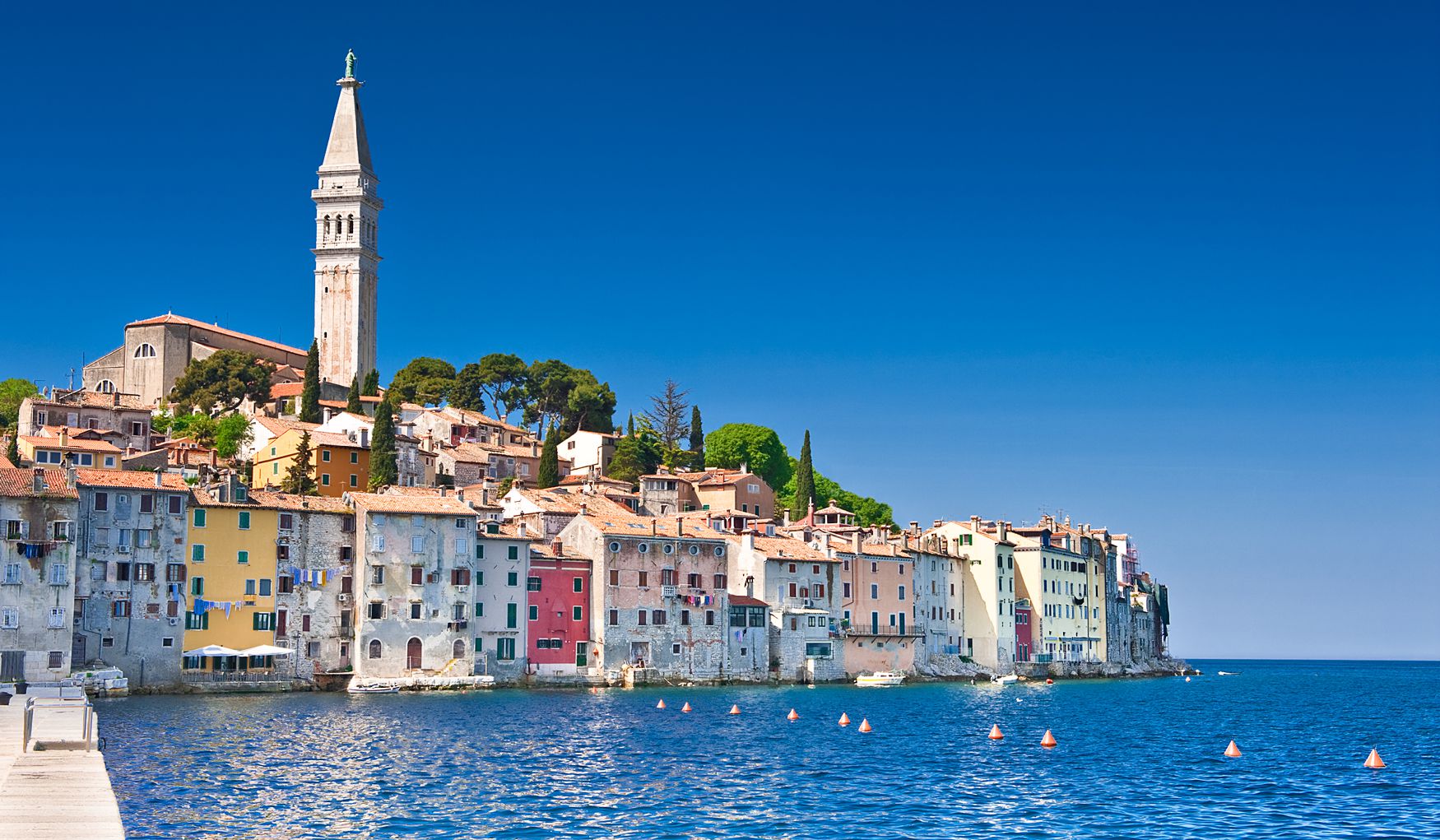 Photo tourist-destinations.net
Šibenik: the city with the bullying name
Šibenik is as bright as its name. This is one of the most exciting cities in Central Dalmatia, which proudly bears the title of "open air museum".
The village was founded in 1066 and is breathing with ancient history. Narrow streets, old bridges, original buildings - the time passed them by. No, this is not our world, it is some kind of a lost civilization.
One of the main attractions of Šibenik is the fortress of St. Anne. It rises majestically over the city at the top of its hill. Saint Anna is a reminder of the long history of the city. Tourists like both the cultural value of the fortress, and a beautiful view of the city.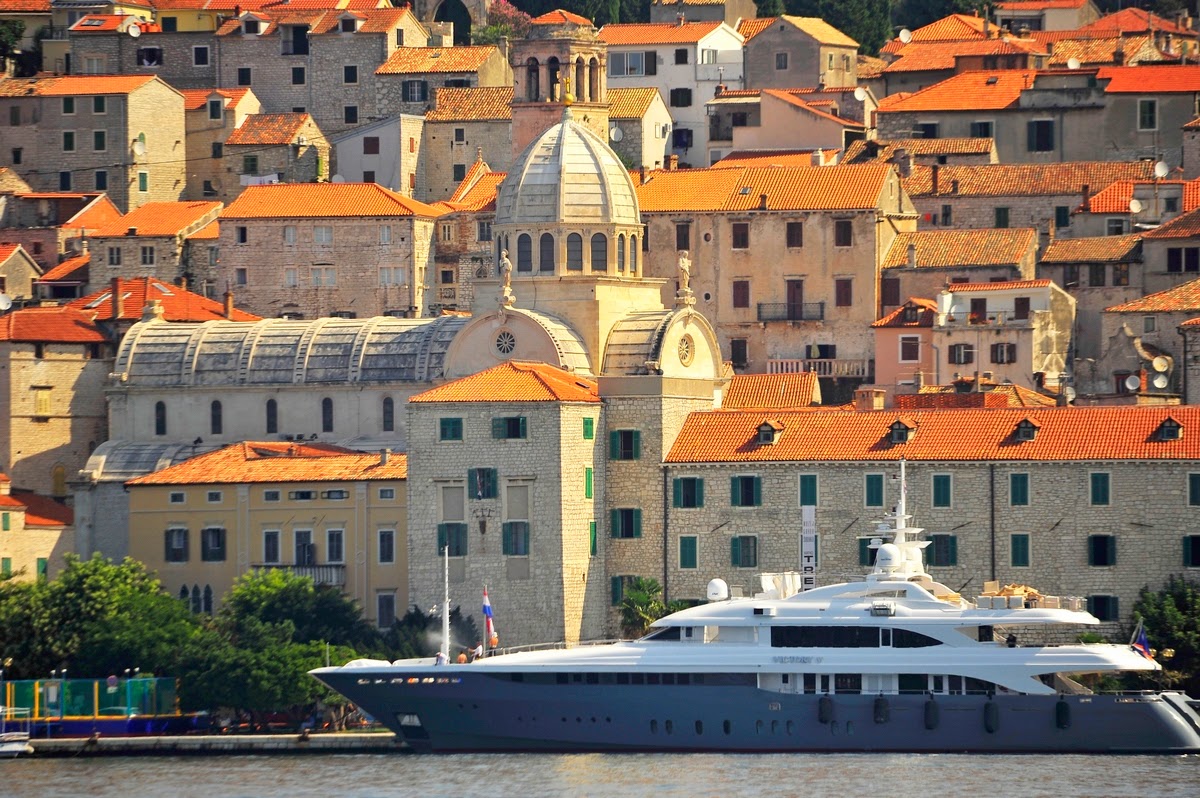 Photo arenacamps.com
Cover photo firstpropertycroatia.com