Ambassador of the Republic of India presented a book entitled "Understanding Indian Philosophy through Modern Science"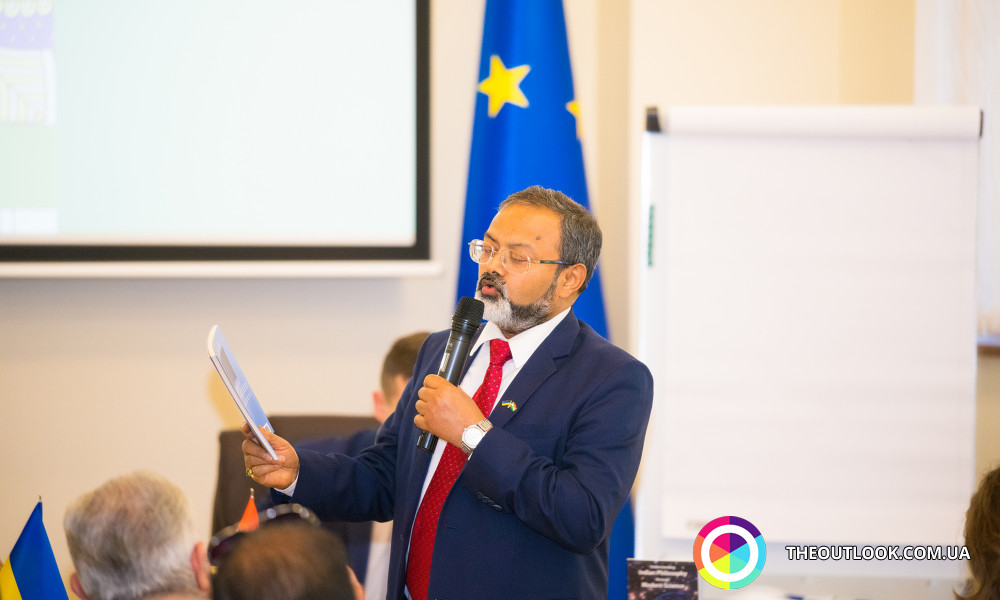 On May 29 at the Media Center of "GDIP" SE, the presentation of the book written by Manoj Kumar Bharti, Ambassador Extraordinary and Plenipotentiary of the Republic of India to Ukraine entitled "Understanding Indian Philosophy through Modern Science" took place.
Ambassadors Extraordinary and Plenipotentiary, namely Mohammed Alasaad, Ambassador of Palestine to Ukraine, Christiaan Albertus Basson, the Ambassador of the Republic of South Africa to Ukraine, Hasan Khaddour, the Ambassador of Syrian Arab Republic to Ukraine, representatives of diplomatic corps of Malaysia, the Republic of Kazakhstan, the Republic of Azerbaijan, as well as Pavlo Kryvonos, Director-General of "GDIP" SE, representatives of higher educational establishments, mass-media and other attended the presentation of the book that was written by His Excellency.
The book highlights the actual study of Mr. Ambassador, which helps to lift the veil from the foundations of Indian philosophy, meditation and yoga. In a logical and scientific manner, the author explains the subtleties that are fundamental to the development of the Indian nation, which were laid down many millennia before the Christ.
Indian philosophy seems to have answers to basic questions which humanity constantly returns to: how did the Universe appeared and exists, what is the life after death. The author gives scientific explanations for some philosophical reflections. The book is the result of a 30-year study, analysis, interaction with intelligent thinkers and scientists.
In his greeting speech Pavlo Kryvonos, said, "After reading the book, you realize what a deep research was conducted by Mr. Ambassador, who summed the old knowledge of the world through the prism of Indian culture."
Mr. Bharti in his book provides one of the main claims of Indian philosophy that "knowledge is available to everyone, but it can be passed only through learning or texts", because in order to understand something you have to go through the way of understanding.
The book will be exciting for those interested in Indian philosophy, and through accessible form of presentation it will be useful for those who just started discovering the worlds of other cultures.
The presentation ended with informal conversation and a buffet. Guests of the event tasted traditional Indian dishes that were cooked kindly by Mrs. Anamika Bharti, wife of the Ambassador of the Republic of India to Ukraine.