Statement by the Australian Ambassador on the occasion of the National Day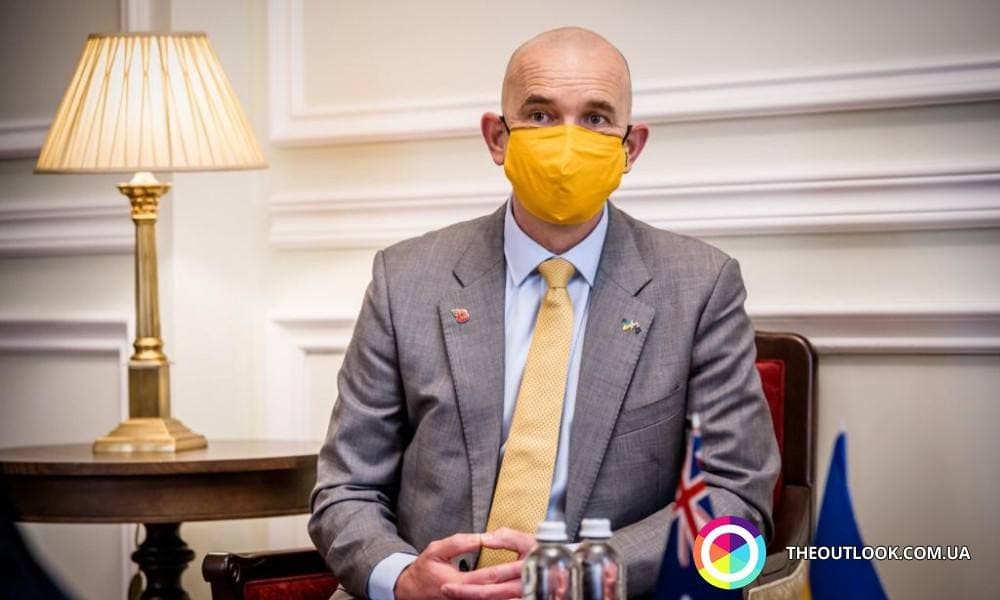 Australian Ambassador to Ukraine Bruce Edwards in his appeal on the occasion National Day addressed the main challenges that Australia faced in 2020 and also assured that "together, we will make a difference".
"2020 was a year that tested the strength of our communities and the resilience of our countries. While for many, it was a year they will wish to forget for evermore, there are reasons it will forever be worth remembering.
Around the world, it was a year dominated by the COVID-19 pandemic, but for Australians, 2020 started with the most devastating bushfires in our history.
Nations near and far offered Australia assistance. Over 300 foreign firefighters stood side-by-side with us as we battled the blazes. People around the world raised funds to assist with our rebuilding, recovery and future resilience. Here in Ukraine, the Australian Embassy received heartfelt messages of support from friends and colleagues, and offers of assistance from senior Ukrainian officials. The generosity of friends in our hour of need was humbling. And it will never be forgotten.
2020 demonstrated the importance of marshalling collective will, innovation, resources and leadership to protect and support our communities and countries.
It was a year that demonstrated the awesome potential of harnessing science and technology together to confront common challenges. Aside from COVID-19, one such common global challenge we face is climate change.
While reducing emissions will remain crucial to ensuring global average temperatures stay well below two degrees, increased efforts will be required to adapt and build resilience to the climate change already occurring.
The virtual Climate Adaptation Summit hosted by The Netherlands this week provides a valuable opportunity for the international community to work together towards a more climate-resilient future.At the summit, Australia will reaffirm our commitment to ambitious and practical action to combat the impacts of climate change at home, in our region, and around the world.
In the wake of last year's bushfires, Australia has committed over $15 billion to make our natural resource, environment, and water infrastructure more resilient to drought and climate disasters. We are spending more than $2 billion on bushfire recovery efforts, supporting local communities to design their own economic, social and environmental recovery. This includes the important job of regenerating habitats, helping native animals recover, and building knowledge for better land management.
Recognising that climate change poses the greatest long-term threat to the health of coral reefs worldwide, including the world-renowned Great Barrier Reef, Australia has also committed $2.7 billion to the effective management and protection of the Great Barrier Reef to support the Reef 2050 Plan.
While our adaptation and resilience workstartsat home, by no means does it finish there. Australia is committed to supporting neighbouring and global communities to tackle climate change. Australia has pledged at least $1.5 billion over five years for global climate finance, including assistance to deploy renewable energy and improve climate change and disaster resilience.
We are sharing our climate adaptation expertise, experience and skills with the world through our development program and the Australian Infrastructure Financing Facility for the Pacific.
While much of this work may seem to be a world away from Ukraine, we know that the action we take in Australia and the Indo-Pacific region affects the rest of the world. It is only by all working together that we can hope to effectively tackle the multi-faceted challenges posed by climate change.
Of course, adaptation action must go handinhand with reducing emissions, and Australia is getting on with the job. We remain resolutely committed to the Paris Agreement (and warmly welcome back a key partner this month), and we are on track to meet and beat our 2030 target, having reduced emissions by almost seventeen per cent since 2005.
Australians are also investing in and adopting renewables at record levels. Almost one in four Australian homes have now installed solar power generation systems, and we expect renewables will contribute at least fifty per cent of our electricity by 2030.
Australia is aiming to reach zero net emissions as soon as possible. The need to get to zero is not dispute – along with the global community, our next steps need to focus on the 'how'.
To maintain this momentum, Australia has developed a Technology Investment Roadmap – a comprehensive plan to invest in the necessary technologies we need to bring down emissions, in Australia and around the world.
Leveraging $70 billion of new investment in low emissions technology by 2030, we are accelerating technologies like hydrogen, carbon capture use and storage, soil carbon, energy storage to back-up renewables and decarbonise transport, and low or zero emissions steel and aluminium.
Widespread global deployment of those technologies will reduce emissions or eliminate them in sectors responsible for ninety per cent of the world's emissions – 45 billion tons.
As the world recovers from the economic impact of COVID-19, we need investments that can both accelerate emissions reductions and support jobs and communities. To ensure global impact, we need to reduce emissions in a sustainable and commercially viable manner that generates jobs in all economies.
Whether in responding to the COVID-19 pandemic, or tackling the ongoing challenge posed by climate change, we need to embrace innovation and strengthen global partnerships. We need to consider those most in need, engage all stakeholders equally, and respect indigenous culture and knowledge in taking climate action.
Our scientists tell us that, even with the most ambitious global emissions reductions, we will still need to adapt to changes in our climate over coming decades. Practical actions that help us to adapt to those changes and strengthen the resilience of our local environments are critical".

To know how was the Australia Day was celebrated in 2020 read here.