We were there: Naples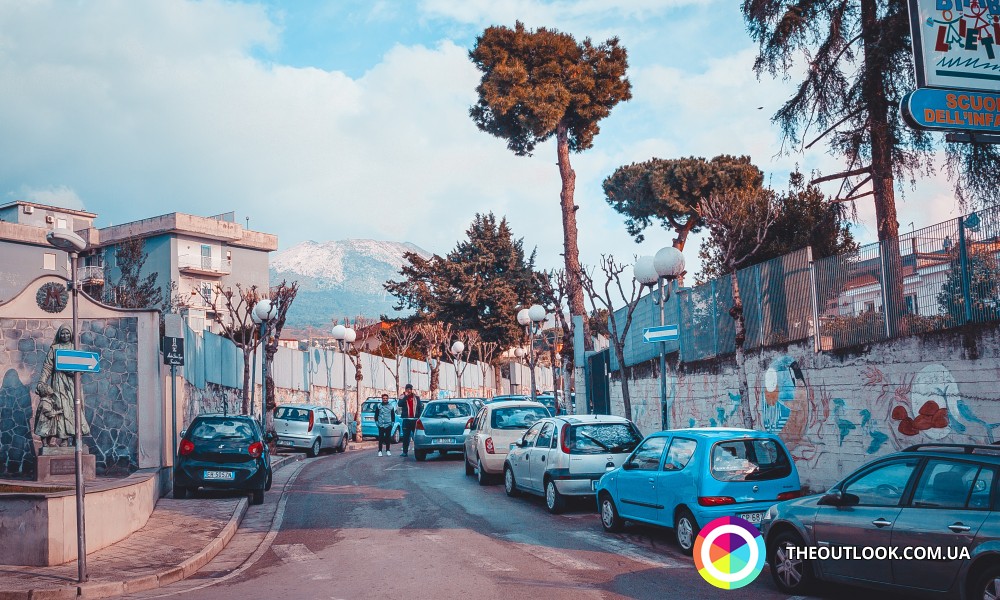 In alleys of Naples all distinctives of South Italian life are wonderfully felt: lack of any kind of rush in narrow streets: locals in own shops, salons, pizzerias, cafés and pubs on ground levels of own houses were, it seemed to me, having carefree time.
A friend of mine shared with me a link to a special offer for tickets to Italy:
- Go! – I wrote her back.
- Really? – She responded with surprised.
- Why not?
- Sounds kind of cool, let's do it!
Everything was more or less in the following way. We tried to find accommodations (although we were booking it from our cell phones right before departure) and in a couple of days we met in Lviv.
Or route:
Flight from Lviv to Naples (37 euro);
Train from Naples to Rome (11 to 45 Euro, we'll talk about peculiarities of Italian railways later);
Flight from Rome to Krakow (23 euro);
a bus from Krakow to Lviv (about 22 Euro);
Then we were to go home in separate buses.
And there we were, at a café in Lviv. On some fifth attempt we managed to book a hostel (traveler's FYI: chip card is a must-have for Euro-tourism and not just there; as a rule, without such card you will manage to neither purchase tickets, nor book accommodations; in particular cases it is the only way to pay – for instance, occasionally at railway stations tickets to certain destinations are only sold via machines that work solely with chip cards; in addition, it is preferable for your card to be a multi currency one).
Airport comes next; all familiar procedures, a pretty pleasant flight, soft landing in Naples, 4-Euro bus to railway station and our first surprise: we booked the room without paying attention to information about owners and found ourselves with friendly Ukrainians from Kherson region. Our landlady shared with us all Naples life hacks thus making our life significantly easier. We paid for hospitality 18.5 Euro a night per person. Later we were lucky to negotiate 10 Euro per night.
And here first impressions come:
There is garbage on streets, on some – a lot (not everywhere, of course, but even in expensive districts there is some). The reason for it, the so called 'waste management issue', is a pretty complicated social and political problem that emerged in the South of the country about 8 years ago. It was then when all specialized companies ceased picking up trash because all landfill sites were full. Over 5200 tonnes of domestic waste accumulated in the streets of Naples. Italian government proclaimed local mafia, Camorra, that has always controlled all Neapolitan dump sites, responsible for the crisis.

Secondly, traffic: at crossroads they turn blind eye to rules altogether; traffic light and crosswalks exist pro forma; scooter drivers are especially fearless; and if there is something to learn from Neapolitans – then it is parking skills: because of narrow streets on hills in some parts of the city they have to save as much space as possible – 3-centimeter distance between bumpers of small cars is commonplace there).
We had two evenings to experience Naples. We had neither particular route nor plan – we merely had several basic guide book objects nearby in mind. So, after we had grabbed some snacks for the whole day in the nearest supermarket (about 2 Euro) we began our tour, acted as events unfolded depending on where curiosity was taking us.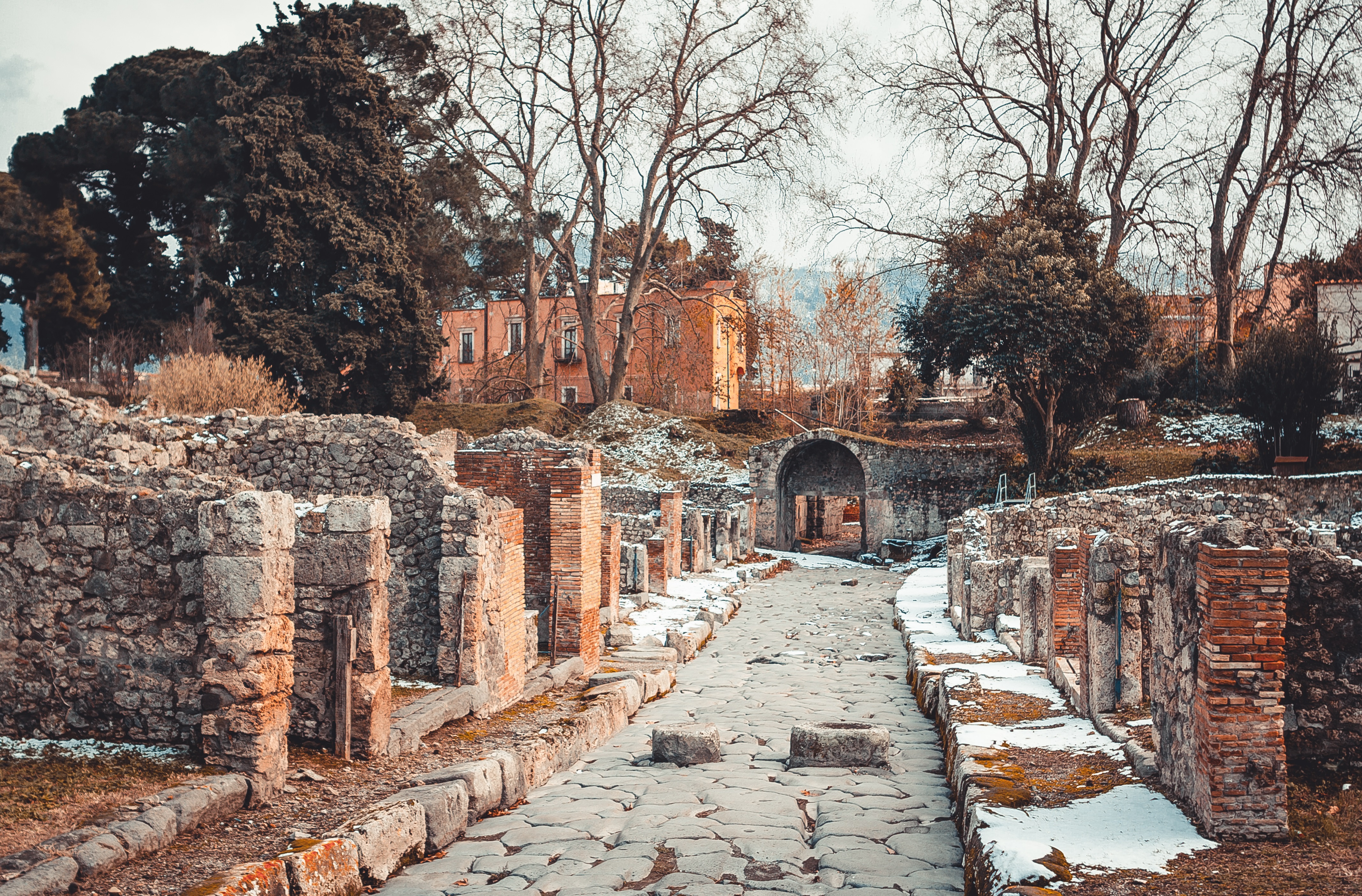 In alleys of Naples all distinctives of South Italian life are wonderfully felt: lack of any kind of rush in narrow streets: locals in own shops, salons, pizzerias, cafés and pubs on ground levels of own houses were, it seemed to me, having carefree time. A chat with one neighbor, a cigarette with another, a cup of coffee with yet another. This looked more like leisure time than like working. I got this atmosphere stuck in my memory. Small houses, old stone-block pavement, scooters and meters of laundry on balconies.
One of the most picturesque districts is Centro Storico (situated in historical centre of the city). It doesn't occupy too much space yet accommodates majority of the city's architectural monuments.
Spaccanapoli Street is prime touristic promenade. 2-kilometer-long alley can take you to numerous baroque cathedrals, squares and palaces. However one should be as attentive as possible at such places as Rione Sanità, Forcello, Piazza del Mercato and Quartieri Spagnoli. The latter district is very poor and is notorious all in all – mass unemployment, high crime rate among youngsters, and significant influence of Camorra. Still, no need to be scared – such things exist in quite literally every large European city.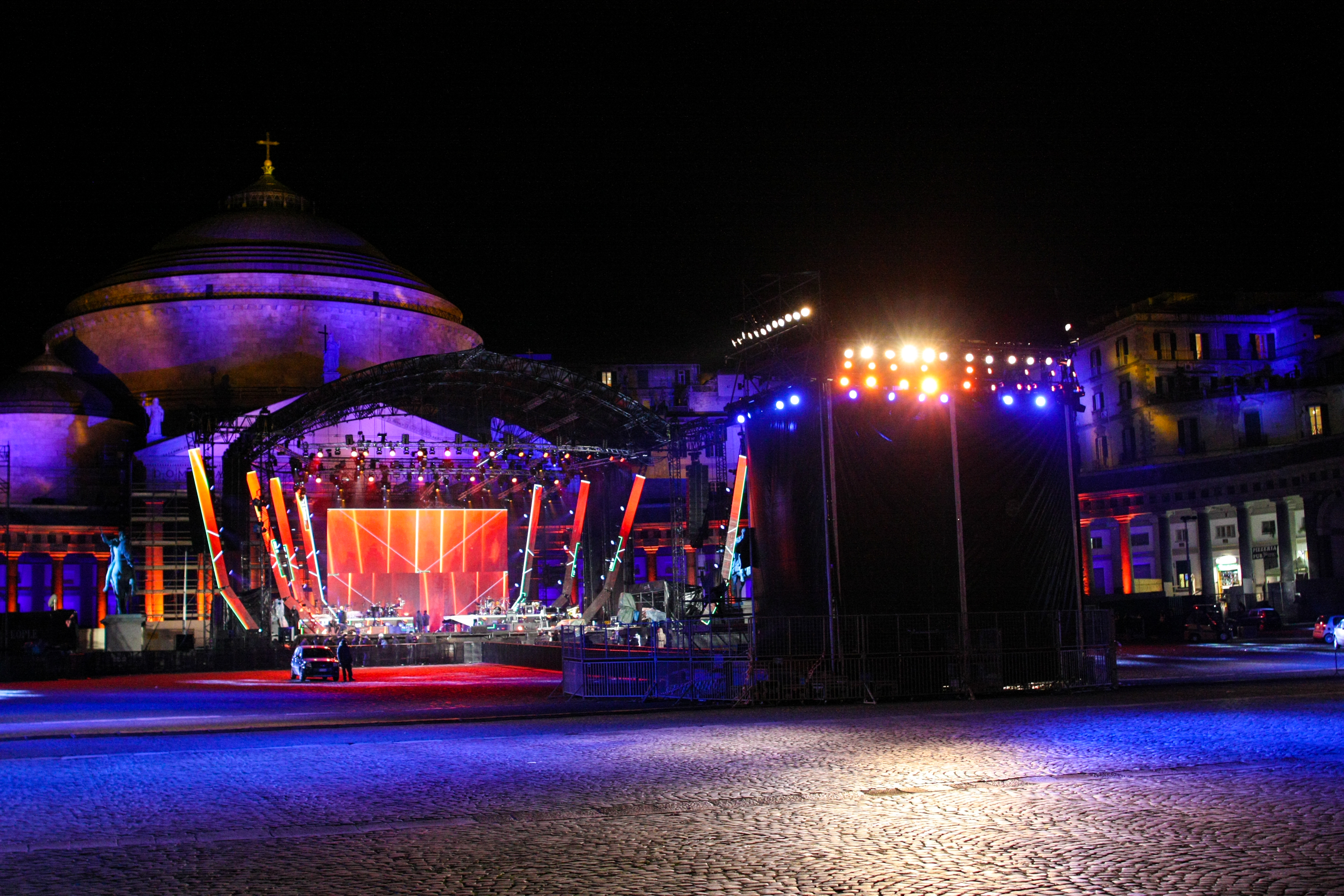 The biggest problems that locals are sure to warn you about are snatch-thieves. Mind your wallets, phones, cameras, watches, jewelry, bags and backpacks in crowded locations. Try not to stay long at railway station (Piazza Garibaldi) and I suggest you don't walk around neighboring streets at night.
Naples is the largest city in south of Italy (the third after Rome and Milan in terms of population) so we won't concentrate on its features that are far from being best and will move on to enjoying its charm.
So, here are some must-see objects of this wonderful city:
Piazza del Plebiscito is the centre of Naples and the city's largest square. The place where many celebrations, festivals, concerts, and art installations are held; it is also probably the place with highest tourists concentration (as well as sellers of monopods for selfies – No 1 trend among street vendors).
Palazzo Reale (royal Palace) is the central residence of Kingdom of the Two Sicilies rulers. Everyone is usually thrilled with its gorgeous interiors, sophisticated painted wall and ceiling decorations, theatre and inner garden with large horse sculptures. The palace accommodates 30 rooms with Royal Museum exhibitions andthelargest state libraryinsouthern Italy. Admission fee constitutes 4 Euro.
National Archeological Museum has one of the world's most important and majestic collections of classical archeology from times of Ancient Egypt, Greece, Rome and piquant Secret Room where various erotic findings from Pompeii are preserved. 8 Euro for admission.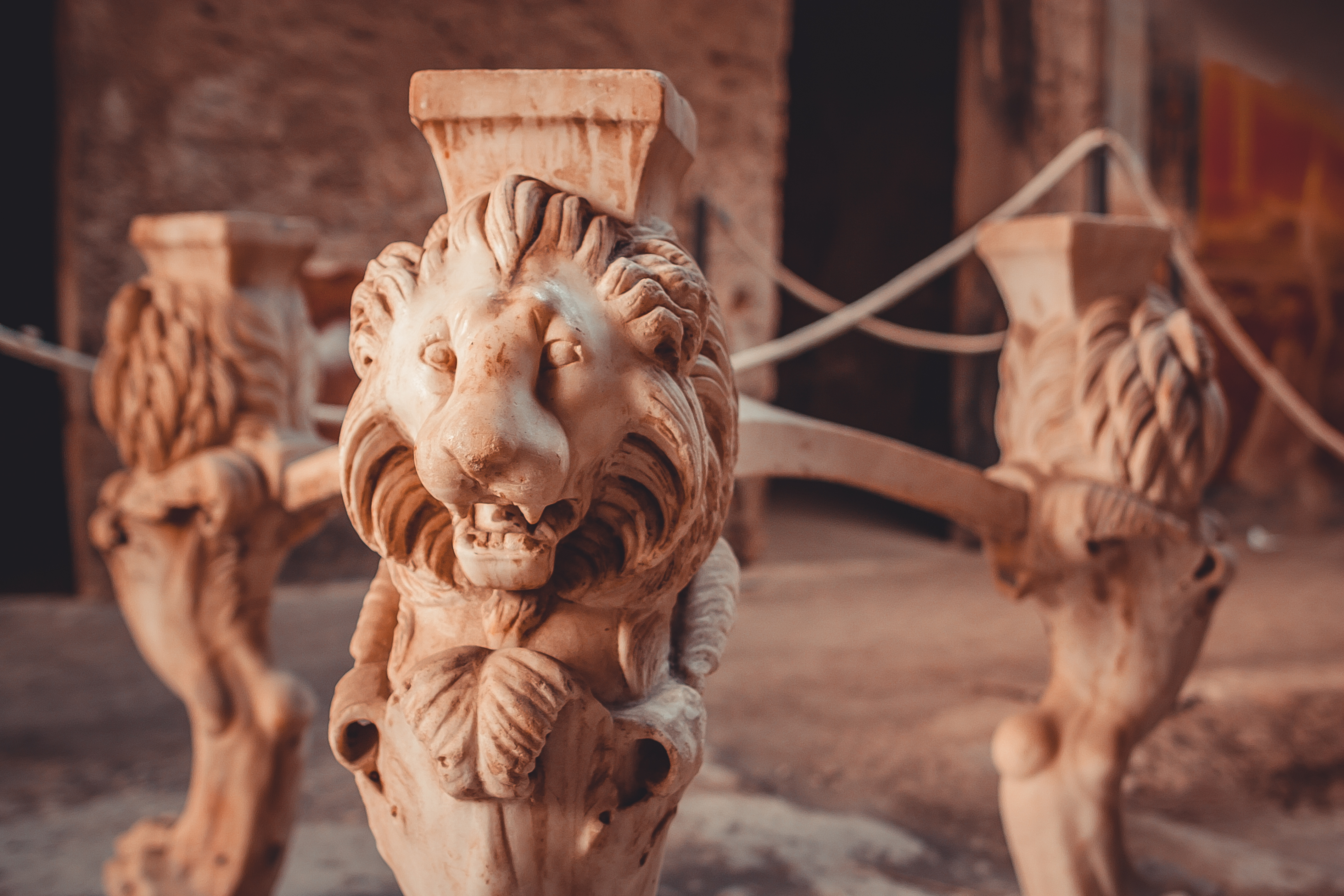 Numerous shops, cafés can pizzerias can be found in Piazza San Gaetano and Piazza San Domenico Maggiore; there you can also listen to live music, try famous Limoncello and other local liqueurs and simply relax nicely.
And, of course, a quay – a 3-kilometer-long Lungomare with sunny beaches, restaurants and cafés serving local seafood, boat and bicycle rentals, pubs and incredible views on Castel dell'Ovo, Vesuvius, island of Megaride, island of Capri and Hills of Naples… It is really cool there day and night…
And this is just a tiny bit of touristic spots – fortresses, palaces, museums, basilicas, theatres, catacombs and so on – indeed, there are more than enough of such things there…
The next day we visited Pompeii – ancient Roman city, buried beneath ashes as a result of Vesuvius eruption long before our times. It is situated in 40-minute train trip from Naples (one-way trip to Naples by train costs 2.6 Euro). This place is worth a separate article so I will just say that the scale of this open-air museum is impressive… In 4 hours we managed to have a hasty look around the complex – without audio guides or tours. The famous volcano itself can be seen well from some spots of the complex and there are several ascent routes. At the height of 1000 m you can enjoy great view of Gulf of Naples from a sightseeing platform. Let me just note that a ticket to the museum costs 11 Euro.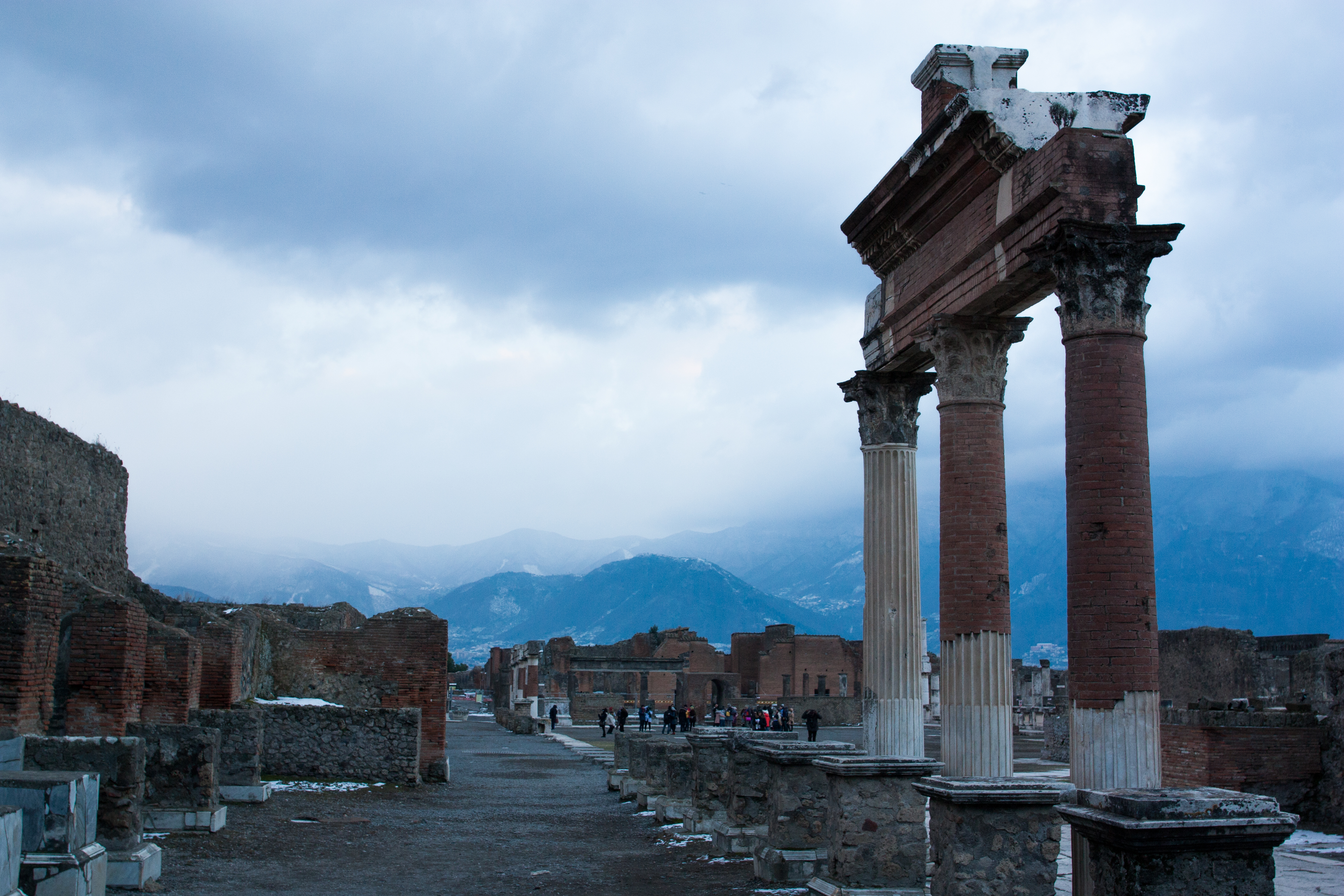 When transferring from Naples to Rome we learned one interesting thing: it turns out that while travelling with Italian railway one should know that 2 trains can be departing from the same platform (or one can e departing and the other one simply standing there). At that, neither tickets nor displays can help you realize that. We figured the trick too late. We never saw our train because we were sitting in another one. So, stay alert and clear up such things in advance). When we realized that our carrier's service at ticket office wasn't too eager to work with clients (first cashier didn't speak English, second one couldn't explain anything and the third one had a dig at us), we inquired from people at the station about what was travelling to Rome to take the first express we were pointed at. We didn't have tickets for it but decided that we should solve one problem at a time. When ticket collector glanced at our tickets asked us he kindly enough to either get out of the train at the next stop or pay cost difference of tickets for that train and the one we had missed (that seemed official, using payment terminal and with till slips). All in all, we were lucky: we purchased tickets against 11 Euro and paid 13 Euro on top of it while we could have ended up on a 40-Euro express. We could finally feast eyes on surrounding views calmly.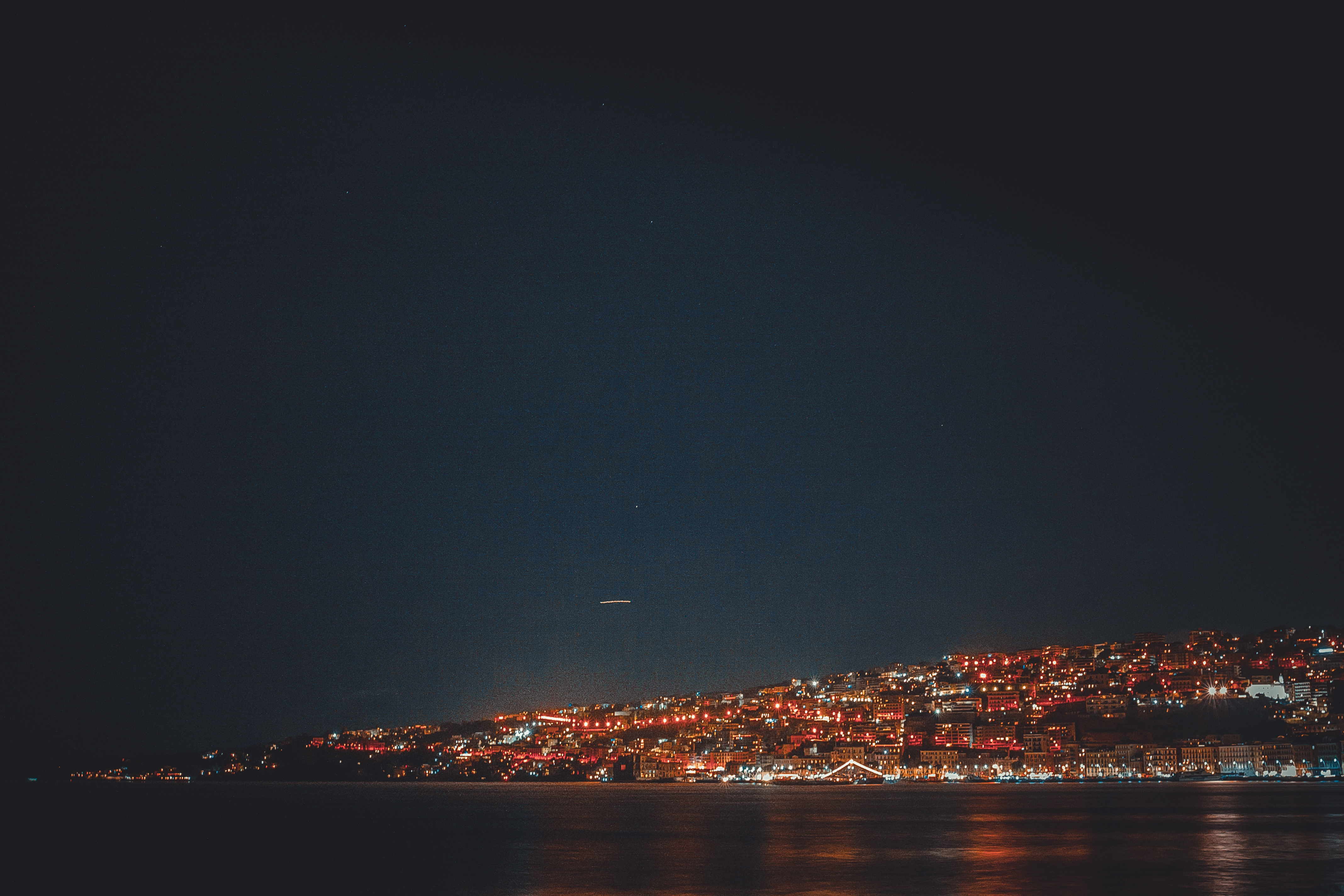 Now, let's sum up the trip:
So, how much did I spend in almost two days there? Taking into account cost of the flight, ticket to Rome, stay at Naples, visit to neighboring Pompeii, numerous museums, galleries and enough Neapolitan pizza to content my heart as well as some souvenirs as a remembrance of everything, all these easily fit into the amount of 160 euro.
Photos by Roman Matkov