OUTLOOK Becomes a Finalist of International Award ADAMI Media Prize 2015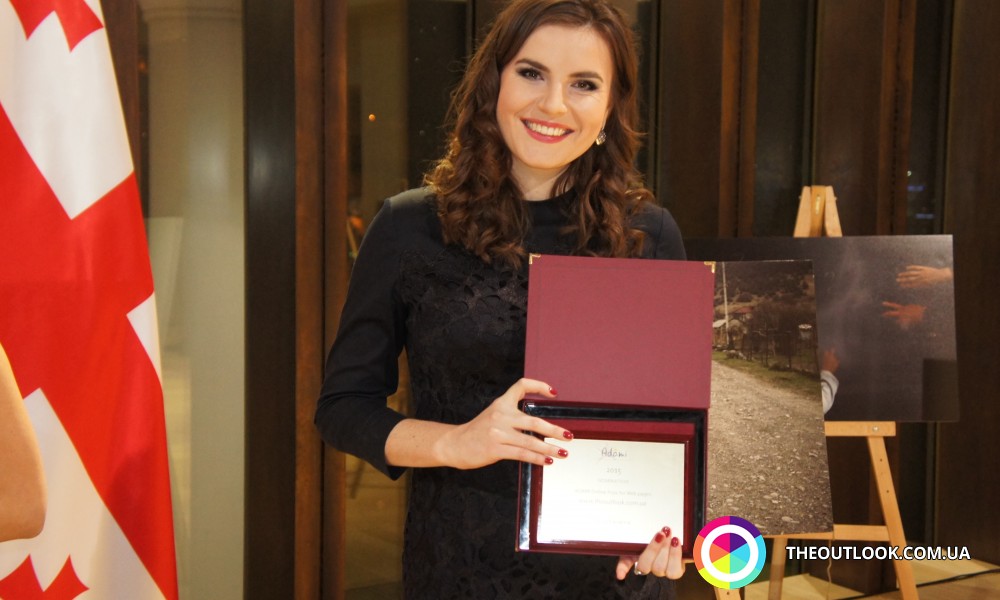 On December 10 in Tbilisi, the capital of Georgia, awards ceremony of ADAMI Media Prize for Cultural Diversity in Eastern Europe took place. Online media about the world theoutlook.com.ua made it to TOP-3 best web pages covering cultural diversity issue in the region.
ADAMI Media Prize is awarded to television and online projects. The Prize was created to attract attention of media professionals from countries of Eastern Partnership of the European Union to issues of migration, cultural diversity and shared habitation of ethnic groups.
Members of the jury, media experts and nominees from six Eastern European countries – Ukraine, Belarus, Georgia, Armenia, Azerbaijan and Moldova –came to participate in first awards ceremony in Tbilisi.
Within the framework of ADAMI Media Prize a meeting with the President of Georgia Giorgi Margvelashvili was arranged for all participants. In his salutary speech the head of the state emphasized that it is a great honor for him to host an award, so important nowadays, in his motherland. He also noted how important it was to preserve and enrich cultural diversity in the territory of our states.
We also feel like paying special attention to rich program prepared by the orchestrators. Over two days guests attended public talks, networking lunches and exciting tour over old Tbilisi.
ADAMI-Talks "Current Challenges to Cultural Diversity in the Media" earned special attention; within its framework new media products were presented, they aim at solving issues of cultural interchange between nations and religions. Thus, in the course of the event Kurt Schaad from Switzerland presented his project JOIZ that integrates television, Internet and social networks.
Media expert from Amsterdam Frans Jennekens told about five public TV-channels of the Netherlands; they create content that aims at introducing audience to cultures of peoples of the world and special features of religions.
Also, Robert Parsons, Chief Foreign Editor of France 24 and a BBC correspondent, answered questions of ADAMI-Talks guests.
Awards Ceremony took place at Georgian National Public Library.
To announce winners, Ambassador of Germany in Georgia, Mrs. Bettina Cadenbach, Swiss diplomat and ADAMI Board member Heidi Tagliavini, members of the jury Irada Aliyeva and Leonid Melnic as well as Georgian director Eldar Shengelaia were invited on stage.
Here are first winners of ADAMI Media Prize:
In nomination ADAMI Media Prize for Information (non-fiction) Georgian director Giorgi Tskhvediani and his film Niko's Way was awarded.
Film from Armenia by young directors Marine and Sonya Kocharyan merited victory in category YOUNG ADAMI Media Prize.
Georgian portal chai-khana.org was recognized as the best web page in the sphere of cultural diversity. Orchestrators honored our web-site theoutlook.com.ua by selecting it into TOP-3 out of almost two hundred nominees. Orchestrators noted rich content of the site that includes multimedia and video features presenting information on culture and traditions of different peoples of the world as well as customer-friendly design and navigation.
In nomination for Web Videos members of the jury recognized the work 30 Families of Griz by Azerbaijani Oktay Namazov to be the best.
Prizes for News and Short Non-Fiction as well as Entertainment (fiction) were not awarded this year because judges of the contest didn't pick videos for these nominations.
"We were looking for the best products that exist on the Internet and on television, the ones that were made over past two years. The idea of the media prize is that cultural diversity is on the top of the agenda for all European countries and interest in it will help us in future. For instance, in Germany, as you know, there are about 800 000 refugees. The issue of cultural diversity, national minorities and refugees is essential for all states in Europe. We want to award people who've found good ways to demonstrate it", Adami Program Director Stefan Tolz told.
Gala concert was hosted by Ukrainian journalist Roman Vintoniv (Michael Shchur), Lizi Tsiklauri, a journalist of Georgian Public Broadcaster GPB and Belorussian presenter and model Leila Ismailova. Special guest of the ceremony was Ukrainian singer Jamala; it was the first time she performed in Georgia. Jamala presented one of her songs to accompaniment of a famous Georgian composer Zviad Bolkvadze and musicians of his band.
OUTLOOK expresses gratitude to orchestrators of ADAMI Media Prize for warm welcome as well as interesting and rich program and looks forward to fruitful cooperation in future.