Tbilisi is the capital of...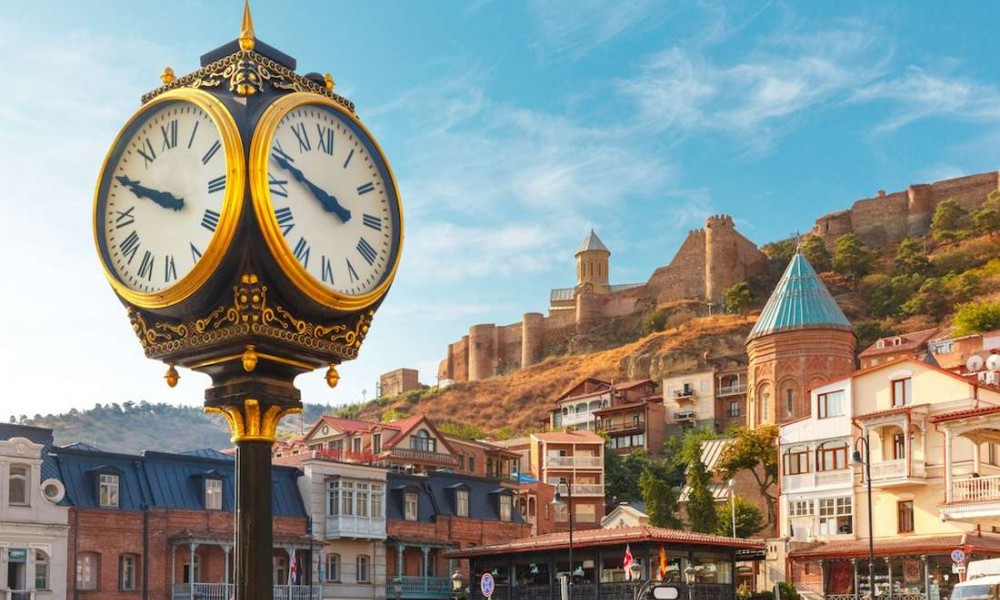 Each city of the world has own unique recognizable face that sticks in memories of travelers. Face of Tbilisi matures and improves with time, acquires noble European features without losing distinctive twinkle in its eyes…
Only recently the capital of Georgia, just as the entire country, had been an example of post-Soviet state. Frequent absence of water and light, low salaries, significant corruption – all of these were giving clear signs that something had gone wrong in Tbilisi. Situation began to change drastically in 2003 after the rose revolution…
Reforms, that have been carried out, made Georgian capital one of the safest and promising cities of the world. Nowadays Tbilisi constitutes a large metropolis with unique nature that holds virtually everything: old part of the city with majestic fortresses and cathedrals, state of the art business centers and most beautiful pristine nature. So it comes as no surprise that economy that is solidly tied to tourism goes through blistering upturn now. Travelers go there with pleasure to cognize mysterious Georgian soul, try national cuisine and get acquainted with charismatic local dwellers. Good thing is that the city reacts promptly to the demand and pleases with infrastructure that makes rest of guests as comfortable as possible.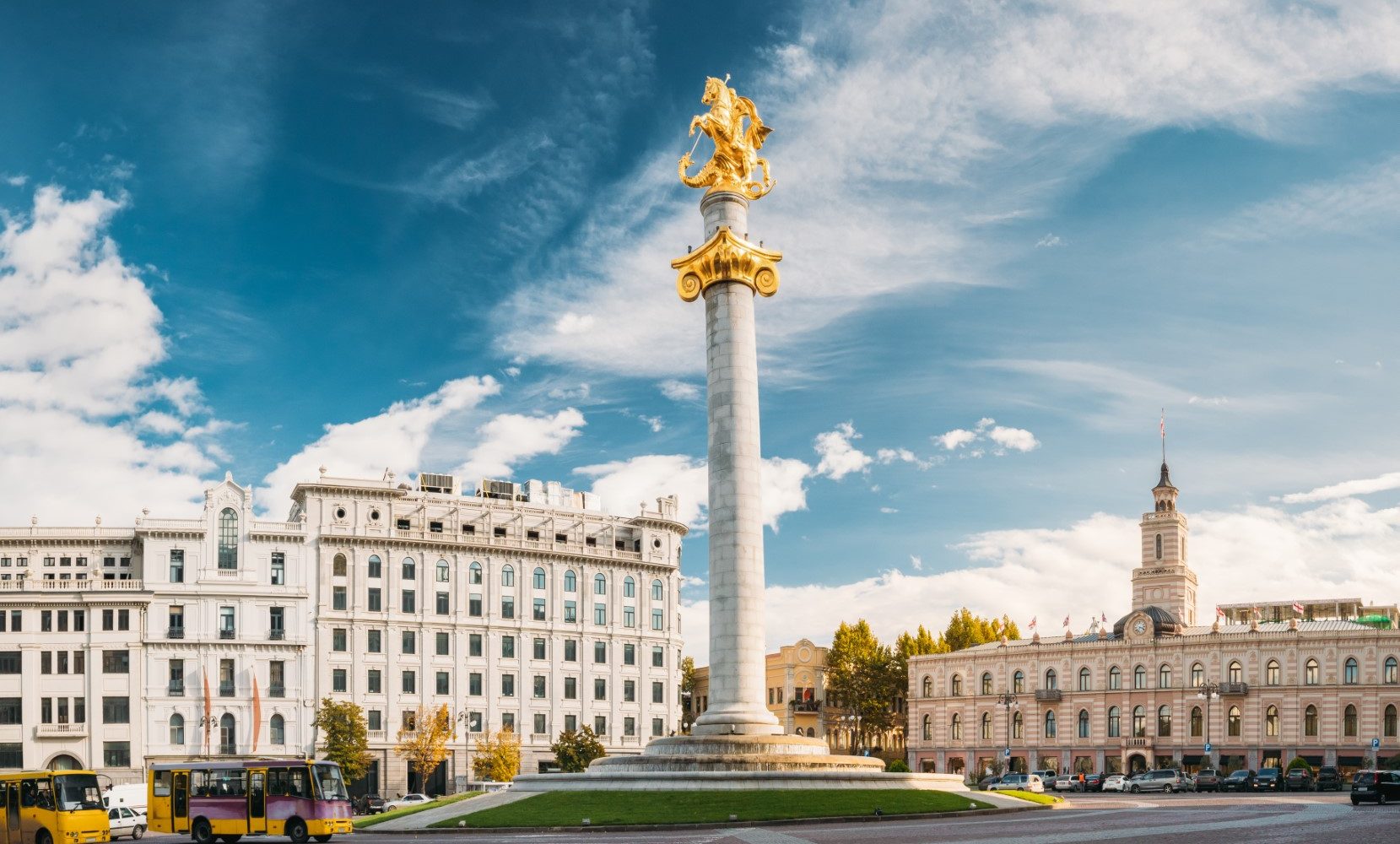 Photo everysteph.com
What catches the eye in the capital is numerous modern office buildings. The thing is that Tbilisi isn't only the capital of the country but also the center of Georgian business. Over a half of all Georgian companies conduct their business there so it is in the capital where half of existing job positions is concentrated. So there is nothing strange about the fact that a million and a half citizens, which is one third of entire population of the country, inhabit hospitable warm city ("tbili" is Georgian for "warm"). Strange as it may seem, everything is fine with transportation in Tbilisi. With regard to the fact that shortest transportation routes go through the city, new airport was built there, railway system was renewed and quality of roads improved. The only thing that remains is… no, not to envy but to follow the suit.
Read also: Architecture of art: New Georgian buildings
Alongside the title of the country's industrial business centre, there is a burden heavier and more important – title of the cultural center of Georgia. In recent times Tbilisi has been called Little Paris with increasing frequency. Sure enough, the comparison here isn't about state of mind or image of the city but about richness and diversity of cultural life instead. It is impossible to get bored in the city because interesting festivals, concerts and colorful Georgian celebrations where wine flows in streams and national music commoves blood are held there all the time.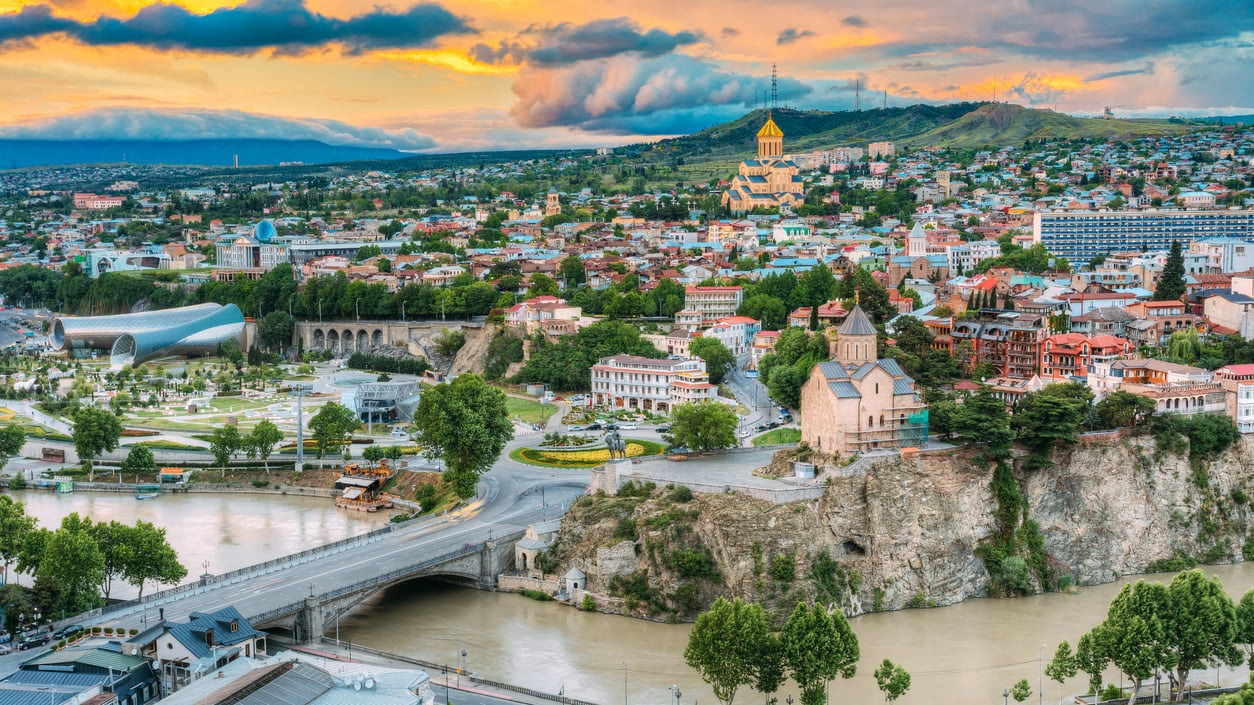 Photo skyticket.com
On weekdays, in turn, one can admire astonishing beauty of the city all day long. Distinctiveness starts with architecture that combines Italian, Dutch and French tones… This mix immediately creates this special, undreamed-of image of Georgian capital that strikes and astonishes each time as if it is the first. Tbilisi was founded in 5th century and spirit of ancient history is felt in every tiny street. Over a long time of its existence Tbilisi incurred arsons and devastations but it came back from the ashes each time, like a phoenix.
Read also: Postcards from Batumi

The Old Town, located in the foot of Mtatsminda Mountain, gets to be the largest attraction for tourists. There, on old-time paved streets, ancient buildings are lined up… On one side of the street – ancient ruins, on the other – museums that recreate canvas of history. Should your glance meet unusual constructions in eastern style, as if sticking from beneath the Earth, you'll know that those are tops of 16th century sulfur baths, located under the surface. Irakli's bath is considered to be the oldest while the most beautiful – Orbeliani bath – was once visited by Alexander Pushkin.
There is another important place that it is impossible to picture Tbilisi without – Rustaveli Avenue, named after a famous medieval Georgian poet. It stretches for a kilometer and a half and it is within this distance where you can forget time and get lost for entire day. On the both sides of the avenue there are souvenir shops, restaurants where one can try famous Georgian wine and various lovable landmarks that create true image of the city.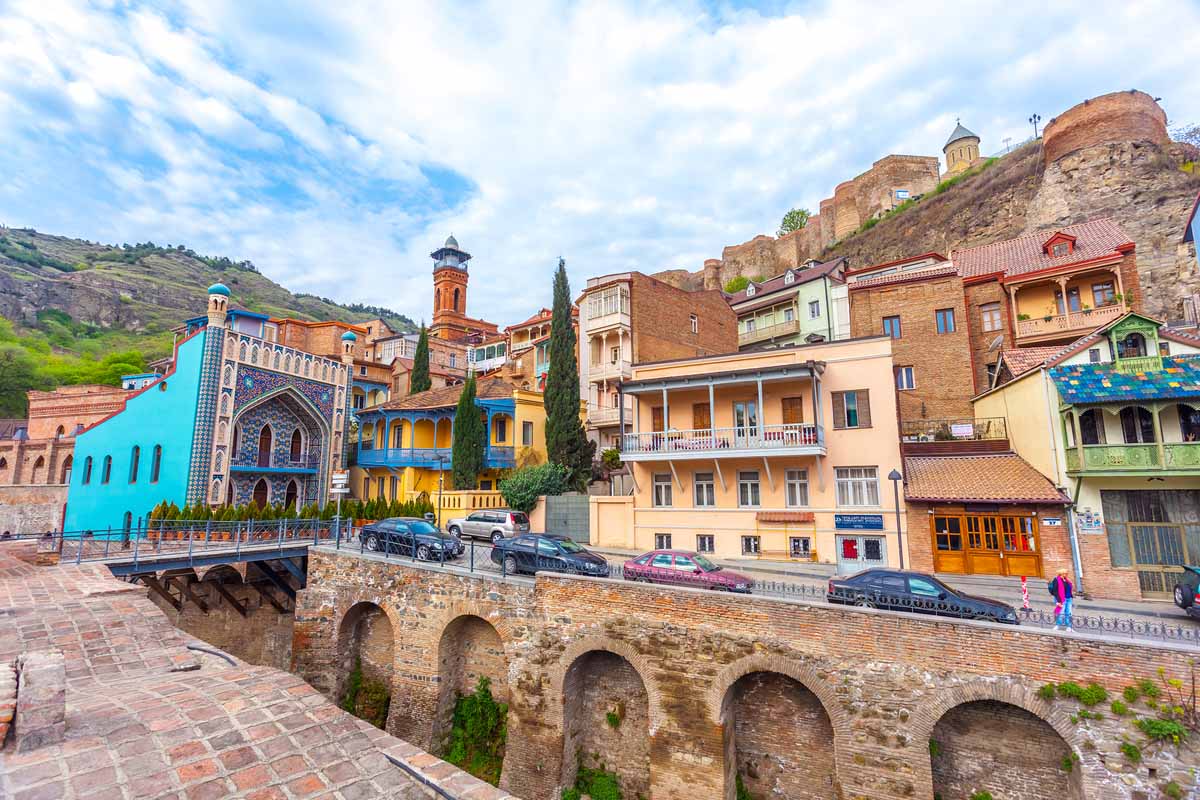 Photo prettywildworld.com
And among modern creations it is impossible not to distinguish the Bridge of Peace created by an Italian sculptor Michele de Lucchi. It establishes the route over the Kura River and attracts numerous lovers of high tech due to its unique design and glass cover. Another symbol of Georgia is a relatively new Sameba Cathedral erected in 2004. It is situated on the bank of the Kura River on a hill and its height reaches 101 meters. And the most ancient church is Anchiskhati.
This is probably what entire Georgia is about – amazing ability to harmoniously combine ancient traditions with blistering development in every sphere, to respect its great past but not to stay in it, looking only ahead.
Cover photo sterling.ge