Balkan constellation: 5 vibrant cities of the peninsula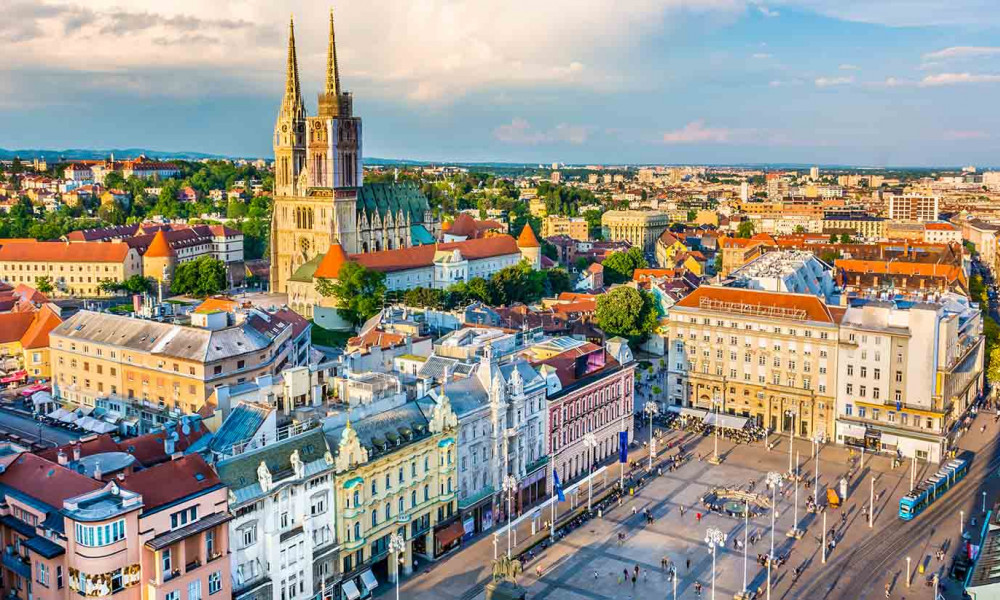 Often the Balkan countries are deemed to be something very close to us in terms of mentality, culture and traditions, that traveling there seems to be something second-rate, no match for a trip to Europe, or to some islands. However, today we would like to tell about magic Balkan cities that can compete with the much favoured tourist centres!
Dubrovnik, Croatia
What is it? Dubrovnik is a dramatic Croatian fortress city with rich and fascinating history. Founded 14 centuries ago, now it is a true architectural masterpiece, not similar to any other city.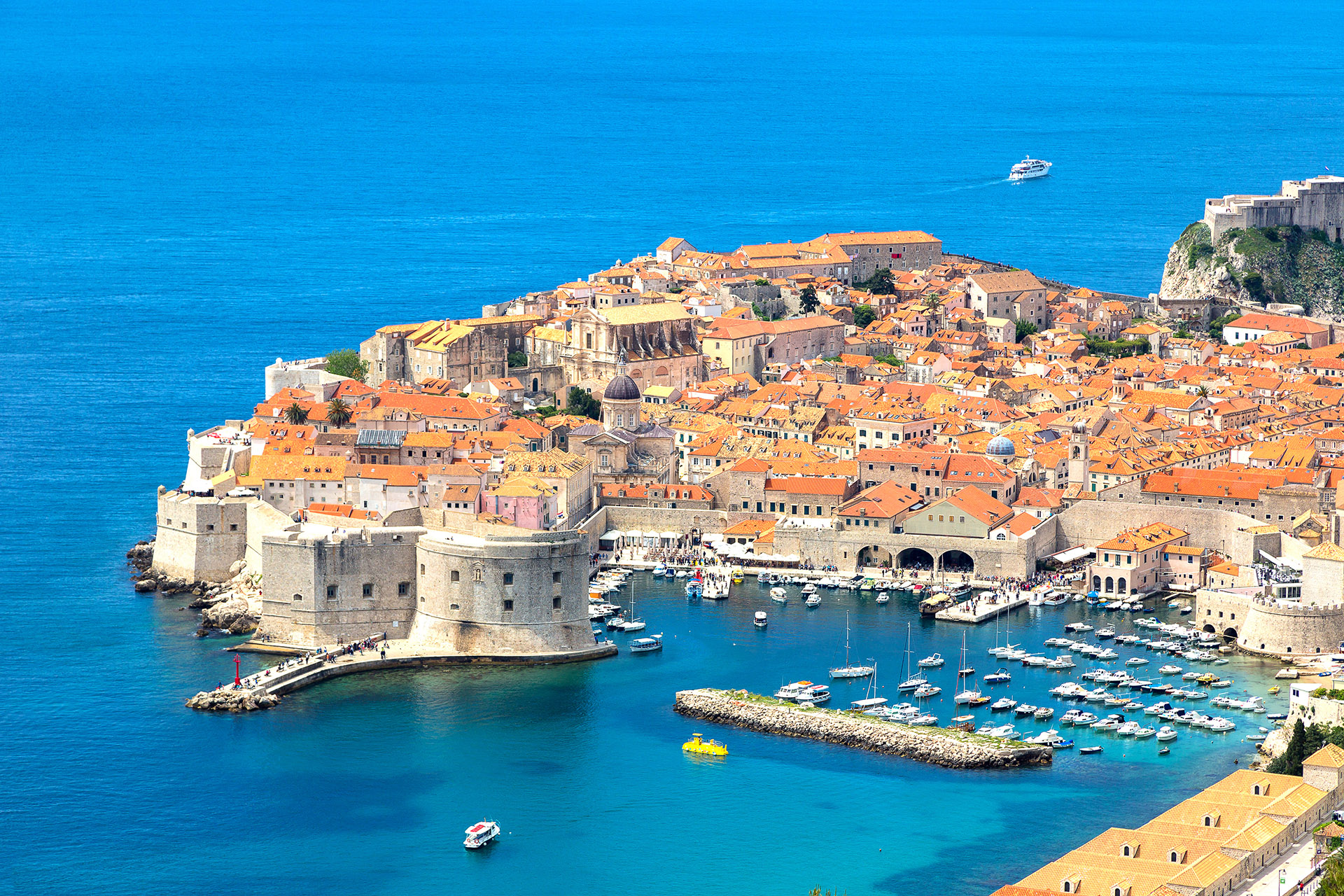 Photo conventusadria.com
Why should we go there?
Dubrovnik is listed by the UNESCO into top 3 most beautiful cities, along with Venice and Amsterdam
the city is one of the most popular resorts of the Adriatic Sea
the old part of the city is pedestrian zone
wines from the Peljesac peninsula are much loved there
What to see? Traveller and explorer Jacques Cousteau claimed that in Dubrovnik and its surroundings have the cleanest sea in the Adriatic. Particularly alluring are the local beaches, such as Lapad equipped with all tourist facilities: showers, deck chairs, sun umbrellas, changing rooms, sports facilities and restaurants catering for every taste. Fans of pubs will be delighted by expanses of Burbon street packed with a variety of places where you can drink a cocktails, listen to jazz and simply relax after a busy day.
Oia, Greece
What is it? With its sublime location, overlooking the calm blue waters, Oia is the most beautiful and romantic town on the Greek island of Santorini. Narrow streets, lots of stairs, winding alleyways and dead ends, fabulous old mills, miniature hotels - all this creates a magical atmosphere in which you want to disappear and forget about everything... It is here that visitors make the most photos of holiday on Santorini.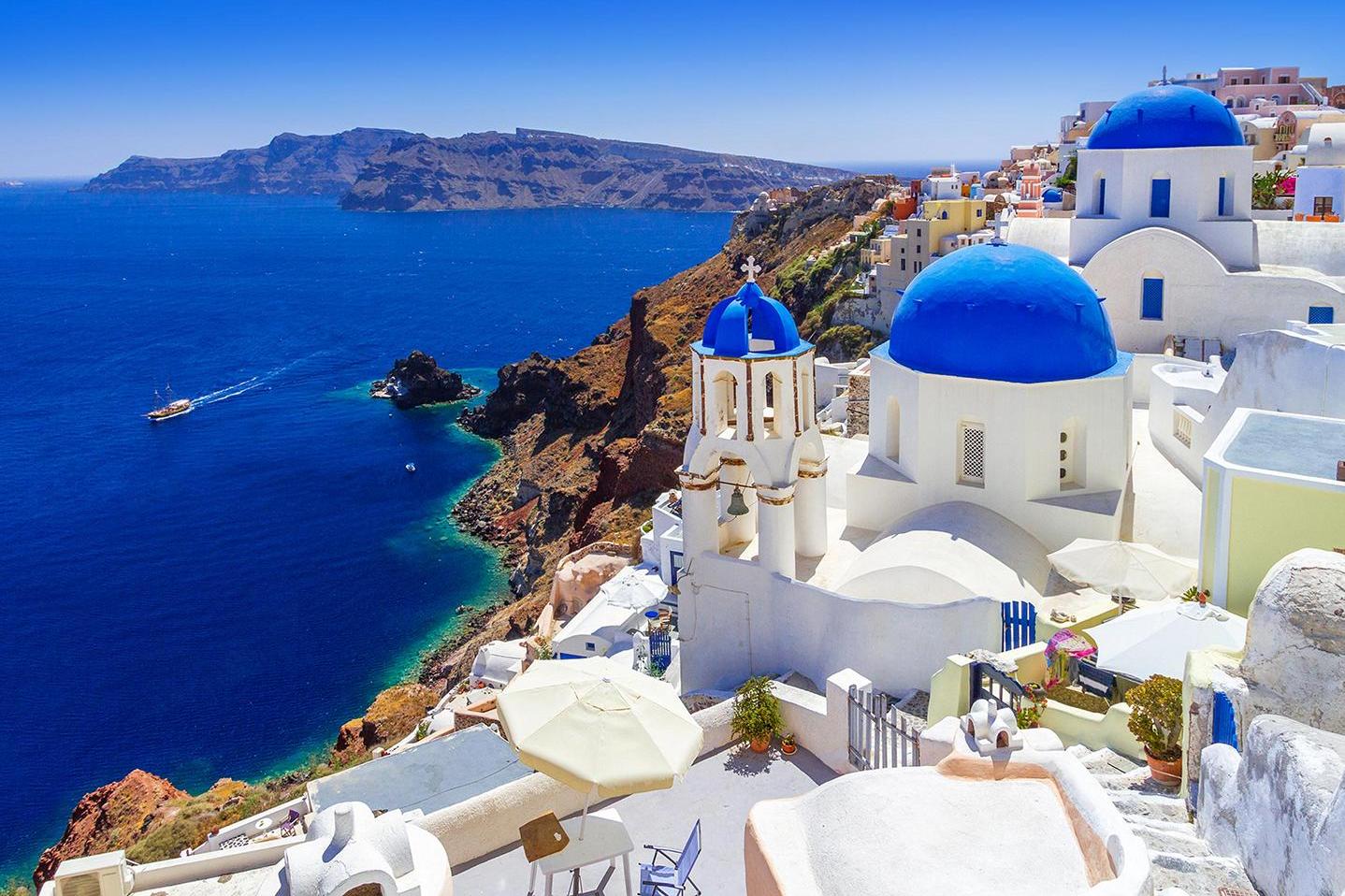 Photo adventuresquad.com
Why should we go there?
car traffic is prohibited in the town
there are unusual hotels that are designed for one family only
world famous sunsets in the western part of the city
spectacular views over the bays of Ammoudi and Armeni
almost all the buildings in the city are a blinding white
What to see? After admiring this snow-white city, it is worth to visit the Musical Instrument Museum, the Maritime Museum and several art galleries. Also do not miss the most important attraction, Oia's hallmarks, highlighted in almost all panoramic photos of the town - the Old Mill. For admirers of sunsets there is a special tourist tradition: in the evenings guests of the city get seated around, and are watching a magnificent action as if in the theatre. The disappearance of sun behind the horizon is accompanied by a storm of applause.
Read also: Kalamata. The heroic past and olive present and If you have 10 dollars and you are in Athens

Mostar, Bosnia and Herzegovina
What is it? Mostar (the name translates as "the guardian of the bridge") is the fourth largest city in Bosnia and Herzegovina. It was founded in 1566, the same year when there was built an Old Bridge over the Neretva River. The city is unique since it combines two different cultures - European and Asian. A majestic stone arc between reincarnated medieval towers, puts together two different worlds since ancient times.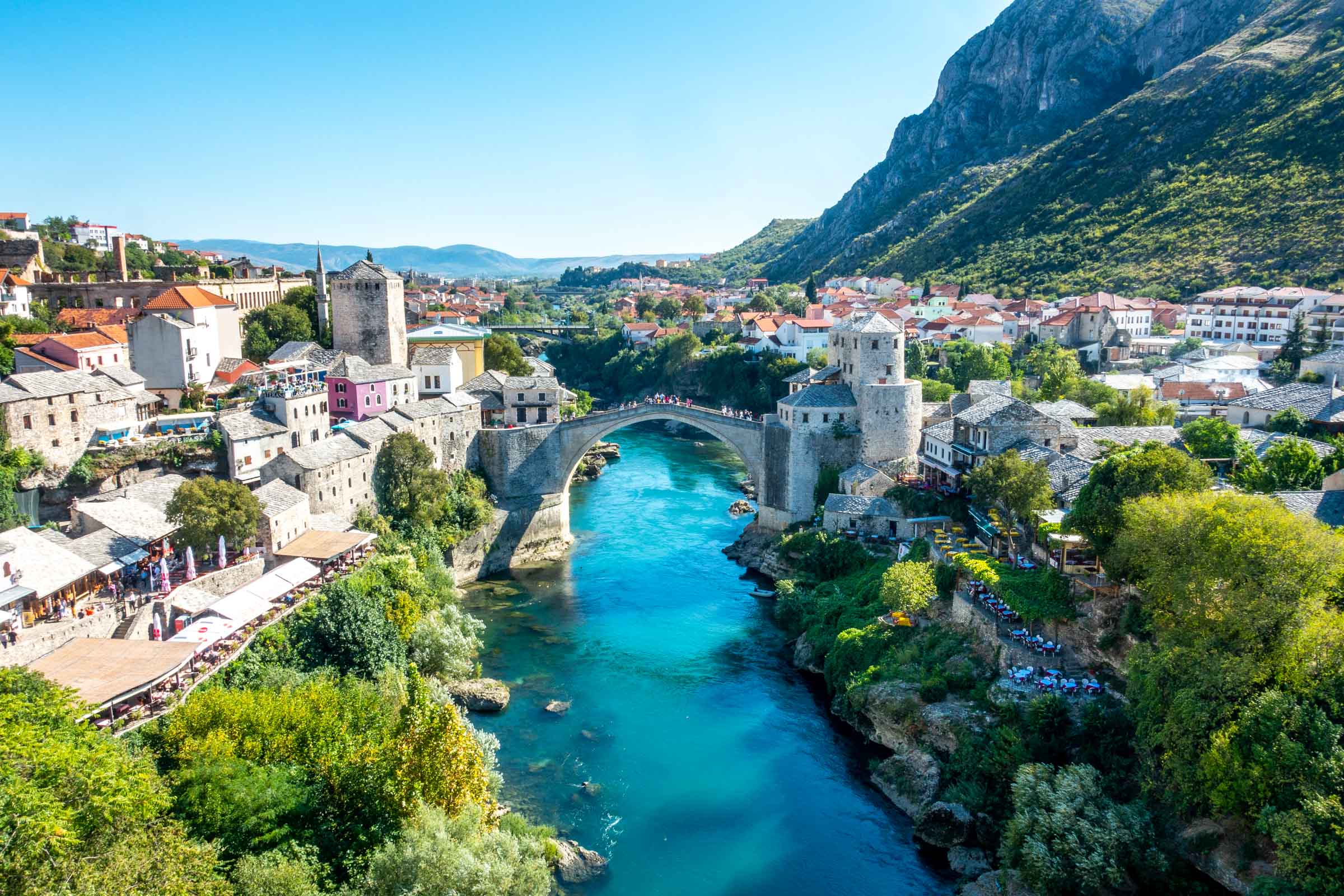 Photo traveladdicts.net
Why should we go there?
city is known throughout the world for its only one attraction - the bridge over the Neretva River
annually in late July, a festival of jumping from the bridge is held there, it is broadcast even by state channels of neighbouring countries
Mostar's main gastro attraction is local homemade brandy infused with herbs
What to see? Of course, the first must-see thing in Mostar is the legendary festival mentioned above. It is the essence of the city, continuing a long tradition, and bringing people together. But if you do not get here in the summer, you can still admire the beauty of the ancient bridge and its reflection in the water, which in the right perspective looks like a perfect circle shape. Also, in the city there is an interesting place to stay: a hotel Muslibegovic House. This is not a hotel, but a private ethnographic museum, where every room is decorated in old Bosnian style.
Piran, Slovenia
What is it? Old Slovenian town of Piran once collaborated with the Venetian Republic on long and fruitful terms. That time is considered to be the period of its heyday, when this glittering jewel in the Adriatic adopted a special Italian spirit.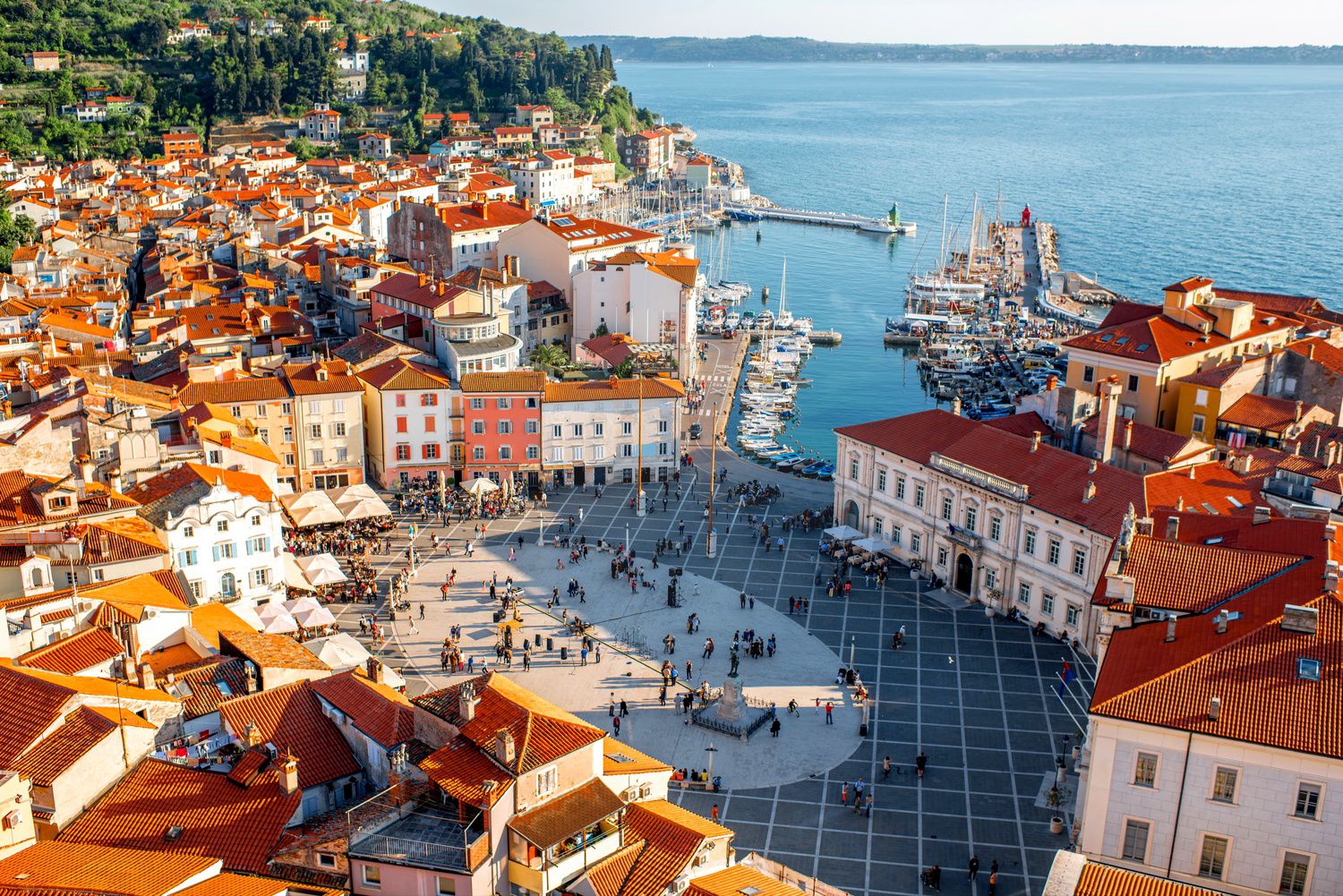 Photo neverendingfootsteps.com
Why should we go there?
architecture across Piran was influenced by Italy
local fish restaurants are the best on the coast of Slovenia
in the city there is an oval-shaped Giuseppe Tartini Square, which allegedly can be seen even from space
there are no high-rise buildings in the city, local houses are situated in tiers on a hillside
What to see? People often come to Piran from other cities due to quite democratic prices for food: here both small cafes and trendy restaurants are budget-friendly. For those who want to buy fruit or vegetables, the city has a large market. You can admire the old town from an ancient fortress wall with towers that is equipped as observation deck. The sense of awe never fails to descend when you set eyes on ginger rooftiles of numerous houses against bright azure waves of the Adriatic Sea. Those who wish to see real Venice, shall go to the local ferry, it takes three hours to reach from Piran to the city of bridges and canals.
Read also: Departure: Slovenia
Kotor, Montenegro
What is it? Sitting pretty on a small triangle of the coast, surrounded by the river, the mountains and the Adriatic Sea, Montenegrin town of Kotor is a delight for every eye. Soul of the city is its old part framed by ancient ramparts, this beautiful slice of the past preserved many attractions.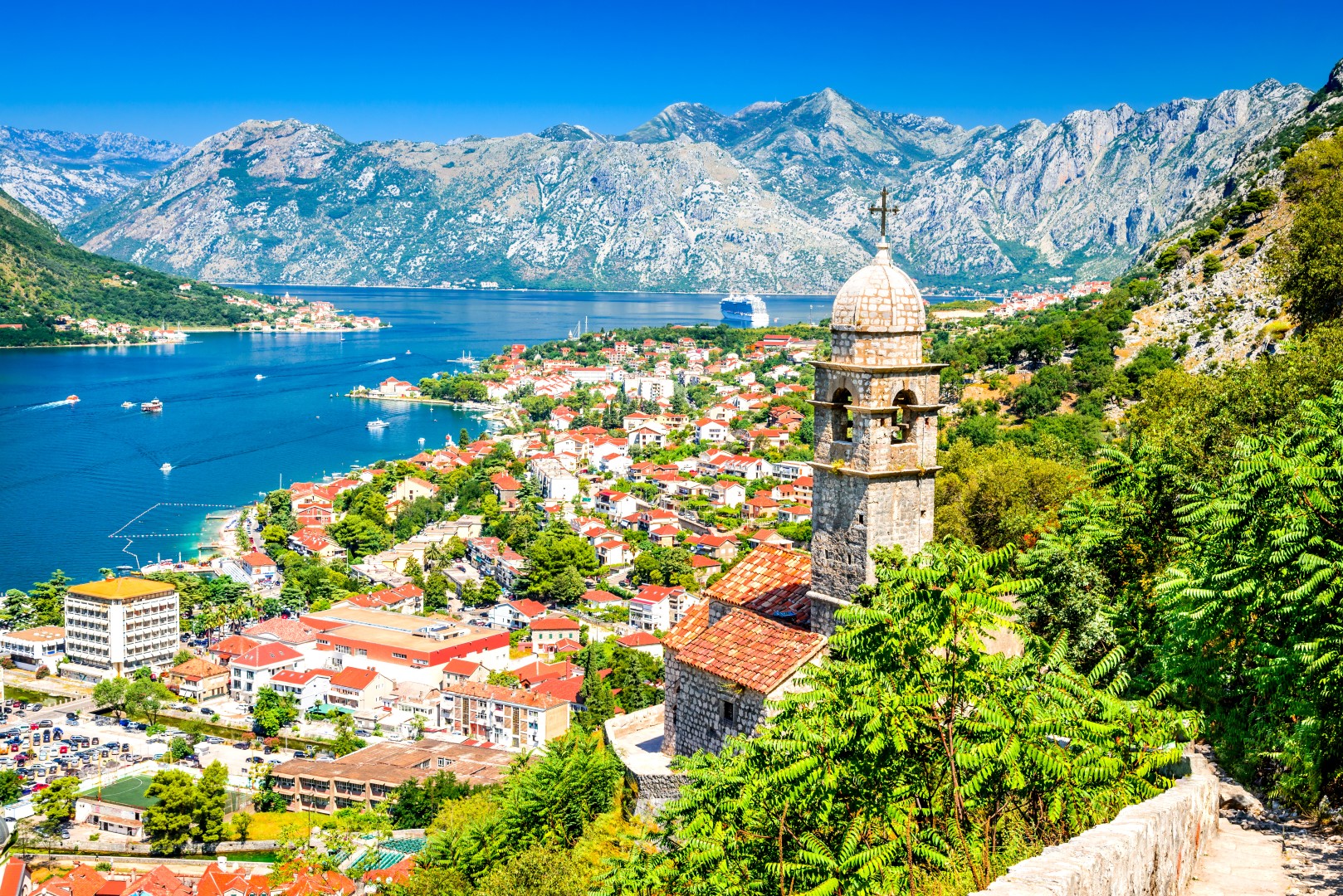 Photo sailingeurope.com
Why should we go there?
it is very easy to get lost in the old quarter, the Cathedral of Saint Tryphon is a reference point
Kotor hosts many festivals, in particular, KotorART Arts Festival
Old Town included into the UNESCO list of World Heritage sites
Kotor Bay is the deepest bay of natural origin on the Adriatic Sea
What to see? Besides festivals of different types, vibrant carnivals are held there. National folk festivals have acquired international status long ago. Also, staying in this beautiful coastal town, do not miss a chance to visit the ancient fortress of Kotor, offering dramatic views of endless shimmer of the Adriatic.
Cover photo worldtravelguide.net