Alternative day in Copenhagen: Christiania, the bulwark of freedom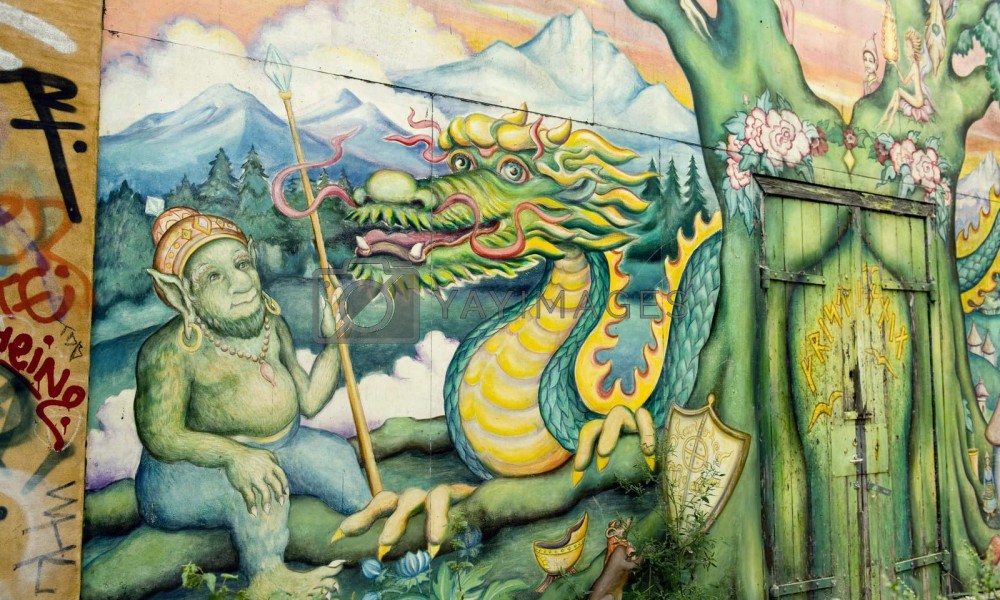 All of us, one way or another, strive for freedom, personal or national, material or spiritual, which is illusory and unachievable, and at the same time very real in terms of our ideas about it. An alternative village of Christiania in the centre of the Danish capital is another attempt to achieve complete freedom from the laws of the material world.
This experiment seems to be wild, but the arbitrary lawlessness shall not scare you. A day spent inside free-spirited culture is a great emotional shake-up, which gives the feeling of life heartbeat.
In a quiet town by the sea...
The world of fairy tales by Anderson, the Little Mermaid, royal palaces, shy warmth of Scandinavia – that is how Denmark usually attracts tourists. But for the true romantic travellers, for the most unusual and rebellious people (or those who want to become like this, or those who want at least to feel taste of the spirit of genuine freedom) Denmark saved up something special, a hotly-discussed area Christiania. This is underground art, unique flavour and a bit of dope...
Do not even trouble yourself packing your bags: sneakers, jeans, a mess in head and in hair, a ticket to Copenhagen, so you get into a fairy tale. This micro-culture within Denmark, with a touch of the revolutionary tragedy, tells its guests about the world of love and happiness, free from material bondage.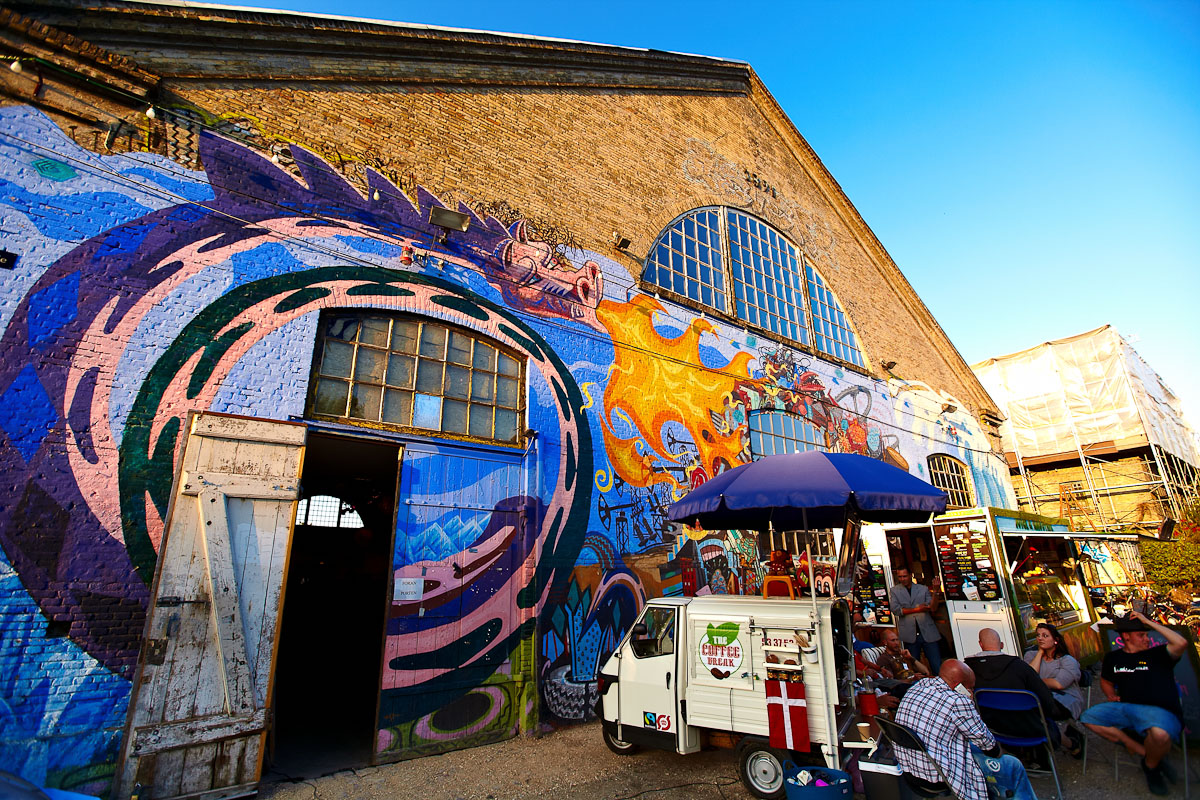 Photo yauhen-buzuk.livejournal.com
Christiania: what is it?
Christiania or "Free City" is just the embodiment of the cherished hippie dream. It has drawn nonconformists from across the globe: potheads, hippies, artists, idealists, and non-materialists poured in to this alternative area on the island of Amo (Copenhagen neighbourhood, Christianshavn district) in the hopes of creating their own utopia. The name of the unique community has nothing to do with religion. It origins from the word Kristiania - once abandoned military area of the king by the name of Kristian.
Therefore, the free town of Christiania, ironically, consists of the military ramparts and barracks. Erected in 1617, they are the best sample of military fortification of the 17th century. And in the 70s of the last century dreadlocks-heavy commune spontaneously emerged on the ruins and was officially proclaimed.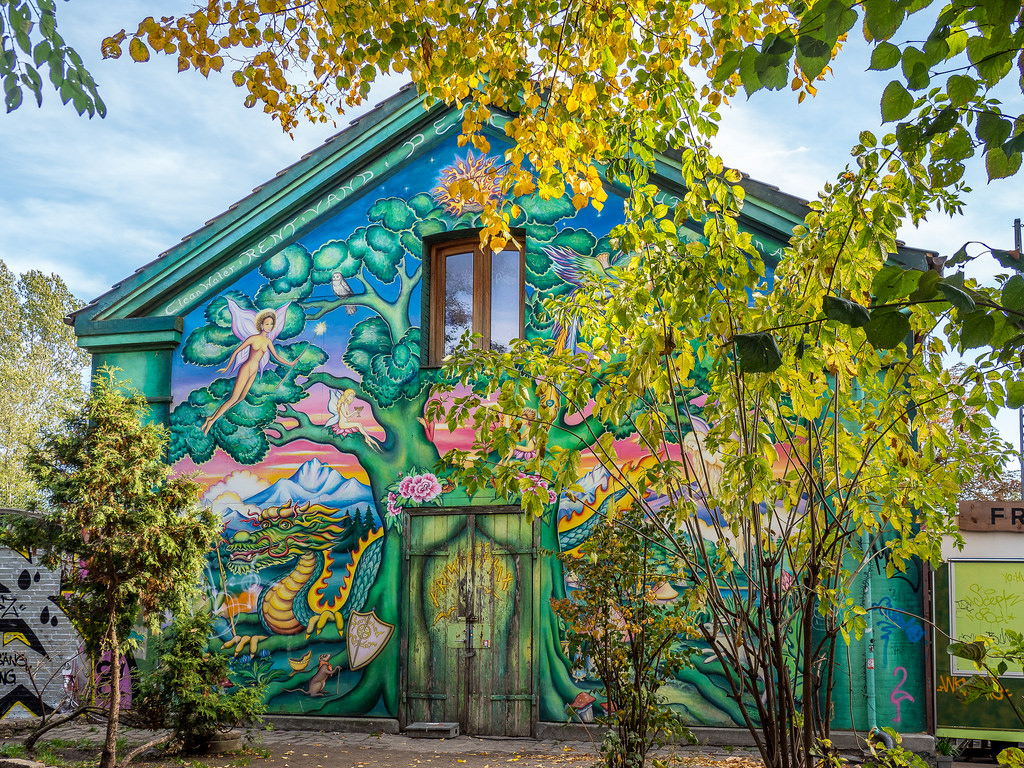 Photo hiveminer.com
Christiania: how to get there?
The main landmark on the road to funky hippy village is the Church of the Saviour in the centre of Copenhagen. It is situated at Sankt Annæ Gade, 29. This building is hard to miss - it towers over the capital of Denmark as the highest tower. Then, Copenhagen's colourful free city can be reached in two ways. Sailing via the Øresund Strait, plied with numerous river buses. Or walking: green lights can help you follow right road. However, you will have to wander the slums before you reach the main street of the free town.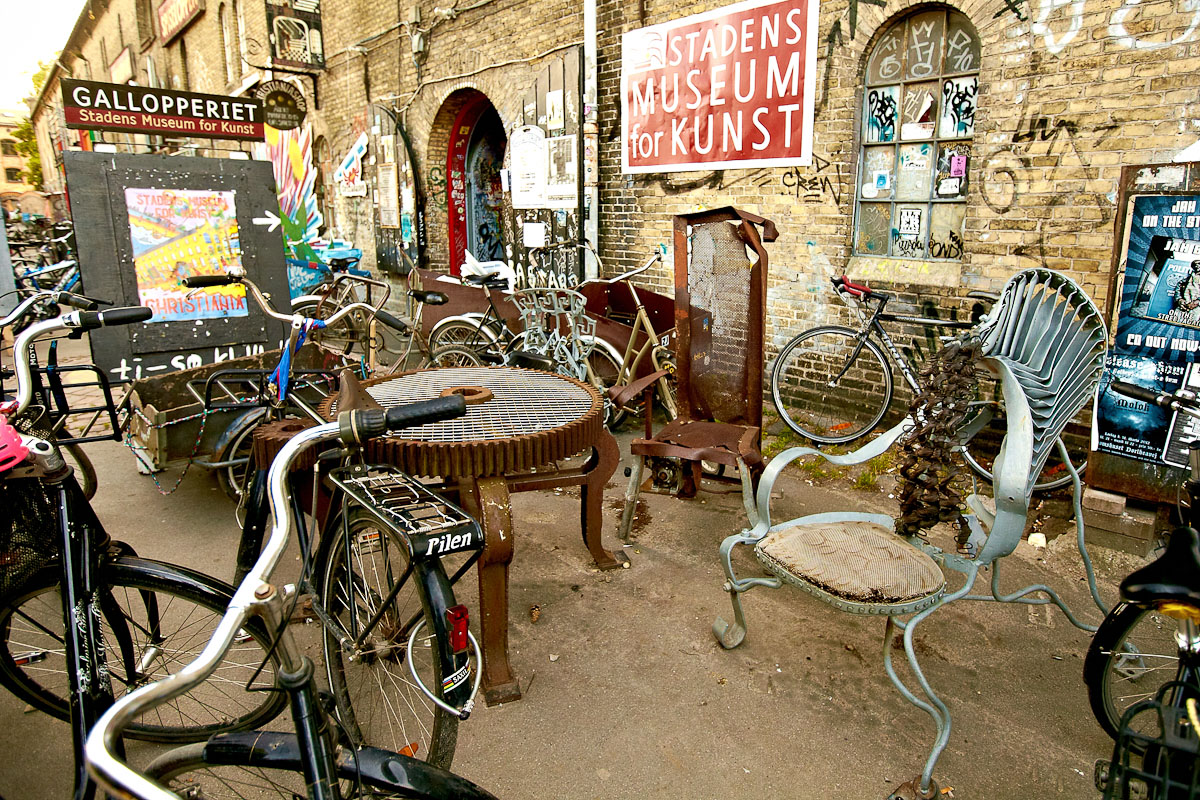 Photo yauhen-buzuk.livejournal.com
Pusher Street: street of the pure mind
Its main feature is Pusher Street where cannabis is permitted for sale. According to local residents, it is needed just to turn off the brain from the prejudices of the world. Initially, trade in this street was the main source of revenue for the local Christianites. It used to be a chaotic sale place, which quite justify the unpleasant name of the street. Trade was refined and transformed into some kind of art market. Each outlet has a distinctive design and the product is packed in proper boxes, even in the shape of chocolate bars. These are accompanied with exclusive pipes, hookah and so on.
But be that as it may, Pusher Street gives rise to a more than reprehensible attitude towards the state itself and justifies its rather tragic fate with all sorts of surveillance, round-ups, "against" courts, revolutions and brawls. Nevertheless, the representatives of the Danish government do not disdain to spend their leisure time here: it is too interesting and good in this small separate world ... For example, once former Danish Justice Minister Mete Frederiksen spent Christmas holidays here.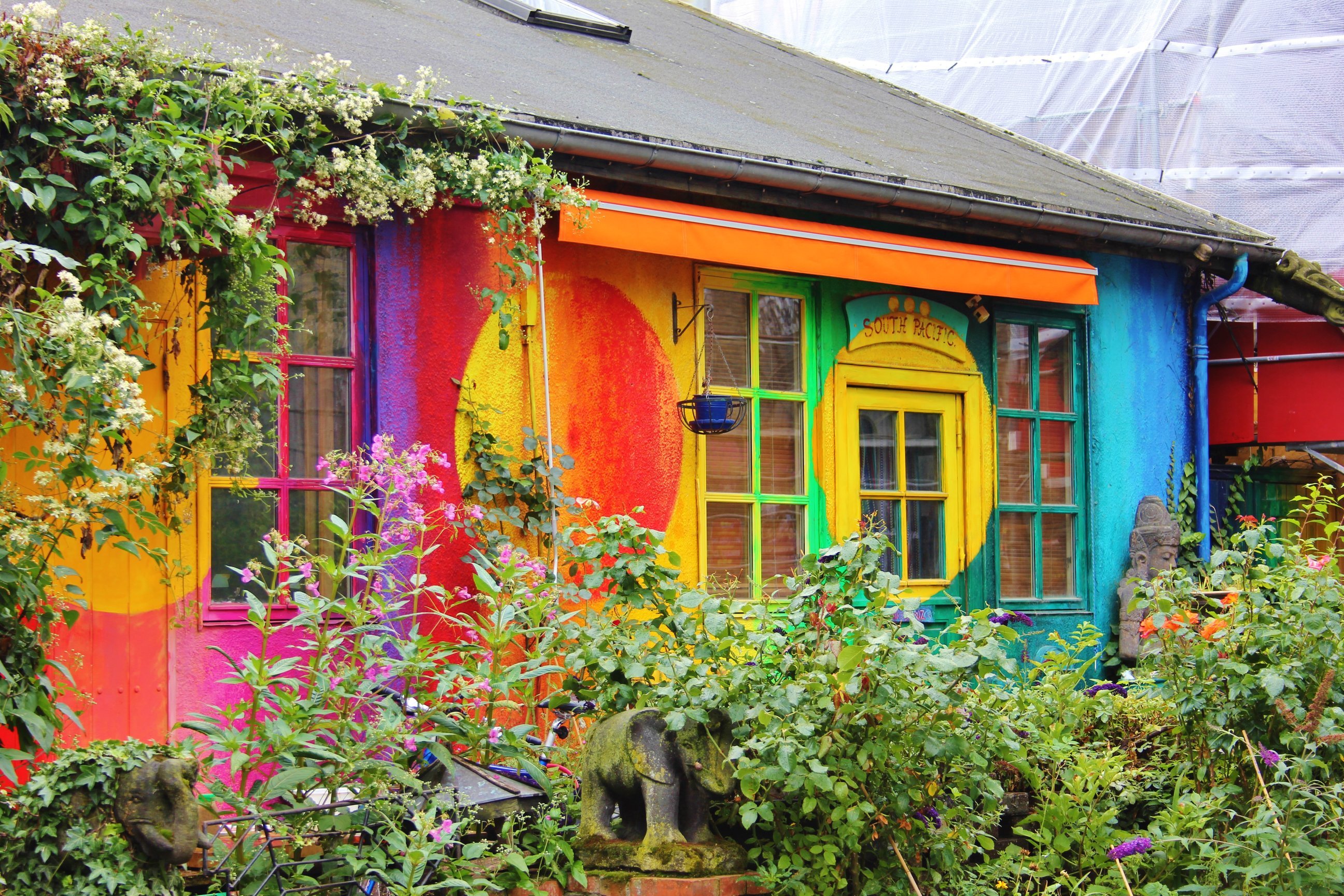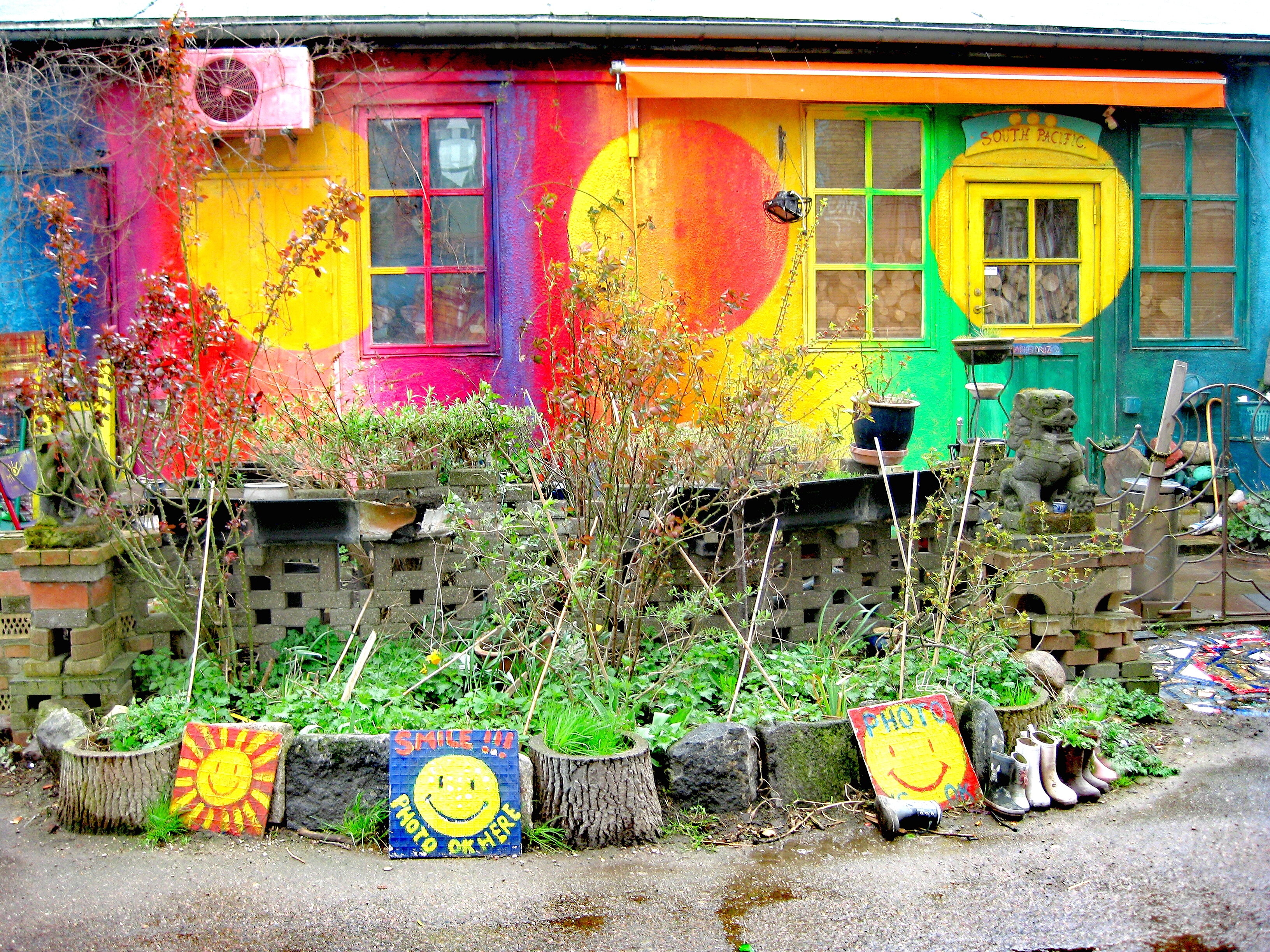 Photos theculturemap.com and veganswithappetites.com
Running by their own laws: a mockery of the foundations of society

Now in Christiania live not more than a thousand people. It has its own laws, which rather should be called liberties. For instance, the freedom from cars, residents move around the city on foot or by bicycle.
By virtue of this anarchistic spirit, drugs is a serious problem of Christiania. Naturally, their development in a favourable environment has moved from marijuana to more severe "stimulants" up to heroin. And then Denmark authorities intervened in the case, they ordered dealers and addicts withdraw from Christiania. So another civil war began. But do not worry, the outcome was in favour of Denmark's hippie commune, and supporters and pushers of heroin buzz were expelled from the city of freedom.
Christiania is outstanding by its sense of humour enhanced with art flavour. Let's say they have a negative attitude to law enforcement agencies, which occasionally make forays into the city. So they put in fashion their local police uniform, which instead of the inscription POLITI (police) shows IDIOTI.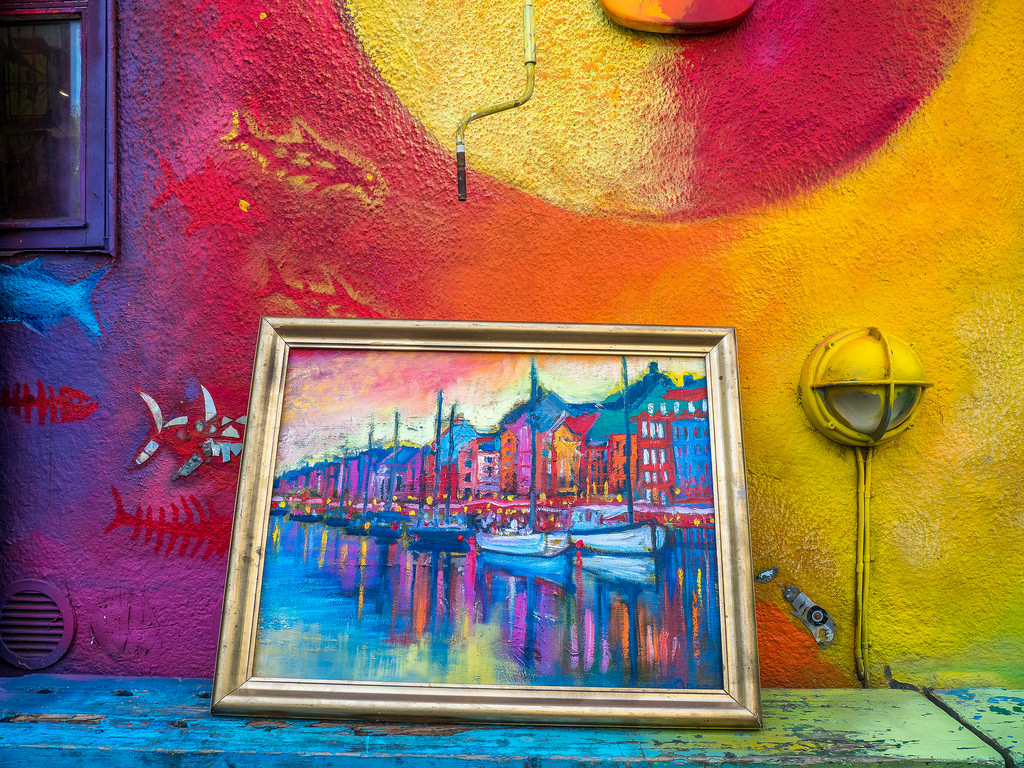 Photo hiveminer.com
What to see?
The stormy history can indicate to a tourist that excursion to Christiania is an extreme and risky adventure. If you think so, then get rid of your prejudices, any fear is groundless. Christiania still retains the community-focused, hippie-like spirit of its original inhabitants. Without need to struggle for commercial survival, art is thriving here instead of crime. So you should not visit the community only if you are a snob.
Always colourful and endlessly controversial, Christiania is a unique place to see. The appearance of the house shows a strange works of architecture. The barracks, which were decorated in every way, were not enough for everyone, and people began to build houses with their own hands, using any materials available. They look like dog kennels, wooden houses, and construction trailers, artistically decorated with graffiti and various vintage bagatelles.
Read also about another Denmark: Treasures of Denmark

Many small laid-back eateries with their own styles and concepts are scattered throughout the city. Here you can enjoy coffee or tea and have some simple meal. Refreshments can be enjoyed directly on the canal waters in floating fast food outlets.
As for souvenirs, which are sold in abundance at the main entrance and on the main street, they can be called luxury goods. After all, each of them is an individual piece-work and similar cannot be found all over the world. For instance, at 3 euros only you can buy a fancy bracelet. In addition, there are second-hand shops and various stores with eco-friendly products.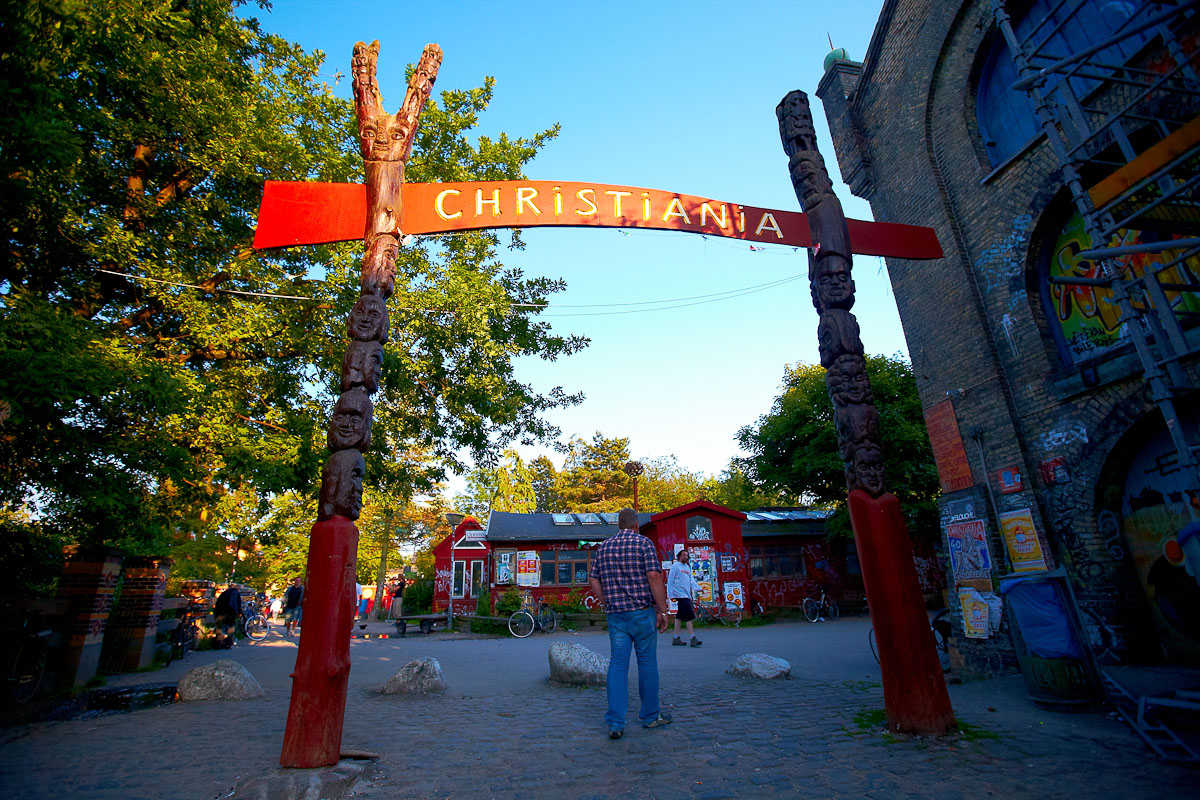 Photo yauhen-buzuk.livejournal.com
Non-stop performance
The Christiania has its theatres, clubs, cabarets and even state football contests. Dinner parties, performances and shows are held here every night, so whenever you get to Christiania, you will always find entertainment. The same night there can be some bright events. For instance, in the club Rock Machine there is an experimental piece, Meadow of Peace plays football competitions, and Solvognen features techno rave.
Special pride of the Free City is considered to be a concert hall Grey Hall which hosts the best underground concerts around the world. In addition to local bands, here perform the best Danish musicians and legends like Metallica, Green Day, Portishead.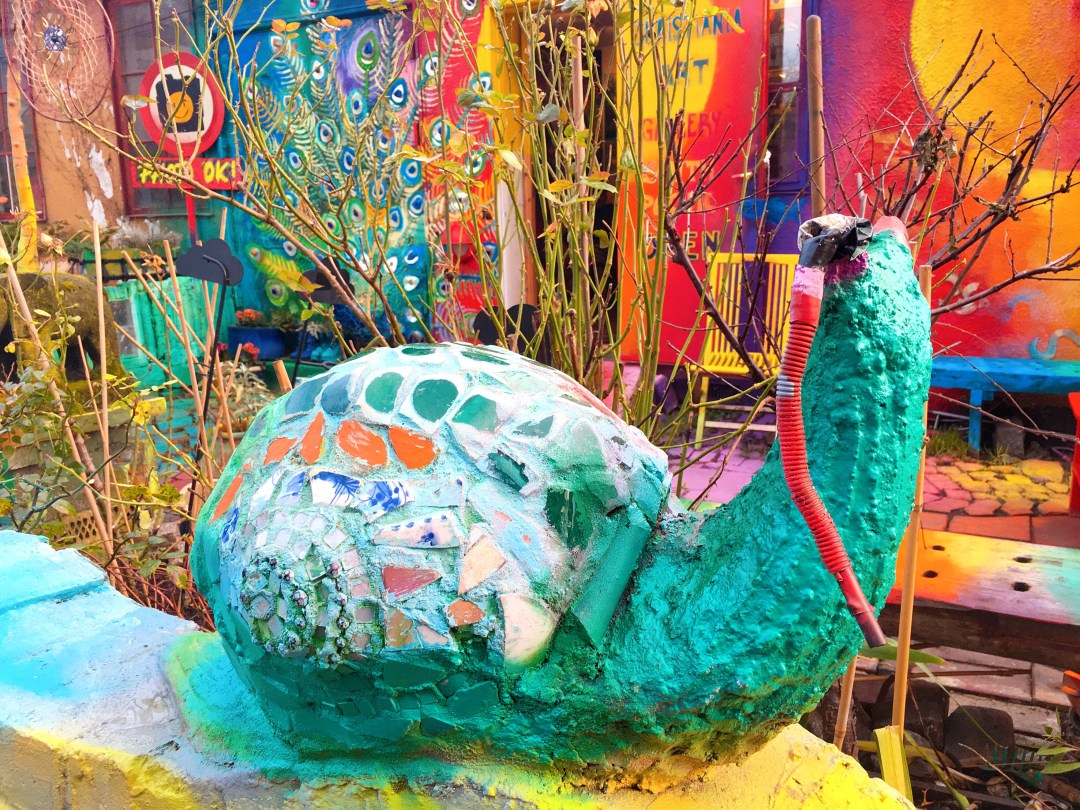 Photo wheregoesrose.com
Cover photo yayimages.com