Archi-unusual Architecture in Ukrainian Latitudes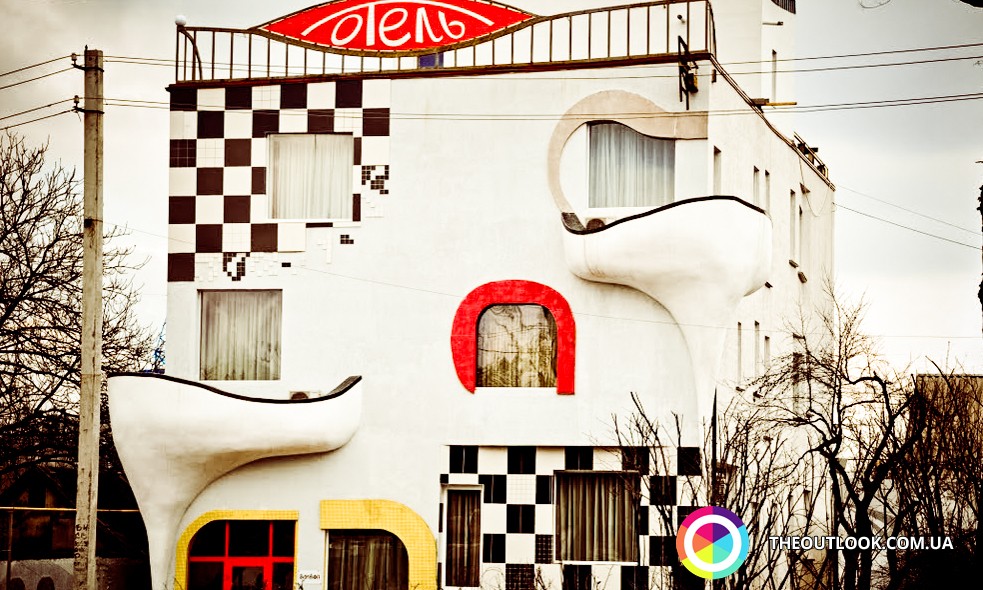 Morning, as we know from commercials, starts with coffee while July is welcomed in Ukraine with the Architect's Day. Through the Golden Gates of Kiev – first significant landmark – entered a thousand-year-long era of urban development with very own style. Splendor of palaces and shine of churches' domes, might of castles and austerity of soviet realism – this is the façade of architectural Ukraine. However we will try and enter through a back door.
Let us start the list of the most extraordinary buildings of our country with our own Tower of Pisa. It is "falling" in Zaporozhye, leaning over scurrying pedestrians at 3 degrees. As is the case of Italian original, the construction's tilt wasn't designed purposely and emerged due to foundation sag. The tower was designed in 1949 by Ivan Kozliner within the framework of the city's post-war renovation.
Donetsk hotel BonBon makes one fall in love with it from the very first sight. Architecture connoisseurs subconsciously recall the name of Antoni Gaudi for it seems like the peculiar house bares signs of Catalan maestro's hand. However in the hotel they would assure you that these were works of Austrian artist Friedensreich Hundertwasser that influenced the design. An experienced eye can hit resemblance of the Crooked House from Sopot of Poland. The hotel was built in 2011.
Speaking of hotel business, "Salute" of Kiev comes to mind instantly. This year the offspring of an architect Abraham Miletsky, who has made a reality of a project that was expensive even by soviet measurements, celebrates its thirtieth birthday. Due to similarity of
architectural solutions and biological forms, experts often reckon the hotel among so-called "metabolism" style.
In Chernovtsy Ship House cuts its way through the expanse of asphalt waves. It anchored on the intersection of busy streets in 19th century. Legend has it that "Zum Goldenen Shiff" (Golden Ship) Inn used to be here. Therefore locals still call their place of interest "Shiff", i.e. "vessel" in German.
Without leaving Chernovtsy, you should definitely step by Yuriy Fedkovych National University. The institution ranks among the best universities in Ukraine and romantic architecture is sure to add special charm to getting education inside its walls.
We'll conclude our outlook with modern masterpiece of Ukrainian architectural mind. Pysanka (Easter egg) Museum in Kolomya (Ivano-Frankovsk administrative region) was opened in 2000. Main entrance is executed in the shape of a 14-meter high egg made of colorful glass. Concept of the museum's display was elaborated by its director Yaroslava Tkachuk with the project brought into life by local artists Myroslav Yasynskiy and Vasyl Andrushko. Now that we mention it, Kolomya egg is the world's biggest among painted ones.