In search of gastronomic Eldorado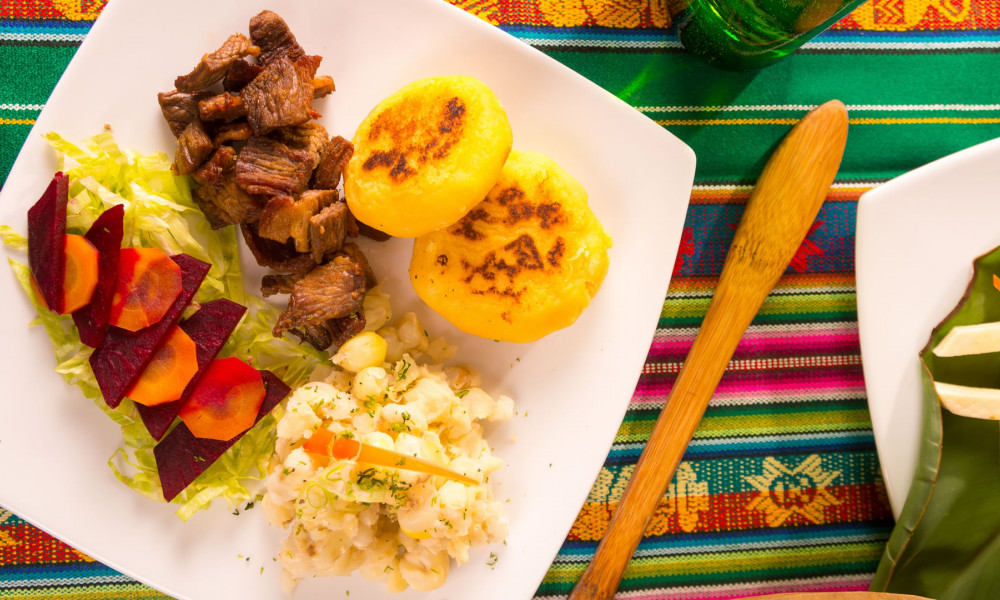 I admit, this is not an easy topic - to describe the kitchen, which has recently become the main one for me. Now I live in Ecuador and have not tasted cabbage rolls, dumplings and even black bread for a long time. Although, I confess, I cooked borsch several times. Someone else's kitchen initially surprises, then becomes cloying and only at the third stage of acquaintance with it, begins to open its secrets.
Perhaps, I'm rather an observer than an expert, and sometimes I remind myself a person in the street that I was admitted to a buffet in one of the hotels and now I'm trying to fit into my standard plate everything that can hold onto it "without a hitch" about the combination of tastes and aromas. But even my meager knowledge is enough to divide the Ecuadorian cuisine into four conditional parts. And although the inhabitants of the country use the same products, the final dishes still have differences. They are divided into those that prepare the inhabitants of the mountainous part of the country, the inhabitants of the coastal areas, the Indians of the Amazon and those who often appear on the table of those who live in the Galapagos Islands. The differences are dictated by the environment: air temperature, soil fertility, the number of sunny days, the availability of water sources and, of course, traditions. The equadors are used to buying products in local markets namely everything that neighbors grow. Therefore, tomatoes, pumpkins, peppers, fish and meat imported from other regions of the country are more exotic for them than the normal one. For example, if this is a Pacific coastal zone, then fish and seafood make up the majority of the menu. A special place is given to shrimp and tuna. With the gifts of the ocean people cook soups. To stew fried fish offer rice, popcorn, chips with bananas. Given the warm coastal climate, in this area of Ecuador there are a lot of fruit and juice from them. In the mountainous parts of the country, Andes residents prefer pork, corn, potatoes, and beans. In the recipe of their dishes they use a lot of herbs, for example, wild garlic, lemongrass, mint, kultantro, parsley, citronella, stevia, basil, herbalus. In the valleys grows a lot of vegetables, berries, which take as a basis for many recipes. In the Amazon - there is the abundance of fruit. Actually, this region is the main supplier of juicy delicacies for the country. The main food in the jungle is simple. Rice, bananas, yucca, game and river fish are the main products.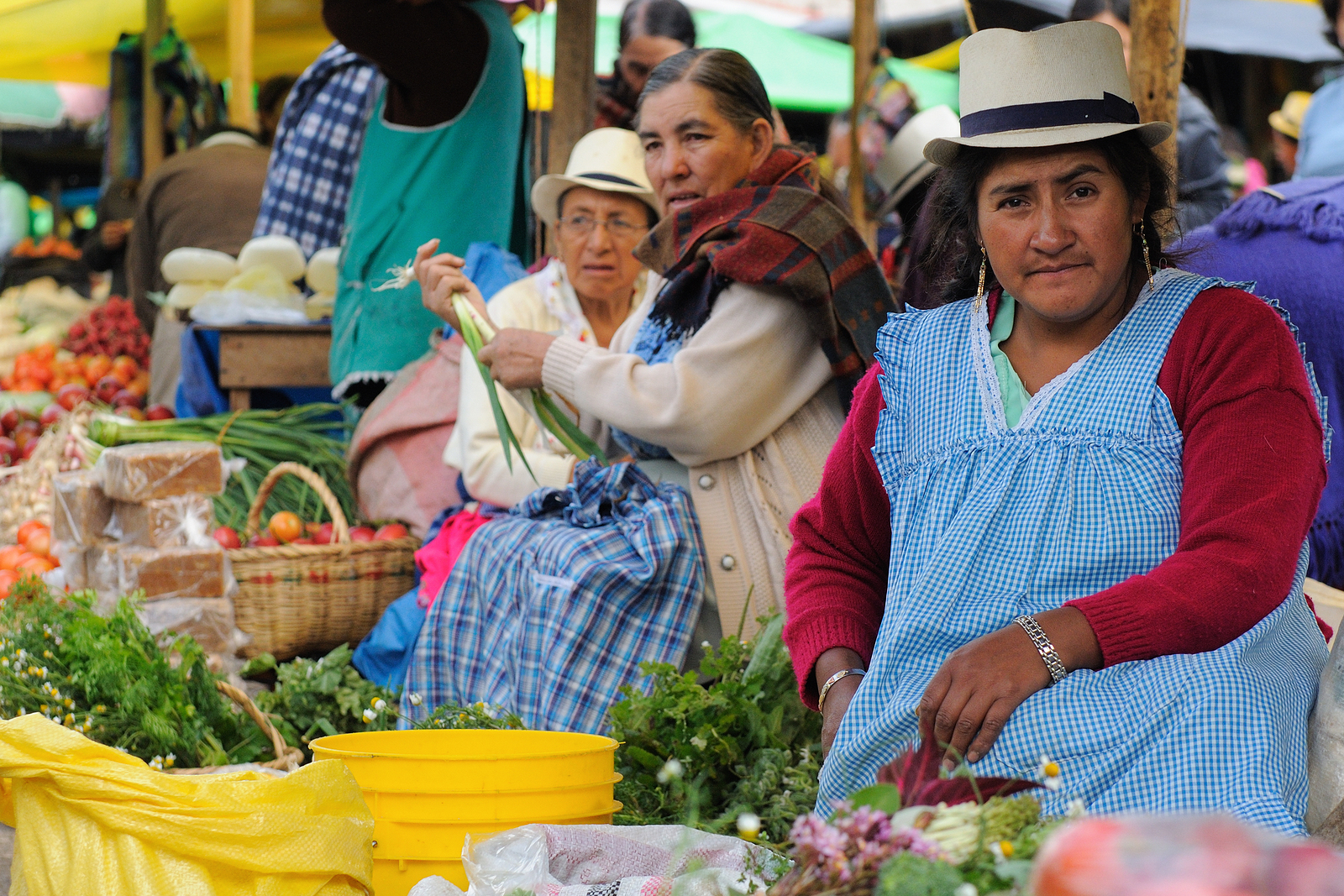 Photo realworldholidays.co.uk
MYTHS
You must immediately debunk some culinary myths about Ecuador. Europeans for some reason are confident that the dishes here are very sharp and salty. But it is not. Many of them to an unaccustomed person are brought to salt. Knowing this, Ecuadorians often put salt near the guest. In addition, hot sauce is almost always served here. It is called "aji". A sauce made from the fruits of a tomato tree with the addition of chili, onion and lemon.
Others believe that there are bananas at every step. Of course, in these lands many species of this plant grow. And they are often cooked with meat, cheese, they are added to the soup, served as a side dish and even strung on a skewer. However, they are not so many of them on the table, so that you might get bored of them. Rice is really enough in here. Ecuadorians eat it almost every day. Sometimes it is replaced by potatoes which is a lot in here. After all, it was originally the inhabitants of the Andes who began to cultivate it. For gourmets there is also yucca similar in taste to potatoes. For me, it is a little tasteless, but with the same sauce aji is good enough.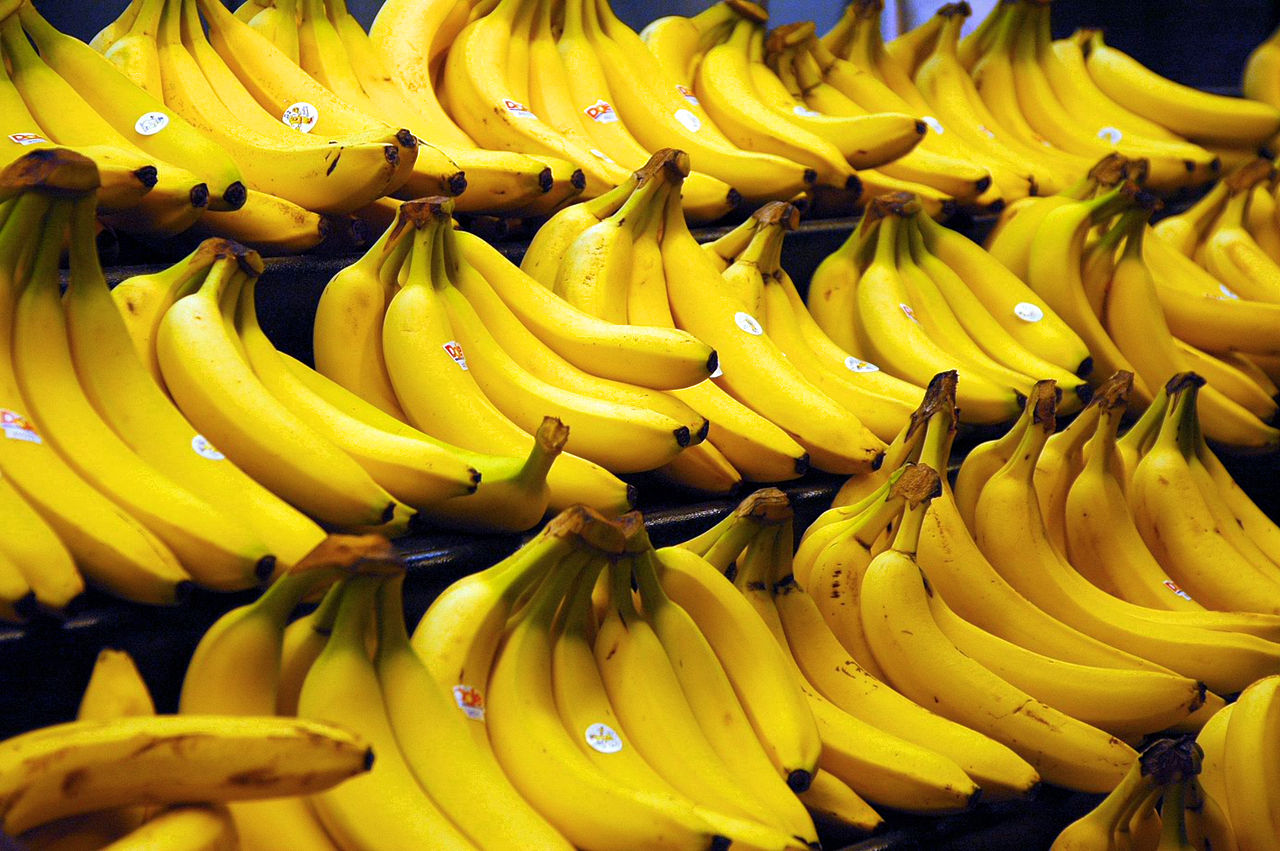 Photo wikiwand.com
Well, coffee is another misconception about Ecuador. Europeans are confident in their country while going to any restaurant or roadside cafe, you can taste the most delicious drink from the grains in the world. However, this is not true. Although the country is one of the largest suppliers of coffee in the world, in almost all public catering it brew is tasteless, very reminiscent of instant drink. This phenomenon has several explanations. First, there is no tradition to drink coffee. Locals prefer freshly squeezed juices, herbal teas or just water. And more recently, manufacturers of carbonated sugary drinks have occupied their niche here. Finally, I have not been to coffee shops with expensive professional equipment and baristas, who even have light doubts that they are doing something wrong. But, these are all not significant problems, especially when nothing prevents you from buying a package of excellent ground coffee in the nearest market, brew a cup of yourself and sip a hot drink, contemplating the snow-capped peaks of the Andes.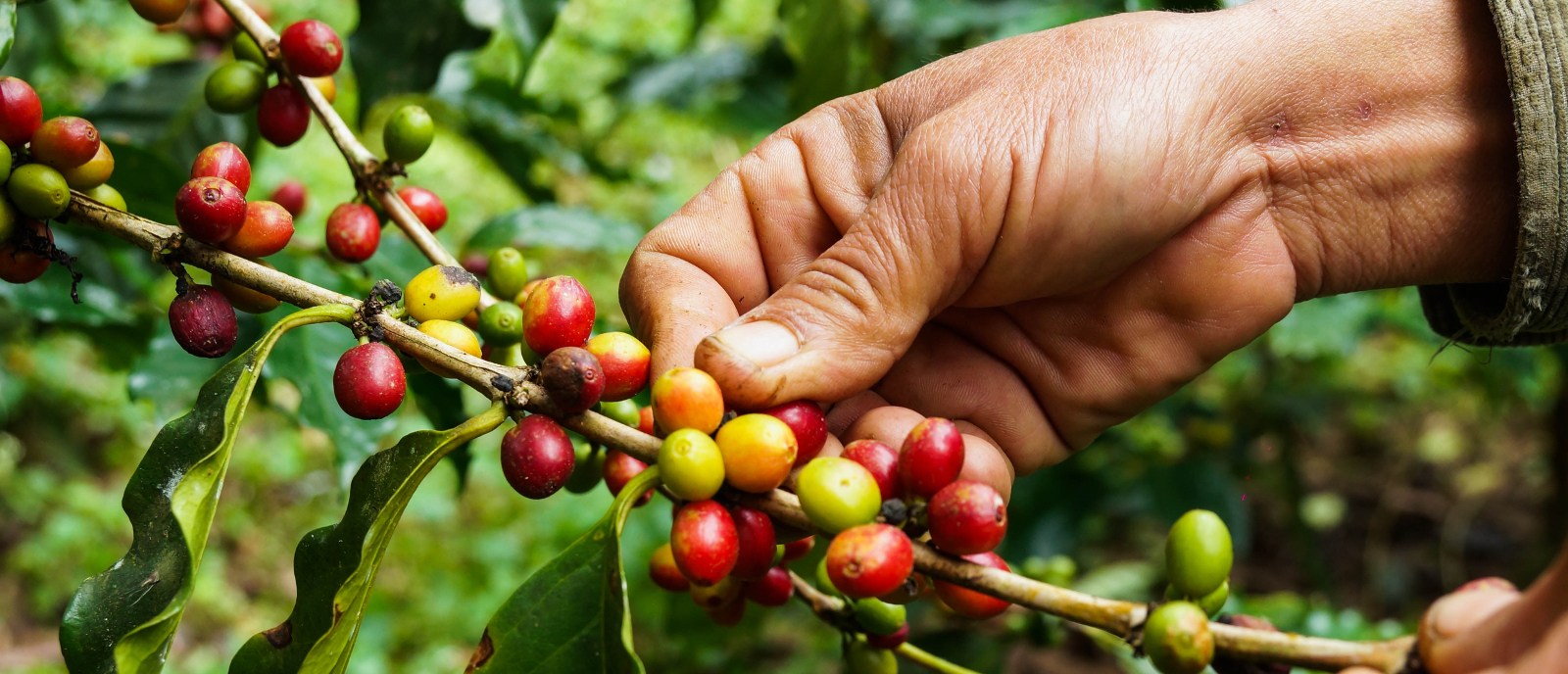 Photo enchantingtravels.com
Ecuadorian cuisine is one of the oldest in the world. According to culinary experts, the dinner of modern Ecuadorians is not much different from the set of products with which the tables of the Indians were lined hundreds and even thousands of years ago. These people are generally big conservatives and strictly adhere to traditions, including those thay have in food.
ABOUT MEAT
In Ecuador many years ago dominated: corn, potatoes, cereals, legumes, vegetables, fruits. Recently, however, meat has been increasingly common on the tables. And although it is more about chicken, with the same appetite these people eat beef, pork, lamb, turkey and rabbit are a little less popular here. Gourmets sometimes indulge themselves with the meat of a bear, deer, tapir, armadillo or lama. Guinea pig meat is usual here. Of course, Ecuador has something to surprise the spoiled eater, but for me, it was the guinea pig that became the turning point when I realized that I was not in my homeland, and people aound me prefer different recipes.
Kui. That is how they call pets treated by us Europeans. Guinea pigs here do not carry to hairdressers and are not bought toys. Animals are grown to the state of the first fat and deprived of life. Bare carcasses are often sold in the markets. Large - from eight to ten dollars apiece. Kui is considered a delicacy and is often cooked in a furnace for a holiday or baked on a spit. Guinea pig meat is a bit harsh and, perhaps, unlike anything else. Especially repulsive moment during the tasting of such a dish can become a fall. Kui is baked along with the head, and therefore the finished dish is emblazoned on the table with a full set of teeth. In this form, the guinea pig painfully resembles a fried rat. Ecuadorians like this snack, but visitors are far from all enjoy the pleasure of such a treat.
There are several dishes from the traditional meat one, which could be named. Among them is "lechon" In fact, it is cooked from a young pig.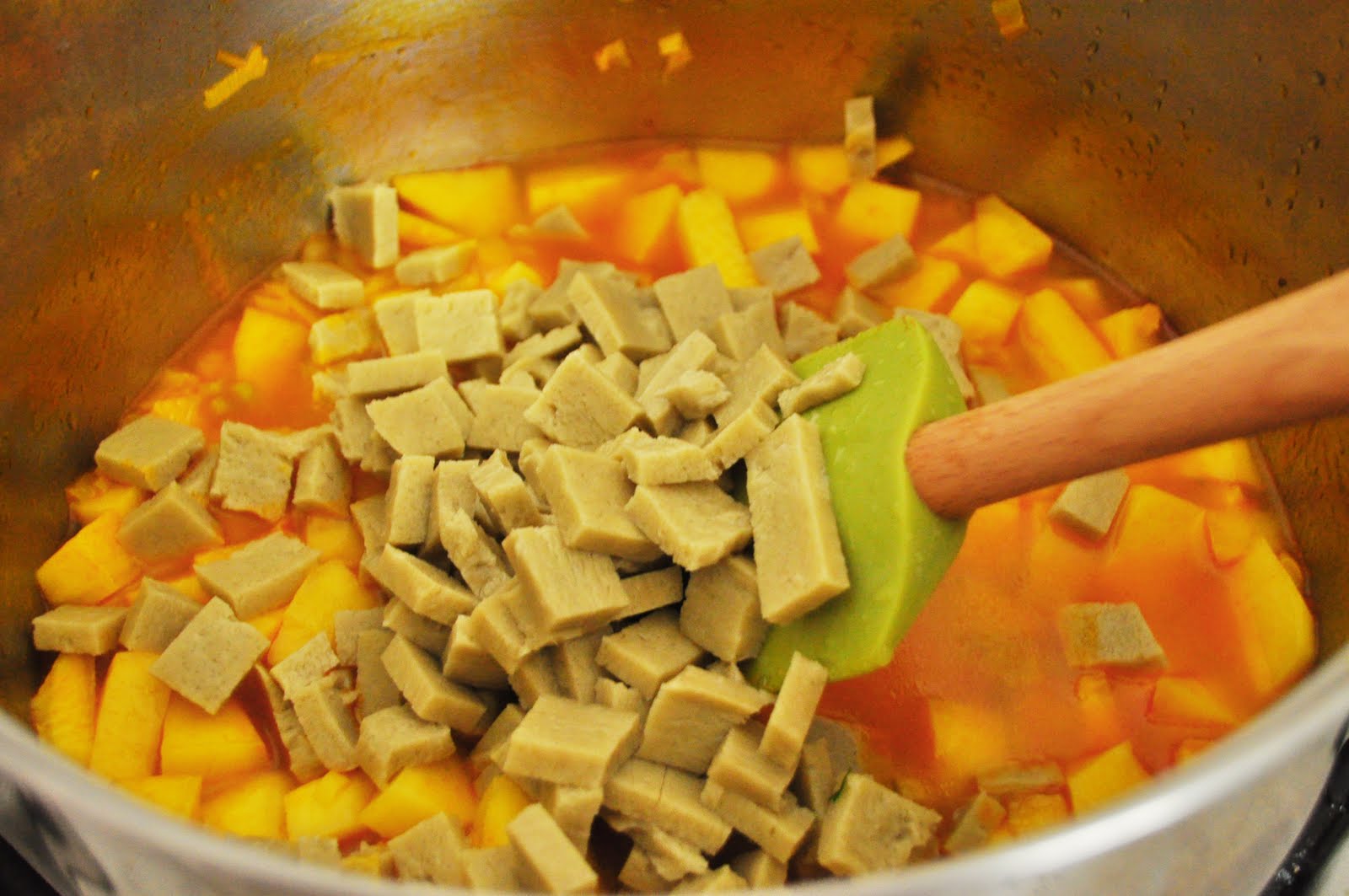 Guatitas. Photo lasdeliciasdelorienteecuatoriano.wordpress.com
A dish that causes double feelings is "guatitas" - cow's stomach cooked with potatoes in peanut sauce. Often among the fast food dishes anyone can found "fritada" - fried pork with onions and maize. On the street you can also often find braziers with chicken legs. They are well roasted, and hungry Ecuadorians with an appetite crunch this delicacy right at stops and parks. There is also a "seco de chivo" - a whole roasted carcass of a goat or ram. As a rule, it is served with peanut sauce. An amazing dish - "Papas Conquero". It composes potatoes, each individually wrapped in pork skin. And, of course, our usual steak. Beef is usually used it is very thinly sliced.
ABOUT FISH
Sea bass is quite popular in Ecuador. It is stewed with vegetables and poured coconut sauce and orange juice. Practically in every tavern the traveler is offered "ceviches". This is a complex dish that resembles soup to an unprepared person. Ceviches composes fish or seafood pre-pickled in lime juice with the addition of hot red pepper and tomatoes.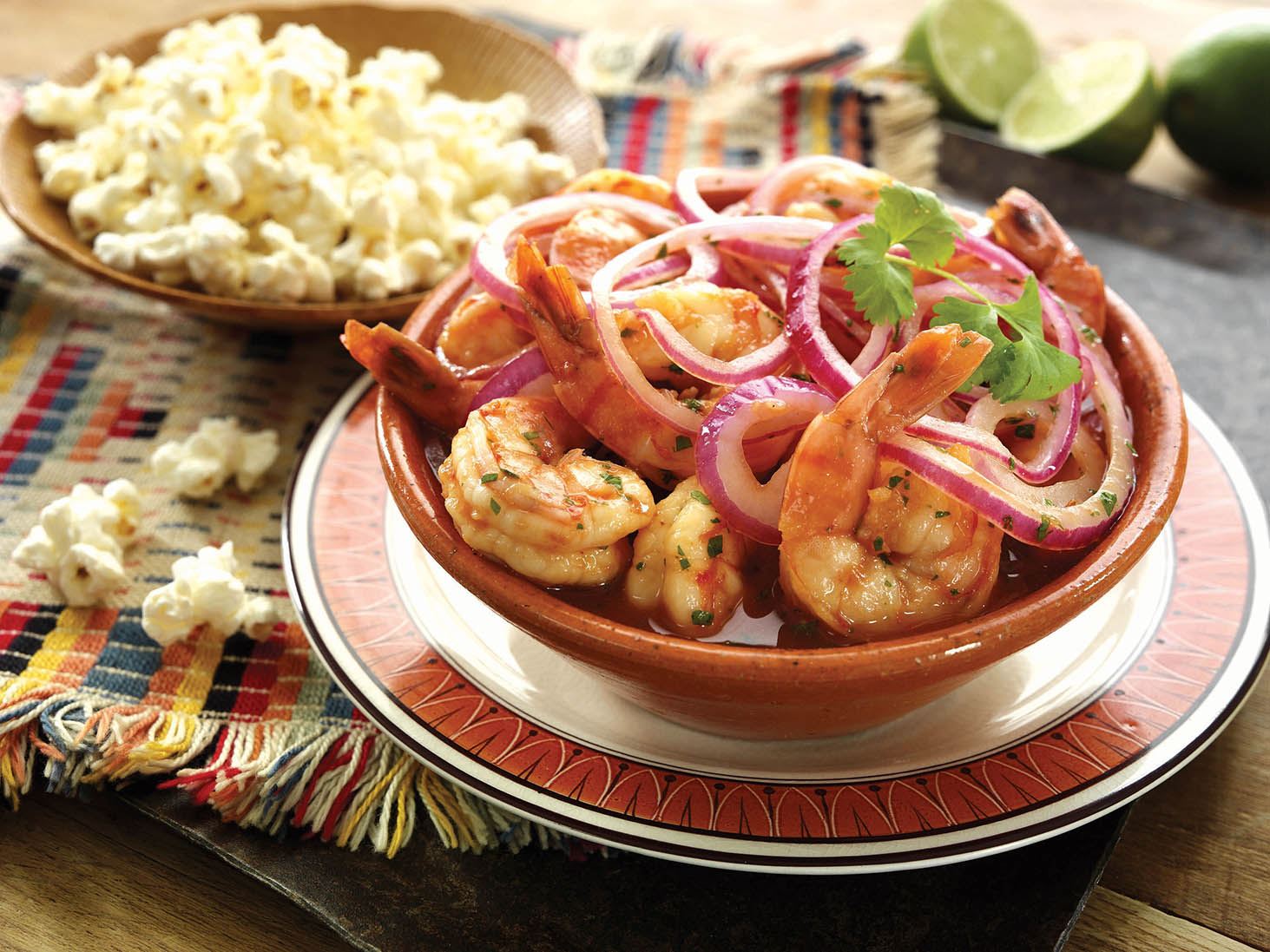 Photo goya.com
Salmon, trout, halibut, cod, telapia and catfish are also very popular here. Salty fish balls are popular in parts of the country. They are prepared with the addition of tomatoes, garlic, bananas, herbs and fruit to the taste of the hostess. Shrimps serve as an almost obligatory decoration of the festive table. They are grilled abundantly poured with lemon juice. On the table fried fish in coconut flour is also often presented on the table with onions or garlic.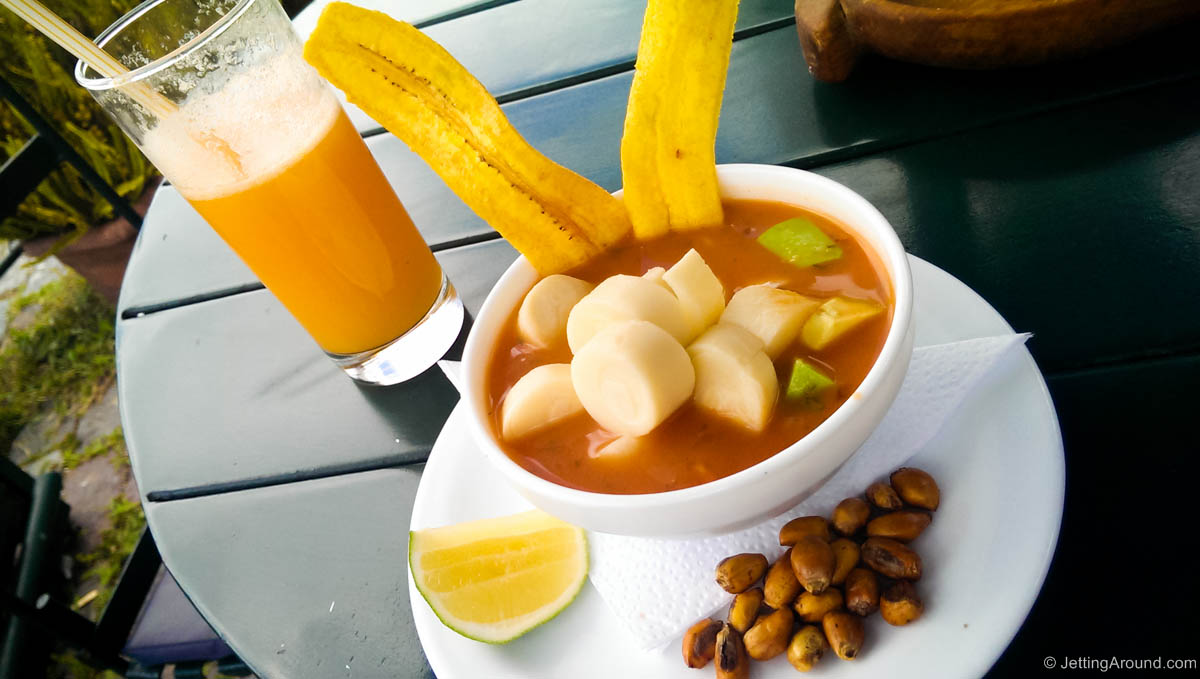 Photo jettingaround.com
SOUPS
Ecuadorians are very fond of soup. This liquid nutritional dish is present in the Aboriginal daily menu. Their recipe has not changed for several centuries. As before, the Indians with appetite eat vegetable "lokro" with avocado, potatoes and cheese. And also broths of various interpretations, soup on pork, with fish, bananas, corn and tomatoes are popular here. For more sophisticated gourmets in Ecuador serve "yaguarlocro". It is based on nothing special - meat and vegetables, but its main highlight is the blood of the animal, from which, in fact, the soup is cooked. It is generously poured into a hot portion. No less questions from one who is afraid of eating disorders causes another soup - from bovine genitals. Upon customer's request, they can be pre-chopped before cooking, or they can be thrown boiled into the pan as a whole. Ecuadorians love to also try the soup of goat or bovine intestine. A special delicacy here is the soup made from roasted veal hooves. You can also find something less exotic, however, no less tasty, for example, octopus or clam soups.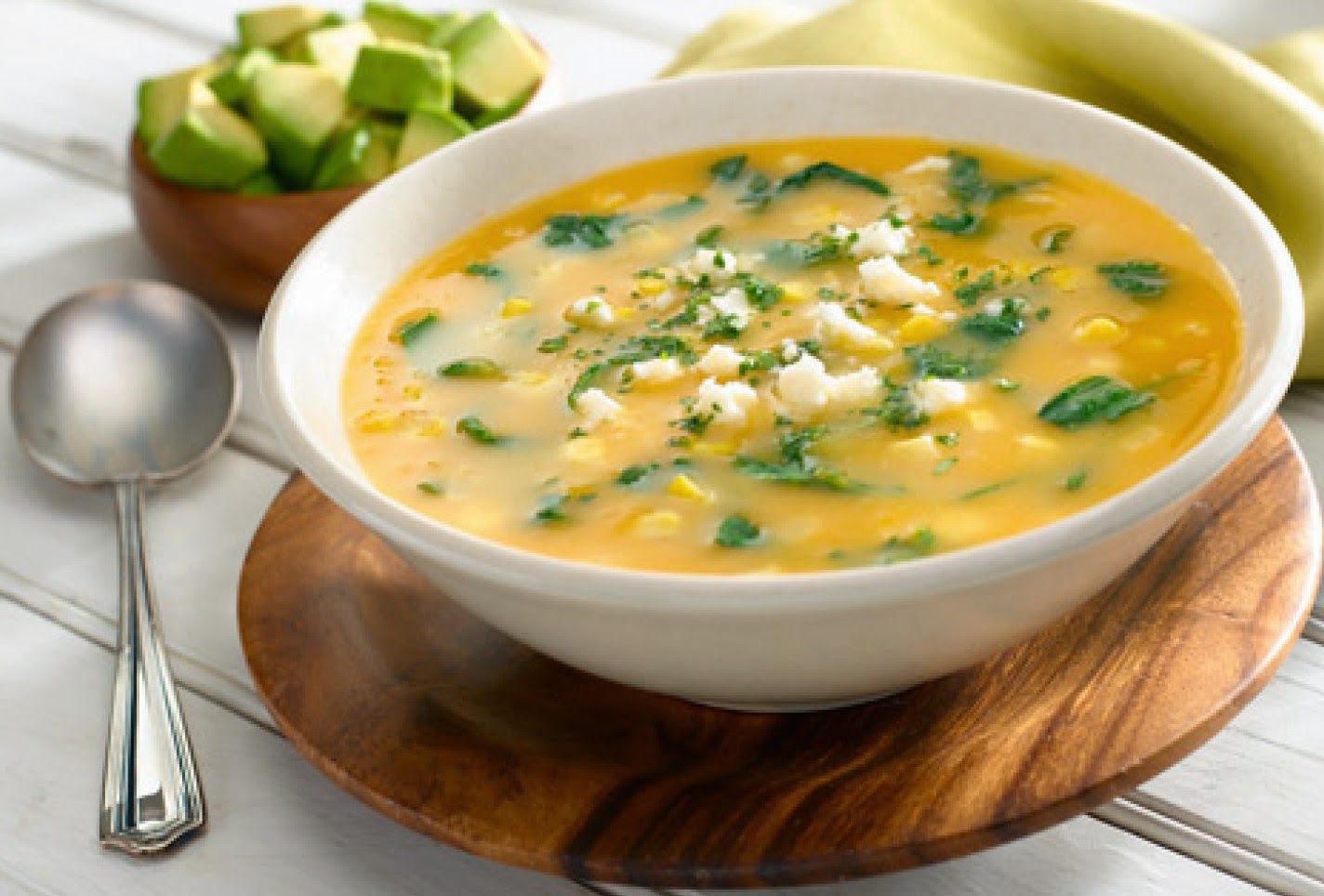 Photo recipestab.blogspot.com
GARNISH

Another oddity for a European is that they eat little bread in Ecuador, and this one is far from the perfection of the French baguette. Of course, there is good bread, but it is sold in special shops that represent the import manufacturer and costs a lot of money. The absence of such a customary dinner for us is generously compensated on the table by high piles of rice, potatoes, yucca, fried bananas, and corn bread. By the way, there are many varieties of it in Ecuador, and often its grains are not sweet and are added to meat. Buckwheat which is habitual for us here is a delicacy and remains an unexplored product for many Ecuadorians, although it is sold in country's supermarkets. But the locals do not take buckwheat because of its high cost. Half a kilo of this cereal costs about four to eight dollars.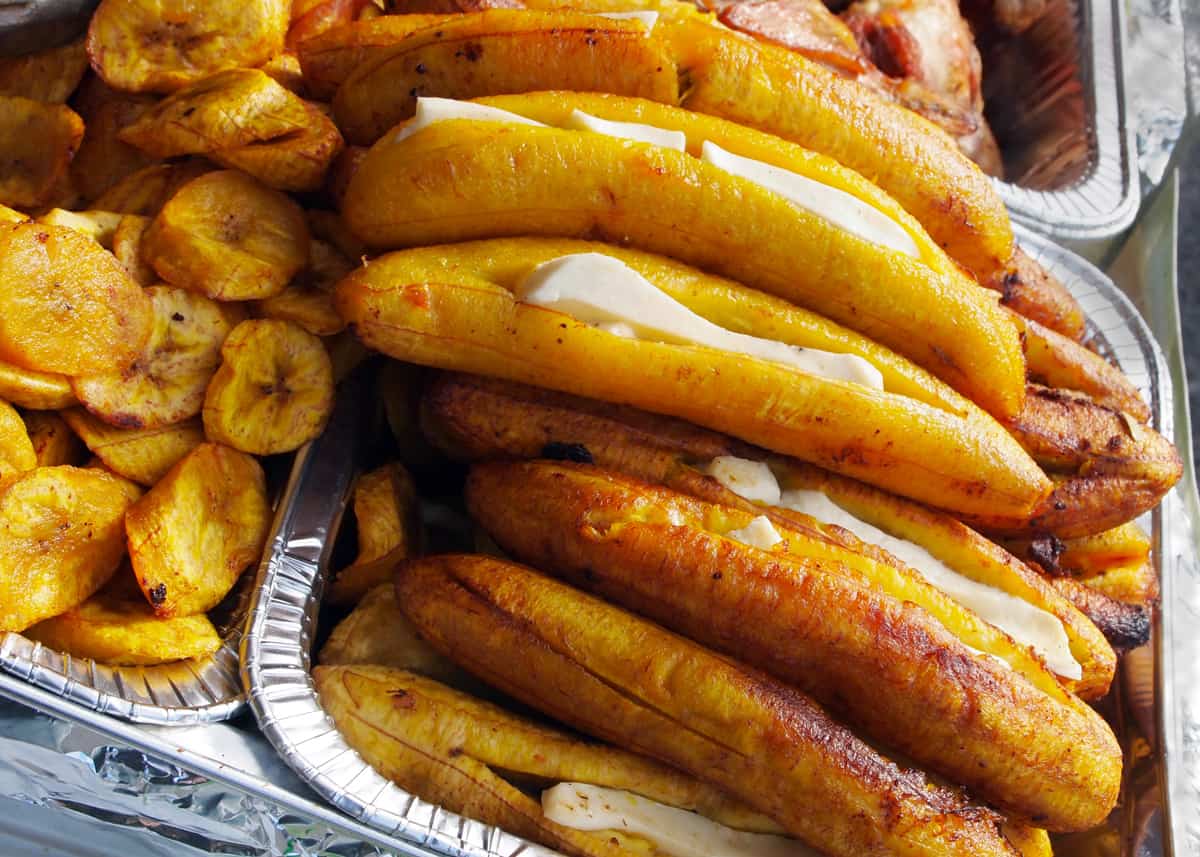 Photo latinrootstravel.com
SNACK
Ecuadorians prefer to satisfy hunger with ice cream. There is a great variety of it. And there are even more places where you can get a sweet treat. Moreover, ice-cream vendors await a hungry traveler on the road, seemingly inconspicuous streets, squares and even public transport. There are two kinds of ice cream: milk-based with various fruit or other additives and sweet juice frozen to ice. For those who do not eat sweet, there is also something to eat. On the street there are a lot of merchants who offer for a dollar or two quite substantial portions for street food. Among what is for sale: fried pieces of pigskin that melt in your mouth, banana chips, meaty pies or cottage cheese, tacos wrapped in a sheet of corn, milk mixed with dough and other fruit additives. You can also buy portions of beans, lentils, yucca richly doused with spicy sauce "aji" with the addition of lemon, garlic, onions and woody tomatoes.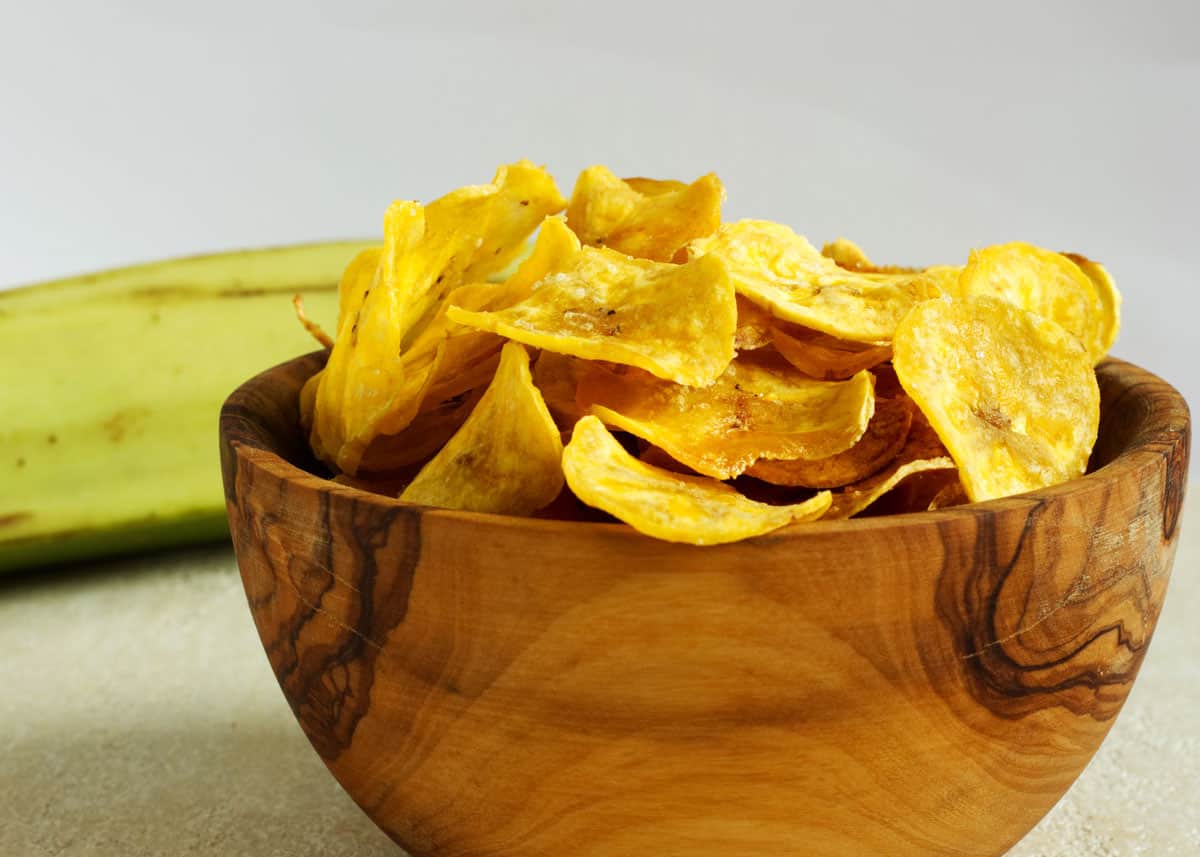 Photo latinrootstravel.com
DRINKS
As I mentioned - Ecuadorians prefer juices. At the same time, they choose not store packs, but freshly squeezed fresh juices. They are also sold on the street, crushed in front of the client in cafes and restaurants, independently in kitchens. Those who prefer stronger beverages also will not remain disappointed. Ecuadorian beer is considered one of the best in the South American continent. For lovers of more refined and strong drinks, there is also a choice. Numerous wines, both local and foreign producers, are represented in all major stores. There are liqueurs, tinctures, tequila, vodka, gin, rum, brandy, martini. By the way, strong Ecuadorians are not held in high esteem. Too expensive, and besides, it quickly knocks down unprepared to a high degree of Indians. Others brew their own alcoholic drink, something resembling our moonshine called "chicha". It is made on the basis of yucca. Similar to it by appointment "kanelaso" is made from sugar cane, cinnamon, lemon and, of course, sugar. In addition, the craftsmen have learned to make homemade rum, which, although inferior in its quality to the original, but is much cheaper from that. Well, the majority of the population, unfortunately, prefer the same Coke. Preference for this imported drink is given not only by children, but also by old people. In the markets and commercial areas they offer another very popular drink here - cane juice. It is crushed in front of the buyer and a glass is sold for a dollar.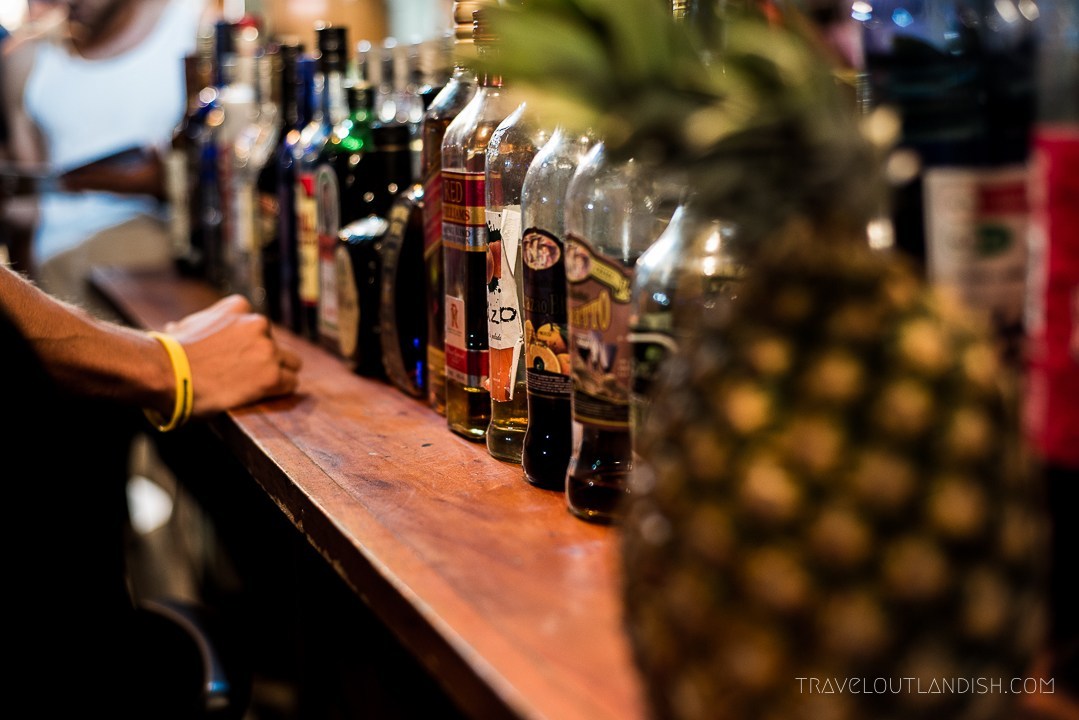 Photo traveloutlandish.com
I especially like woody tomato juice. They grow on two-three-meter trees more resembling their plum shape. They are quite hard and raw bitter. However, after heat treatment, the tomatoes soften, the sugar is added, some water and a very tasty juice comes out. It only slightly resembles the usual for the European tomato drink. It has citrus notes, and it also refreshes very well on a hot day. Another favorite of mine was juice from naranhilla. This yellow round fruit tastes like strawberries, tomato and lemon tpgether. Naranhilla juice is acidic and, according to Ecuadorians, is very healthy.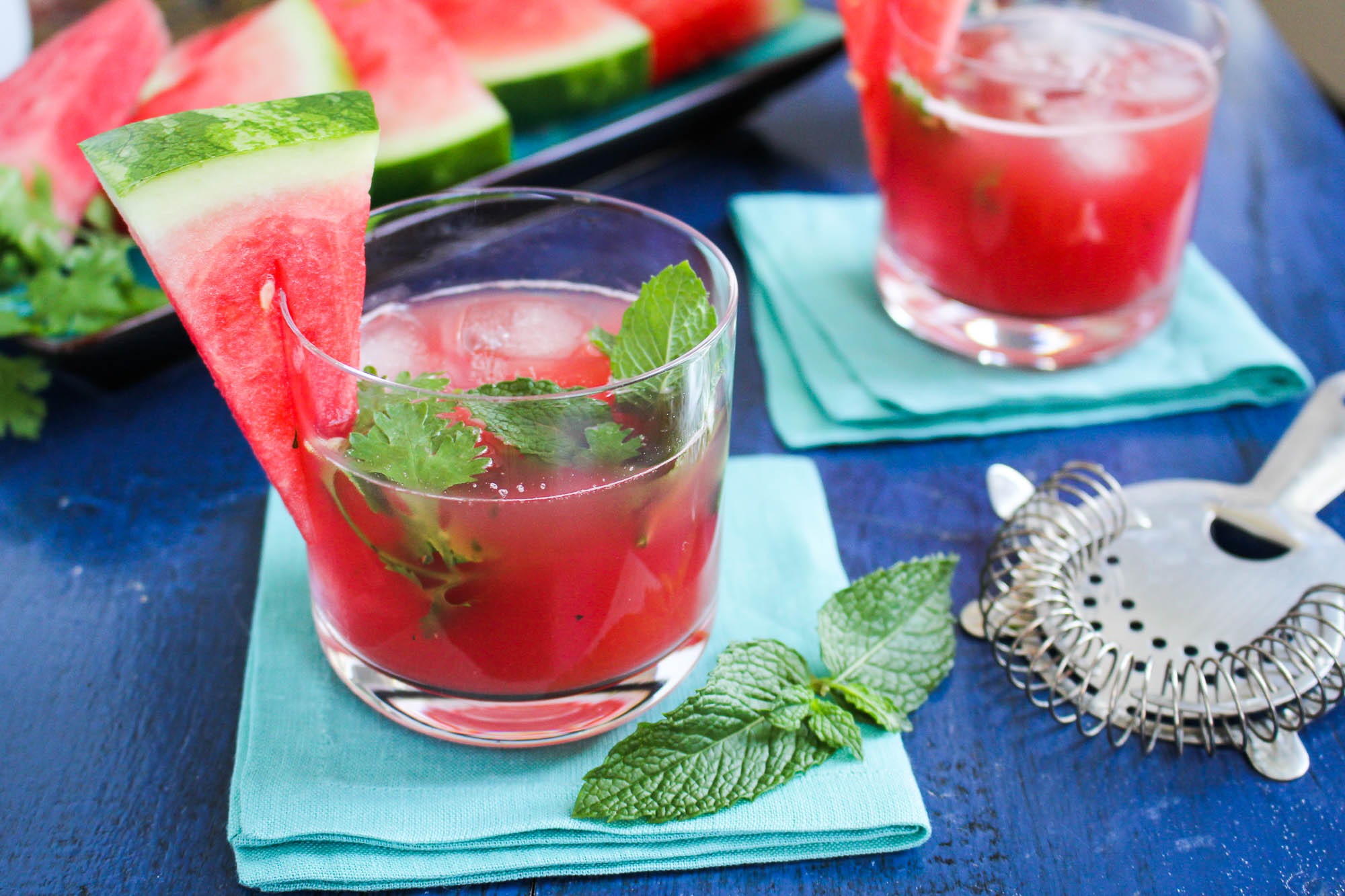 Photo katieatthekitchendoor.com
FRUITS
Ecuador is very rich for fruits. The Amazon jungle and coastal zone of the country do well with the function of the supplier of fresh fruit all year round. That is why it is possible to feast on their usual and exotic species all year round, only giving a seasonal adjustment. For example, in the mango season, this sweet fruit can be bought five to seven pieces per dollar; in the mandarin season, thirty juicy ripe fruits can be purchased for the same price. Among those fruits that have won my taste preferences are cherimoya, pepinos, guava, tuna cactus. The first fruit is considered very valuable. It is not cheap, but the set of utilities, which it contains, can cause surprise. Earlier, when the Incas ruled in Ecuador, cherimoya was allowed only to representatives of noble families. The fruit was considered truly magical, it was able to quickly restore health and completely fill the body's lack of vitamins and minerals. The fruit is appreciated here. One is sold for a dollar, or even three, depending on its size. Growing cherimoyu is also not easy, as well as exporting. My next favorite pepinos is a very juicy, light yellow fruit that tastes like cucumber, melon, mango. He is not so sweet, however, is surprised by the amount of juice obtained from him. Guava is sour. Its fruit is soft and fleshy. It is often used to make marmalade. Excessive use of guava can lead to intestinal colic. Tuna cactus is also found in southern Europe. It is sweet, there are a lot of bones in it. They also make jam from it, but more often they eat it just like that.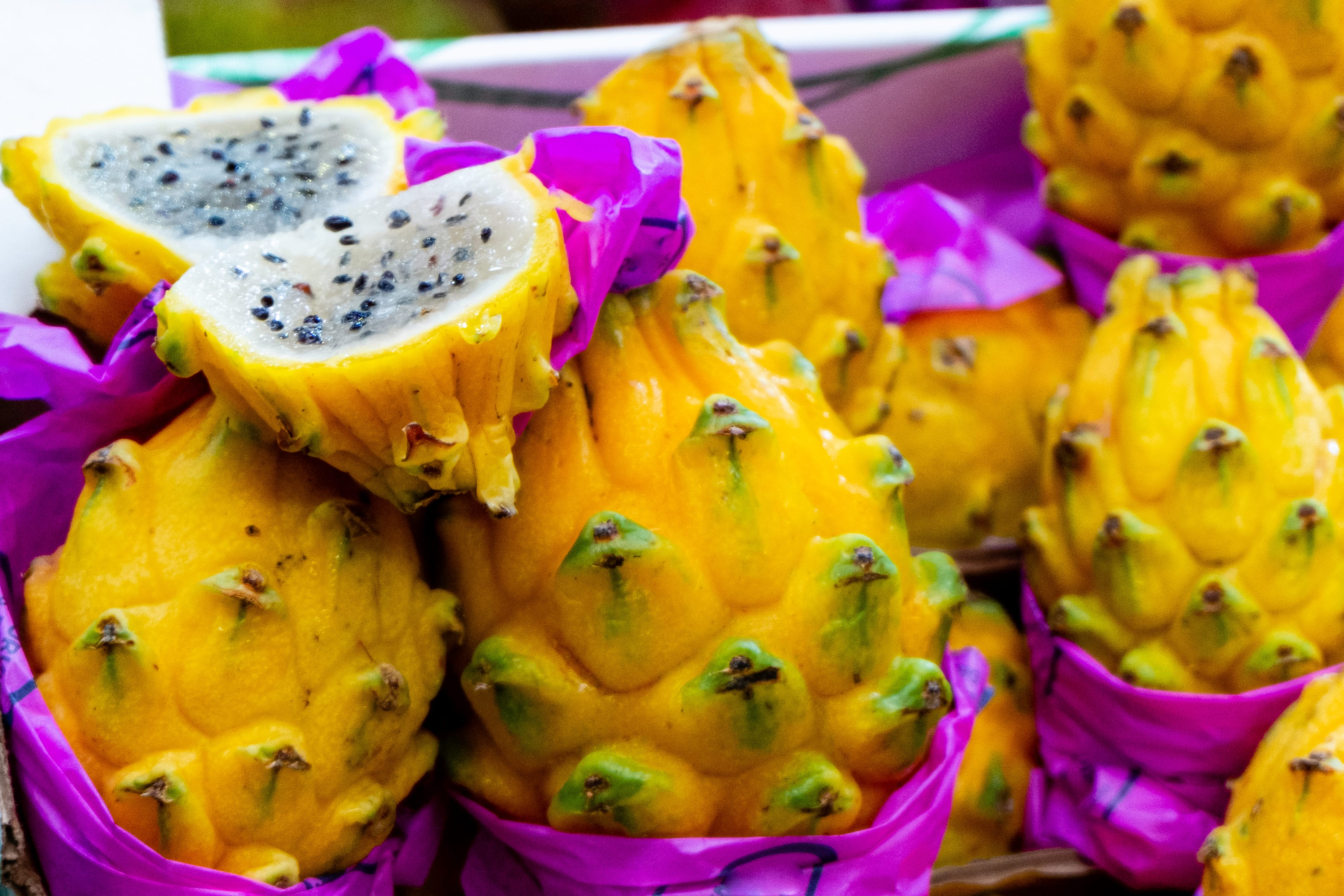 Photo tridge.com
There are a lot of strawberries. True, it should be said, although it is large, but not as fragrant as ours. A lot of tangerine, orange, lemons, pineapples, mangoes, papayas, kiwi, carom fruits, kurubas, lukums, granadylla, mora berries resembling our mulberries, melons, watermelons, plums, peaches, zapote, guanabana and many other exotic and unusual sight and taste of fruit.
SWEETS
I think sweets are something new for Ecuador. Now pastry begins to appear in the country that offers quite tasty cakes, sweets and other delights in no way inferior in quality to European ones. Until recently, the local industry could not show off its sweet products. Of course, the tradition of eating sweet existed before the technical revolution. In Ecuador, they still make nougat according to ancient Indian recipes. Namely: in a thick cane syrup add honey. Mix and get a pulling mass. It is taken out on wooden hooks, giving her an oblong form. The most experienced combine several colors in the field. Very good Ecuadorian chocolate. It is bitter. The stores sell bars, tiles 100% undiluted chocolate. Sweet corn is also considered as a traditional delicacy.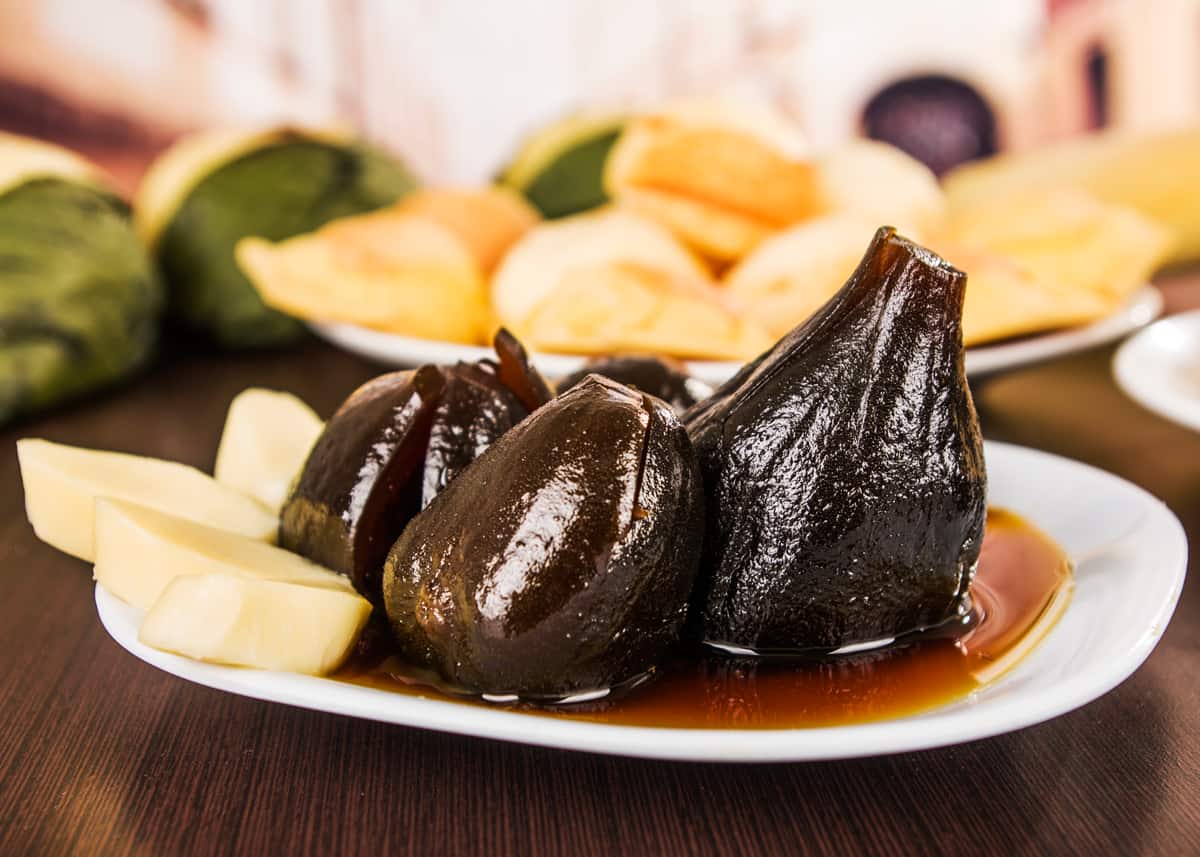 Photo latinrootstravel.com
FOR THE MOST BRAVE
Indians that live in the jungles of Ecuador have a very exotic idea of tasty and healthy food. Namely, they eat the larvae. They are rummaged, strung on skewers, baked. To taste, these caterpillars remind chicken and, moreover, contain a huge amount of healthy protein. Sometimes they are sent to the mouth while still stirring.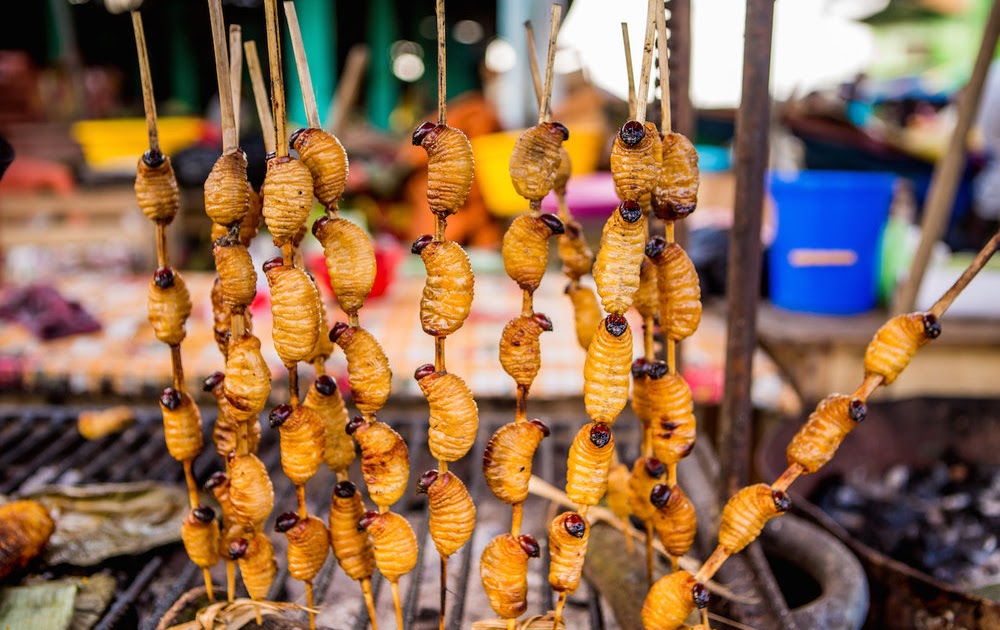 Photo recetassum.blogspot.com
Ecuador can not be called a cheap country. Many product prices here are commensurate, for example, with the Ukrainian ones. The same beef, eggs, dairy products are somewhat more expensive. Seafood, fish, vegetables and fruits will be cheaper. A good breakfast in a small cafe will cost about 3-5 dollars, dinner at a restaurant will be about 15. A beer mug in a public place or a glass of coffee will cost one dollar. Street snack will cost the same.
Cover photo viajejet.com