What do they eat. The Netherlands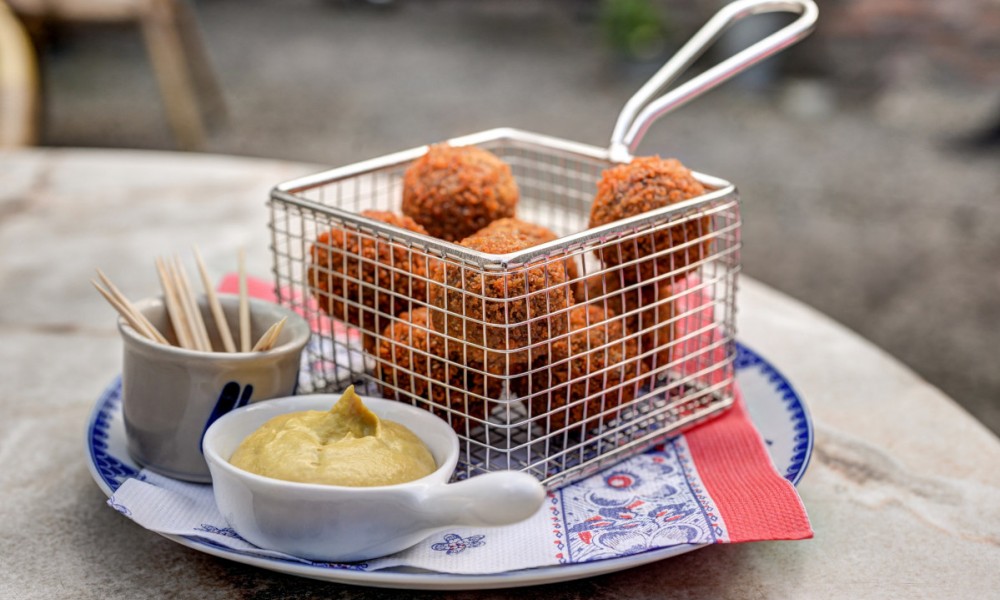 First thing that stirs up a newcomer in the Netherlands is food vandalism. It is customary for citizens of this small northern country not to handle dishes with kid gloves, even if those are bacon or hot ribs richly seasoned with berry sauce. Therefore anything that a stomach can't accommodate over lunch or dinner gets thrown away by Dutchmen with ease...
... becuase they believe that remains are unsuitable for tomorrow.
Attitude towards remains isn't the only peculiarity of modern Netherlanders. Those who are accustomed to warm food can face certain difficulties there. Properly warmed up food is served in the Netherlands once a day - for dinner, when all relatives gather for a meal. In mornings and in lunchtime they traditionally eat sandwiches. For that, simple loaf of bread, sliced meat, cheese and chocolate crumbs get purchased at a nearest market. Next Dutchmen make sandwich after sandwich. And keep consuming them till stomachs are full. All of it is washed down with a plenty of coffee. They drink it from cups as sizeable as possible. Menus of numerous cafes and restaurants are designed to fit such feeding routine. They start offering hot meal only in the evening.
Netherlanders like to grab a bite "on the move". In towns of this coastal country there is a plenty of diners, cafes, restaurants and street vending kiosks where all kinds of snacks are offered. Fried potatoes or as they call it "Flemish fries" enjoy great popularity among locals. Those who have tried them insist that they are extremely tasty. And smart vendors locate their potato kiosks in the streets so that people could spot them. Fries are served in cardboard packs and generously seasoned with peanut sauce, marinated onions or ordinary mayonnaise.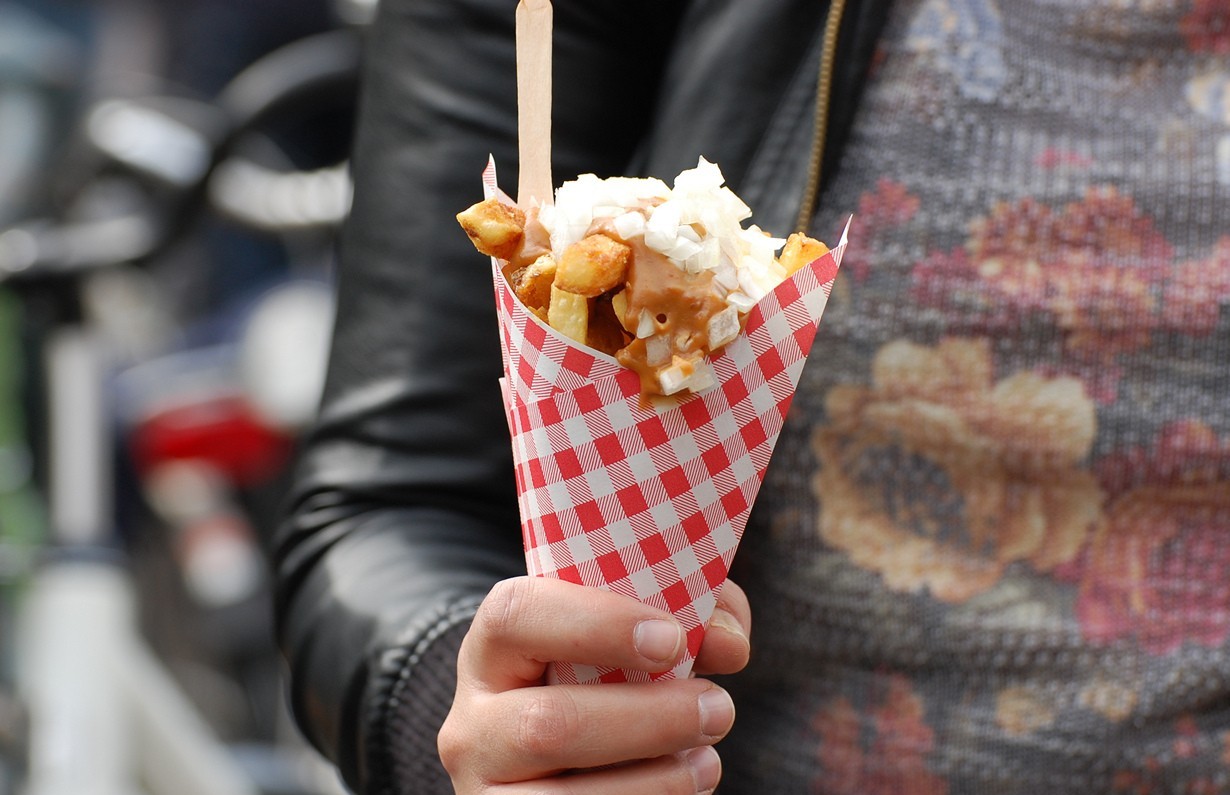 Photo infoglaz.ru
Among popular street gastronomy, croquettes and bitterballen can be named. And though Dutchmen believe that those are completely different snacks, many agree after all that they taste similar. Former ones are meat rolls, latter - meat balls. But most important thing about them is filling. It is pretty diverse and tasty. Bites are fried till they get crispy, oftentimes on skewers. They are served really hot, often with mustard.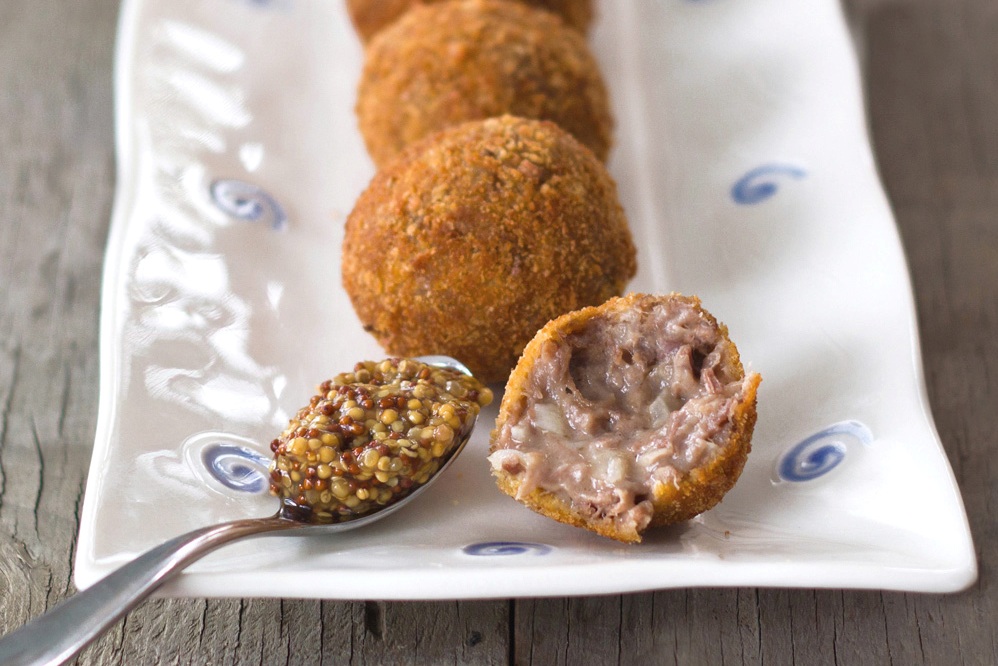 Photo thekiwicook.com
Citizens of the Netherlands, according to statistics gathered by their homeland, consume tonnes of bakery. However, one shouldn't jump into judging them for it. Bread is extraordinarily tasty in the Netherlands. That's why there is great demand for non-sweet buns, puff pastry, croissants, ciabatta, baguettes and sandwiches. The latter ones traditionally come with ham, cheese and chocolate crumbs. Locals have a very reverential attitude towards those little things. Even when setting on a long journey, dwellers of the country of windmills try to take with them a couple of boxes of ground chocolate to strew bread with them and feel like home.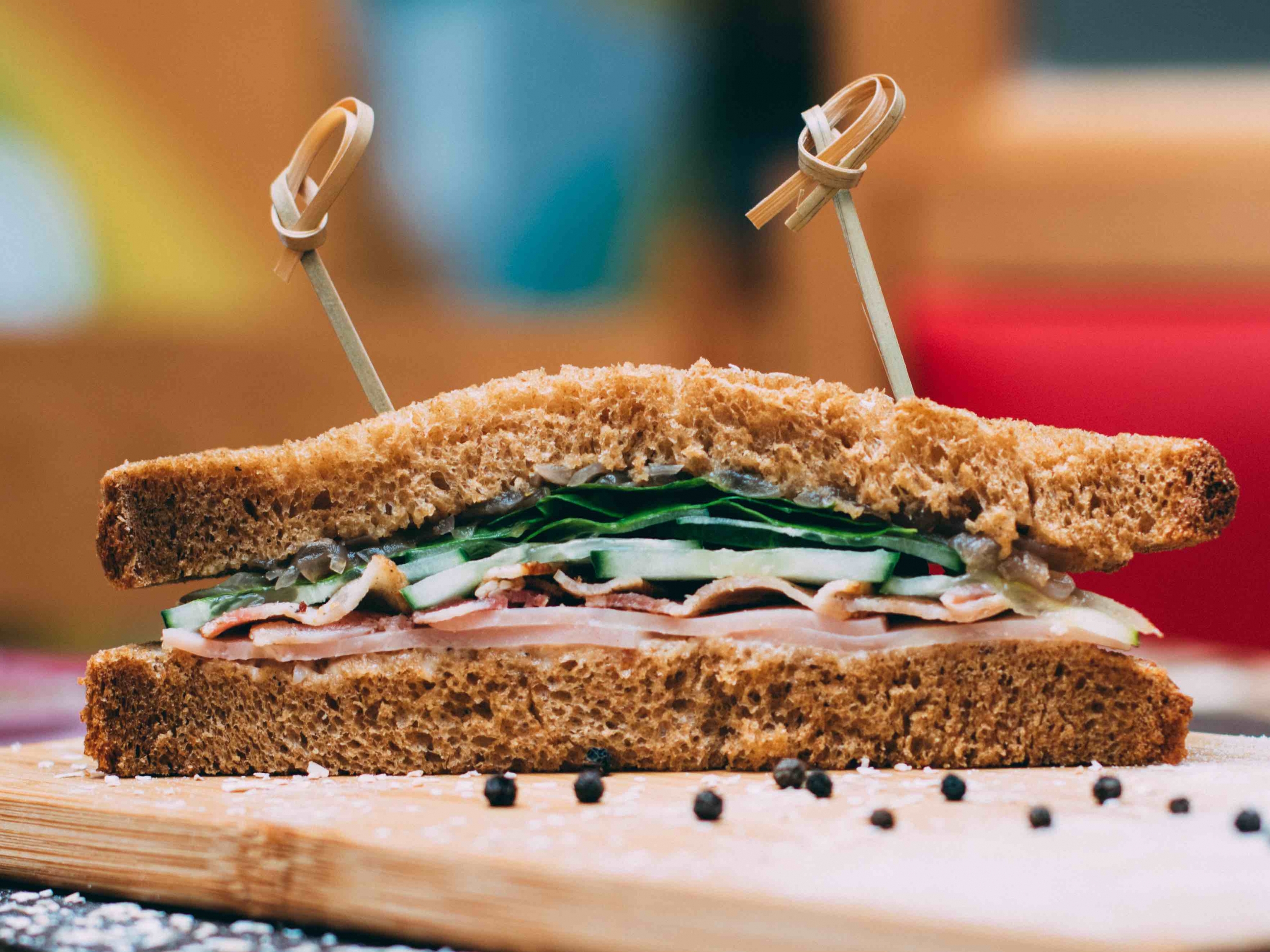 Photo gotovo96.ru
The Netherlands are a marine state. Therefore buns with fish and seafood products fried in bread crumbs is something vendors offer alongside other snacks. Markets and kiosks by the coast line enjoy special popularity among fish-lovers. Frequently vendors smoke and salt down morning take right before the eyes of customers. In the same spot one can also purchase braised pike perch with vegetables, crispy fish fricadels, halibut, shrimps, eel sprinkeled with eggs and seasoned with lemon sauce, tuna and herrings. The latter one is a part of traditional diet of the Netherlanders and enjoys remarkable popularity. It is normally lightly salted fish that is consumed with bones. They gently hold its tail and slowly put it in the mouth while holding own head thrown back. Such fish is followed with onions or pickles. It is believed that herring is testiest if it gets into a net in warm season. Affection towards herring is so immense there it even developed into a nationwide holiday celebrated after the first take of the season. At the same time first barrel gets salted and sent to the Royal Palace and only after that they start selling fresh herring in the streets and in restaurants.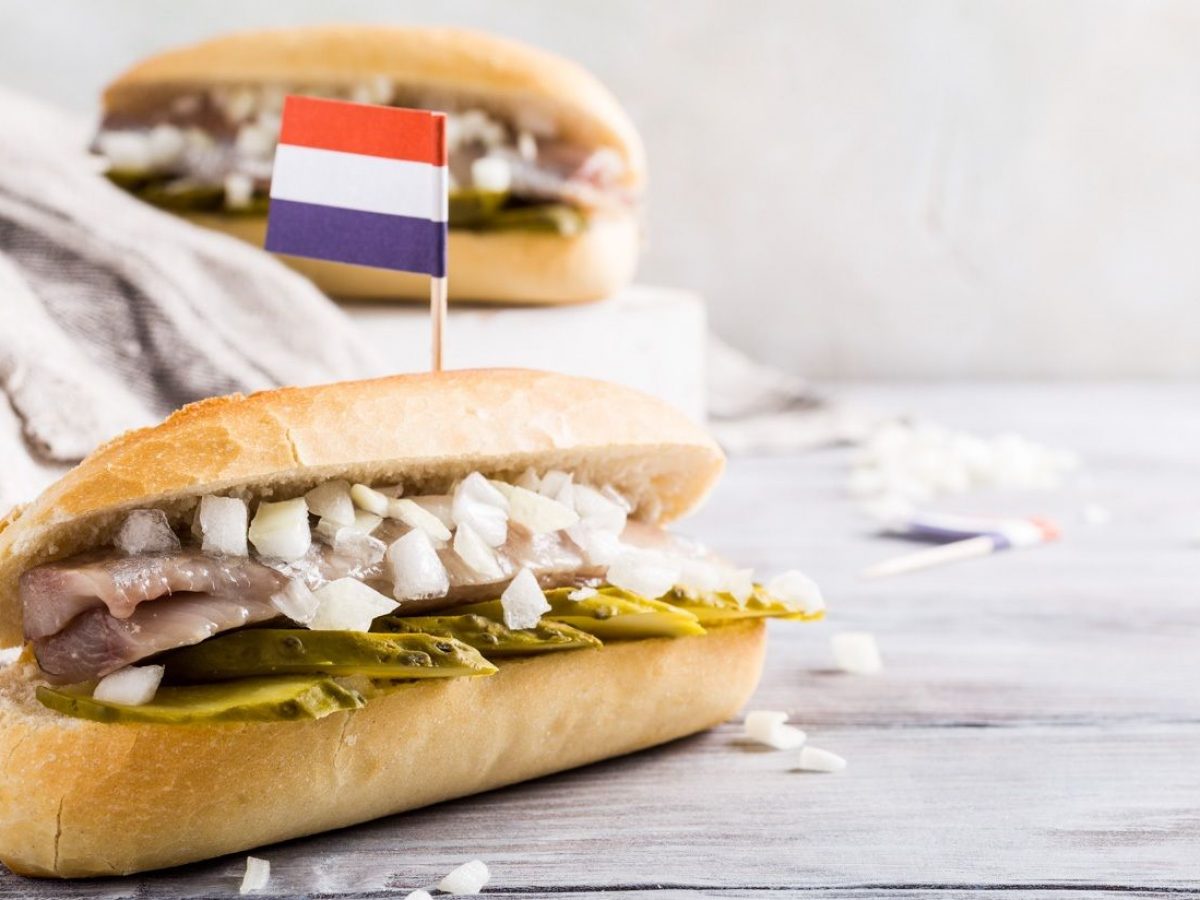 Photo joysoftraveling.com
The lower the temperature outside, the more often hot food gets to tables. And since Dutchmen prefer simple-cooked dishes high on calries, and here are traditional ones: thick and and rich pea soup, meat noisettes, smoked saussages and meshed potatoes. The garnish mentioned is made on the basis of potatoes with additions of all kinds of vegetables. It is normally saurkraut sometimes with pieces of pork fat. Such a mix is called stamppot. In the center of the meshput on the plate they make a deepening, where they pour rich meat gravy. Saussages of various sorts and codfish can also be called hot dishes. Cod is frequently fried in oil and served without garnish. Another hot and popular dish is cow udder. Even after nine hours of boiling and frying it preserves a distinct strong smell. Locals explain it by milk that remains inside. When udder cools down, it is cut into thin slices and consumed with bread.

Photo heavenly-holland.com
Netherlanders adore pancakes that are normally thin and large. They get commonly served in the evening, richly seasoned with suger syrup and ice cream. They are also used as a basis for pizza. Bacon and cheese are cut and put on top of it, or apples with raisins, or chocolate with nuts - and the whole thing gets baked. In the Netherlands they eat pancakes as a main course, dessert and a holiday treat. They even have special plates for pancakes.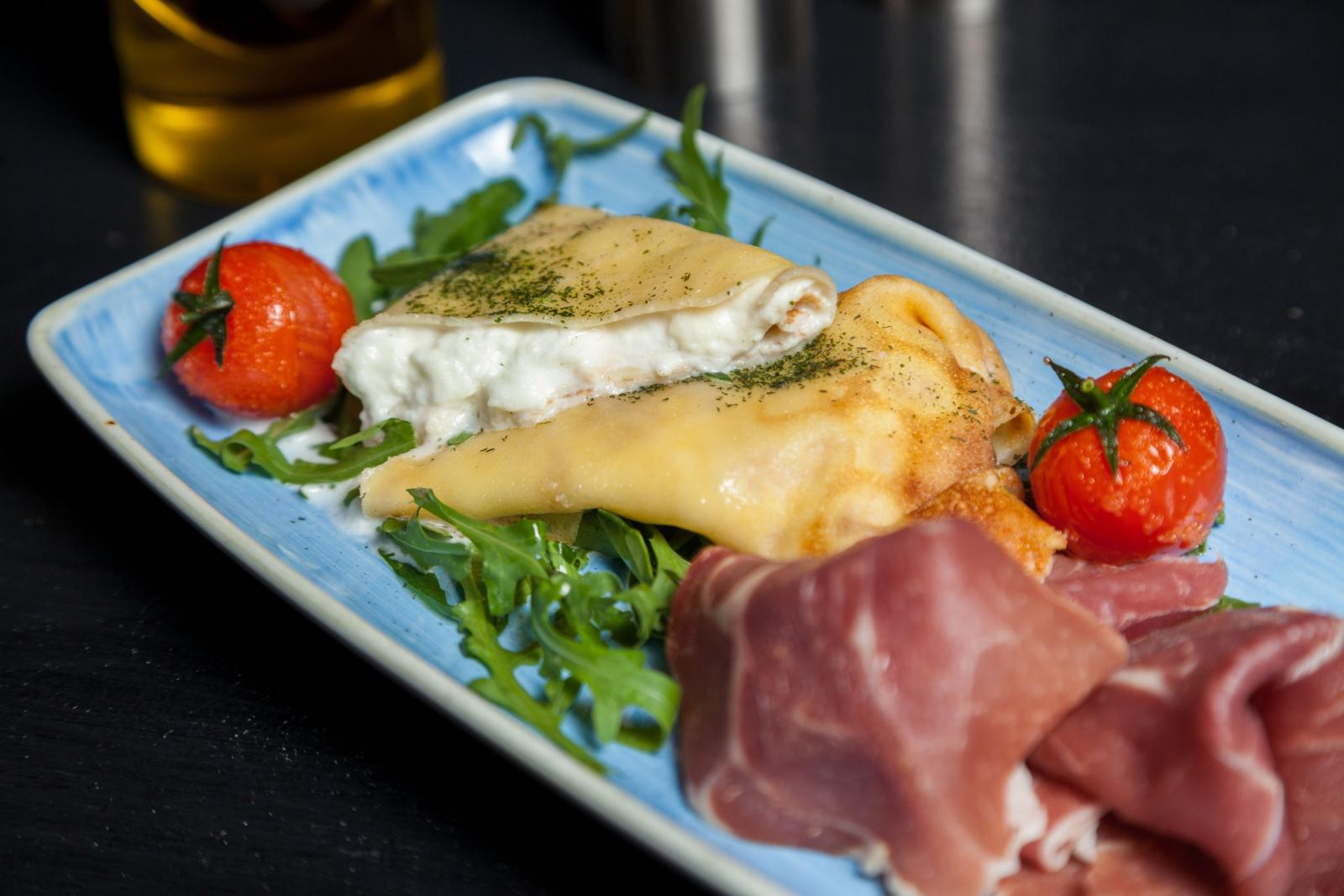 Photo cf.ua
Dutchmen are some sweet teeth. Shelves in shops are stuffed with all kinds of sweets. Fruit jelly, caramel, ginger cookies, waffles, marzipans, chocolate, fruit drops. Latter ones are often made of licorice both salted and sweet. They look like small sugar candies that are sold literally everywhere from drug stores to gas stations. Statistics show that annually every Dutchman eats over two kilograms of licorice sweets - all because in this northern country they believe in it being beneficial for health. Another popular delight is sweet doughnutsmade of buckwheat and yeast-leavened. They are served with strawberries, wiped cream and caramel syrup. Typical Dutch pastry is tompouce. It is puff pastry, smeared with a thick layers of vanilla cream. It resembles Mille-feuille in a way. It is normallypink-colored dessert but on the days when national football team plays they color it orange.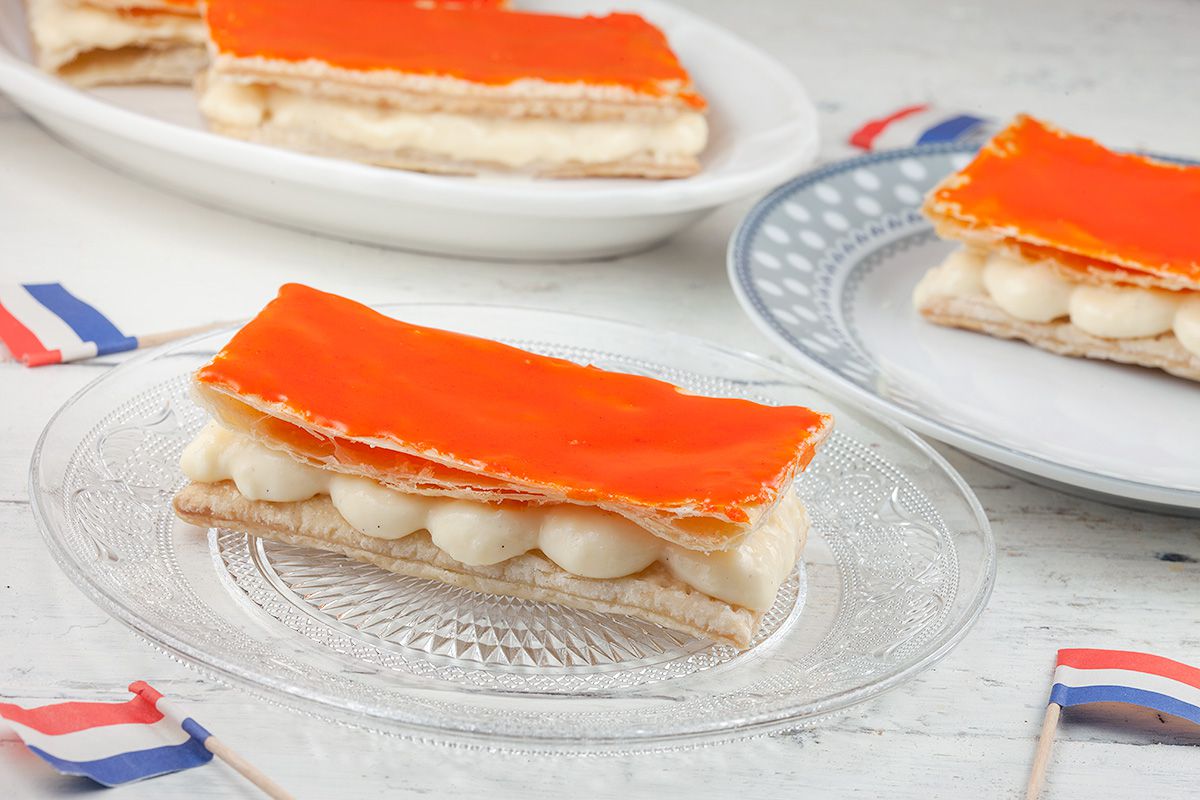 Photo ohmydish.com
Quality and inimitable taste of local cheese is known around the world. Special recipes, pastures with juicy grass and dairy cow breeds helped the Netherlands win fame of a leader among producers and suppliers of cheese. Altogether there exist about a hundred kinds of this product. Annually the Netherlands sell it abroad for the amount of fifty billion dollars and up. These are mainly hard cheese. Sweetish-nutty, piquant, with cumin and cloves, salty, with blue cheese, with nettle and garlic, with holes and without them. Most popular kinds are: Roomano, Leyden, Maasdam, Graskaas, Edam, Gouda and Boerenkaas. Netherlanders themselves eat over twenty kilograms of cheese a year. They have it for breakfast, slice them for sandwiches, serve them in cubes, have them as an addition to main courses, eat them as a chaser for beer or wine.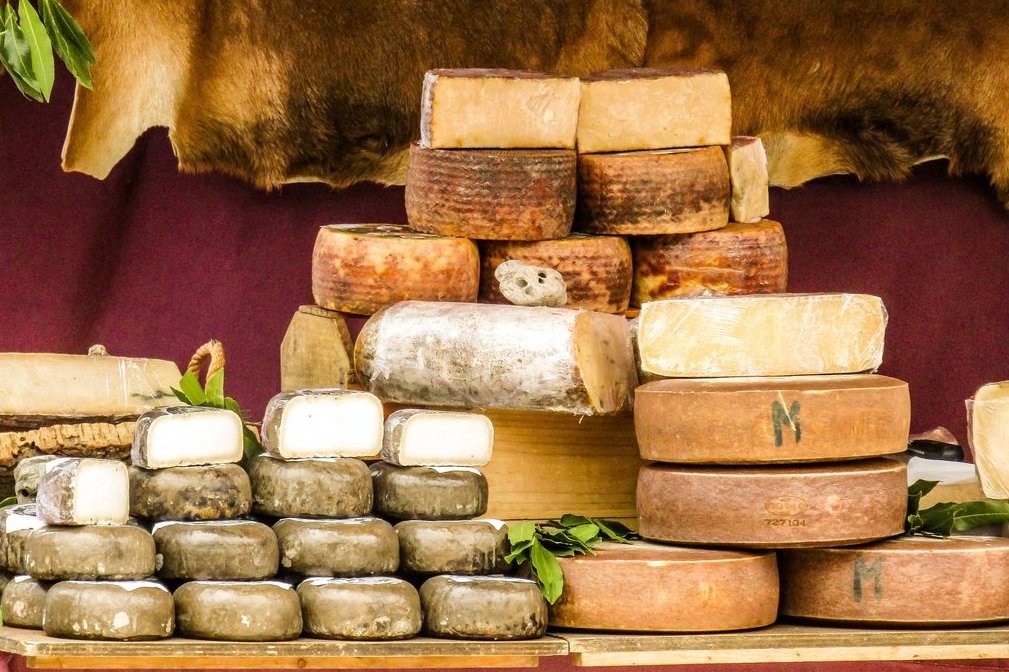 Photo tulipdaytours.com
As is the case with many European countries, hard alcohol there is sold to those eighteen and up years old. Most Dutchmen prefer juniper-flavored vodka also known as jenever. Monks, who managed to achieve high-quality grain alcohol by means of repeated distillation of corn, barley and rye, are believed to be ceators of the drink. Traditionlally, herbs and juniper berries are added to it. This vodka is pretty strong and rarely consumed in pure state. It is rather used for coctails. Majority of dwellers of the country of windmils prefer liqueurs. With banana, apricot, cherry, coffee, melon, vanilla flavor. They are half as hard as jenever. For holidays every citizen of the state is sure to have some orange brandy. They also drink beer there - dark, light, bitter, honey-flavored and on herbs. Among leaders there are tea, coffee, hot chocolate and anise-flavored milk.
Cover photo discoverbenelux.com