Grand Opening & OUTLOOK World Culture Festival: Part 1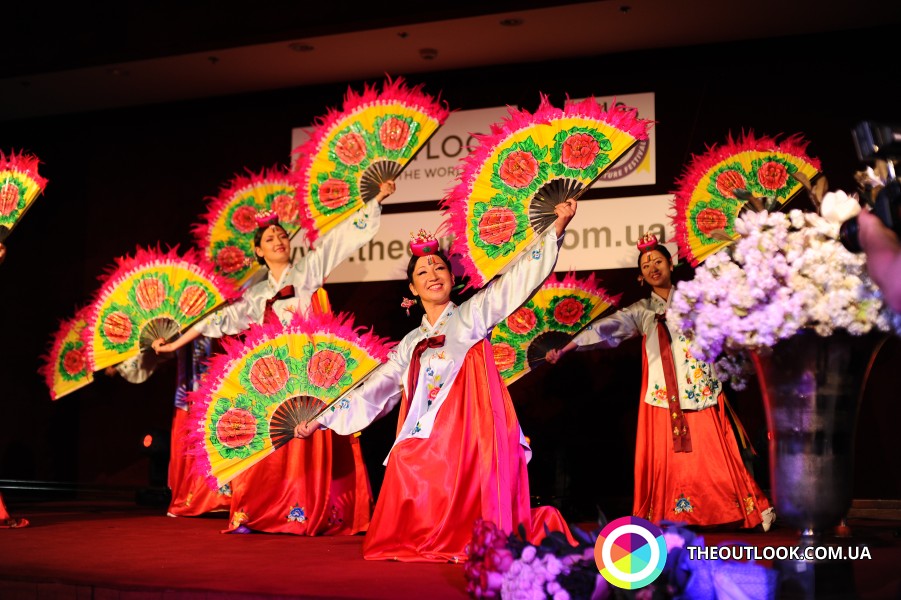 The first annual OUTLOOK WORLD CULTURE FESTIVAL and the official launch of our online publication about the world THEOUTLOOK.COM.UA was held in Kyiv at InterContinental Hotel. We had been thoroughly preparing for the event and to our delight this engaging and entertaining evening with its incredibly warm and hearty atmosphere even surpassed our expectations.
The grand opening started with a welcome speech by Darya Karyakina, the editor-in-chief of online publication about the world THEOUTLOOK.COM.UA and general manager of OUTLOOK Project. She stressed that knowledge of world cultures and foreign traditions, ability to hear and love other nationalities lead to peace and harmony, which is the main objective of the Project.
Iraqi Ambassador to Ukraine Mr. Shorsh Khalid Saidalso shared his opinion about the event: It is probably the tenth time I have attended this ballroom, but today it looks special. I have never seen so many flowers, so many interesting people and such an abundance of unusual traditions of the world. When Darya told me that the Internet edition has already opened, I really enjoyed it. The whole evening I spent reading news and articles published on theoutlook.com.ua that suggests something interesting for everyone.
Being diplomats we shall promote development of relations between countries, thus interaction of cultures should be the ultimate goal. It is very important that we find a common language with everyone.
I believe that bridge between cultures is stronger than bridge of diplomatic relations. Let us support this Project. Embassy of the Republic of Iraq is ready to assist such initiatives since it is necessary for us. We want people to get to know about Iraq and other countries not only from news reports, where wars, earthquakes and disasters are broadcasted time and again. Let us learn positive things about each other, especially when there are happy moments.
The event featured an exhibition of national costumes. Most of them were provided specifically for the event by the Clerical Board of Ukraine's Muslims. Guests were able to examine in detail the look of traditional outfits of more than 15 countries, learn sophisticated decorations and patterns adorning gowns and suits from different parts of the world. Alongside, exposition of paintings by artists from Japan, Turkmenistan, Palestine, Malaysia, Iraq was on run for the whole evening
All the guests had chance to enjoy various exquisite traditional dishes. This time the OUTLOOK WORLD CULTURE FESTIVAL acquainted foodlovers with gastronomic preferences of residents of Italy, Argentina, Belarus, African countries and the Middle East. Among the delicacies the most popular were South African bobotie, Middle Eastern tabbouleh salad, Mexican fajitas, Greek dolma and Belarusian draniks. Several countries were presented with traditional drinks: the UK pleased comers with classic punch, Cuba offered mojitos, Argentina served Malbec.
Unique photocalls attracted invitees at several points of the ballroom that allowed everyone for a few minutes feel spirit the Netherlands or pay a visit to the hospitable Turkmen. Little Amsterdam street sank in an abundance of flowers. The Netherlands atmosphere was perfectly recreated by our partner floral company FIORI FLOWER COMPANY. Luxury interior of Turkmen zone was designed by curtains salon Tropsha Studio.
And the artist creating touching caricature pictures invited everyone to experience the spirit of Montmartre. No one was left untouched by fiery dance of Brazil, Mexico, Georgia, Greece. Korean traditional dance with fans excited the public with national flavour.
The Kyiv Classic Orchestra headed by maestro Herman Makarenko was in charge for presenting the festival guests with classical music of Ukraine and Iraq.
Also OUTLOOK WORLD CULTURE FESTIVAL offered opportunity to master the basics of Turkish art ebru, that is painting on water, and learn how to grow colourful Polish bouquets of paper flowers. Japanese calligrapher Hitoshi Nakamura created for every event visitor a hieroglyphic wish from the country of the Rising Sun.
The celebration was topped by special cake and lottery. Three lucky guests received cosmetic sets from network of niche perfume and cosmetics stores JEAN Niche Concept. The charming guest was blessed by lottery grand prize of UAH 10 000 to select jewellery at Diamond Club Boutique. Boutique acted as exclusive jewellery partner of the event. Diamond Club Boutique is a concept store which unites both niche products of jewellery houses and classic diamond works of famous Ukrainian goldsmiths.
The Festival was supported by the diplomatic missions and foreign embassies in Ukraine, and with assistance of the State Enterprise Directorate General for Rendering Services to Diplomatic Missions.
The event was attended by Ambassadors Extraordinary and Plenipotentiary of foreign states in Ukraine including the Ambassadors of Argentina, Iraq, Malaysia, Moldova, Pakistan, Palestine, Portugal, Uzbekistan, Japan and representatives of diplomatic missions from 30 countries, representatives of government and business circles.
OUTLOOK WORLD CULTURE FESTIVAL is the first major event organized by trilingual online edition about the world theoutlook.com.ua. Throughout the year OUTLOOK will organize festivals devoted to national cultures of various countries with which Ukraine has established diplomatic relations, as well as thematic film demonstrations, intercultural workshops and trainings, art dialogues, tastings, meetings with prominent individuals, charity projects.
OUTLOOK WORLD CULTURE FESTIVAL will be organized annually as the final event of the Project activities for the year. Announcements of upcoming events can be tracked from the website.