Lan Kwai Fong: Hong Kong is no Hong Kong without it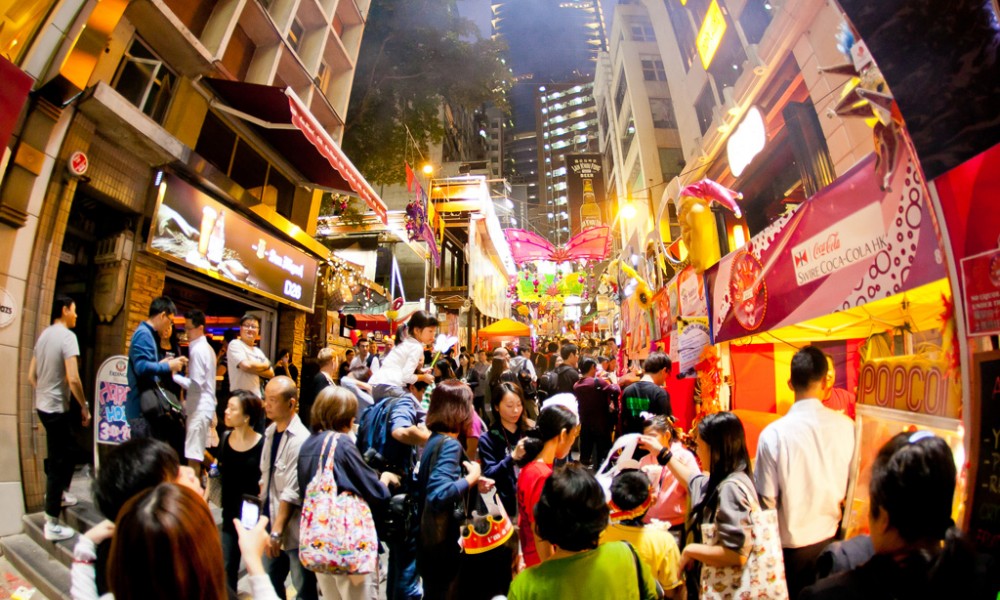 It is somehow hard to feel the atmosphere of a city let alone a metropolis without having a stroll along certain streets. We try not only to tell about geographical spots we took fancy for but also to suggest as pinpoint routes as possible. Today we speak about Lan Kwai Fong – the merriest street of Asian-way-strict Hong Kong.
To get to the most democratic and almost always-open pubs and taverns is truly simple – you should get to Central subway station, exit through terminal D1, take hugely long escalator (in the best traditions of soviet metro) to the surface and turn right. After about 10-minute walk through alcohol smell that settled down to get fixed in the air, through stumbling but happy people you get to the main bar counter of the city-state. All you have to do is unbuckle your belt and wait for a 'grape wave' to come…
Should we dig deeper into the history we'll find out that some 40 years ago Lan Kwai Fong didn't even nearly resemble its current self. Instead of places of entertainment, textile production, workshops and small factories were situated there. It was one true industrial district were people worked hard from dawn till dusk. As is often the case in history, everything changed with the arrival of Europeans, Germans in particular, who also work hard but do not forget about leisure.
In 1983 German-born Allan Zeman, owner of several companies that used to rent offices nearby, decided that both he and his employees had Asian exotic up to the hilt, while in the far Hong Kong they missed places that were common to them by nature. Zeman took a revolutionary way out of the problem – he opened 'private' California restaurant. The establishment looked and worked in Western style: cheap beer, simple snacks, nice-quality music, sports broadcasts on weekends and democratic approach to clients.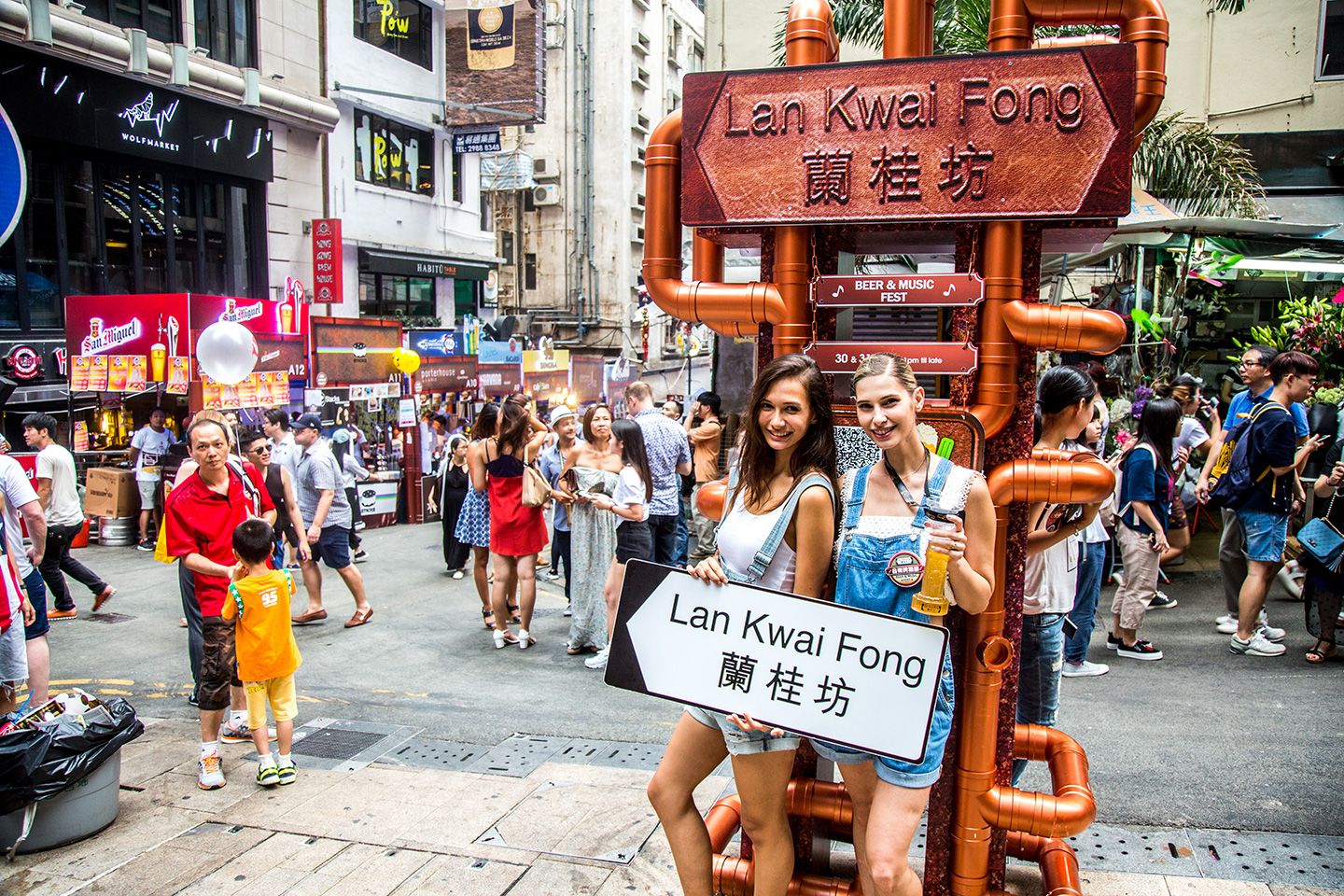 Photo timable.com
It was in fact an ordinary place for a person distant from Eastern world. However, not only Zeman's employees but also locals from surrounding districts became its frequent visitors, some out of curiosity, others due to poor selection of bar back in the times: it is important to understand that Hong Kong today and 30 years ago are very different. As time went on, Asians from around the whole rapidly developing city started coming there to have a glass or two after work and listen to music in an informal setting. Businesslike German realized that he had hit the jackpot so he bought some more premises on the same street to set up his restaurants there.
A decade later all factories and workshops either shut down or moved out and since then a sound of any other instruments but musical ones can be heard on Lan Kwai Fong. Every day all kinds of people walk around and have fun here: from tourists to office clerks, because for each time of the day special offers are established. For instance, from lunchtime till evening there are 'happy hours' when every drink or dish is served with extra one on the house. And when 'hours' are over, 'spree' begins, when everything costs 40-50% less than it is stated in menus.
During New Year celebration and other large-scale festivities this street together with neighboring ones is shut for vehicles to create one true festival in the centre of the city.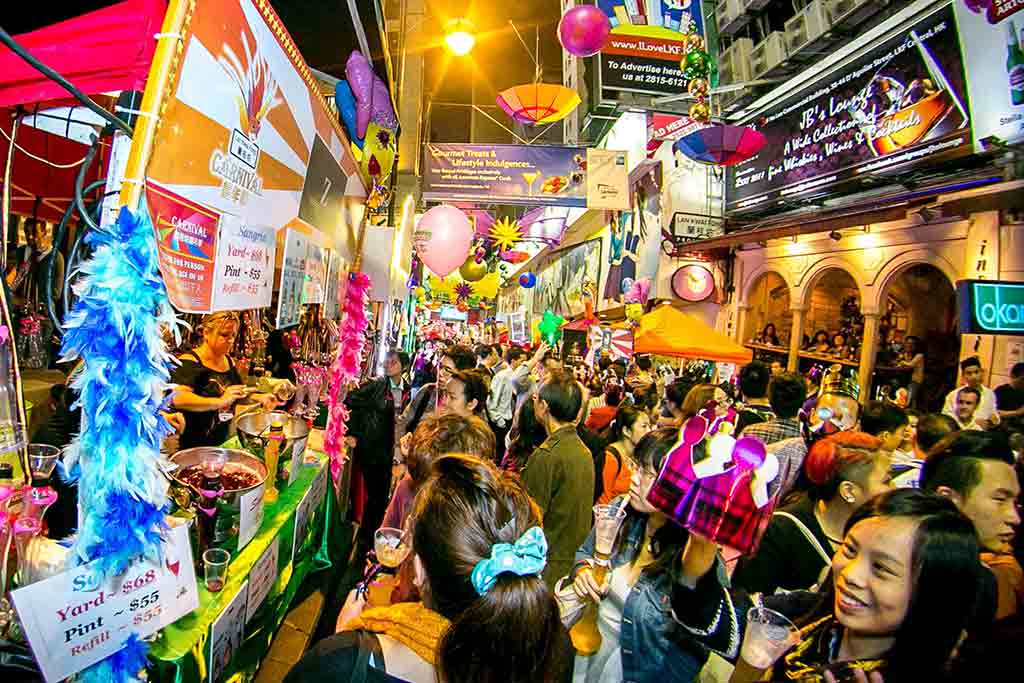 Photo womguide.com
Among iconic establishments there are Wing Wah Lane where they server dishes from the majority of Eastern cuisines, Fringe Club with its roof being perfectly arranged for admiring the city with a glass of cocktail and POST` 97 – a place where Bohemia and intellectuals meet. All in all, everyone can find here something to own liking and within one's pocket. Even for former USSR citizens, notorious for their nostalgia and foreign-land-intolerance, a bar called Balalaika was opened where one can have some vodka, get dressed in a fur coat and sit in an ice room. Morning is probably the only time when Lan Kwai Fong isn't noisy and gets refreshed for another go; this is perfect time to visit numerous art galleries because many masterpieces there were inspired by amusing nights in the neighborhood.
OUTLOOK cherish immense respect and love to Paris but we dare suggest that if Hemmingway had had a chance to visit this Hong Kong street, his book 'A Moveable Feast' might have described an utterly different place.
Cover photo luxreview.com