Chinese sugar painting: Art from a ladle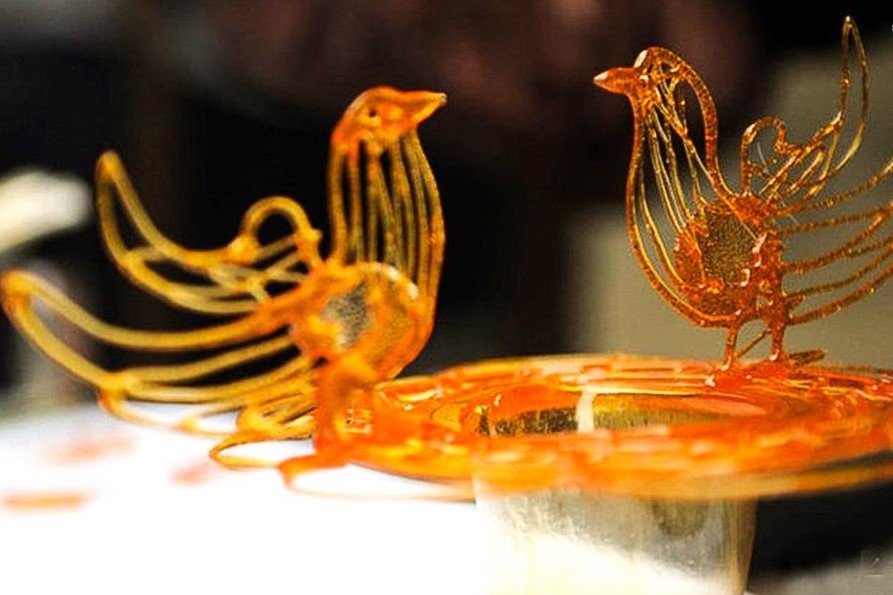 Flowers and trees, animals and birds, dragons and fairytale characters – to put it short, anything that may come to your head can turn into an object of edible art there. Amazing technique of painting with hot sugar is possessed by craftsmen from Sichuan province. Paintings performed in almost caramel can be neither "edited", nor painted over.
Amber-like transparent syrup instead of paints, a ladle and a spatula in the capacity of brushes and a marble surface that serves as canvas – such selection of "ingredients" is enough to create an atmosphere of a show that a confectionary masterpiece is born in. As soon as it sees the world, it cools down and hardens, therefore experience, confident moves, knowledge of laws of creation an image and a skilful hand of a master are very important in this matter.

Despite the fact that history of creating sugar masterpieces accounts for many centuries, nowadays development of the art is directly connected to market situation: a street vendor will turn into an artist in front of the eyes of public only if he sees that his work will be sold. Normally on the table on which a craftsman creates handmade miracles, there is an analog of well-known roulette: a circle, divided into segments, with a pointer. In each "quadrant" there is an image of an animal, an insect or a flower – prototypes of future masterpieces. A buyer and the audience hold their breaths to watch where the indicator stops its movement. Small snakes and butterflies provoke sighs among the audience while large golden dragons, whimsical phoenix birds and peacocks with splendid tails evoke enthusiasm and joyful exclamations. Paintings of planes, ships and cartoon characters are also warmly welcome. One or two Yuan – and a sweet handicraft item ends up in hands of a child. As a rule these works of art are consumed right after purchase. Tourists would be glad to take such a national souvenir home but its exceptionally delicate "shape" makes such a step quite challenging.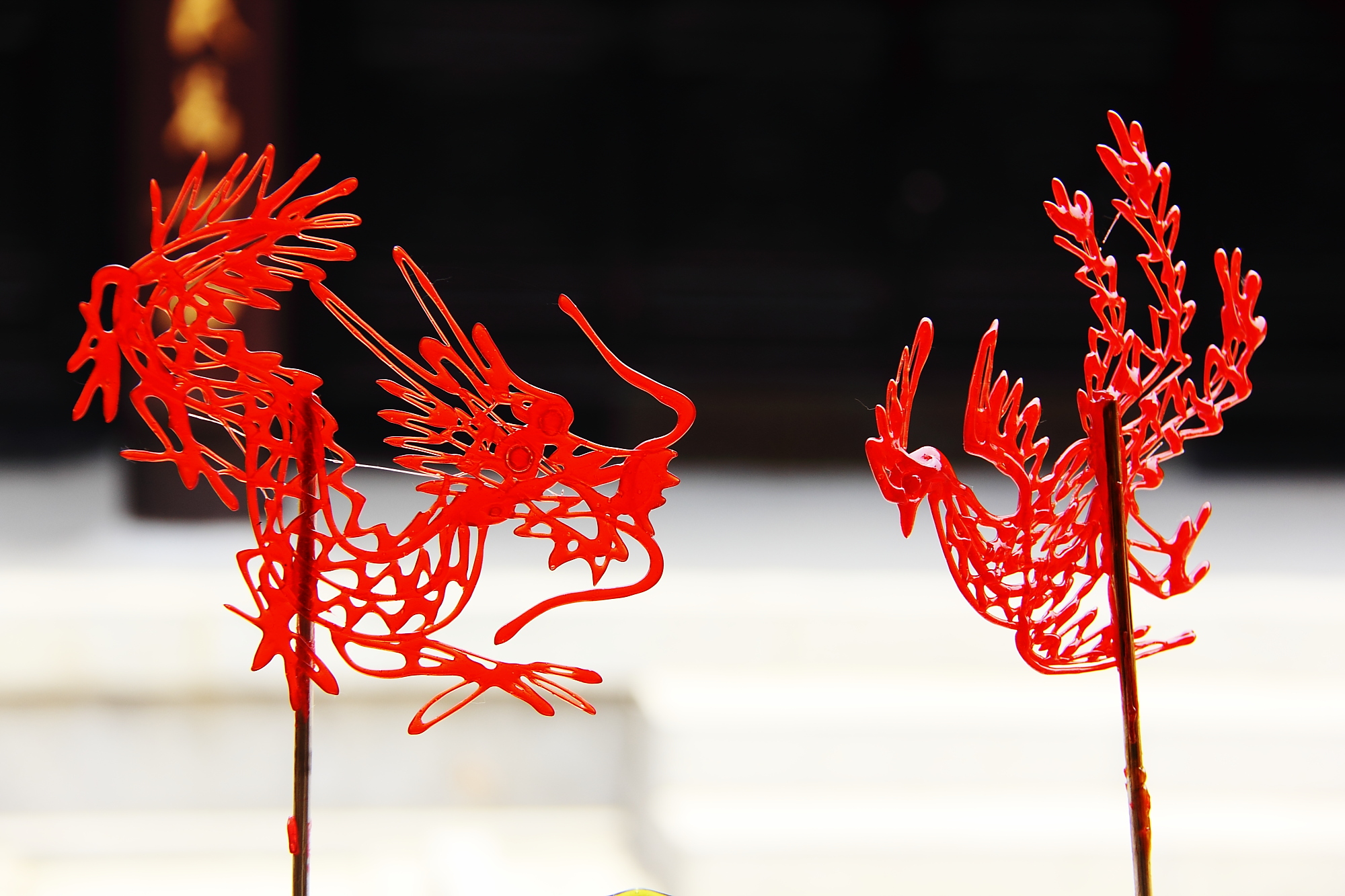 Photo ses.sh.edu.cn
Usually art in the style of sugar painting comes to life during crowded fairs. It doesn't take much for an artist to create paintings: kerosene burner on which he will make sugar syrup nearly boil, a small bronze or copper ladle, a spatula, marble table and wooden skewers. While stirring "sweet paint", an author will try to keep a close eye on its temperature. Practicing craftsmen insist that it makes for 60% of success and 40% more lie in artistic implementation. If a degree is insufficient, ultimate product will resemble a chewing gum while excessive condition is fraught with black and bitter ending.
Copper spoon turns into brush and syrup – into paint for merely several minutes. Over this time butterflies and birds manage to fly from under a "plume" of an artist; flowers manage to blossom and even trees to grow. For a sweet piece to see the world its author will pour hot syrup from a metal spoon on a marble surface masterfully using technique of painting with a dribble.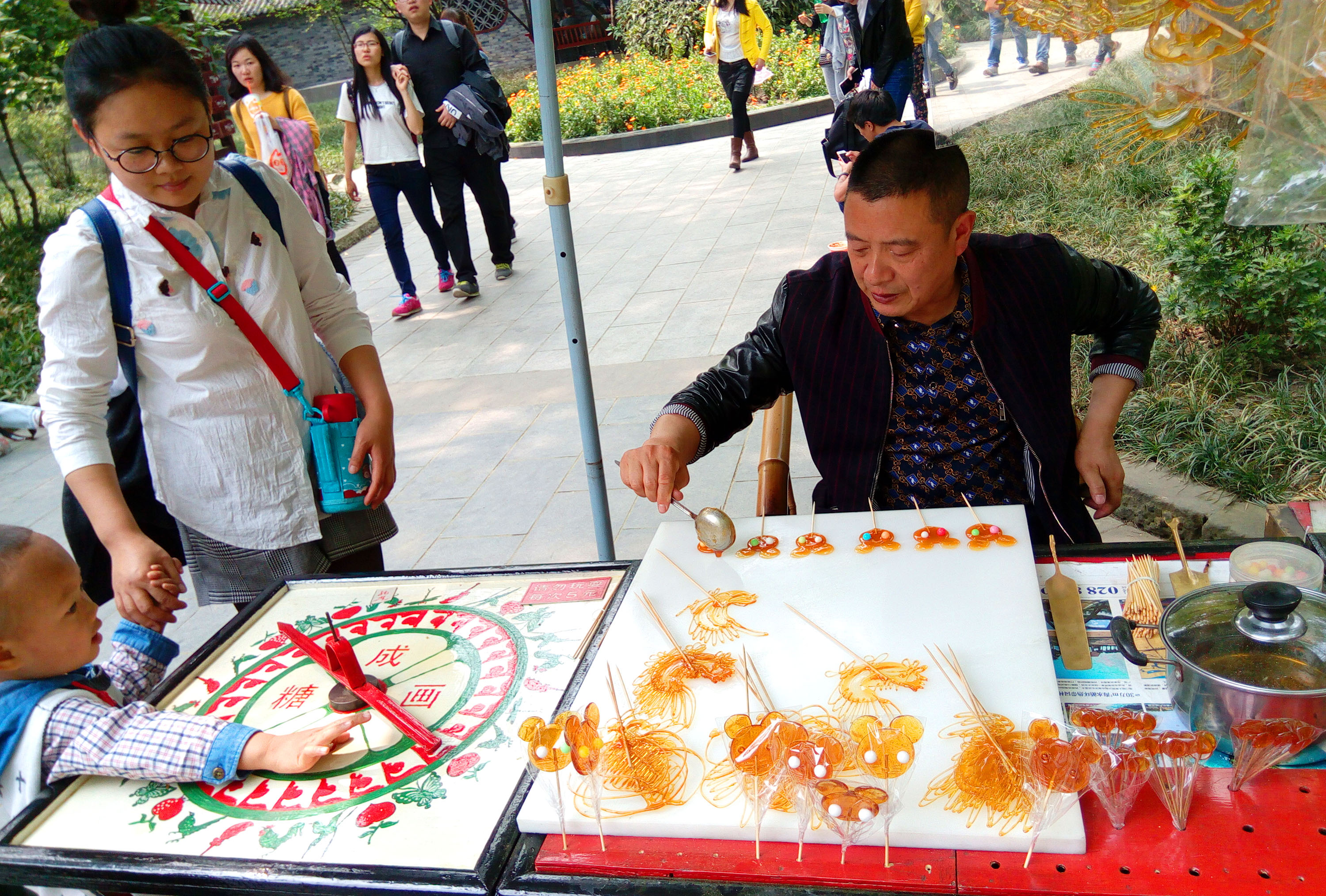 Photo img.mp.itc.cn
Process of a painting "being born" from sugar differs from conventional picture art. Since sweet syrup hardens promptly when it cools down, one should paint very carefully, quickly and precisely. It is usually easier to deal with this task for painters who have sufficient practice in creating customary works – with a pencil or paint on paper.
Read also: Kintsugi. Japanese art of restoration
For "lords of sweets" who one can come across in the streets of cities and villages of the province, it is important not only to sell a hand-made lollipop but also to demonstrate own expertise. Buyers, on the other hand, when they gather around a master, for instance, during festivities, do it not only expecting gastronomic pleasures. While confectioner artist works, they enjoy the atmosphere of a masterpiece being created. This is probably why sugar painting is also called art that brings people joy.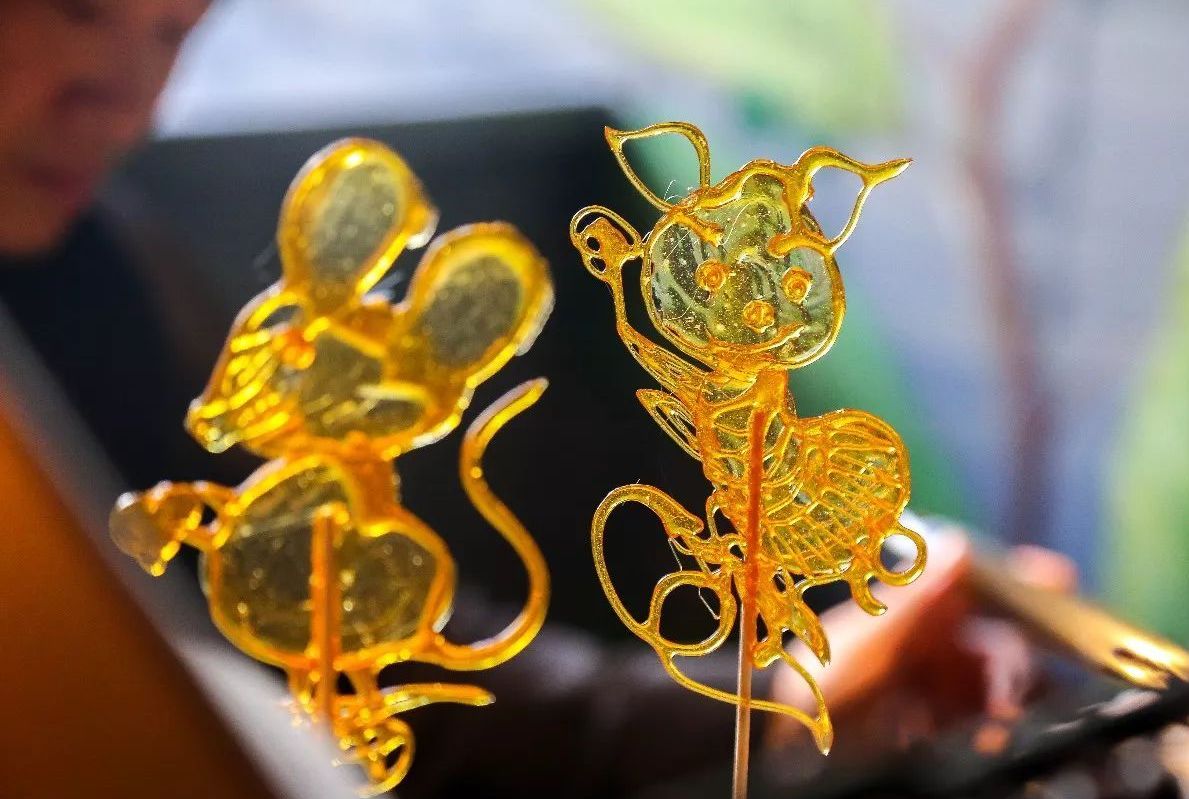 Photo 5b0988e595225.cdn.sohucs.com
Tradition of making sugar art appeared due to the need to perform religious rituals. During rites numbers and twelve zodiac animals, made of solidified syrup, were parts of sacrifice – so some researchers believe, who looked into this line of Chinese art. With time popularity of painting grew and patterns became more diverse. Another opinion exists that there was a poet, who really liked to feast with brown sugar, and it was him who came up with exotic sweets.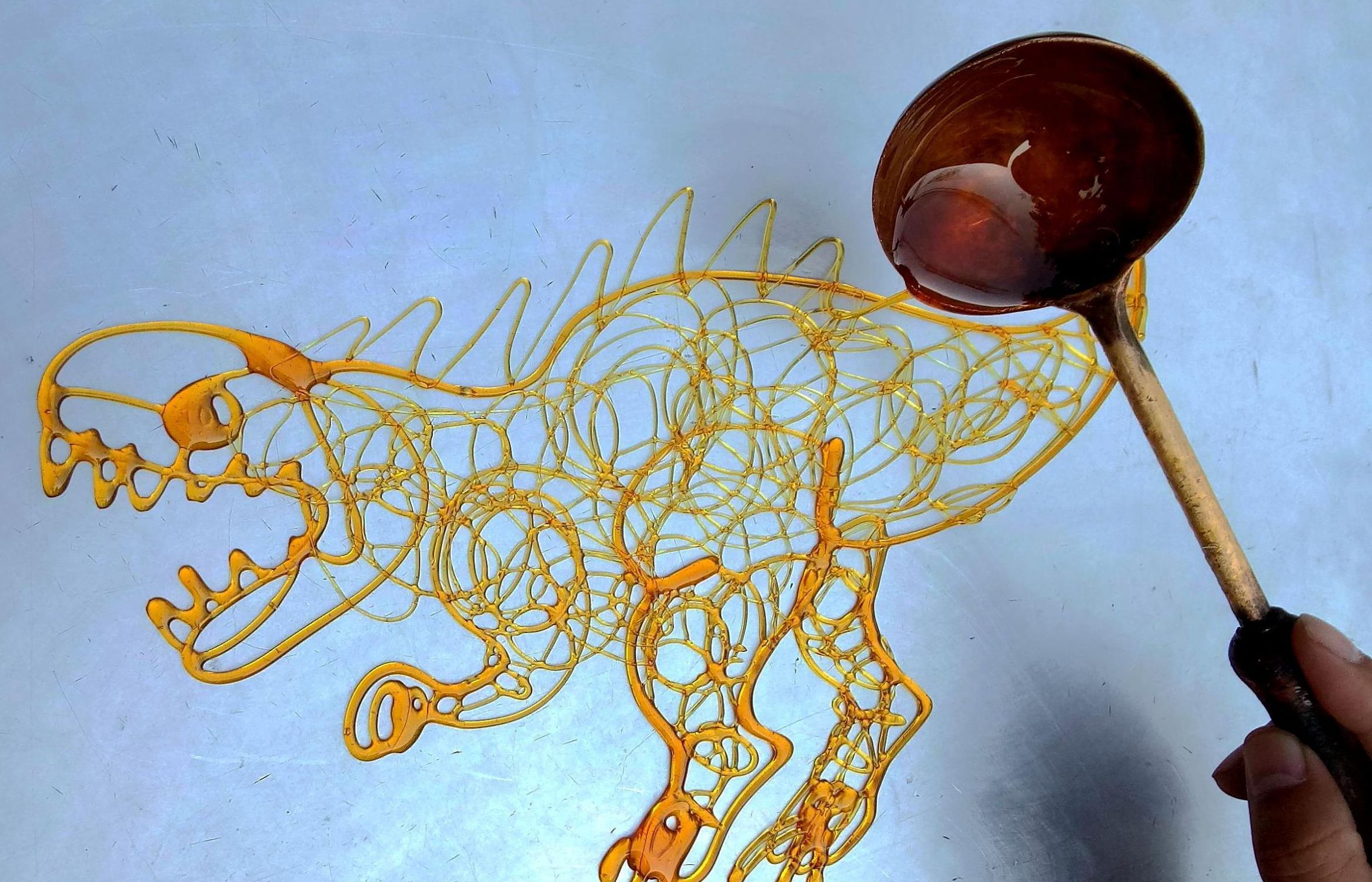 Photo 5b0988e595225.cdn.sohucs.com
Unfortunately, number of "sugar" masters in Sichuan province grows smaller and smaller therefore now they try to preserve such unique craft. State authorities recognized it as national intangible culture heritage and passionate enthusiasts hold workshops aimed at spreading culture of sweet painting and teaching this unique style!
Cover photo pinterest.com