Panska street - Down from a mall, straight to the ball
Dilapidated Soviet-era buildings, grandiose palaces of the Hungarian aristocracy, booths with antique utensils, street art in the style of Van Gogh - Panská Street is full of contradictions! This place is a fusion of old grey-headed traditions, and ardent desire to be a little neat Europe. OUTLOOK knows what secrets go hiding at the streets of Bratislava.
Slovakia is not the first in the list of desired destinations sought for by an avid traveller, though, when visiting the "pearl of the Danube" Bratislava, you would not be able to escape the feeling that the atmosphere here is particularly romantic. In spite of the fact, that the city is not so "mature" to attract crowds of tourists as, for instance, neighbouring brilliant Vienna, the capital of Slovakia is developing faster than it seems at first glance.
Over the past twenty years, once abandoned, deprived of investments, it was reborn from the ashes of the Soviet times, and now attracts many overseas visitors. Contrasts are all part of Bratislava's allure. It is unique in its contrasting back streets: cute souvenirs, ornate décor and antique pieces adjacent to the faded by time walls and dilapidated houses, which seem about to crumble right before your eyes. Exquisite palaces replace pictures of the post-Soviet buildings, which is more typical for the old part of the city.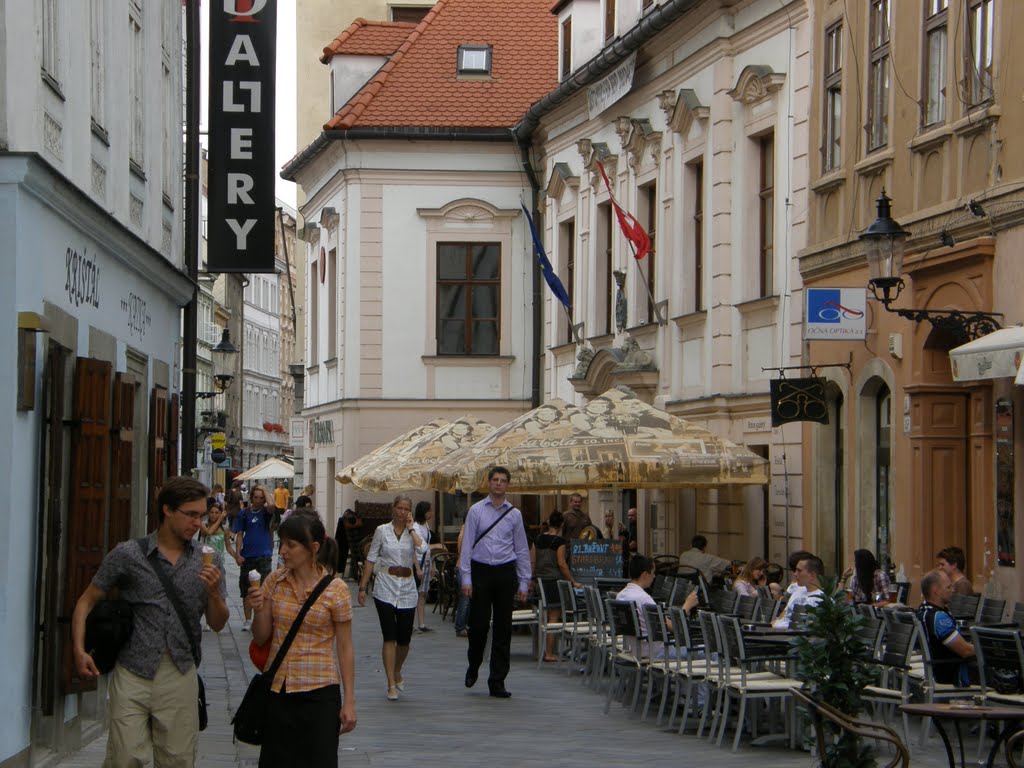 Photo static.panoramio.com
One of the most picturesque streets of Bratislava is Panská Street (Ulica Panska), and it is no surprise. It is considered the second most important, and, together with Laurinská Street they create a pedestrian zone stretching for 700 meters. Once the local nobility, the richest families from Slovakia and Hungary, chose it to built there many palaces and residences which, as luck would have it, can be seen nowadays. Hence, the "aristocratic" name of Panská.
At first glance the street resembles the centre of the city of Lvov: the same old architecture – crowded in line multi-coloured houses with semi-circular windows and turrets, European coffee houses under huge umbrellas, cobblestoned pavements heated by afternoon sun... If you walk along the street towards the centre of the Old Town, there you will find an abundance of palaces grown here as if mushrooms after rain. They are not as majestic as, for instance, in Budapest, but are appealing with their cosy charm. The facades of stone buildings are fascinating with friendly pastel hues and involve by a mysterious reticence - who knows how many interesting stories they hide behind their impartial walls... One of these buildings under number 19-21 is Jan Pálffy Palace, which now houses the Gallery of Bratislava (Galeria mesta Bratislavy). There is an exhibition of Gothic paintings and sculptures, as well as a symbolic permanent exhibition "Passage" by Matej Kren: a seemingly endless corridor of books symbolizing the parallel universe. Another impressionable "exhibit" was discovered by chance: during restoration in the basement of the palace staff found the mine, as it was found out later, the Celtic tribes had created it.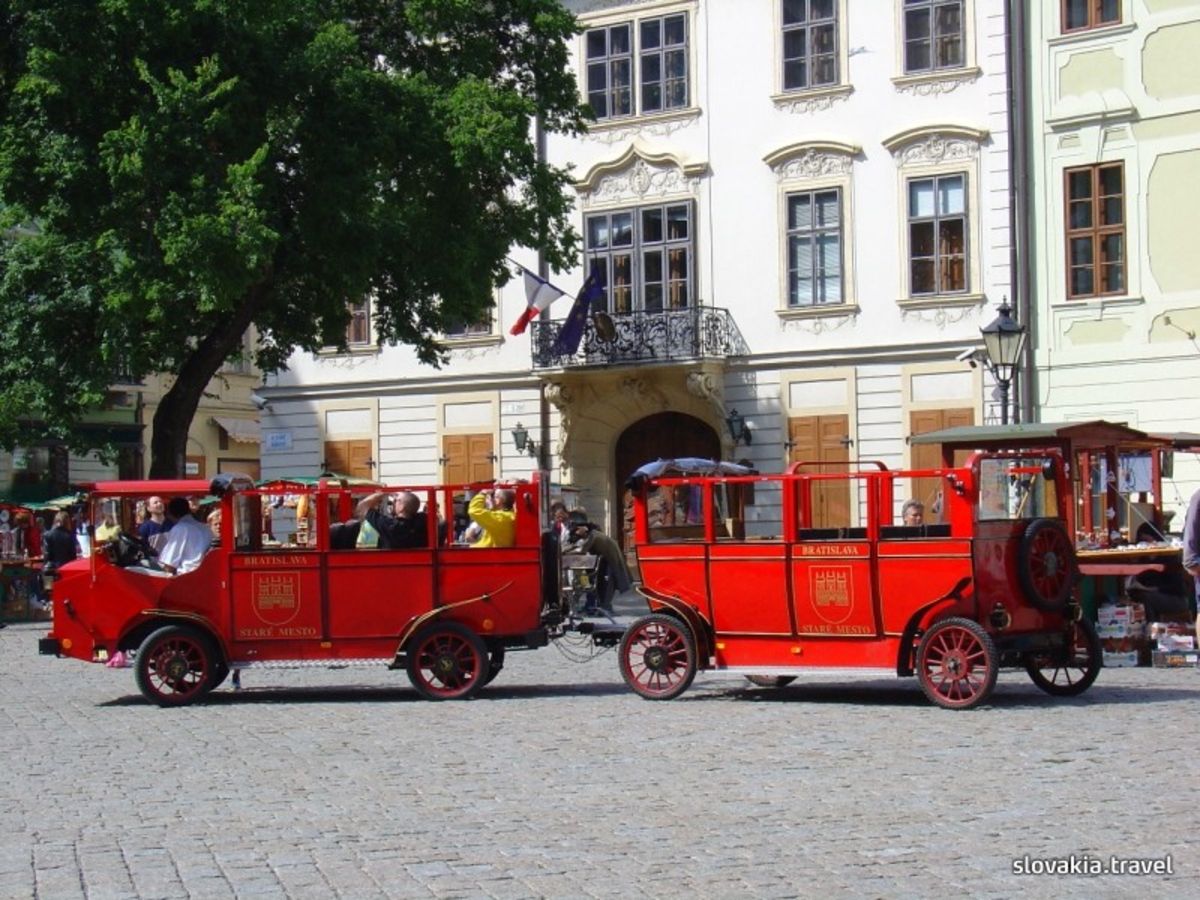 Photo slovakia.travel
Go ahead and come to the houses numbered 13 and 15, where once the Hungarian nobility dwelled. In fact, these buildings are hardly can be called houses. Beautiful Esterházy Palace (Esterháziho palác) in Baroque style, and Balassi Palace (Balašov palác) with rich stucco and elements of classical mythology which undoubtedly evidences Rococo. However, all the local mansions are overshadowed by residence of the Csákyho family built at the intersection with Rudna Square (Rudnayovo namestie) in 1775. Strict mansion that stands out among artsy neighbours, was erected in the best traditions of classicism. Looking at all this bohemian architecture, you cannot help imaging scenes where ladies in colorful dresses are strolling in rose gardens near the house, and gentlemen, taking off their hats thus greet the modest beauties.
When you reach the end of Panská Street, you literally come across extraordinary and therefore popular among tourist monument, causing a smile from everyone passing by. A friendly plumber Chumil (Cumil) is peeking out of maintenance hole, this merit was nicknamed Onlooker or Observer. This bronze figure has myriads of stories, city residents do not know which one is true. Rumour has it that this is not a underground sewage worker, but a local resident hiding from the German fascists. Evil tongues have their own version: bronze fellow is dubbed Onlooker since from his perspective he is shamelessly admiring slender female legs. For his mischievous nature, bronze statue is called a cheerful and carefree spirit of Bratislava.
And what is the majestic spire impressively looming over Panská Street, you would ask. We cannot leave your question unanswered, especially since we are talking about the St. Martin's Cathedral - a national cultural monument in Slovakia. It just so happened that the biggest church in Bratislava, consisting in the list of UNESCO World Heritage, had been preserved better than others. During its long history the temple was the honourable place of coronation of Hungarian monarchs - 11 pairs of kings and queens came before its luminous altar! The top of the Cathedral tower is adorned with the crown, one meter in diameter, mounted on gilded pillars covered with eight kilograms of precious metal. Alas, the building is constantly exposed to "stress" due to of vibrations caused by traffic of the nearest bridge.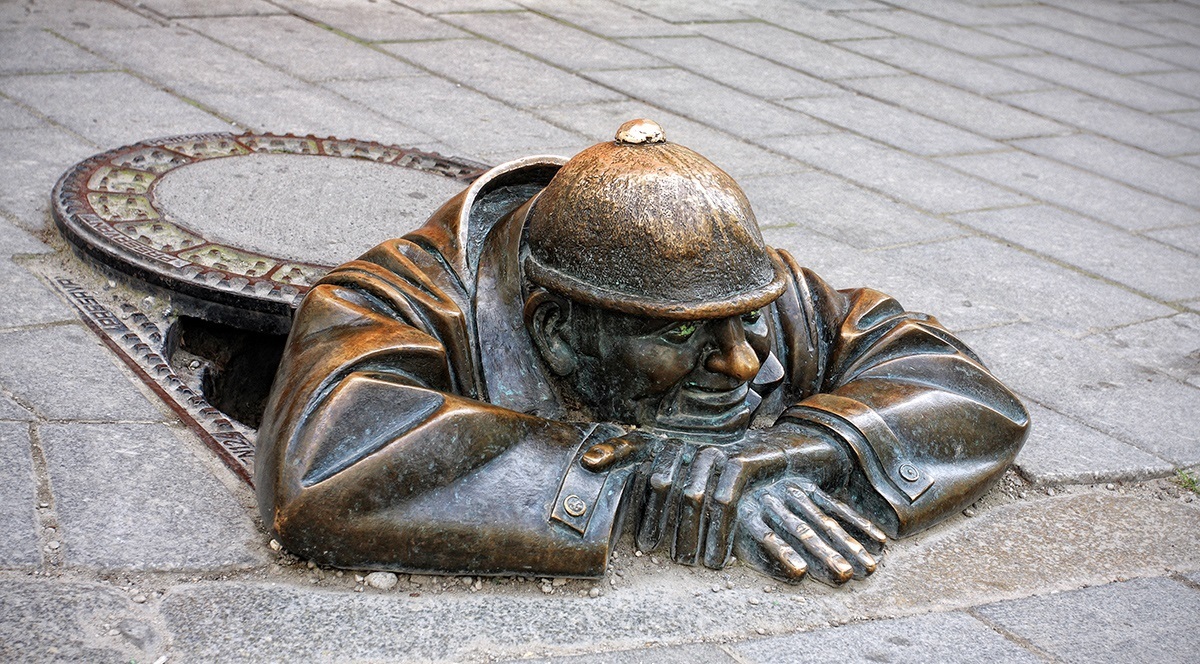 Photo img.tourister.ru
Near the Cathedral there is no less interesting architectural item. The five-floor building with a pharmacy Salvator (Lekáreň u Salvátora) was built in 1904. The facade is decorated with carved stone statue of Christ created by hands of local architect Alojz Rigele. Inside the building you can stumble upon an old antique furniture, if you sniff it, will feel a light aroma of herbal medicines. Pharmacy, unfortunately, is not in a very good condition, but we hope that caring hand of restorers will touch it soon.
Not far from this entire historical saga, House of Van Gogh (Van Gogh Murals) slumbers peacefully under gazes of numerous onlookers. The old, temporally challenged building lures connoisseurs of semi-modern art. Why semi-modern? Because the windows in a building are covered with graffiti showing murals with reproductions of famous paintings by Van Gogh! Bratislava barbarians turned out to be sophisticated admirers of post-impressionism painting.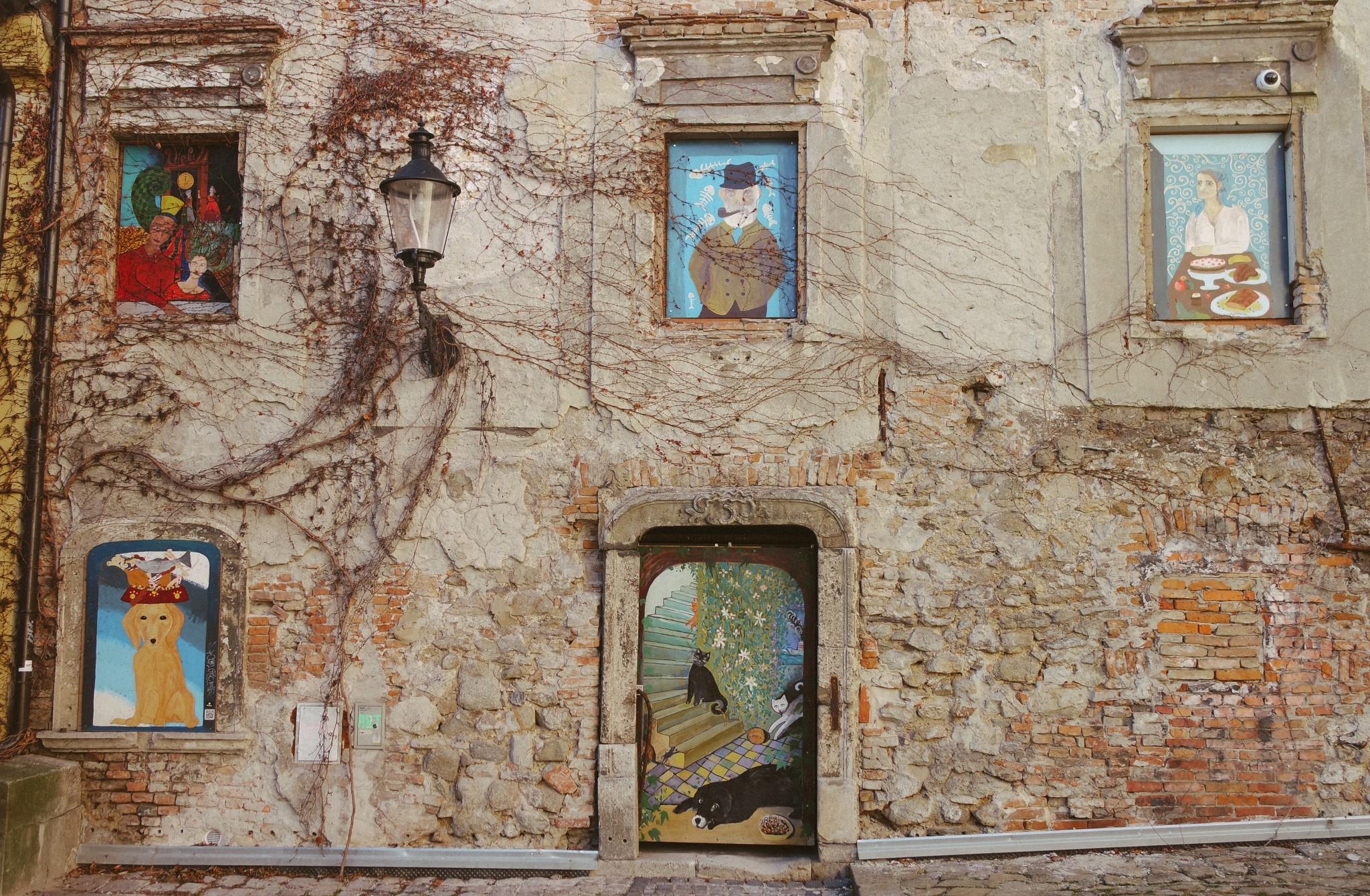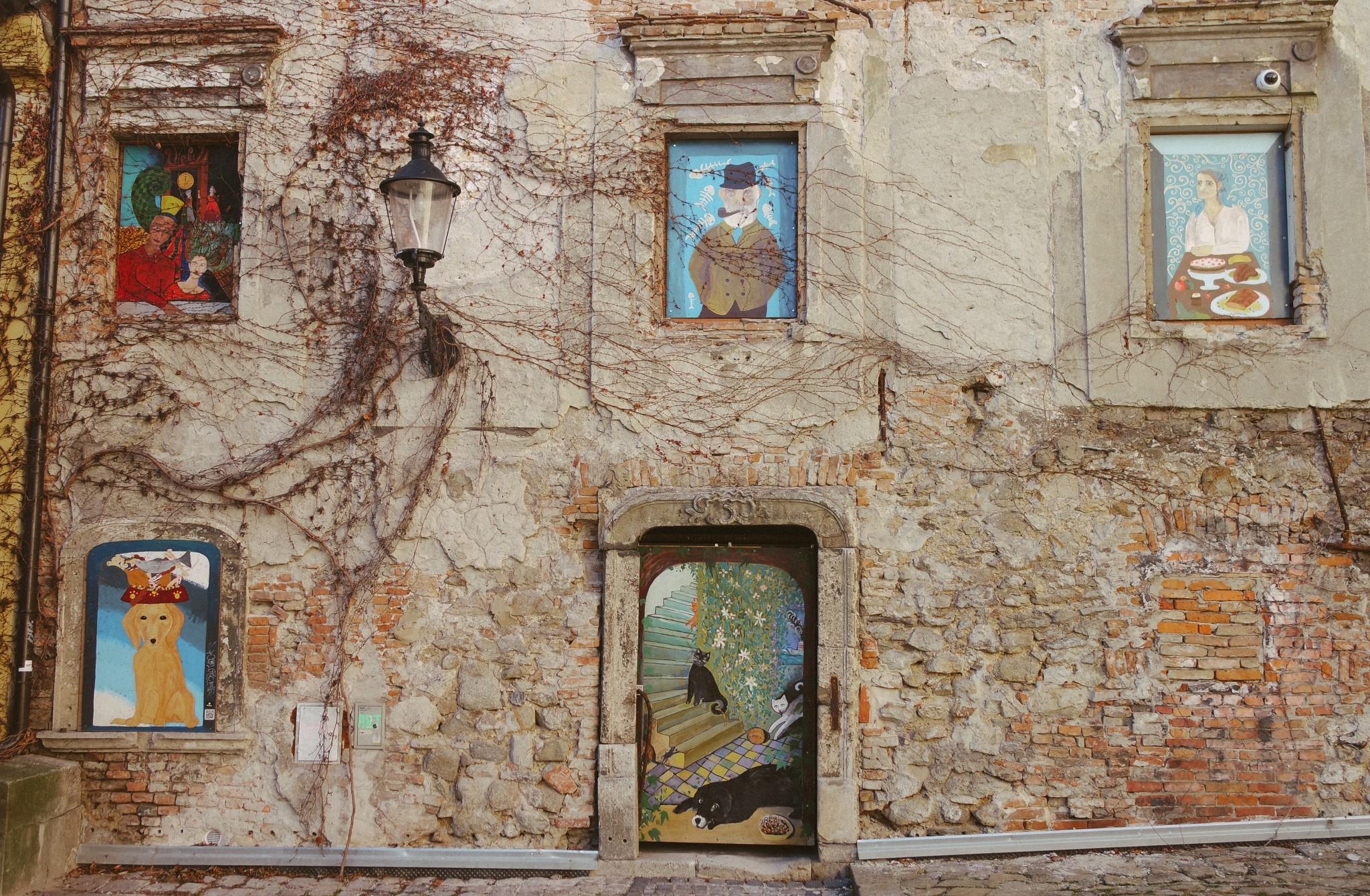 Photo passenger.rocks
If you have already walked well throughout a cobblestoned Panská Street, and got a little tired, it's time to taste the delicious ice cream, which will outshine your idea about this dessert! Ice-cream parlour Kouns, which comfortably anchored next to a charity shop Plutoshop, caters unique combinations of flavours. Vigorous smiling host will offer you to try an incredible milk dessert with vanilla, rich aroma of fresh fruit, pear, and for instance, one of the most unusual – a caramelized fig ice-cream with cheese. The slogan of the cosy themes parlour is "I scream for an Ice cream" as it suggests tasty desserts is in great demand, so come there early in the morning to avoid queues of those willing to purchase Bratislava special delicacy.
Cover photo novynarnia.com