Granada: Moorish fruit of Spain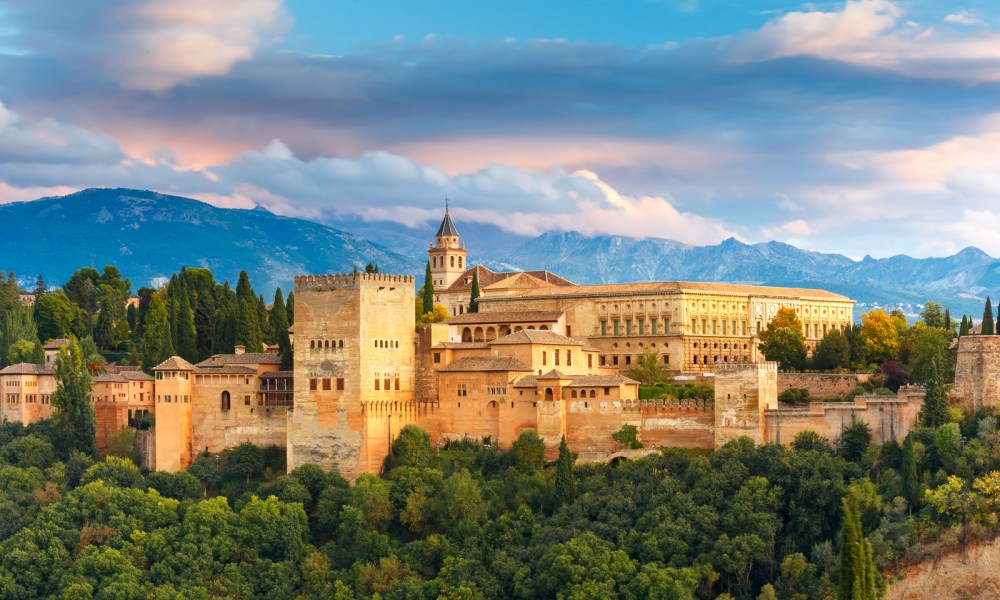 An open pomegranate lined with rows of whitewashed houses and lavishly dotted with grains of various abbeys, palaces and cathedrals –that is how looks Granada anchored on the reddish hills of the Spanish Andalusia. The ability to mingled opposites turned the city into one of the most alluring destinations not only in Spain but also in Europe.
Granada is the juiciest treasure of Spain. The city was destined to survive pretty many events. In local legends, the honourable right to be considered as the founder of ancient Granada is contested by biblical Noah and mythic hero Hercules.
Being a settlement called Iliberri, Granada thrived during one of its rises when ruled by the Iberian tribe of the Turdetans. And then, under the name of Iliberis, mesmerized its guests as a part of the Roman Empire.
True glory and greatest growth began whenthe Moors gained the mastery over this land, in three digit seven hundred years. Since then Granada inherited most significant architectural monuments, Gothic and Renaissance came later and they survived after a powerful stronghold of the Moors Muslims began to transform into modern Spain.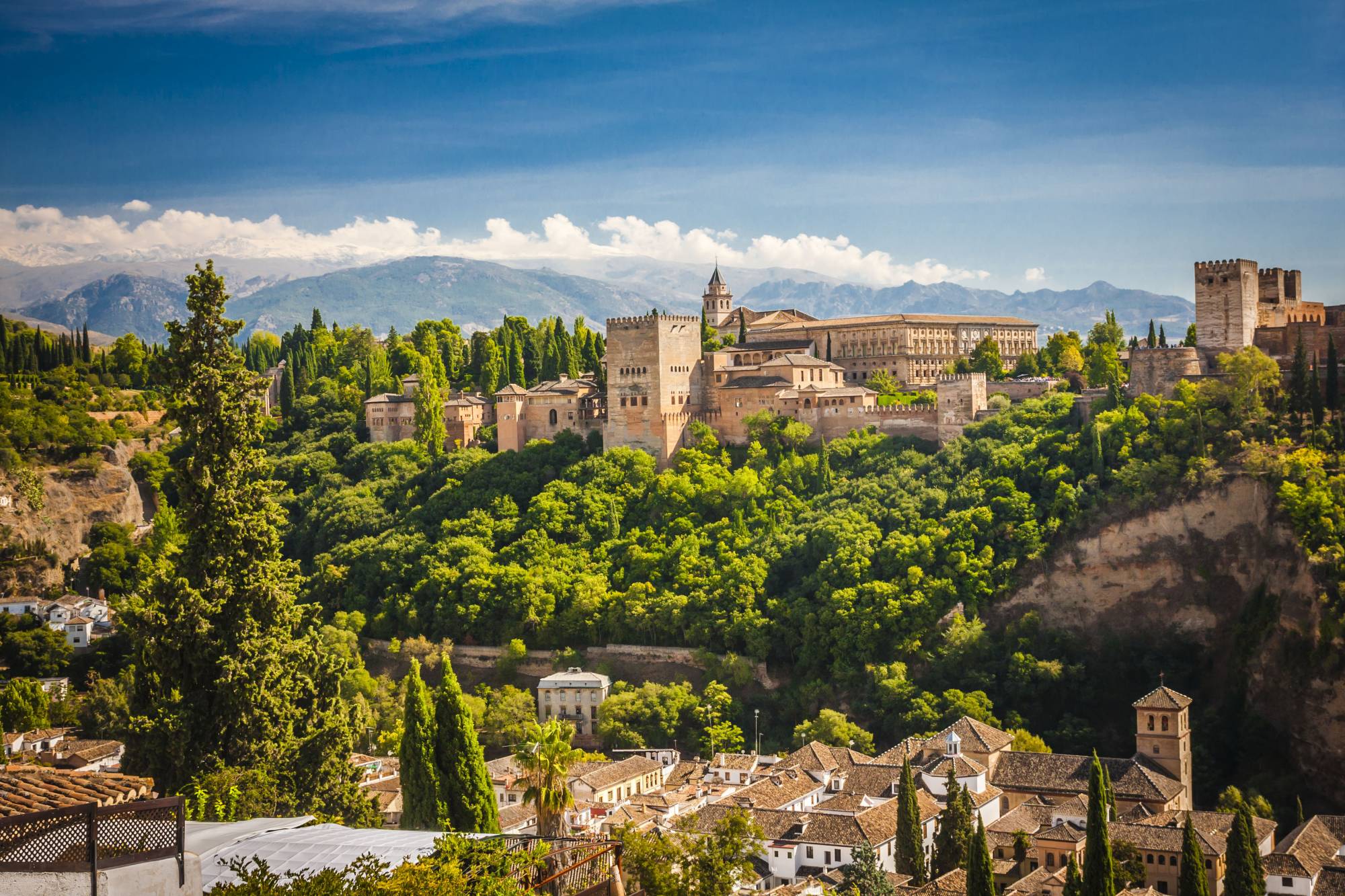 Photo guidedtour-spain.com
The name of Granada breaks like juicy red fruit grains when pronounced. The many grains are inside a pomegranate, the same many are legends about the origin of both the city and its name. On the one hand, the city really looks like a cracked pomegranate awash with buildings, houses and tightly network of alleyways. Residents say that the settlement was named after the most beautiful girl that was found in a cave near the local Darro River. But various historical papers say that the name Granada origins from the remains of Hebrew words Garnata al-Yahud, which mean a high mountain.
White streaks of stretching narrow streets barely break a city crammed quarters, but never disappoint with discoveries they lead to.
Across whole Spain it is difficult to find a place that could surpass the Alhambra Palace, the largest monument of Moorish architecture and Islamic art. The Red Castle, as the name of Alhambra literally translates from Arabic, was erected in 13th -15th centuries, to be a splendid residence for Granada emirate. Dozens of refined hectares combine wood, stone and ceramics, thus creating dizzying fine ornaments. It is enough to have a look at the palace Lions Yard: a circle of sophisticated, carved arcade galleries shelters the fountain, the weight of which is faithfully supported by twelve marble lions.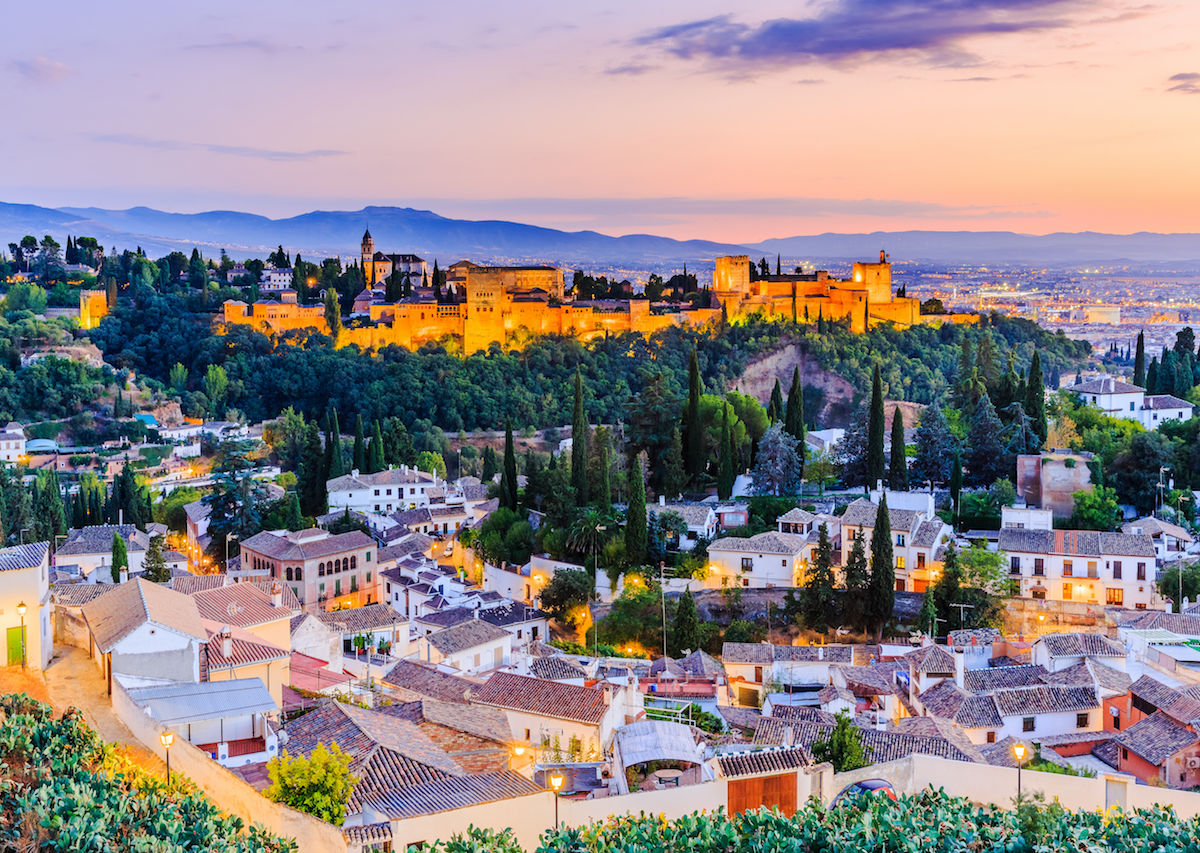 Photo matadornetwork.com
Combined with garden ensembles, Alhambra gives the impression that the Moors intended to recreate a piece of paradise on Earth, including the entire Albayzín district, that stretches down and was once considered central area in the city. Moors set a good life there and for centuries left their white houses that tightly covered all the hills.
Albayzín spreads over to the Gypsy neighbourhood Sacromonte which dilutes rows of whitewashed houses with feisty humming of clattering heels, clapping hands and clopping castanets - this is where flamenco was born.
Photo pinterest.com
Rumour has it, that the most charming Andalusian ladies came from these places. Sacromonte secret is its caves. It is there the Spanish Gypsies, the Hitanos, settled since the 15th century. In fact, today you can see them there, but now these cave homes are not much different from ordinary ones: they are equipped according to all the rules of modern civilization. In an atmosphere of silence and admiration of the public, the local caves turn into stage for the legendary flamenco.
The noisy life of the Gypsy district is quietly watched by the Mount Valparaiso topped with the Abbey Sacromonte or the Benedictine monastery. For years, the sun soaked and bathed it in its rays, leaving Abbey with pale, sun-bleached walls and smoky riddles that once Granada's patron saint, St. Cecilio perished there.
Local trees and green plant fences rhyme by-passers' steps to events occurred there several centuries ago.
This poetry becomes clearer and melodic when walking to the southern part of the city. This part of Granada used to be a home to one of the greatest Spanish poets of the 20th century Federico Garcia Lorca. Who did not see Granada, saw nothing, said the poet affectionately about the city where he spent most of his life. Surely he deserves now to hear: Who did not visit Federico Garcia Lorca museum, did not visit Granada, since you cannot feel the city without paying homage to its most faithful native.
House Museum of Federico Lorca stores a large number of things that encouraged Lorca to transform everyday environment into a continuous melody and poetry.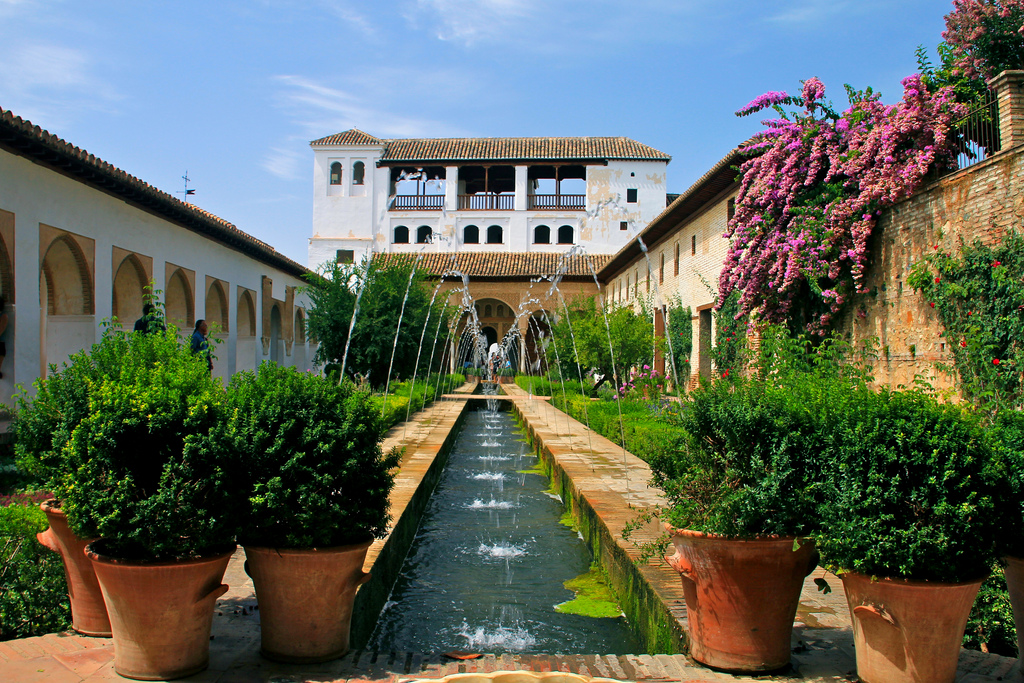 Photo pinterest.com
Images of one of internationally revered top perfect Gardens of Babylon fade, when you enter the parks once owned by ancient rulers and freeze astonished by their ideal beauty. Generalife is a manifest of it. From the central part of the garden and landscape part Patio de la Acequia (Court of the Water Channel), the Royal Fountain stretches away its mysterious waters catching reflections of the curious visitors. The park territory is protected by decent convoy of green plants: geometric shrubs and sculpted trees with floral and fruit straps, and streams of small fountains flowing over millennial stones. Generalife, in appropriate cool temperature conditions, preserves its status as the former residence of the Arab rulers.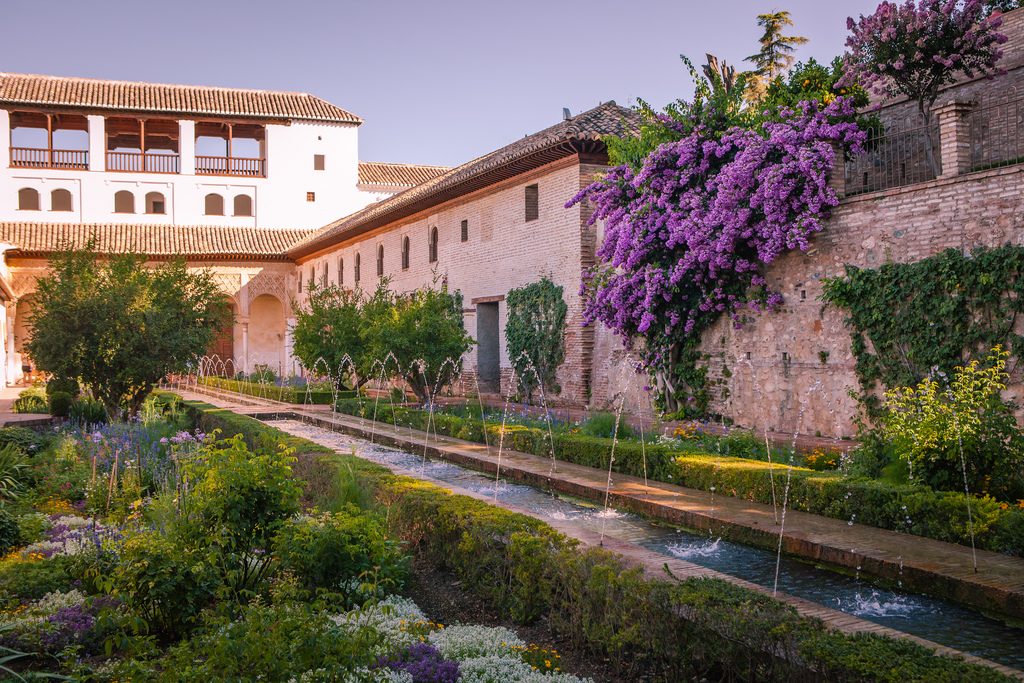 Photo thecrazytourist.com
Gastronomic Granada worth no less attention than its architectural monuments. A variety of bars, cafes and restaurants are of value, large number of them have aged for hundred years.
Coming to the main Granada Cathedral you see land combined with sky. Tall white columns and arches go high up as if trying to break through the barrier between the earthly world and the eternal sky shrines. The grandiose temple is proud of walls covered with gold and paintings. The Cathedral was being built for almost 200 years, from 1523 to 1703 that is why its architecture incorporates the features to all ages from Gothic and Rococo to Classicism and Renaissance.
It is a good idea to drink wine with cheese or ham in the oldest restaurant Taberna Casa Enrique, with walls covered with collection of photographs from its life, which began back in 1870. Or come into little younger café of 1907 Gran Café Bib Rambla to sample traditional dishes of Andalusia. Or feel the atmosphere of Restaurante Sevilla where cultural regulars such as Salvador Dali and Marlon Brando enjoyed earthly food.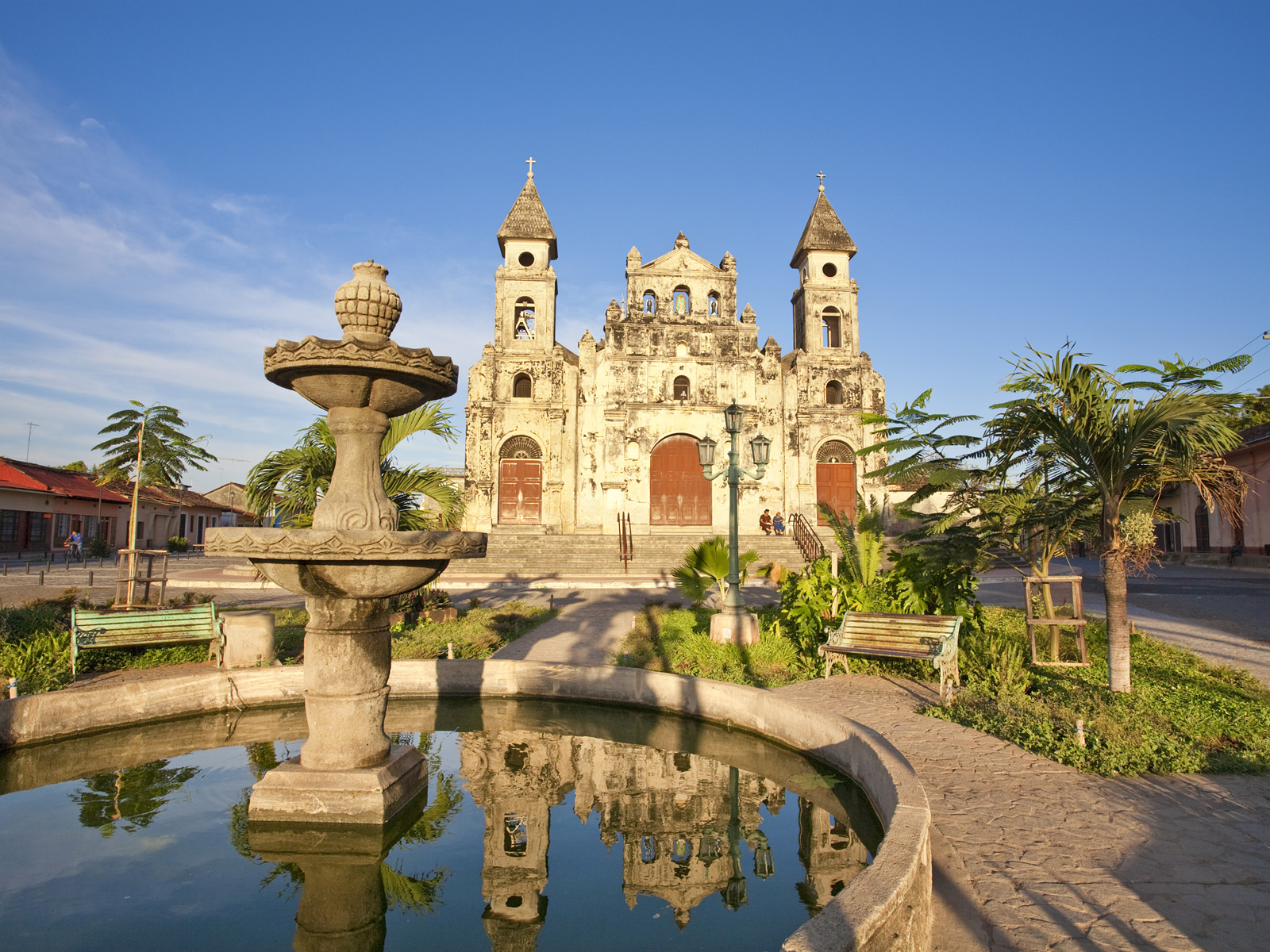 Photo spaniagid.ru
And even if you do not have intention to drop into some diner, you still will not stand the seduction of flavours of local street food. Before you know where you are, your hands will be holding warm pack with roasted chestnuts, or with baby jacket potato topped with cheese and oil; and you can't help tasting edible pear-shaped cactus, all washed down with a drink granizado with taste of citrus or coffee.
Granada is calling with unique taste of this Spanish-Moorish fruit, and its allure is hard to ignore.
Cover photo veebrant.com