Unusual therapy: dolphins help to get rid of stress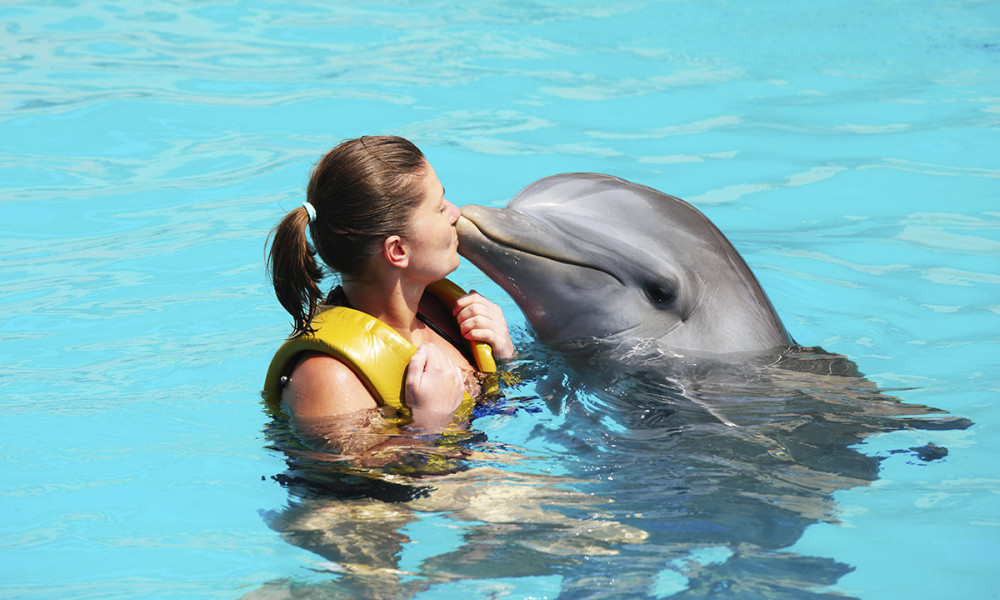 How to get rid of stress and get a lot of fun? They say dolphin therapy is an effective remedy against emotional pain. Walking with dolphins can bring a bottomless amount of emotions and even expand the boundaries of the mind ... At least, the supporters of this way of thinking say so. Which countries are best to travel in order to be treated by the method of dolphin therapy?
Florida, the USA

The history of warm relations between man and dolphin began in Florida. In the 1970s, psychologist David Natanson worked at the local international university. He traditionally prescribed antidepressants to depressed patients until one day he got a better idea. According to Nathanson's idea, within a week the patients had to get into the pool for forty minutes - that is exactly how long the conversation with dolphins lasted. Everyone chose what is more to his liking - they may prefer to look at the dolphins from afar, swim nearby or sit on their back. Virtually all patients experienced significant improvements. Later, Nathanson conducted dolphin therapy sessions among children with mental disabilities. As it turned out, a pleasant and short communication with dolphins helped to adapt in society.
Not surprisingly, it is in Florida that dolphin therapy courses are put on the conveyor belt. You come to the dolphinarium and order yourself several sessions - what could be better than this treatment? Usually it is recommended to take a course for three weeks, in Florida, such dolphin therapy sessions cost slightly more than 15 thousand euro. Skeptics often question the rationale for the benefits of dolphin therapy. It is believed that ultrasound, emitted by a dolphin, positively affects the state of the human body. Together with special exercises and tactile contact, all this allows talking about the feasible assistance that dolphins provide to medical institutions.
Photo news.cgtn.com
Spain
Although Spain boasts a variety of dolphinariums, two places are most suitable for medical purposes: Aqualand and Mundomar. In the city of Benidorm, which is located in the province of Alicante, 17 years ago appeared Mundomar - a charitable center for helping people with mental disabilities and emotional trauma. Everyone can come to the medical center; however, do not be surprised if the turn comes in a few years. After all, a very large number of people dream that they are treated not by doctors, but by dolphins. Since 2001, the local dolphinarium was visited by 2,200 patients. The program for them was developed individually. Parents of children with Down syndrome, as well as those suffering from autism and even paralysis, often come here. Of course, this list of visitors to the dolphinarium is not limited. Any tourist can visit a fascinating show, or even swim with dolphins. Especially children will like it!
By the way, it is here that you can get confirmation of how smart the dolphins are. They are not subjected to strict control or training, they play with the guys during the session because they like it. From the side of the child's communication with the dolphin seems to be a real miracle of nature, as if a long-awaited meeting of friends took place.
Photo pattayadolphinarium.com
In Aqualand, people who want to relieve stress in difficult life moments often come. Dolphin therapy here has a scientific basis. Expert-biologist Katharina Monreal investigated the acoustic properties of sound. She focused on the communication between mother and baby, comparing it with the evolution of the sound produced by dolphins at birth. So, in the process of research, in Aquvaland there was a program on dolphin therapy, aimed at children with psychological problems. Psychologists, therapists, together with teachers, developed an exciting program that more closely resembles a journey into the world of miracles than ordinary treatment.
Israel
Sometimes children suffer from psychological violence in their families, and sometimes from harassment in school. Usually parents or relatives who are not indifferent to the fate of children turn to psychologists to help them experience emotional trauma. But lately, more and more adults are bringing their children to Israel to try the dolphin therapy sessions.
The dolphin reef is located in Eilat. Here tourists from many cities of the world come to see the dolphins and show themselves. But not everyone knows that every morning there are sessions of dolphin therapy. Leading Israeli psychologists and psychotherapists send their patients to Eilat. Some prescribe to communicate with dolphins for about a year. In particularly neglected cases, when speech and social functions suffered from stress, it may take up to four years. One thing is certain: no one comes back from Eilat the same person.
Photo pattayadolphinarium.com
On the experience gained during dolphin therapy, they also make films. For example, the story of a boy named Mark who was beaten by teenagers is known a lot. The child was seriously injured and lost the ability to speak. Mark was treated in Eilat for several years and after recovering decided to stay in the Dolphin reef to look after his rescuers. This story became the storyline for the film "More than a Dolphin" (Dolphin Boy, directed by D. Menkin and J. Nir), which is popular in narrow circles in many countries around the world.
Mexico
In Mexico, there are no medical centers where doctors would develop a program for patients. However, there are a large number of places where tourists are offered the dolphin therapy. The most popular is Dolphin Discovery. In this exotic Mexican dolphinarium you can swim with dolphins, manatees and sea lions.
The dolphin therapy sessions usually take place on Isla Mujeres in Cancun which is located at the most extreme northern point of Mexico, as well as in Puerto Aventuras on the largest island of the country of Cozumel.
Photo pattayadolphinarium.com

Bali, Indonesia
But in Bali, experts in the field of dolphin therapy are seriously approaching the solving of the problem. At least, local doctors talk about cases of paralysis cure, various neuralgic diseases and also to help patients who survived a stroke.
In northern Bali there is a hotel specially equipped for dolphin therapy sessions. Melka Excelsior Hotel Resort provides an opportunity for all who wish to spend time with dolphins twice a day and for those who find the strength to rise at dawn, just watch how these animals behave.
Cover photo hotelmousai.com.mx