Alpine village nearby Seattle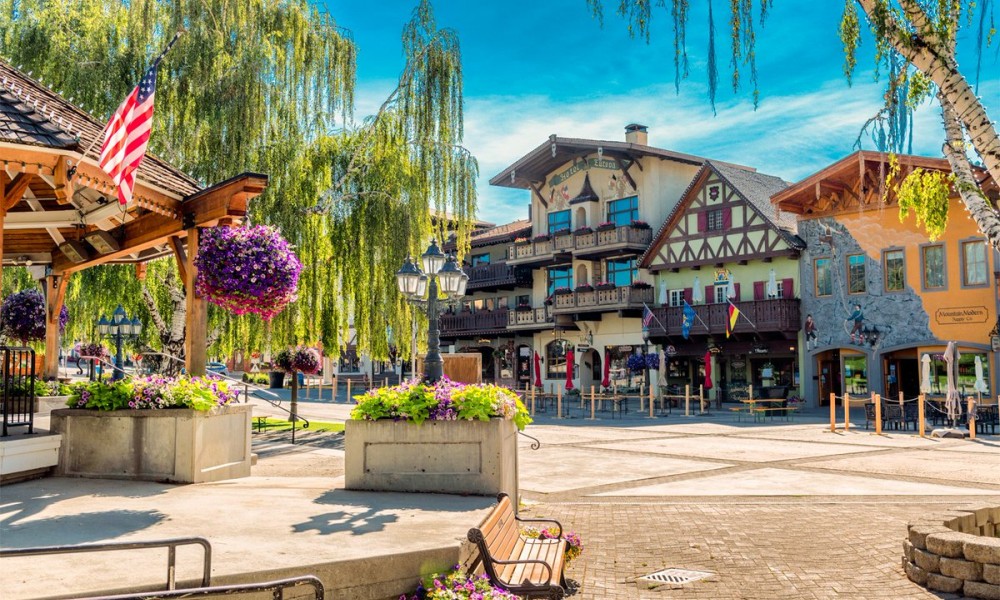 There are many things that we can learn from citizens of the United States but what deserves special respect is love to their land. Patriotism of Americans manifests itself in everything, even in internal tourism - without having properly explored own country, an American would hardly travel anywhere outside its territory. Today we tell about one of the most popular internal tourism towns - about Leavenworth.
From teepees to Bavarian style in 70 years
Located in two-hour drive from Seattle - main city of the State of Washington – tiny Leavenworth has a pretty rich history. These lands in the vicinity of Canadian border got famous due to tribes of freedom-loving Indians who used to run things there as late as till the end of 19th century when they were finally forced to surrender by seekers of gold and mineral deposits. Surprisingly, three small tribes, Yakima, Wenatch and Chinook kept standing up against foreigners equipped with far more modern weapons for several decades. Only in 1890 industrialists sighed with relief and laid the cornerstone of the future town.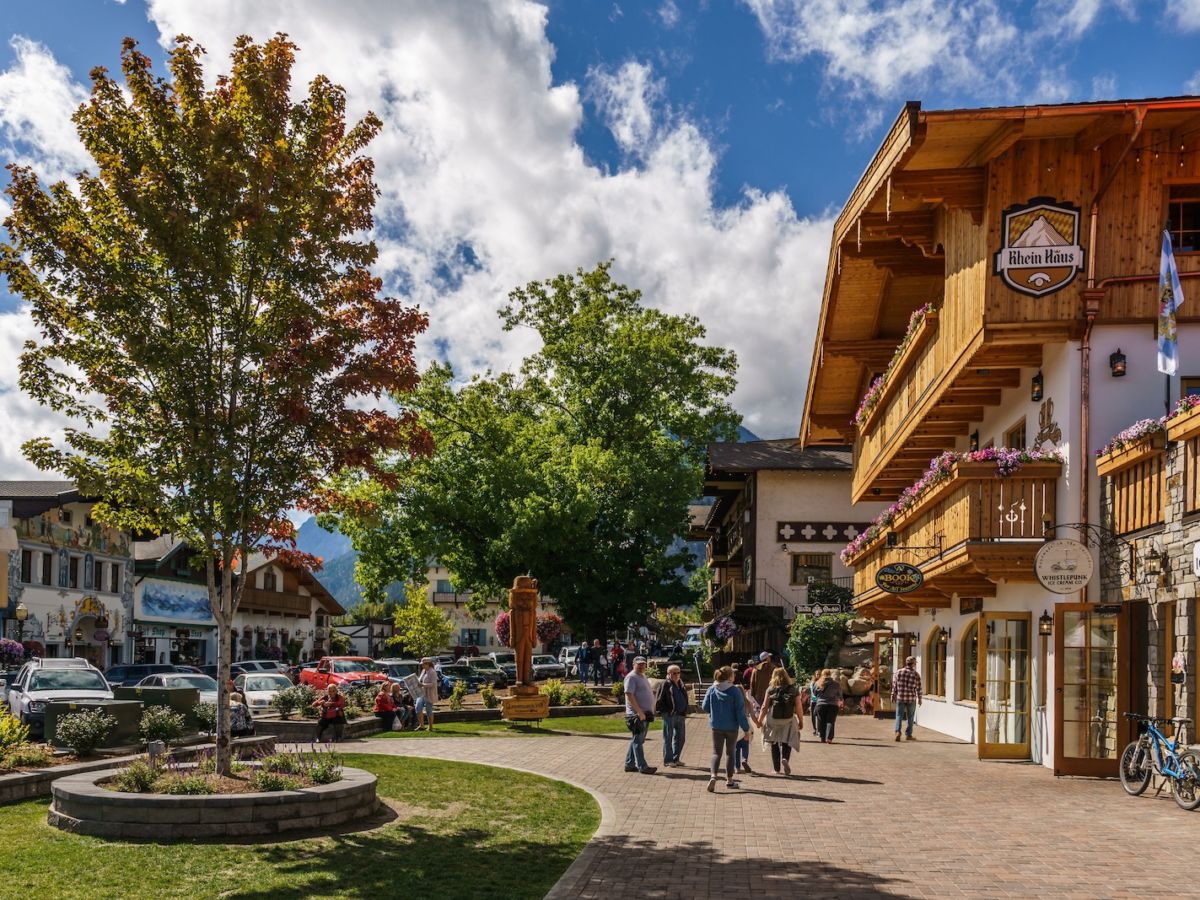 Photo matadornetwork.com
For a couple of decades to come Leavenworth became an important point in the line of laying a railway track of federal significance. Great Northern Railway Company set their headquarters there, population was growing like weed, infrastructure was being developed; however by 1920 decision was made by the country's leadership to change the route of the railway and the young town suddenly ended up on the sidelines. Almost all of its enterprises with the exception of some saw mills shut down immediately and majority of workers began leaving in search of better destiny and income. For about 30 years Leavenworth was hanging between life and death and surviving only on subsidies; it was considered a depressing spot that all the youth tended to abandon.
Read also: We were there: the USA through the eyes of a Ukrainian
Nobody knows how this story might have ended but in 1960s local authorities came up with an amazing idea - to make a town in the style of German villages and start earning on tourism. Upon estimating its potential and studying surroundings with their gorgeous forests, crystal clear lakes and magnificent mountains, investors gave the go-ahead along with credits. Enormous construction began to engage seemingly every family of Leavenworth and in merely ten years its appearance changed beyond recognition. Those who had left it in times of crisis couldn't recognize their small motherland because instead of a depressive half-built industrial center, splendid typical Bavarian village welcomed them.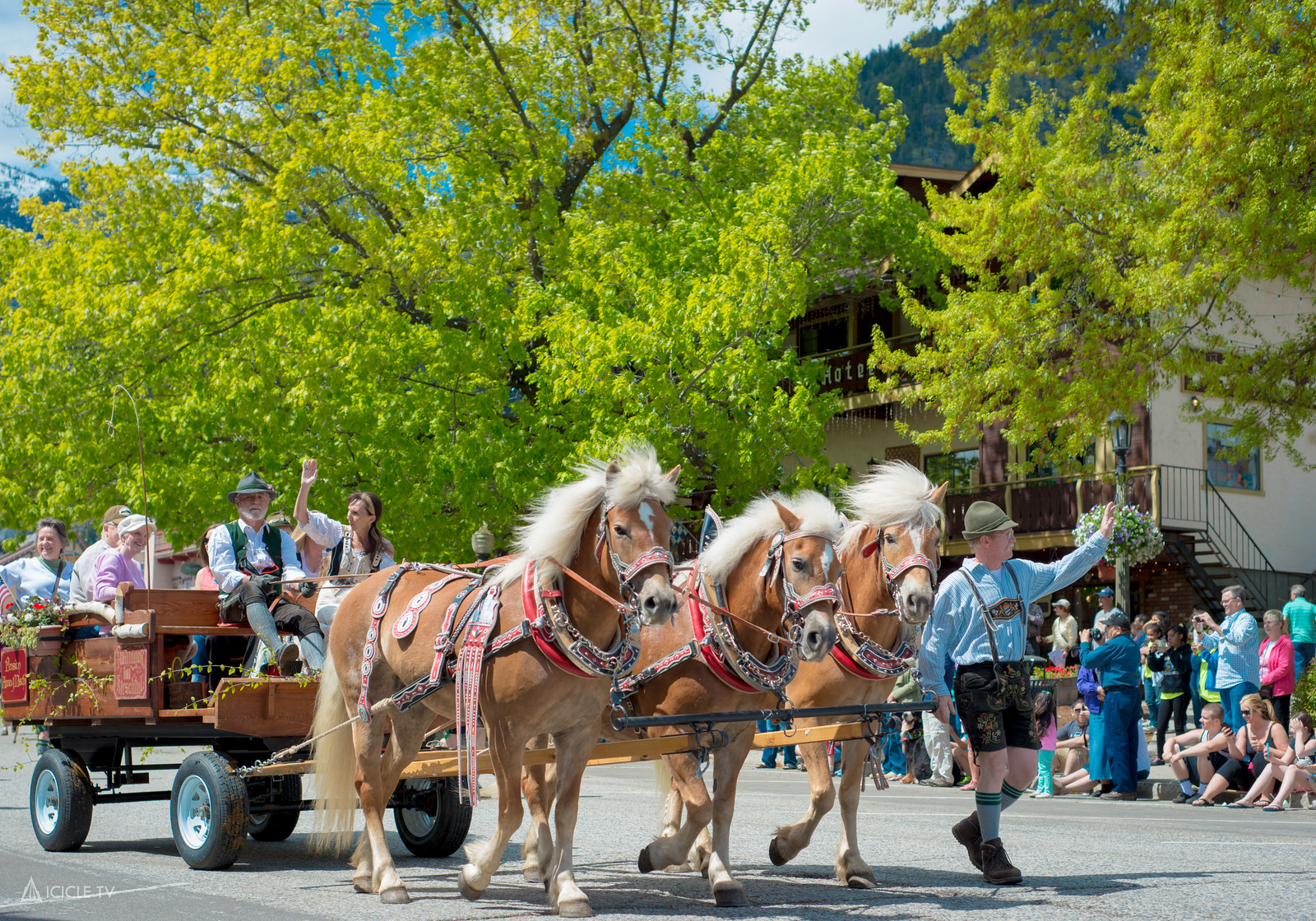 Photo leavenworth.org
What happened next
Fame of the amazing metamorphosis of the town spread not only via jungle telegraph but also through almighty American advertisement. Last credits were thrown on it - and it produced almost immediate results. Within a matter of months tourists from throughout the United States started flooding the place having decided to see that miracle with their own eyes because back in 1960s-1970s people didn't travel so actively around the globe and many of them only saw Germany in movies or military chronicles. Touristic business started working back then but surge of interest in the town remains till now. It is annually visited by at least 1.5 million tourists who are attracted by such an unusual look as for America and deliberate and relaxed life.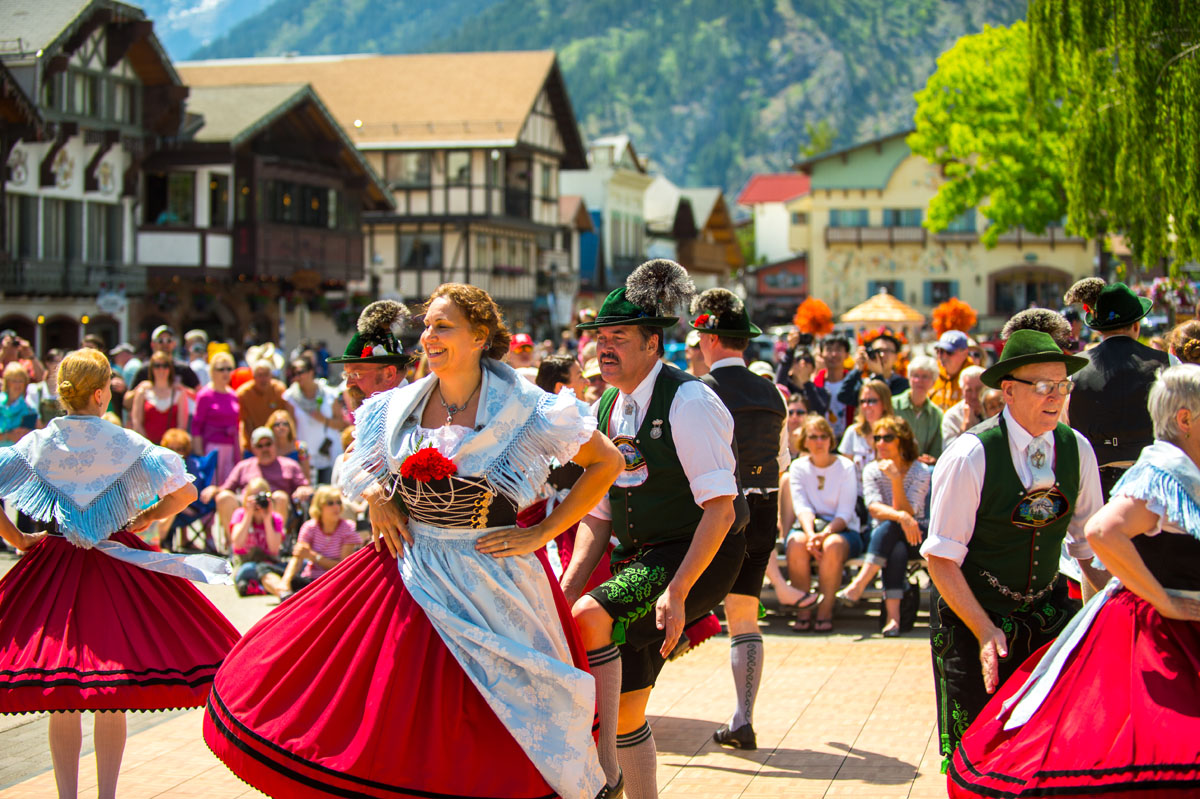 Photo leavenworth.org
It is customary for Americans to go there whole year round; and in October and December Europeans join the crowd. That's all because the famous Oktoberfest is celebrated there in a way just as big as in Munich and local Christmas Fair is believed to be one of the best in the United States. Each season in Leavenworth is good in its own way, though, because festivals, folk holidays and festivities never end there. Tiny town with population of several thousand persons literally feeds from tourism. Former sawmill and railway employees retrained to become grocers, guides and handmade goods experts. Their factory shop floors and workshops turned into cozy public spaces, stores, art-cafés and bars that visitors are very excited about.
For the tourists
Today while having a walk around Leavenworth it is hard to believe that this town hardly survived once because right now it almost literally glows and shines. Not because of quick buck, not at all, but thank to a brilliant idea and its meticulous execution. Local citizens are very proud of the work they had carried out thus charging tourists with their positive energy. And the latter ones, alongside amazing time&space travel, enjoy not just sophisticated architecture and pristine nature but also local landmarks like, say, world-famous Nutcracker Museum. There are about 6 thousand Nutcrackers there, some of them are several centuries old. Director and author of the project, Arlene Wagner, seriously went in for ballet when she was young. She travelled around the globe with her collection.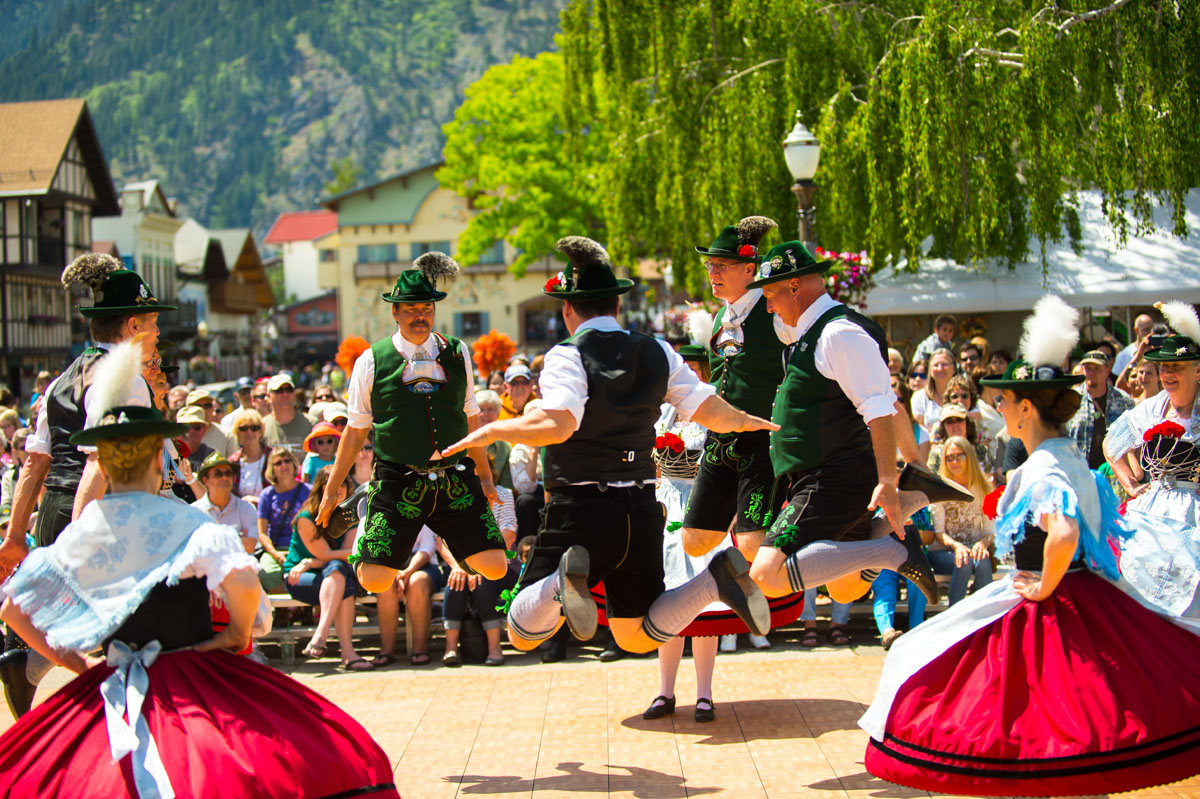 Photo leavenworth.org
Alongside the museum, local breweries deserve special attention; they can be safely called monuments of the town of a kind. Over the latest twenty years many Germans and Austrians, who decided to live in "the other Alps", moved in there. They opened several bars at once, where they sell incredible beer, probably, best in the United States, and even aficionados of healthy food will hardly be able not to try home-made sausages and mettwurst. In fresh air such things always fly off the shelf. Another must-do is to visit some shops and showrooms where one can purchase clothes and items of natural leather, interesting souvenirs and adornments made according to technologies of Indians.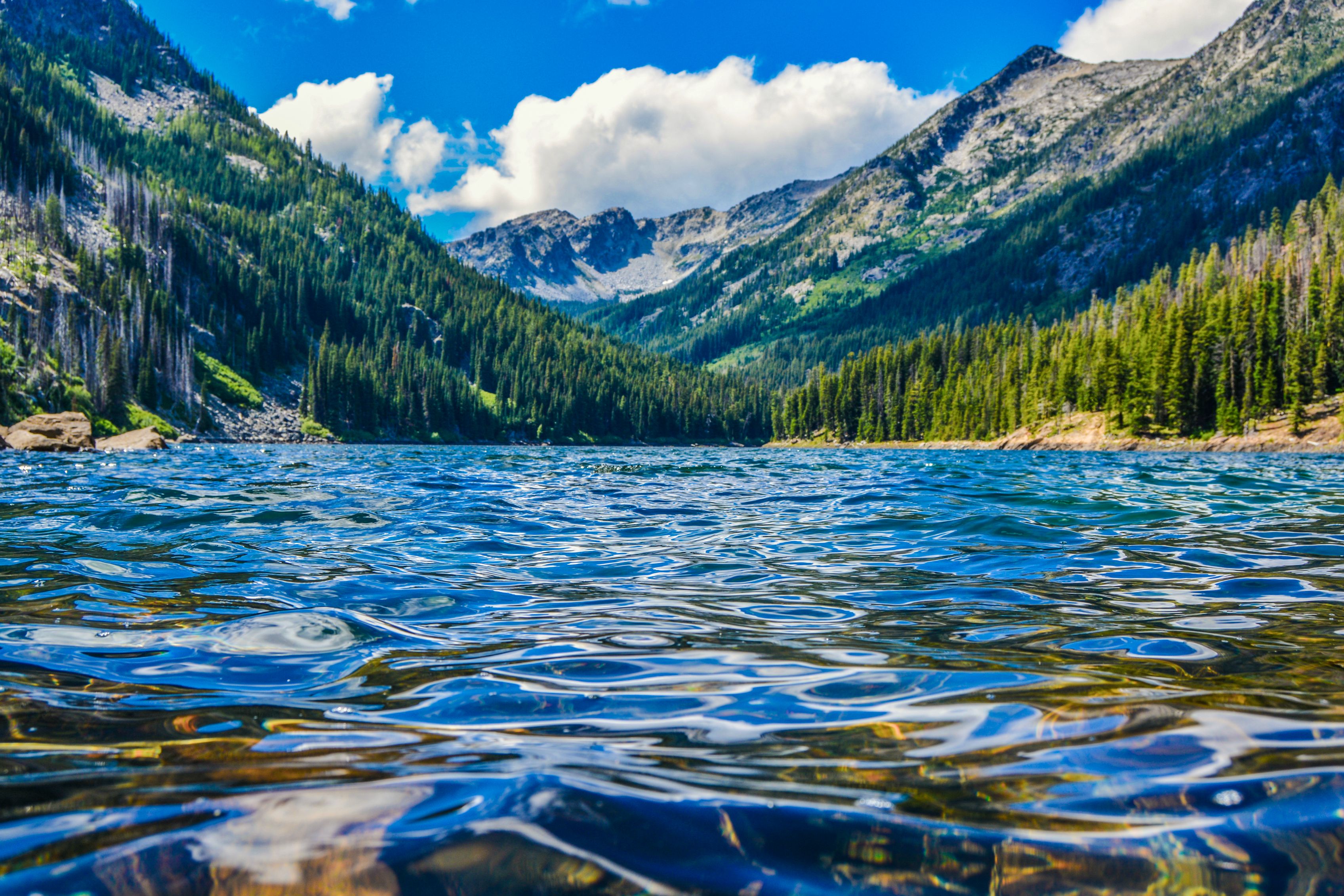 Photo reddit.com
In spring Leavenworth gets filled with those who like knights and role plays from all over the world – they come for Maifest and arrange colorful tournaments and performances; in evenings they get dressed in medieval costumes to dance passionately and have fun to the sounds of live music. And there are people in Tyrolese and Bavarian national costumes walking along the streets time and again. According to long-standing residents, when the town was being renewed it was decided not only to recreate unique architecture but also reproduce cheerful and free spirit of Alpine villages where people live simple yet happy lives amidst splendid nature. One can safely say that Leavenworth and its citizens completely succeeded in that. Sure enough, one can hardly stay in this tiny town for more than a weekend but even two days in such an atmosphere is enough to recharge your batteries and get new impressions.
Cover photo twitter.com