The spouse of Ambassador of India made a meeting Ambassadors Spouses Club and demonstration of national clothes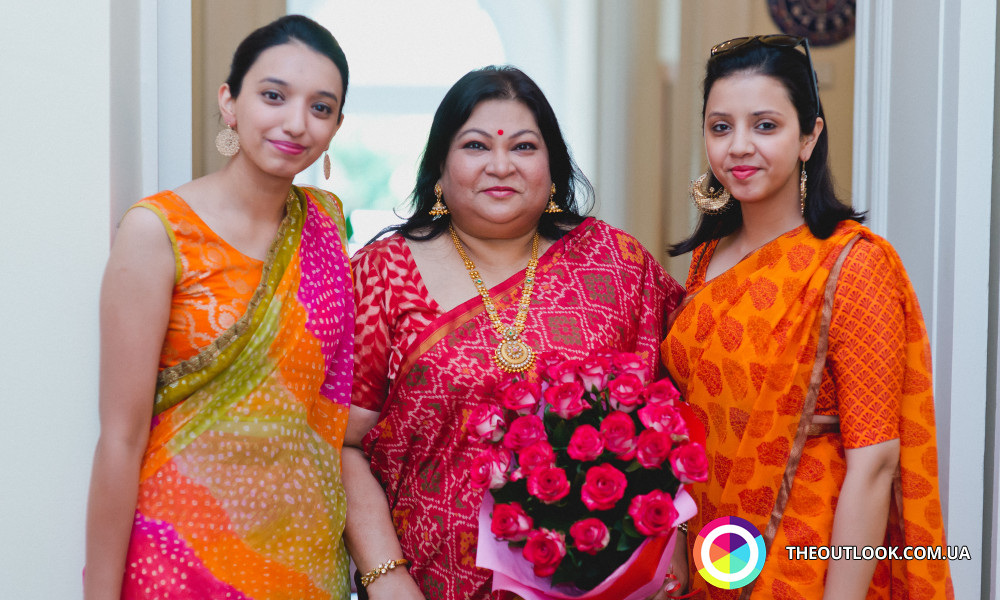 The spouse of Ambassador Extraordinary and Plenipotentiary of India to Ukraine Anamica Bharti organized a meeting of the club of ambassadors wives Ambassadors Spouses Club in the course of which it was a display of traditional Indian clothes and friendly dinner.
So as to get a bit closer with Indian culture the residence of Mr and Mrs Bharti have been visited by the spouses of Ambassadors Extraordinary and Plenipotentiary of Azerbaijan, Georgia, Belarus, Tajikistan, Pakistan, Japan, Spain, Turkey, husband of Ambassador of Mexico, representatives of Directorate-General for Rendering Services to Diplomatic missions, Ministry of Foreign Affairs of Ukraine, social activists, etc.
Meeting the guests, Mrs Bharti gratified everybody for the visit and wished an interesting and jam-packed day. She told about the traditional Indian costumes, the features of patterns, meaning of colorful palette of the suit and its ornaments, how to wear sari, significance of bindi point, as well as about the male traditional kurta.
The educatory narration has been accompanied by the colorful defile in the course of which the guests were able to observe how holiday sari differs from the casual one, which materials are used for its creation, as well as the peculiarities of decoration, and embroidery.
The traditional male clothes of India has been demonstrated by personally Mr Ambassador Manoj Kumar Bharti, he wore attractive white kurta with traditional embroidery.
As well, everybody who wants it were able to try the true Indian sari, put symbolical point bindi on the forehead, draw the arms with henna in the technique of mehendi, enjoy Indian dances, national cuisine, and even practice in yoga.
Indian clothes have incomparable uniqueness. In many thousand of years of history and been under the oppression of different cultures and nations, Indians saved their originality. The traditional female clothes in India is bright with its diversity and shining of colors.
The most famous traditional female clothes in India is, certainly, sari. In ancient times sari consisted of two extracts of material as the first extract folded hips while the second covered chest and shoulders. The second part of fabric was called 'dupatta'. Its ends were put in the skirt, tied up behind on the back or left to dangle in front.
The modern sari consists of one integral part of fabric. Its length fluctuates from five to twelve meters. The width is up to one meter. Sari could be one-ton or with paternal edge on the bottom. Sometimes edges could be two, on the top and on the bottom. Palu is the edge of fabric that is thrown over the shoulder. People tend to decorate it in a rich manner because this part of sari shows all the beauty of the outlet to the surrounding people.