Day of Unity in the embassy of Germany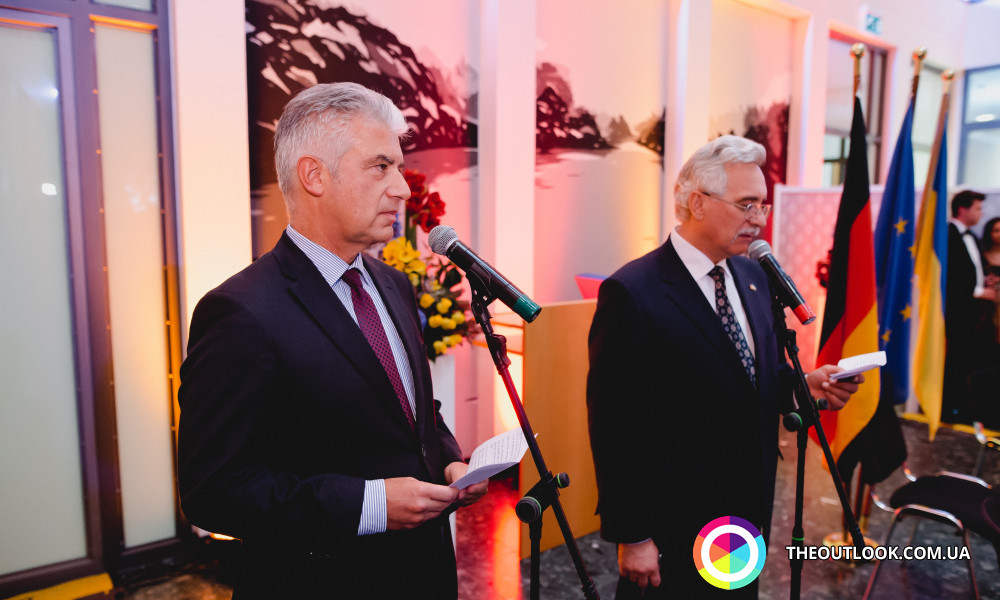 The Ambassador Extraordinary and Plenipotentiary of Republic Germany to Ukraine Ernst Reichel along with his wife invited guests to celebrate the holiday, official union of Western and Eastern Germany. Mr Reichel recognized the step forward made by Ukraine in the direction of Europe. Particularly, it goes about the agreement on Association with European Union: 'The agreement will maintain the support and consulting, political collaboration and Ukraine will get closer to the standards of European Union in many areas'.
'This year we celebrate 25-th anniversary of diplomatic relations between Germany and Ukraine. In my opinion, one of the biggest achievements of this period is the without-visa regime for short-term travels to the countries of Schengen zone. Since June, almost 250 thousand Ukrainians have already used this opportunity. I cannot imagine more important and efficient step that could better improve relations between people, make them closer and familiar with other cultures'.
The host of the holiday wished all Ukrainians to save the self-determination on the way to European integration. He compared Ukraine with the train and is going up, and reminded that reaching the goal of the machine depends not only from the car driver but also from those who bring fuel to make further trip easier. Then, he added that Germany, in its turn, is removing the obstacles from the way.
The event was also visited by the Ambassadors Extraordinary and Plenipotentiary of such countries as the USA, Canada, the Great Britain, Palestine, Afghanistan, Georgia, Romania, Slovenia, Bulgaria, Egypt, Turkey, Pakistan, Norway, Lithuania, Serbia, Macedonia, Poland, Mufti of Ukraine sheikh Ahmet Tamim, vicarius from Kyiv Metropolis archbishop Feodosiy, the deputy minister of agriculture politics and nutrition of Ukraine, the deputy minister of informational politics of Ukraine, etc.
Let us remind that union of Germany happened on the 3-rd of October, 1990. At the moment, this date is announced to be the day off, as there are great celebrations, the members of high chamber of the\ parliament give celebrative speeches during the meetings in legislative and constitutional authorities of the country. In the cities there are concerts, fireworks, and parades.