Chen Zimbalista: "The concert is energy that penetrates the space between stage and audience"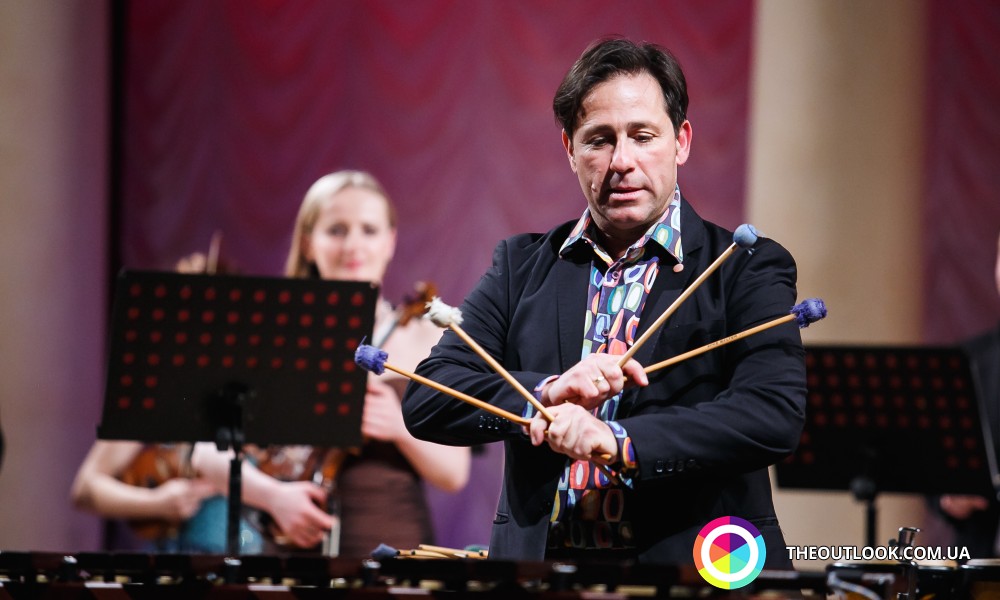 At the invitation of the National Chamber Ensemble "Kyiv Soloists" and its chief conductor, the world-famous cellist Dmitry Yablonsky, the eminent virtuoso performed for Kyiv audience both classical compositions (Bach and Vivaldi) and works by contemporary composers (Rosario and Piazzolla). His program is a real explosion of emotions, consisting of classical, jazz and ethnic pieces. His music, that is energy of pulses and rhythmic beats, knows no stylistic bounds.
The world acclaimed king of rhythm, Chen Zimbalista enchants audiences around the world by array of artistic rhythmic sounds produced by soloist's hands while playing more than forty musical instruments.
The cult percussionist claims it is very interesting to perform the same piece in different ways, change its rhythm, tempo, pitch, melisms. For example, he likes to play Bach's music, written for keyboards, on the marimba and other percussion instruments, especially so when accompanied by an orchestra
Zimbalista is the winner of several international competitions, including Francois Shapiro Competition. Among other things Chen performed at the Kennedy Center, at music festivals of the Schleswig Holstein Music Festival and Stresa Music Festival. Marimba maestro stared in concerts with the Detroit Symphony Orchestra, the Israel Philharmonic Orchestra, Jupiter Symphony Chamber Players in New York, Chamber Orchestra of Eu and many orchestras in Israel.
OUTLOOK was glad to talk to Chen Zimbalista and learn more about his work:
OUTLOOK: Today's concert showed fully that your performance is not only a demonstration of professional skills. What is a concert for you?
Chen Zimbalista: An important part of my presentation is to establish a mutual contact with the audience. I interact with them throughout the entire concert. My inspiration is smiles on people's faces, and it does not matter if you perform works by Bach, Tchaikovsky or folk motifs, one thing is important - what emotion you evoke in the listener! I select contents for my programs very carefully, and pieces always follow a special order, I am conscious about what shall sound at the beginning and at the end. I love what I do and never play things that do not appeal to me. Concert for me is energy that penetrates the space between stage and audience; emotions I send, grow up and get back to me in response.
OUTLOOK: You just mentioned that you do not play melodies which did not touch your soul. So, how do works become your favourites?
Chen Zimbalista: Bach is always my ever-favourite music. Many composers create works especially for my solo. Today, for instance, the program contained Eugene Levitas and Benjamin Yosopov. Our cooperation is that I voice to them what I'm feeling right now, and what I would like to perform. I would like to note that I try to fill both classical and ethno music with the same emotions. So, the fact that in the mid-performance of Vivaldi the public burst with applauses is for me a sign that there was an exchange of feelings. And I'm very excited about this, because the aim is not just in getting applause, but to know that I conveyed my feelings. Nowadays so many negative events are happening in the world, including Israel and Ukraine, so I want to help people with my music fight apathy, not focus on the wars, money and work. No matter how difficult is feels, yet we are surrounded by beauty. I try to tell people more often: "Friends, do you still remember about love and bright colours?!!".
OUTLOOK: Mr. Zimbalista, and one more question, tell us how you came to the desire to master all those instruments?
Chen Zimbalista: As any boy, I really wanted to play the drums... I was lucky that one day my mother took me to the conservatory and insisted that I first learned the piano and the flute, and then percussion instruments. For three years I learned to play the flute, with the hope to get "permission" to master instrument I dreamed about. And soon I began to combine the piano and the drums. Then I got to a group where one of my colleagues from the Israel Philharmonic Orchestra introduced me to the marimba. I was 14 and got captured by that sound. Marimba is pretty hard to play, each time it is a challenge, but I like challenges...
OUTLOOK: Thank you very much for the interview and amazing concert!
The concert of an extraordinary musician is highlighted in our new gallery: